Hi, I'm Simon and welcome to my full and honest Affiliate Bots review where together, we'll find out if Affiliate Bots is a scam or a legit way to increase your online earnings.
Here on The Make Money Online Blog, we've sifted through 100's of so-called make money online programs, systems, methods and shortcuts to filter out the time-wasters and find the legit money earners.
One thing's for sure:
Becoming an affiliate marketer is a very real and viable way to make a full-time income online and Chris claims that his Affiliate Bots software will make the road to financial that much easier with automated bots.
Even though artificial intelligence (AI) is taking over the world, I'm always sceptical (as you should be) when people claim to have developed a shortcut to online earnings, but I'm also always on the lookout for tools that can make my life easier.
Will Affiliate Bots live up to the hype? Let's take a look!
Affiliate Bots 2.0 Review At A Glance
About: Affiliate Bots 2.0 is an automated way of choosing affiliate programs, getting traffic and increasing conversions that's supposed to help you make $1000/day.
Price: $27.
Pros: Some of the software is pretty cool.
Cons: Complex for beginners, could be counterproductive and cause duplicate content issues.
Verdict: Affiliate Bots 2.0 is not a scam, but it's not necessary either. Most affiliate marketers generate profits without this software.

What Is Affiliate Bots 2.0 About?
Affiliate Bots 1.0 was launched in November 2018 by Chris X, a successful and experienced affiliate marketer who's been making a full-time income online for at least 13 years.
Affiliate Bots 2.0, a more advanced version, was released in February 2019 with a number of add-ons and upgrades. In the last 3 months alone Chris has paid out over $17,000 in developing this software bundle.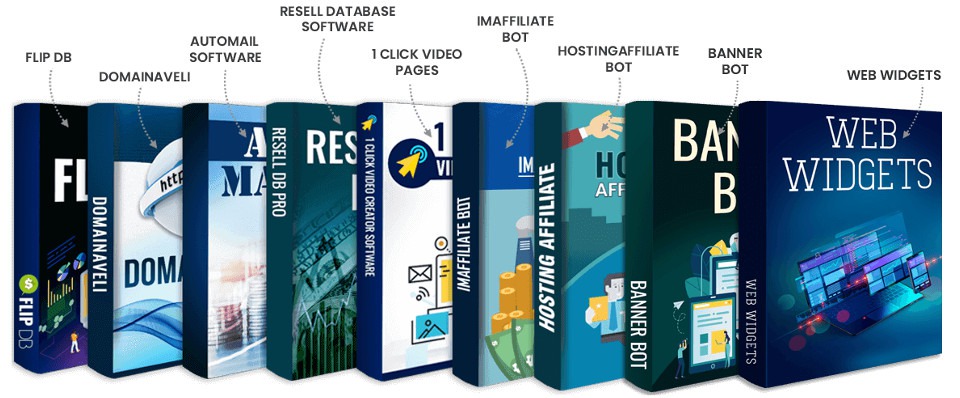 Chris calls it:
"A swarm of artificial intelligence and automated bots to change the way you look at money-making forever."
He created Affiliate Bots' 37 programs to remove some of the common roadblocks beginners face and help more advanced affiliate marketers leverage the power of artificial intelligence to automate their online businesses.
If you haven't watched the full live walkthrough video yet, here it is:
You may be wondering:
What does Affiliate Bots actually do?
In a nutshell, Affiliate Bots gives you automated ways of choosing affiliate programs, getting traffic and increasing your income by maximising conversions.
Here's a quick overview of what's included: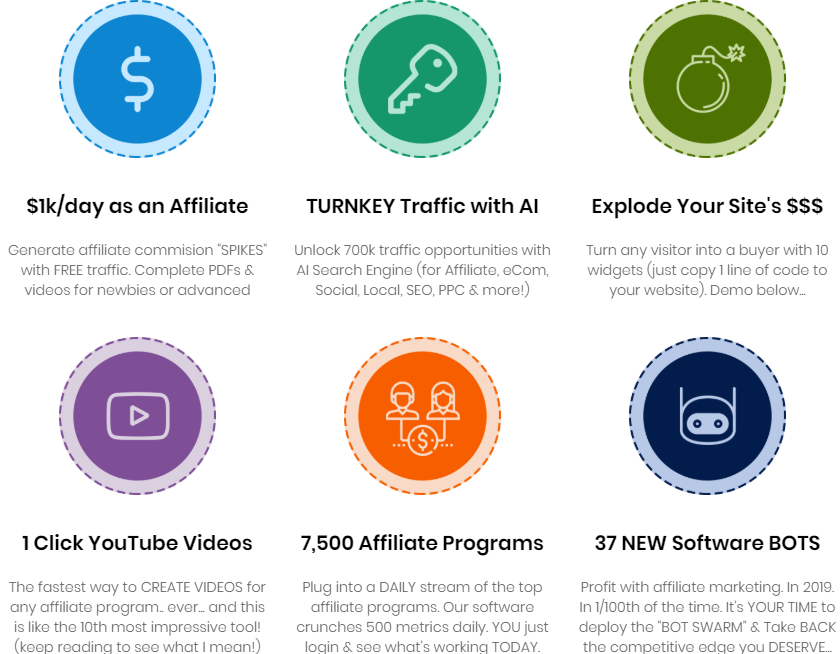 Can Affiliate Bot Help You Make Money?
With 10 tools to help increase conversions, 6 bots to help choose the hottest affiliate programs and 20 software programs to create websites, videos and find domain names, Affiliate Bots is a helpful resource that gives experienced marketers an edge over the competition.
Chris has broken down the process of making serious money online into 3 main steps:
Step 1: Choosing The Best Affiliate Programs To Promote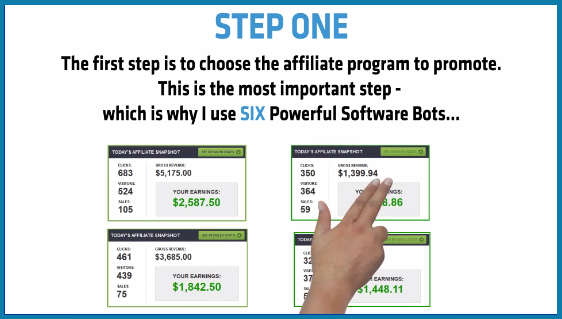 6 bots to help you find the best products to promote so you can monetise your site and actually make money.
Step 2: Create Your Website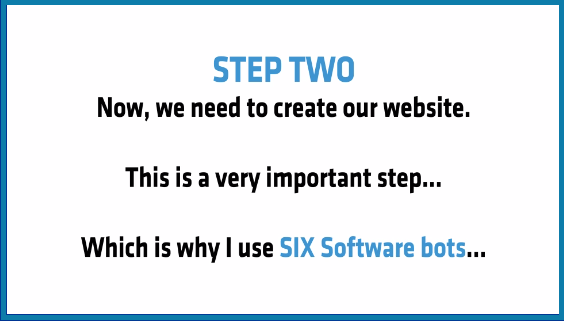 The Website Widget tool helps turn casual website visitors. Using any of the 10 automated programs you can add specific geo-tracking to your website, targeted pop-ups, discount coupons and countdown timers.
The 1 Click Video pages tool is an easy-to-use program that converts blog posts to videos designed to engage your audience.
The Rapid Website Builder software gives you a tech-free way to create landing pages and the Affiliate Ads 2.0 software adds banner adds to your site to increase your revenue.
Step 3: Driving Traffic To Your Site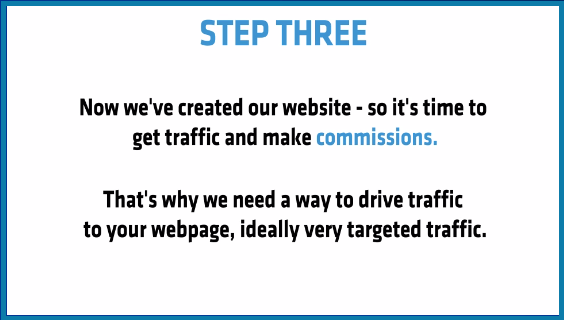 Chris says he's come up with the ultimate traffic tool he calls: The AI Search Engine.
He developed this by searching the top 100,000 most popular websites online then scanned them to find traffic opportunities.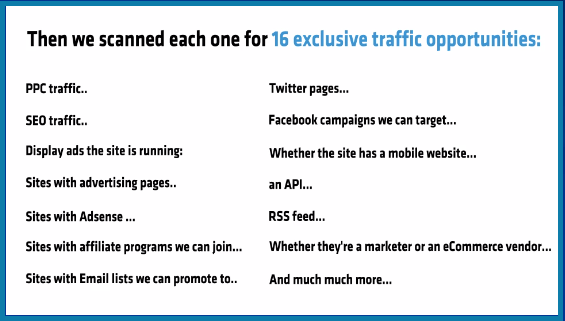 Can Affiliate Bot Hinder You?
We've looked at just some of the many pros to the Affiliate Bots system, now let's look at some of the potential downfalls:
1. Too Complex For Beginners?
I think if I came across the Affiliate Bots website as a total newbie I would honestly feel a little overhwelmed by the sheer complexity of all this.
Chris is clearly an excellent software developer. He thinks and talks like a programmer, but if you're not technically minded or you don't yet have a basic understanding of what affiliate marketing is or how it works, then a lot of this will go way over your head.
I wouldn't recommend Affiliate Bots for absolute beginners – you're just going to suffer from information overload, paralysis by analysis and likely give up before you get anywhere.
The truth is you do NOT need to be a technical whizz before you start making money online. In a room of 100 people, I'm probably in the lowest 10% in terms of technicaal know-how, yet I run several successful websites and have been a full-time online entrepreneur since 2015.
I'm a great believer in fighting for simplicity – the more simple you can make it, the better. While I completely appreciate what Chris has created here, you seriously you don't need to make it this complicated.
2. Possibly Counter-Productive?
Affiliate Bots could actually hinder your chances of success if you're not careful.
Let's take the software that finds the hottest affiliate programs for example:
There's the CB 250 software that finds the top 250 on ClickBank, King Of The Zoo that finds the hottest JVZoo offers and Warrior 50 that finds the top 50 products on WarriorPlus.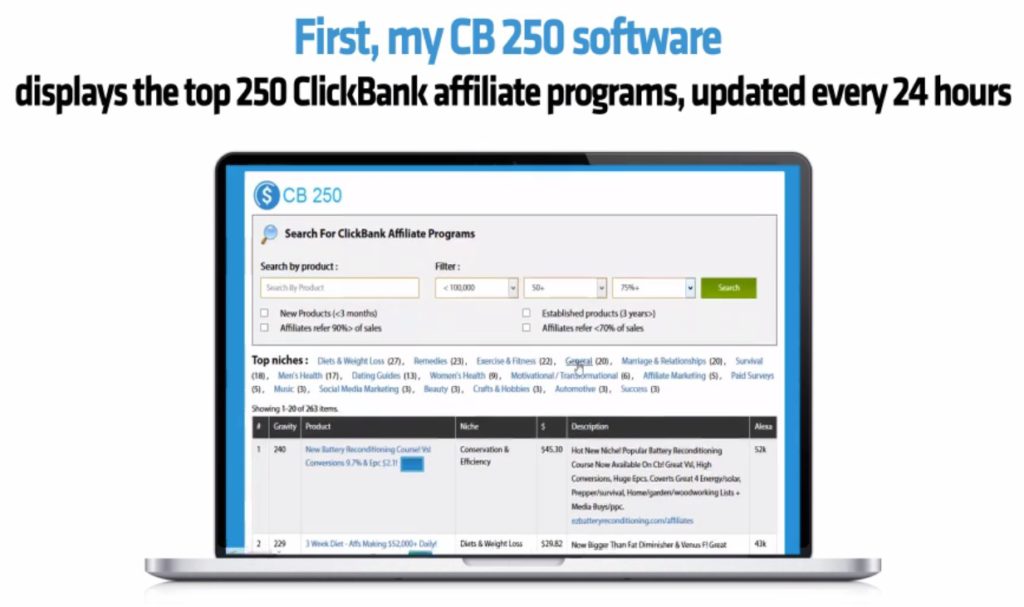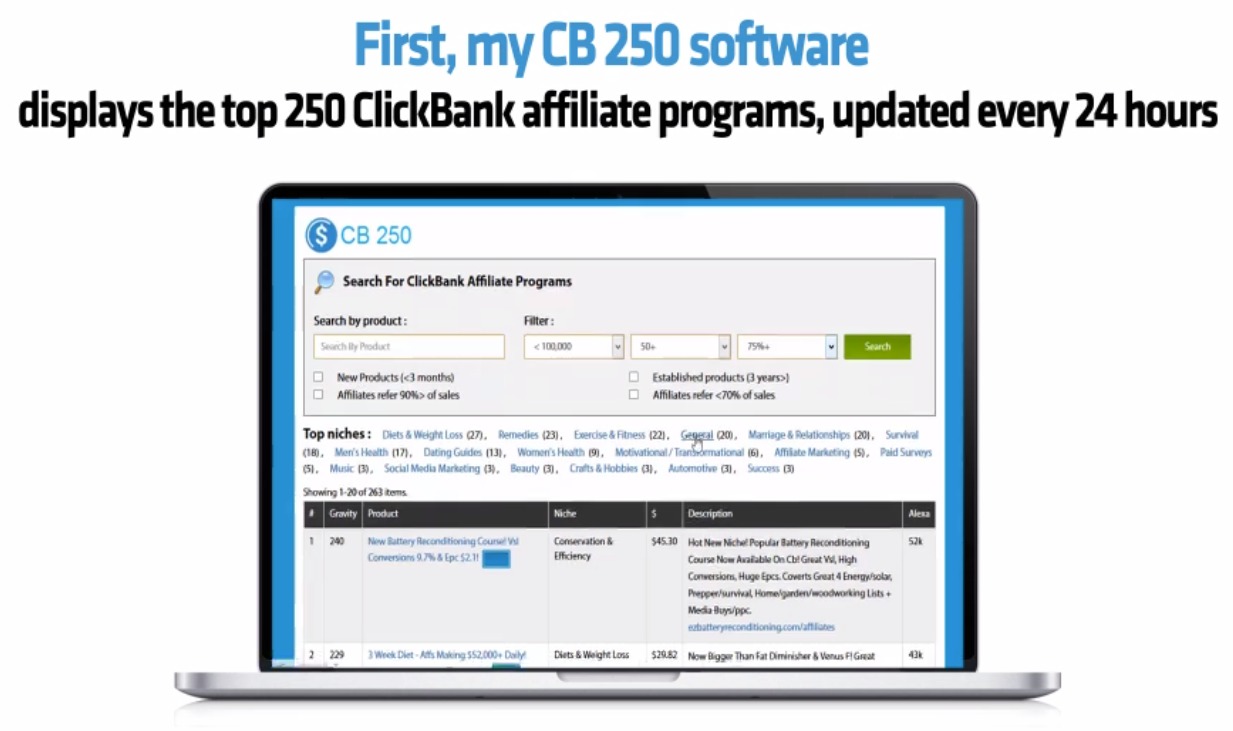 Most of the products sold through these platforms are about making money online and after reviewing 100's of them, I can tell you the vast majority are just low-quality junk products with very little value.
I believe that to be a successful affiliate marketer you have to build a solid reputation over time. That means building trust.
How do you build trust?
By only recommending products/services you know will absolutely help your readers.
I think about it this way:
Every time you promote a product, whether it be through email or your website, you are putting your name and reputation on the line. Start promoting get rich quick scams and that trust is quickly broken.
My problem with this software is that just because a product is popular doesn't mean it is a good program; it may be a bestseller because the marketing is great or because money-hungry affiliates are spamming the heck out of everyone's inboxes to generate sales. We also have no idea what the refund rates are.
I know some people reading those won't care if they promote shiny get-rich-quick programs that make people worse off as long as the money's coming in, but I do!
Try to be as helpful and honest as you can and you will be more successful in the long-term as a result.
I could easily give every ClickBank, JVZoo and WarriorPlus product a 100% review rating and would probably make a lot more money doing that. But personally, I actually want to help people reach their online income goals, not just make a quick buck out of them.
Just to be clear:
I'm not saying don't use the software, but do check the programs out first to make sure they're legit before putting your name to it and recommending it to others.
3. The 1-Click Affiliate Software
In the Affiliate Bots sales video Chris says the 1 Click Affiliate software is pre-loaded with 100+ of done-for-you templates, headlines and copy that have 'proven to convert'.
In my opinion, done-for-you is not always good for you and some automation methods are best left unautomated.
Why?
Because the problem with this 'copy and paste' method is every Affiliate Bots member goes out and starts creating identical websites and sales pages, search engines like Google will mark your site as duplicate content and you'll never get ranked.
No rankings = no traffic = no commissions.
Is Affiliate Bot Really Necessary?
1,000's of successful affiliate marketers are making $1,000's a day.
(Just last week, I celebrated my first $1,000+ day.)
99.99% of them don't use Affiliate Bots.
Can Affiliate Bots help you automate parts of your affiliate marketing business?
Yes absolutely.
Here's the bottom line:
If you're a beginner you're better off starting with the basics. Follow this super simple step-by-step training program and go from there.
If you're already an advanced internet marketer with an established website and rankings, buy the Affiliate Bots program and have no regrets about it.
For sure, you'll find at least one program in the bundle that will help you take your earnings to the next level.
Is Affiliate Bots A Scam? Nope, It's Legit!
Affiliate Bots is definitely not a scam and Chris has invested $1,000's to make Affiliate Bots 2.0 the best it can be.
If you're looking to take your online earnings to the next level then give Affiliate Bots a shot.
What Do You Think?
Do you agree or disagree with my review of Affiliate Bots?
Either way, scroll down and leave us your thoughts in the comments.
Have any questions? Message me below and I'll be more than happy to help you out.
Simon Crowe is on a mission to help as many people as possible kiss their bosses goodbye.
Take the free Commission Academy course to discover how to smash your online income goals and make your dream business a reality.