One thing that sets me off is using a long-standing and totally exhausting crisis to get into people's pockets.
I've made this review to set your expectations right.
Jono's The Lockdown Formula tells you it's the "vaccine for your financial health" in a time when your "financial future is uncertain", you're worried your company cannot conquer the pandemic, and when you "wish to afford struggling family members".
I get the fact that internet marketing strategies involve leveraging the latest news and people's pain points to get traffic, but this just over the edge.
What makes it worse is aside from claiming to be the solution to your pandemic woes, it fails to live up to its promises digging the hole deeper for your income hopes.
Every part of the sales page tries to position itself as the solution to the problems the pandemic brought.
Jono says, "you can't control the outbreak, but you can have an income breakout".
Not!
I'm happy you came across my review before you let Jono get the best of you because I can tell you right now, The Lockdown Formula is not what it claims to be.
The Lockdown Formula Review At A Glance
About: The Lockdown Formula is an affiliate income system comprised of a 2-part training and a landing page builder promising $100s in daily income.
Price: $9.97 for the front-end, $218 for the upsells, and $600 a yearly autoresponder cost.
Pros: There are none.
Cons: The system is a hyped-up gimmick trying to exploit people who are desperate to make money during the pandemic.
Verdict: It's rubbish you shouldn't invest even if it's just $9.97 because all you get are lousy information and landing pages for affiliate offers.

The Lockdown Formula Sales Page Is Nuts!
The Lockdown Formula is an affiliate marketing training and landing page builder created by Dawud Islam, Zeeshan Ahmed, and Jono Armstrong.
Although Dawud presents most of the training, with Jono Armstrong in the picture, you can expect a fully bloated type of sales page. This is what he's good at and this is what you'll see with most of his other products like:
Unlike him wearing a face mask in the sales page video showing he's keeping himself safe, he's not protecting you from scammy products because this is where he makes money from.
The Lockdown Formula Sales Page Hype
On the sales page he says the Lockdown Formula is:
Step-by-step simple because it's "specifically built for stay-at-home marketers"
Proven effective saying it got them 5-figures per month
Has fast results "in as little as a few short days"
Jono goes on to say you won't need:
Experience and tech skills
To make videos
An email list
Your own products
Naturally, you'd be reassured to know this stuff especially if you're a beginner. But frankly, all these are lousy claims you'll see for yourself once you get to the sales page.
You won't need to pay for it to see it, I'll show you the inside of this system in a while.
I'd first like to debunk those hullaballoos before moving on to the next section.
1. Claiming it's step-by-step simple is not actually a good thing. You'd be like a kindergartner taught to trace along the lines.
You're not a kid. You have to understand what you're doing instead of just being told what and where to click.
2. It's not proven to be effective. The income proof they show you in the sales page is not a result of how much they made while using the system, it's how much they made from selling the system to others.
3. It doesn't have fast results. You can't simply make money with affiliate marketing overnight just by being taught what things to click on.
If you want a realistic picture of how much you can make with affiliate marketing, listen to Simon as he explains it to you.
4. You need experience and skills. Unless you learn the ropes of the business, you won't have control over your business and you're never moving forward. If you just rely on this shabby system, your business will turn to ashes when The Lockdown Formula shuts down.
5. The Lockdown Formula actually requires you to make YouTube videos. I'll explain this better on the next section.
6. You'll need an email list. Part of the landing page you're going to make is capturing people's emails.
7. You might not need your own products, which is a great element in making money with affiliate marketing, but you'll be promoting lousy offers with The Lockdown Formula you might as well make your own.
The Hype Isn't Over Yet Though
Ironically, Jono says The Lockdown Formula helps you avoid risking your money, but that's exactly what you do when you invest in his system.
He also says it's "recession-proof" because you're tapping into a growing market, it will never get saturated.
Here's the thing:
Jono and his friends are relying on digital products sold on JVZoo, Warriorplus, and ClickBank. Most of the products you'll find in these marketplaces, if not all, are low-quality affiliate offers with high refund rates.
It's not a sustainable way to make money with affiliate marketing.
If you want to make money for the long-term with affiliate marketing, Wealthy Affiliate's training will give you the legit guide from scratch.
If you've seen the sales page, you'll realize how long it is but never really get to understand what The Lockdown Formula is all about.
Quite disappointing, right?
So, I'll show you now what The Lockdown Formula really is.
The Lockdown Formula Affiliate Marketing Training
The affiliate marketing training is the 1st part of The Lockdown Formula's course. It simply teaches you the very basics of affiliate marketing you can learn for free on YouTube.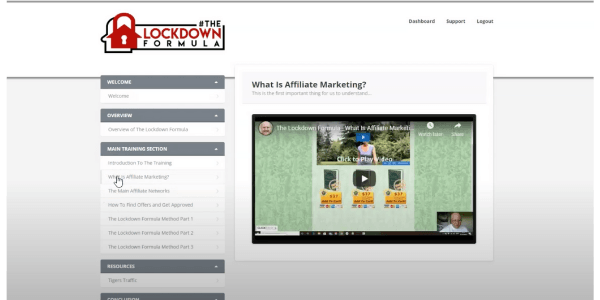 It then teaches you to pick affiliate offers in marketplaces I said earlier, again infested with low-quality offers.
After you pick your offers, you're taught to make a landing page for it choosing from the shabby pre-built ones on the page builder.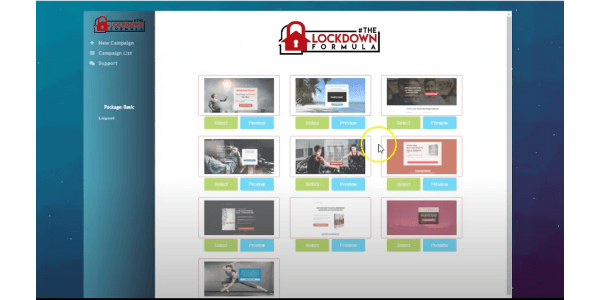 And that's basically it for this part.
Disappointed? You should be!
The Lockdown Formula Traffic Training
The Lockdown Formula's traffic training is found on tigerstraffic.com. You can find a link to this in the affiliate marketing training.
The traffic training teaches you to use:
1. Mailers
A group of people, each with an email list you exchange with to pitch your offers to.
You won't get anybody to check your offer, let alone open email because the people on the list are so fed up with all the spammy emails they receive they stopped checking them out.
2. Traffic Exchanges
Works similar to the first method. Plus you're not guaranteed targeted traffic which means lesser chances for you to convert people you spam.
3. Quora, FaceBook, Classified Ads Board
You basically share your landing page links in these platforms and expect people to click on them.
Will they?
Highly unlikely.
Unless you have a large following, who see you as a credible person to pitch these kinds of offers, no one will take you seriously. No one will click on your links, no one will see your offers, you won't make money.
4. Blogging
You also need to establish your credibility in blogging. You don't become an authority overnight no matter how good your blogs are. So unlike what Jono claims you will make money in days, it actually takes forever to see any results especially because The Lockdown doesn't teach you how to do blogging.
If you're good enough, you even have to wait for months, even years.
Why do I know this?
I've written over 200 blogs in the past 2 years, getting it to rank on the search engines doesn't happen overnight.
5. YouTube
Remember when Jono claimed you won't need to make videos? Then what's this traffic training doing here?
YouTube marketing is pretty much the same with blogging. Getting people to see your offers doesn't happen overnight.
And mind you, they won't teach these traffic sources comprehensively. They'll just touch the tip of the you're on your own.
There are also "bonus traffic sources". These are more email lists from other people. But to get to them you have to hand each one of them you're email.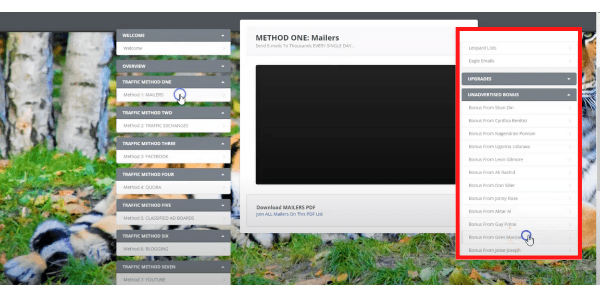 Watch out for an avalanche of spammy emails in your inbox!
The Lockdown Formula's Shabby Landing Page Builder
The Lockdown Formula's pre-built templates are utterly boring. No one would click on them.
Check out this sample landing page you can build for your affiliate offers: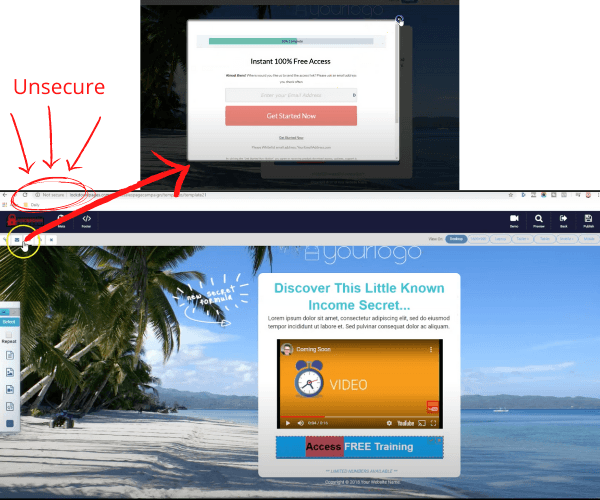 Lousy, right?
Unlike what Jono claims you won't need a list, the button on the upper left allows you to embed an email form to you landing page so you can build an email list.
But then again, what will you do with those emails? The Lockdown Formula won't teach you anything about email marketing.
And if you check you check right on top, you'll realize this page isn't secure. How will anybody trust their email addresses to it?
So, you see, when I said there are no pros here, it's not unfounded.
Is The Lockdown Formula A Scam?
The Lockdown Formula is definitely a scam. It promises over the top income claims but provides lousy training and software that will never make a dime. Not living up to their claims make them a scam.
What Do You Do Now?
Ditch this shabby affiliate marketing training and invest in a more time-tested and sustainable one like Wealthy Affiliate.
With Wealthy Affiliate, you'll learn everything a beginner affiliate marketer deserves. From how to pick the highest converting products up to sustainable sources that really bring people to your offers.
It's time-tested because you'll get to meet real people who have tried and succeeded in affiliate marketing with the help of Wealthy Affiliate. You get success tips from them too!
But you don't have to take my word for it. You can check out this comprehensive Wealthy Affiliate review to see the real score with this training.
Disappointed? Enraged?
Were you disappointed with the pre-built landing page templates? Were you enraged with the false income claims especially because they've exploit your needs in these trying times? Tell us what you feel in the comments section below.
Simon Crowe is on a mission to help as many people as possible kiss their bosses goodbye.
Take the free Commission Academy course to discover how to smash your online income goals and make your dream business a reality.