Welcome to my Urgency Suites Pro review!
Today we're going to do a deep dive on Brendan and Jono's scarcity digital product which they personally claim to use to scale their income from $3,000 to a staggering $42,000 which supposedly just takes 30 seconds to set up.
True enough, the "urgency" technique is a real marketing strategy that potentially gets your sales up.
However, it all boils down to how Brendan and Jono teach you to use this technique. Because you know, for most of Brendan's products, if not all, they're banking on a legit opportunity to make money.
However, it ends up not working because they don't use it the right way, just like what he did with Stomperrr.
Right off the bat, I'll tell you this is not beginner-friendly. If you're looking to build an online business from scratch, Urgency Suites Pro is not the way to go. It's only supposed to work if you already have an existing online business in place.
In this review, I'll be showing you what Urgency Suites Pro really is, how it works, the pros and cons, if it's legit or not, and cap it off by telling you personal thoughts about this product.
If you're ready, let's get started!
Urgency Suites Pro Review At A Glance
About: Urgency Suites Pro is an urgency bar and countdown timer builder. Using these 2 supposedly jacks up 6x from what you're currently making.
Price: $97 for the front-end and a whopping $925 for 5 upsells.
Pros: The urgency bar and countdown timer are easy to make.
Cons: Fake scarcity shown through fake countdown timers and available slots.
Verdict: Urgency Suites Pro is a cunning way to leverage the scarcity tactic. Although the principle works, the way it's executed won't jack up your sales.

What Is Urgency Suites Pro?
Urgency Suites Pro is a scarcity extension builder made by Brendan Mace and Jono Armstrong. The urgency bar and countdown timer you're supposedly going to make from the software supposedly increases your sales 6x.
This implies you must already have an established online business to use the extensions on. Simply, it's not for you if you're just starting out in your online marketing journey.
Using the extensions is said to let your site visitors know they have a limited time to act on the offer, so they need to opt-in right away, so they won't miss out.
Urgency Suites Pro allows you to leverage the scarcity tactic to supposedly increase your conversions and make your income bigger in the process.
Personally, I think scarcity marketing is an effective method to get your leads to actually take the action you want them to make.
The principle Brendan and Jono are banking on with this product is the principle of the human fear of missing out aka FOMO.
This basically means people are moved to act more decisively and quickly if there's a threat of missing out.
If you're a heavy social media user, this is also the reason why you become hooked on constantly checking your feed. You want to stay connected and up to date, not missing out on anything.
But here's the problem:
Scarcity marketing is only effective if what you're offering is viewed as valuable to your audience.
If you're promoting other shabby digital products from Brendan, Jono, and other serial product creators, you won't get people interested.
I've seen this tactic in action before on the sales page of 20 Minute Cash System. But it's all fake.
Another problem is:
If the scarcity turns out to be fake, you won't just end up disappointed realizing it won't work, you'll also destroy your reputation along the way.
I mean come one, one of the very basic principles in online marketing is providing value so people can trust you.
If you've already built a level of trust and started using misleading scarcity, you're going to ruin that trust altogether.
When no one trusts you, no will buy from you.
Exposing The Lies On Urgency Suites Pro's Sales Page
If you've checked Urgency Suites Pro's sales page, you'll realize they don't really tell you what the software is about. They just tell you it's a "brand new software that multiplies your profits in seconds".
If you went here straight from the sales page, most likely you only understood what this software is here.
In the sales page you'll read claims like:
30 seconds to activate
Newbie friendly (we already debunked this earlier)
Proven to 6x your money
No website needed (where do you put the urgency bar and countdown timer then?)
Their biggest selling point is showing you graphs where their income went from $3,000 to $26,000. Don't put your hopes up on those visuals. Brendan and Jono have the resources to edit this stuff to be in their favor.
They could've even just grabbed screenshots from selling their other products and claiming it's the graph for Urgency Suites Pro.
Here's a video on how easy it is to fake ClickBank earnings:
Another thing they try to do convince you to, but this software is by dragging a lot of brands and saying they're using Urgency Suites Pro.
You'll see big brand logos like eBay, Amazon, Spotify, Apple, Booking.com, and Starbucks to name a few.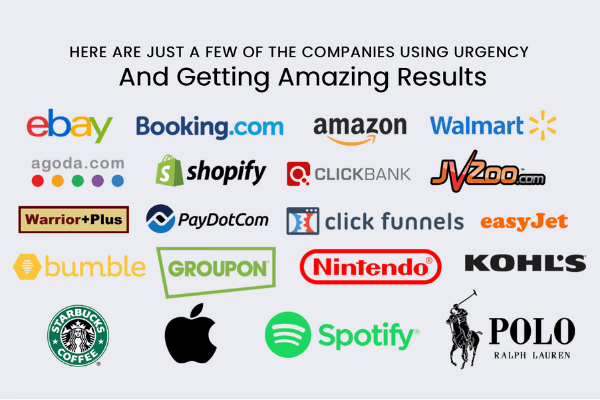 Yes, they use the concept, but not Urgency Suites Pro to apply it.
I checked for Apple using Urgency Suites Pro, I saw no proof of connection.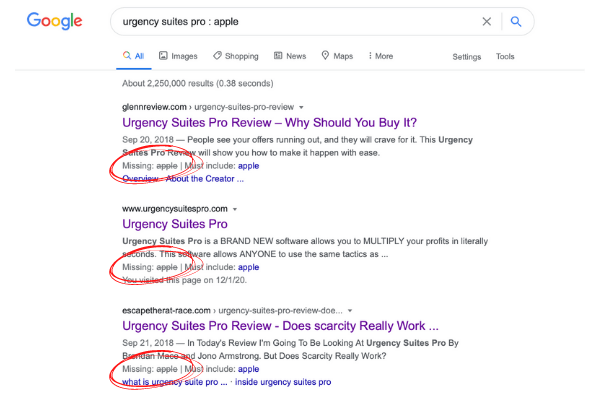 And take Booking.com for example too, this is how they apply the urgency strategy, indicating it's on high demand and how many bookings were made in a period of time.

Brendan and Jono also say Urgency Suites Pro was made with "you" mind. Not because they have a personal concern in helping you make money, but they're thinking of you because they want to get their hands on your hard-earned money.
And don't think this software is a bang for your buck because you're promised $1,703 worth of bonuses and they paid $6,000 to create this.
If this was the case, why do they only sell it for $97? Not even a quarter of the cost they supposedly put into it.
The next time you land on a hyped-up sales page like Urgency Suites Pro, remember their goal is to get your emotions involved to get you to do what they want you to – buy their product and get forked out even more with the outrageous upsells totaling to $925.
What Do You Get In Urgency Suites Pro?
When you purchase Urgency Suites Pro, you'll get training teaching you how can make your own urgency bar and countdown timer and when you should use it. You'll also get the software where you build the two features.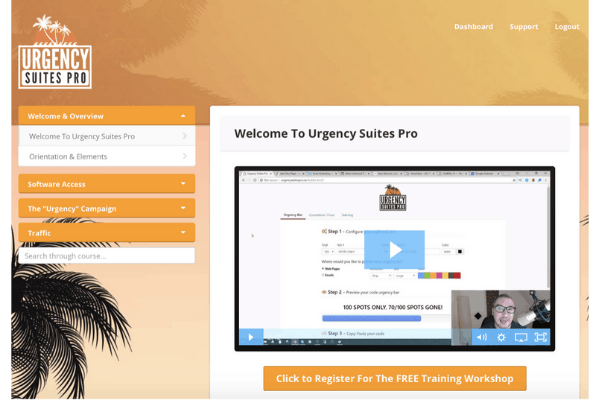 On the Urgency Suites Pro software, you'll see a 3-step process in making your urgency bar.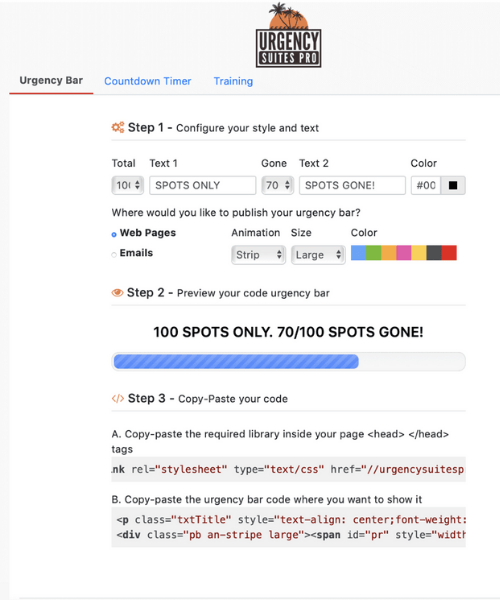 First you decide how you want it to look and how urgent you want to make it. Second preview your urgency bar, and lastly, paste the code on your website.
Roughly, these are the same steps you make in creating your countdown timer.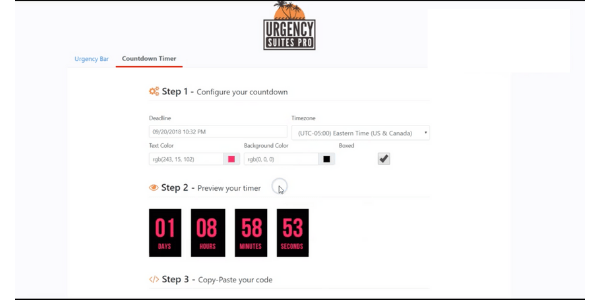 But here's the thing:
This can only be a legit scarcity tactic of "spots" left and time left if it perfectly reflects the real-time scenario.
But it's not automated to reflect the real score of how many "spots" are really left because it's not connected to your product inventory. (given you really have limited products at your disposal)
It can still work even if it's not automated if you keep on updating the urgency bar and keep on replacing the code on the website.
Chances are, this won't happen this way.
Most likely, you just build 1 urgency bar and 1 countdown timer for 1 sales page and leave it as it is.
Realistically, you won't have the time to edit the code so often. It will take up a whole lot of your day.
The bottom line is, the scarcity number stays the same whether someone opts in or not. In this case, the scarcity element doesn't reflect the true numbers and becomes misleading. Just like in every sales page Brendan and Jono made.
Here's another thing to think about:
This scarcity tactic will only have its chance to work when somebody actually visits your sales page.
The training Brendan and Jono give with the software discusses traffic, paid traffic that is. Meaning, you'll be forked out with more money before you see a trickle of hope for this tactic to work.
The traffic training talks about paid ads using Bing which starts at around $1 per click and can go up to $50 per click if in high demand. Not a good way to start for a beginner, again, debunking the claim it's beginner-friendly.
The only way for the urgency strategy to work is if you're sticking to the real score of how many spots and time are left, which you most likely can't keep up because it's not automated to connect to your stock inventory.
You'll just end up misleading people.
Will Urgency Suites Pro Increase Your Sales?
It depends. Urgency Suites Pro can increase your sales if you're not using it to mislead people. Unless you stick to what is true, people will catch up on your sneaky scheme and no one will trust you anymore.
You're not even guaranteed anything and that's basically what the disclaimer tells you about.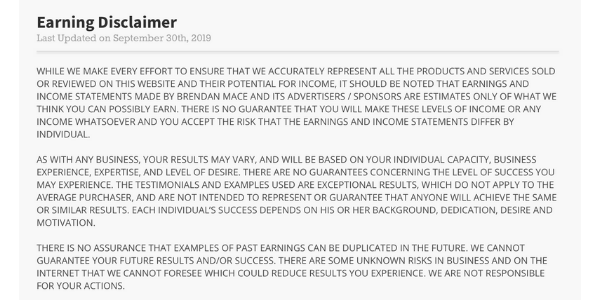 Is Urgency Suites Pro A Scam?
Urgency Suites Pro is not a scam because the method can really work given you keep it real. However, I'd say it's a borderline scam because they're promising an extravagant commission increase when in reality, it happening is next to impossible if you use this software.
Where Do You Go From Here?
Honestly, I don't fancy pushy sales tactics like what Urgency Suites Pro promotes.
Don't get me wrong, urgency bars and countdown timers can be effective, only if it reflects real-time scenarios.
"If you're going to use a sense of urgency as a part of your sales and marketing strategy, do so with honesty and integrity" as Kelly Reeves says in her article "Ditch the Fake Scarcity Sales Tactics Already".
However, keeping the numbers up to date with Urgency Suites Pro's urgency bar and countdown timer can take up a whole lot of your time.
And the worst part, it's not a sustainable way to move people to action especially if they sense you're not telling the truth.
If you want to move people to action, if you want them to buy your offers, it's way better to build your authority and credibility. When they trust you, they'll be more inclined to convert.
Creating a website for your product and creating content showing you know what you're selling will do a great deal in building people's trust in you.
This is something Urgency Suites Pro won't teach you about, but Wealthy Affiliate will.
The Wealthy Affiliate's method would be better than using tacky gimmicks like these because the best way to increase sales is RELEVANCY.
People searching for the best DSLR cameras, you give them a top 10 list and BAM – sales! Better to give people what they're looking for.
Although geared towards affiliate marketing, the step-by-step training in creating your niche-based website and creating related content for it will be very helpful whether you're into eCommerce, affiliate marketing, or any other income business model.
To check if it fits your needs, you can try it out because the 1st 10 lessons are free.
If you'd like to learn more about what you can get out of Wealthy Affiliate, check out this comprehensive Wealthy Affiliate review.
What's Your Take?
Were you disappointed about how Urgency Suites Pro can't live up to the hype they created? Did you think using their urgency bar and countdown timer leads you to misleading people? Tell us what you think, drop your thoughts in the comments section below.
Simon Crowe is on a mission to help as many people as possible kiss their bosses goodbye.
Take the free Commission Academy course to discover how to smash your online income goals and make your dream business a reality.