Hi! Welcome to my review of Aurora 2.0 and today you're going to find out the shocking truth to the question of whether it's a scam or not.
Brendan Mace and Jono Armstrong have teamed up again to bring you this "game-changing software that automate $1,000 commissions".
Sound too good to be true? Because it is!
You'll hear of over the edge claims again like:
24/7 income stream
No added expenses
No BS (ironically every product claiming not to be turned out to be one)
Either they're just too clueless about realizing a lot of people already know these are over-hyped gimmicks that fail to deliver or they're simply just in denial.
Anyway, today I'm going over:
What Aurora 2.0 is
How much it costs
What traffic method they use
If the products are really high-ticket
If everything is just a skanky scam
I'll then cap everything off with my own thoughts and if I think the better course of action is to do affiliate marketing differently from how they want you to do it.
So, stick around, because this will help you decide if you should take out your wallet or keep it safe…
In a safe…
With multiple locking mechanisms…
Aurora 2.0 Review At A Glance
About: Aurora 2.0 is a combination of training and software for affiliate income automation, supposedly getting you $1,000s every single day.
Price: $14.95 for the front-end plus a whopping $428 for optional upsells.
Pros: I haven't been able to find any.
Cons: The traffic methods are unethical and ineffective. It involves a whole lot of spamming to an uninterested audience.
Verdict: Aurora 2.0 is a low-quality income system that's not going to help you make $1,000s because you really won't know what affiliate marketing is about.

What Is Aurora 2.0?
Aurora 2.0 is an affiliate income system created by Brendan Mace and Jono Armstrong. It includes training and software on how to use webinars to supposedly drive traffic to your high-ticket offers.
Brendan and Jono promise to give you a super-easy way to fix the affiliate income problems you may face and get "$1,000 on steroids".
Here's a video to get expectations right:
Here's a readable version of the video too.
Aurora 2.0 allegedly does everything for you to get an automated stream of traffic for your offer using Pinterest and Instagram.
Don't be confused when I first said about bringing in traffic or website visitors using a webinar and later on said the same about 2 social networks. I'll explain it in detail after I tell you about the pricing and upsells.
Just to finish off this section I'll tell you about the hype you'll read on the sales page.
Brendan and Jono says you won't need:
Advertising
Funnels
Chatbots
Solo ads
Websites
Stores
Connections
Of course, because you'll be using Pinterest and Instagram! And saying you don't need advertising is kind of misleading because following people for your bio (which contains your affiliate link) to get noticed is actually advertising.
Connections? What do you call following people on social media to get noticed, aren't those connections?
Brendan and Jono say everything is supposedly under 1 hood. High-ticket offer, traffic, and automation.
As you'll see later, it won't be the case all the time.
How Much Will You Spend On Aurora 2.0?
You have to fork out $14.95 for the front-end but the upsells totaling to $428 is optional.
Or so that's how they put it.
Unless you buy the 1st upsell worth $37, you won't be able to use Instagram as a traffic source.
The 2nd and 3rd upsell, both priced at $147 supposedly gets you limitless traffic and everything for you.
The last upsell worth $97 allows you to sell Aurora 2.0 and keep the commissions. I suggest you don't buy any of the upsells to lessen losses.
Think about this though:
For just $14.96, you get access to an automated system that supposedly helps you pay the monthly bills and more.
Is it logical? I don't think so.
If Aurora 2.0 can really generate high-ticket commissions for you, why do they sell it for spare change?
The fact that they're even selling it instead of hoarding it for themselves shows the money from Aurora 2.0 doesn't come as a result of using the system but as a result of people getting duped into buying the software.
Don't be one of them!
What Is Aurora 2.0's Income And Traffic Method?
In essence, Aurora 2.0 supposedly gets free traffic from Pinterest and Instagram and directs it to a webinar. The webinar is said to do the sales talk, so people get convinced about buying your high-ticket offers.
You don't actually have any idea whatsoever about these "high-ticket" offers. You aren't even sure if they're high-ticket at all!
Brendan and Jono basically banks on the idea that as long as you get people to the webinar, it does the magic of getting people to buy.
While there's truth in webinars educating and engaging an audience with conversions as the end goal, the way Aurora 2.0 does it is over the edge.
I don't actually view them as webinars, they're simply sales videos pretending to be webinars.
What Does Aurora 2.0's Training Teach You?
Aurora 2.0's training sneakily teaches you to use Pinterest to follow your competitors' followers to supposedly tap into the targeted market.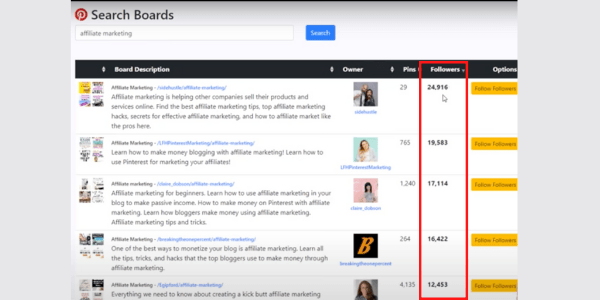 One example they give is about coffee shops. You supposedly follow Starbuck's followers on Pinterest.
Right of the bat, I see something wrong here. As a newbie, you can't place yourself as a competitor of a big brand.
Think about it:
There's no competition to begin with!
Logically, nobody knows about you yet, so they don't actually know you're competing with Starbucks.
Anyway, the concept is, when you follow people following big brands, they supposedly get a notification of a new following and get curious enough to check your account and see your bio where the webinar link is located.
What's the chance of them actually clicking on some random link on your bio?
Next to none!
And you supposedly do the same for Instagram. But still, you won't get the traffic you expect.
Inside Aurora 2.0's Members' Area
Under the "Filling Your Treasure Sack" module, you get done-for-you videos for your webinars. You'll basically be relying too much in this system.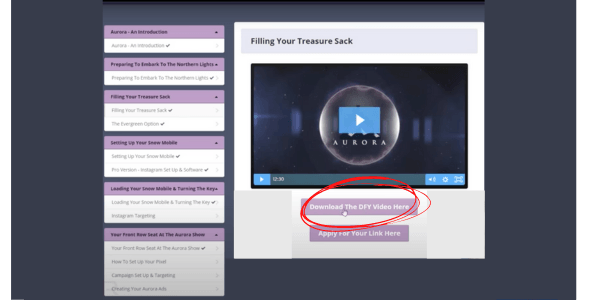 This means you actually don't learn affiliate marketing enough. Maybe they want you so dependent on their system so they can easily get you to pay for upsells and newer versions.
You're also be given the option to make your own webinars. (not everything is in the hood in this case)
There's actually 2 parts to it:
1. Intro video
2. The actual webinar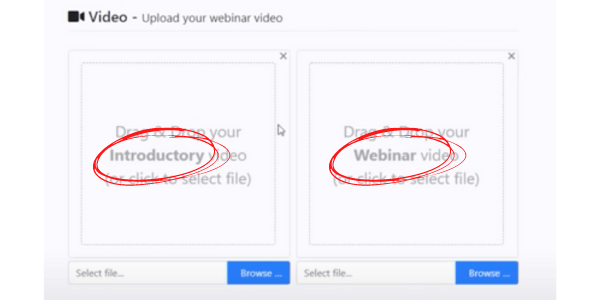 If you do the intro video without really getting proper training in affiliate marketing people will realize you're really not an expert on what you're talking about.
You don't actually get trained about what to put in your intro video to look credible enough to be taken seriously. You'll end up sabotaging the chances of getting your webinar seen even before you play it.
Now what if you do the webinar video yourself?
Things will get worse.
As a beginner, again you haven't built enough credibility yet. No one will think you're worth listening to.
Frankly, if you knew how to leverage affiliate marketing, you won't need to put yourself in shame like this.
Suppose someone was bored enough with nothing to do so he decided to see your webinar.
This is how it would look.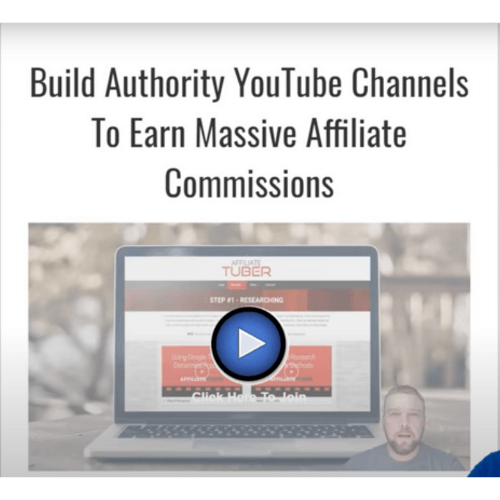 The page alone is so unengaging, how do you keep someone interested?
Here's another kicker:
You can't stop or pause the video once you click on the play button. On one side this forces you to watch the entire video. On the other, this simply means they have no other choice than the former but to exit the page.
Bye-bye to conversions altogether.
Here's the deal-breaker, sneaky tactic they'll teach you:
They say not to use your personal Pinterest account and recommend buying one instead.
Why?
Because the method involves following a huge number of people in a short span of time, Pinterest will get you banned. Simply, spamming.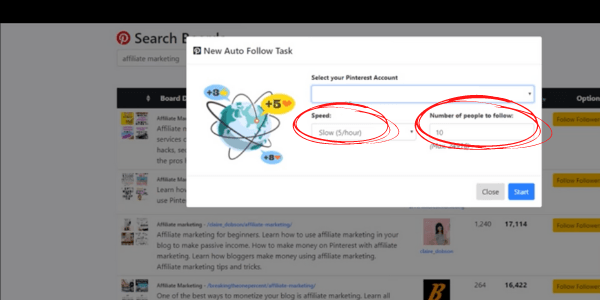 This hilariously shows they knew beforehand there's something wrong with their method.
It's outright unethical, how do you think you can build authority if you use this method?
They'll actually tell you to limit your following. But Pinterest is smart enough to detect you're using some kind of automation tool, when they catch up on this, you'll definitely get banned even if you supposedly limit the spamming.
Supposed you never get banned, will the method work? Will people actually check on your account and click the link on your bio?
Hardly!
Frankly, going over the training, instead of telling you how things are supposed to work, they'll be telling you more about why it won't work. (just so you buy the upsells to unlock all the fussy functions)
Will you make $1000s in under 10 minutes? You know the answer by now.
5 Reasons Why Aurora 2.0 Won't Work As Promised
1. You're not sure if the products are really high-ticket.
2. Spamming people on Pinterest won't make anyone follow you, let alone click on your bio link.
3. If they do click on it, the video will show your lack of expertise you won't move them to convert.
4. There's video is not actually a webinar, but a shabby sales pitch cloaked as a webinar.
5. The tactics are through and through unethical, it's not a good way to drive sustainable traffic.
Is Aurora 2.0 A Scam?
Yes, Aurora 2.0 is definitely a scam because the methods promoted are unethical and it won't deliver any of the claims made.
Aurora 2.0 misleadingly tells you one thing but fails to live up to it, this makes it an utter scam.
Last Thoughts On Aurora 2.0
You won't be able to drive traffic and conversions in Aurora 2.0 not just because of the reasons I've said out earlier, but also because marketing a product, especially a high-ticket one requires giving people value first.
Giving value build your credibility and credibility will move people to trust you and your pitches.
Think about it:
No one whips out their credit card because some random person followed them on Pinterest.
As absurd as it might sound, this is what Brendan and Jono is trying to teach you.
Fortunately, not all affiliate marketing trainings are misleading like Aurora 2.0.
With Wealthy Affiliate, you'll get the real score of how you can build sustainable traffic for your affiliate offers.
Best of all, if you're a beginner, the training starts out from scratch so you get to learn everything you need.
Interested? Learn more about this awesome training by checking out this tell-all Wealthy Affiliate review.
Questions? Violent Reactions?
Did you think Aurora 2.0's methods are baloney? Do you feel it's not worth your money? Tell us what you feel downinthe comments section. We'd love to hear from you!
Simon Crowe is on a mission to help as many people as possible kiss their bosses goodbye.
Take the free Commission Academy course to discover how to smash your online income goals and make your dream business a reality.