Hi and welcome to my honest Partner With Anthony review where I'm going to give you a quick overview of Anthony Morrison's latest affiliate marketing training program to help you decide whether or not this is right for you.
If you're like me then you've been getting a lot of emails from Anthony lately talking about how, for just $7 a month, he wants to partner with you to give you a low-cost way to start your first online business in 2021.
Click his email link and you're taken to the Partner With Anthony sales page. What's odd though is, even though it's made to look like Anthony's live streaming, hit refresh and the video reloads.
Heck, you can even pause and play the video whenever you want…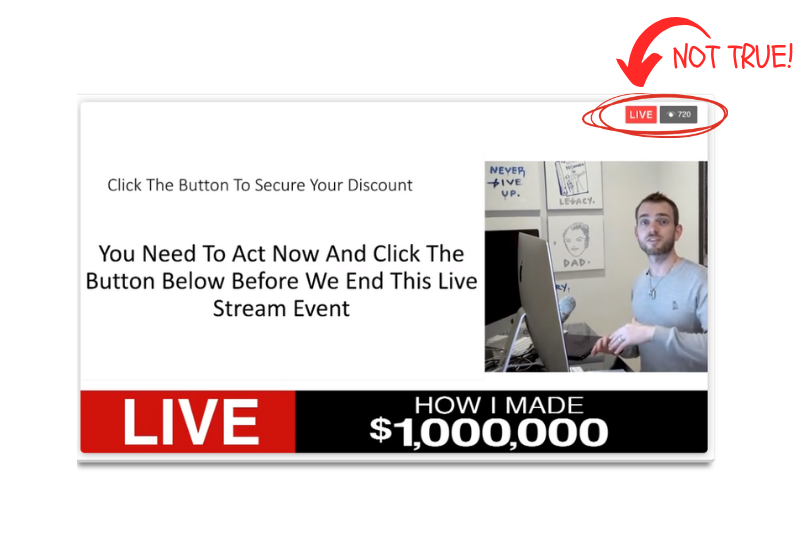 So what's really going on here?
Is Anthony simply trying to pull one over on you or is this a legit online opportunity you should sign up to without giving it a second thought?
Here's what I found out:
Partner With Anthony Review At A Glance
About: Anthony Morrison's latest video course promising to show you how to become a successful affiliate marketer.
Price: $7 plus $169.94/month and $69.95/year to apply the training.
Pros: There aren't any.
Cons: No refunds, a ton of complaints and I don't trust Anthony's shady history.
Verdict: One of the worst affiliate marketing courses we've seen and a borderline scam.

Who Exactly Is Anthony Morrison?
Anthony Morrison is a well-known online entrepreneur with over 10 years of experience in affiliate marketing.
He's written books and created a whole range of courses aimed at teaching people how to create a passive income online but, whether or not these courses have actually helped people achieve real financial freedom is the real question.

Read reviews and complaints from people who have enrolled in his previous courses and it's fair to say Anthony has a less than glowing track record…
When I reviewed Anthony's Inner Inbox Circle System I exposed the misleading and downright manipulative sales tactics he uses to squeeze as much cash out of people as possible.
His 'Success With Anthony' course got shut down by ClickBank which is a real achievement when 90% of Clickbank's make money online programs are complete rubbish.
Here's the deal:
While there's no doubt Anthony is a skilled marketer and slick salesman, I wouldn't trust him as far as I could throw him and neither should you.
What Is Partner With Anthony?
Partner With Anthony is a 13 video session training course aimed at teaching you how to make money as an affiliate marketer, but despite the long sales spiel about this being a 'true partnership opportunity' to work with Anthony, that's not what you're getting.
You'll be able to access Anthony's training videos and eBooks but you can't contact Anthony directly. If you have any questions you'll have to raise a support ticket and wait for an answer from his support team.
Yes, you'll be able to use his done-for-you sales funnels but there's a catch:
You'll first have to go through the sales funnel yourself.
The low $7 price is just the entrance fee you pay to go through his sales funnel and after that, you'll be expected to buy into a whole plethora of Anthony Morrison programs.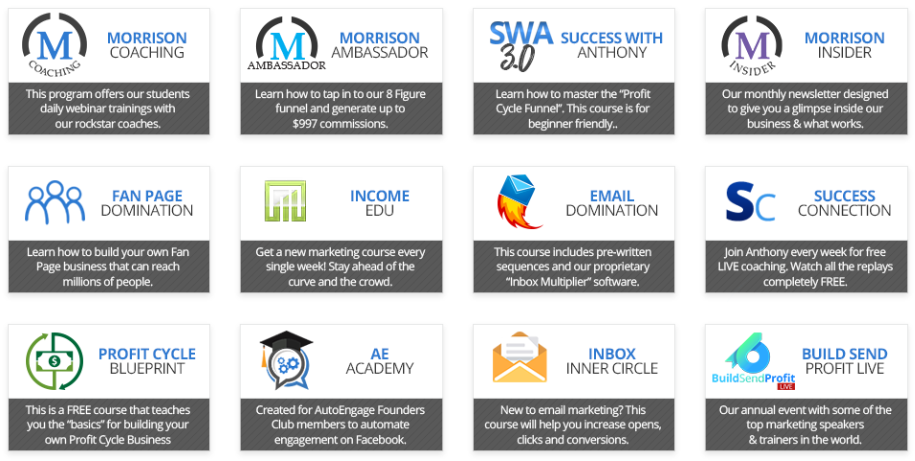 A little self-serving don't you think?
This should be setting off alarm bells. When the sole aim of a training program is to teach you how to promote the same training program it's never a good sign.
A Sneak Peek Inside The Training Area
Log into the PWA members area and you'll find links to the 13 video sessions and downloadable PDF files.
Anthony Morrison's lessons walk you through the tools and membership sites you're going to need to sign up for to be able to promote his courses.
He'll walk you through how to get your landing pages set up and your first email campaign up and running.
There is a time delay for each lesson though so you're going to have to wait 24 hours after completing the previous lesson before you can move on to the next. He says this is so you don't skip through without 'fully absorbing' all the information.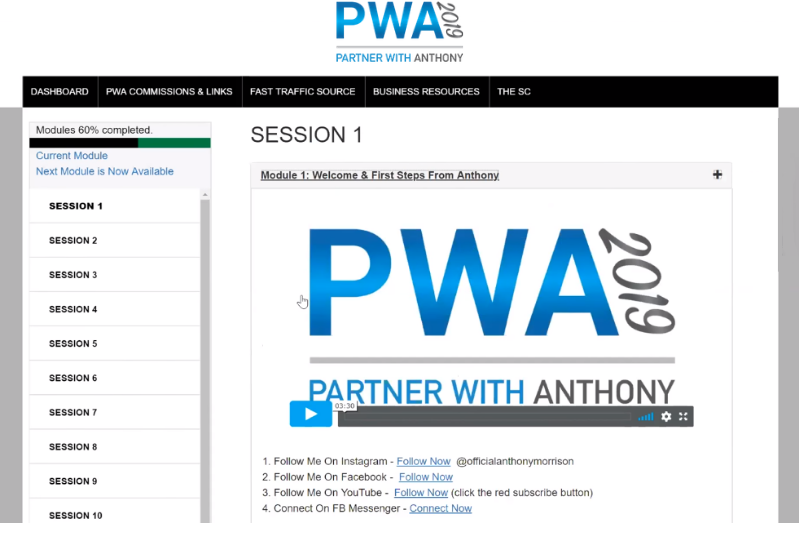 Once inside the member's area, you're on your own as support here is severely lacking. I was surprised to see there's no question and answers area, no members forum and no way to contact Anthony directly, despite the name of the program.
This means if you get stuck or are unsure at any point, your only course of action is raising a support ticket with Anthony's outsourced support team. While they can help you with technical questions surrounding your account set up, these people have very little knowledge or experience with affiliate marketing.
Can You Make Money With Partner With Anthony?
Become an affiliate marketer, take massive action and you can build a very lucrative income stream for yourself. I've run successful internet businesses for 5 years now and I'm a huge believer in people achieving financial freedom online.
Unfortunately, though, this seemingly low-priced course comes with a lot of unexpected costs further down the line that we were not made aware of in the promo video (we'll go through some of these in a second).
In short, yes you can make money with this course but keep in mind that you'll have to spend money to make money and the only way to do that is by getting others to sign up to the Partner With Anthony program itself.
Counting The Real Cost
Partner With Anthony has two payment options; you can either pay a one-time fee of $97 or pay $7 per month for life.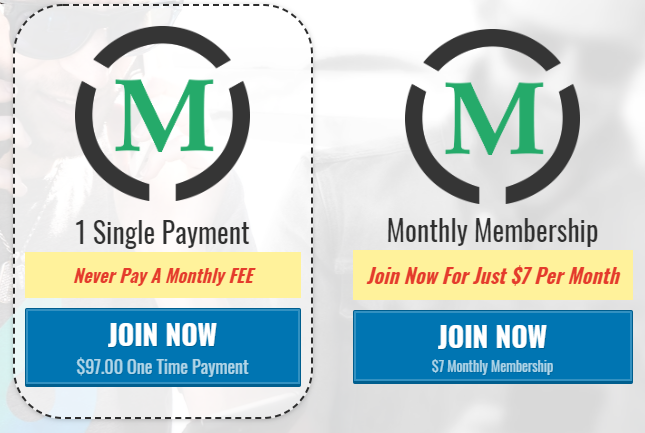 But this is just the beginning…
By far the biggest issue I have with this program is the sheer number of high-priced upsells and monthly subscriptions you're forced to buy if you want to implement the training and get any results.
Let's go through them one by one:
Upsell 1: ClickFunnels – $99-$297/month
With a 14 day free trial, ClickFunnels.com give you the software to create sales funnels.
Upsell 2: BuildRedirects – $19.99-$99.99/month
BuildRedirects.com give you clicks and conversion tracking software.
Upsell 3: Digital Marketing Mastermind – $69.95/year
Digital Marketing Mastermind is Anthony Morrison's very own membership site with more training videos and a private Facebook group.
Upsell 4: M Insider Newsletter – $9.95/month
Yet another Anthony Morrison program, the M Insider Newsletter is a monthly newsletter about optimising your campaigns and earning 'even more money'.
Upsell 5: Get Response – $15-$1,199/month
GetResponse.com gives you email autoresponders and landing pages.
Upsell 6: AWeber – $19-$149/month
Sign up with Aweber.com and you'll be able to start collecting email subscribers.
You're going to need to sign up to all of these monthly subscriptions if you want to implement the training and promote Partner With Anthony.
Even if you go for the lowest priced options in each case, the best-case scenario is that you're going to need to shell out a whopping $169.94 per month plus $69.95 per year!
That's a lot for what you thought was a $7 a month program!
Making money online isn't complicated…
This video will show you exactly how to get started. Tap to watch now.
What Partner With Anthony Members Say
Read other members' Partner With Anthony reviews online and you'll see the same issues coming up again and again.
What I find most alarming (and you should too!) is the sheer number of complaints from people who signed up and ended up having money taken out of their account without authorisation.
See the complaint below from a member who had money taken out of their account for months without realising it, only to be told they wouldn't be getting a refund:
1. Unexpected Charges, Zero Chance Of A Refund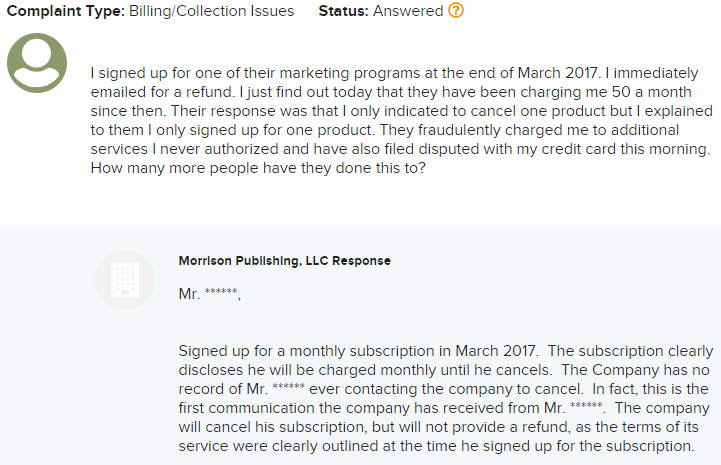 Hiding additional fees and charges in the fine print of the terms and conditions might make it legal, but this is still highly unethical in my view.
2. Website Glitches With Zero Support
From time to time you may experience the occasional technical glitch with any training website you join, but if this happens you definitely deserve more than an automated message at the other end of the line: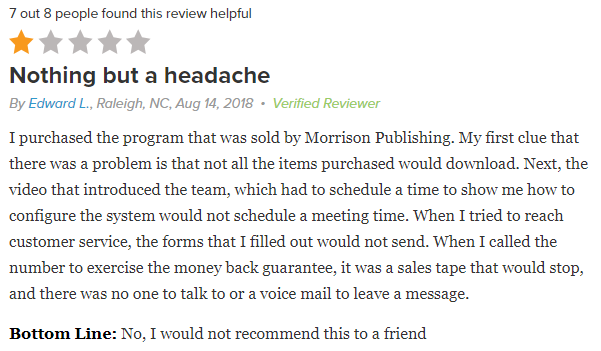 Is Partner With Anthony A Scam?
Partner With Anthony is technically not a scam because there is some training, but do I recommend it?
There's undoubtedly some good information to glean from Anthony's years of experience in online business, but there are just far too many red flags for me to be able to give this program a green thumbs-up, including:
Anthony misleads people into thinking they're going to be working with him.
People sign up to a $7/month program and end up paying $100's in unexpected costs.
There's a total lack of support for members.
Partner With Anthony is about making money promoting Partner With Anthony.
There's a ton of negative reviews and complaints from members fighting for refunds (and not getting them).
Anthony Morrison has a shady reputation with many calling him a scammer.
A Better Partner With Anthony Alternative
If you're starting out on your online journey, you deserve better than programs like Partner With Anthony that fail to deliver.
That's why I recommend Invincible Marketer; an online training platform and community that have been turning aspiring entrepreneurs like you into successful full-time affiliate marketers since 2005.
You can read my full review of Invincible Marketer right here.
As an Invincible Marketer member, you'll have everything you need to create and grow a thriving and successful online business at your fingertips and get real support in real-time.
Plus they don't ask you for $169 per month like Partner With Anthony does.