Fun fact: Every hour of the day someone in the world googles "Anthony Morrison scam"
By the end of this review, you're going to know without a shadow of a doubt whether you should follow this self-proclaimed guru or if he's a scammer not to be trusted.
Anthony Morrison's released dozens of making money online programs over the years and each time we're told this one is really "the one" that will show you the "never before seen" and "mind-blowing" secrets to catapult your online earnings to $1,000/day.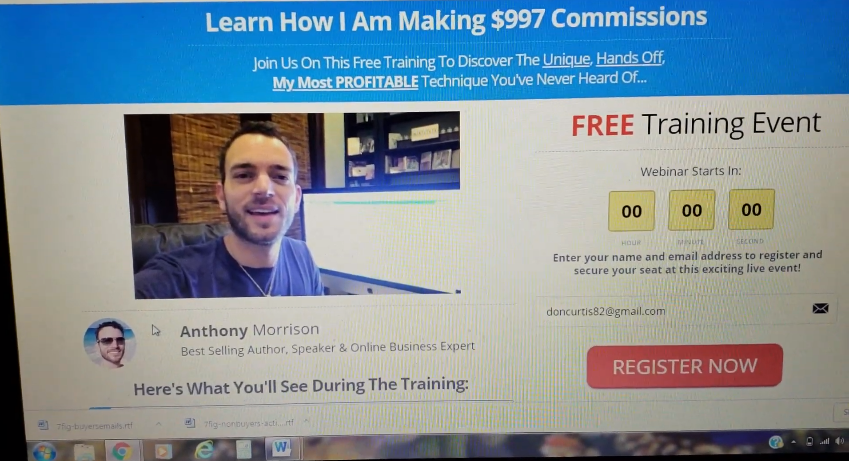 Readers are always asking me if any of Anthony's products are worth buying and, after exposing several Anthony Morrison scams here on the blog, the answer is always going to be a huge resounding "No!"
I wouldn't trust this guy as far as I could throw him.
Wanna know why?
Because Anthony Morrison rakes in huge amounts of cash by using misleading and unethical marketing to sell his books, courses and extortionately priced coaching programs to people looking for a real way to make money online.
So, if you're considering buying one of this guy's products but you're still on the fence, I'm really glad you're here!
Let's take a closer look at Anthony Morrison's track record to help you decide whether you should trust this guy or not.
4 Dirty Secrets Anthony Morrison Should Tell You (But Won't)
Here are my 4 main reasons Anthony Morrison is a scam artist and why I think you should run as far away from his training products (and anyone who's promoting them) as possible:
1. Anthony Morrison Got Banned From ClickBank
If you're looking for ways to get started online, you can't get much worse than ClickBank. Search their E-Business listings and you'll see the internet's scammiest and scummiest get-rich-quick schemes all laid out in front of you.
So the fact that Anthony got banned from ClickBank is really saying something.
The reason?
His refund rates are just way too high.
Or in other words, too many people thought the claims his 'Success With Anthony' made did not match the reality of the second-rate videos and eBooks.
Nowadays Anthony sells all his courses under the banner of Morrison Publishing.
Some of these schemes include:
Success With Anthony
Ambassador Club
Credit where it's due: Anthony is a very talented salesman and a slick marketer. He knows exactly what you want to hear and the emotional buttons to press in order to persuade you to part with your cash.
He makes money by selling you on the idea that building an online income is fast and easy, especially when you pay to discover his profit-busting secrets and magical money-making software.
When someone promises you can make easy money for doing nothing, don't believe a word of it. This is the oldest trick in the book.
The more you trust the crazy income claims, the more money you will lose to internet con men like Anthony. The best way to protect yourself is to know what common tell-tale signs to watch out for and avoid scams online.
2. Anthony's Aggressive Sales Tactics Will Bleed You Dry
Here's Anthony on the Hansen Report promoting his Advertising Profits From Home book where he claims for just $20, people can discover his income-generating strategies:
"All you gotta do is get the book and apply the methods I teach."
First of all, the video testimonial you see in the video was actually from Anthony's dad and secondly, did you notice the disclaimer at the bottom of the screen?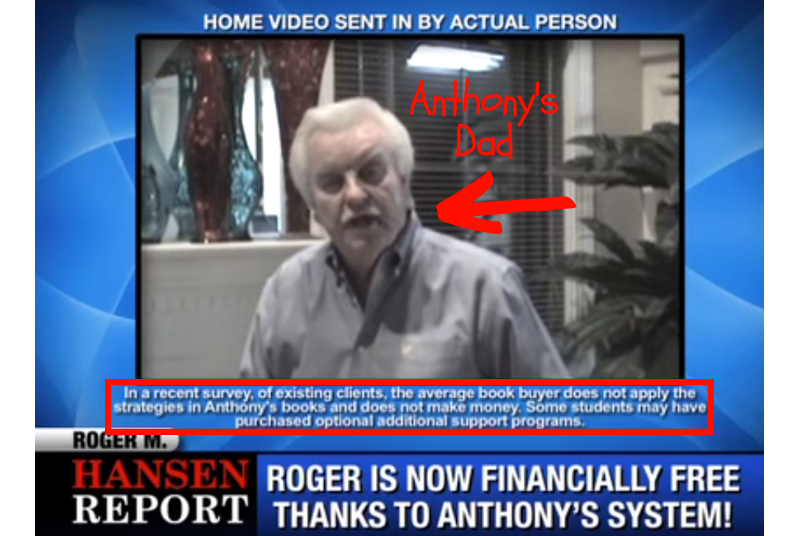 In case you can't make it out, it says:
"In a recent survey of existing clients, the average book buyer does not apply the strategies in Anthony's books and does not make money. Some students may have purchased optional addition support programs."
Not only do people NOT make money with his books and programs, but many of them lose $1,000's after being pushed to buy into several high-priced upsells.
How every Anthony Morrison scam works:
The phoney interview you've just seen would be shown as an infomercial on late-night TV.
At various times throughout the 9-minute segment, Anthony would tell viewers to call the toll-free number to place their book order…
When they call in they're put through to a high-pressure salesman posing as a personal 'success coach' whose sole job it is to squeeze as much cash out of you as possible.
They're specifically trained to find out as much as they can about your personal finances and how much credit you have available before they go about employing manipulative and slimy sales tactics designed to empty your accounts.
Read the full script Anthony wrote and gave to his sales team here (PDF) to find out exactly how they coerced people calling into parting with their hard-earned cash. It's a real eye-opener.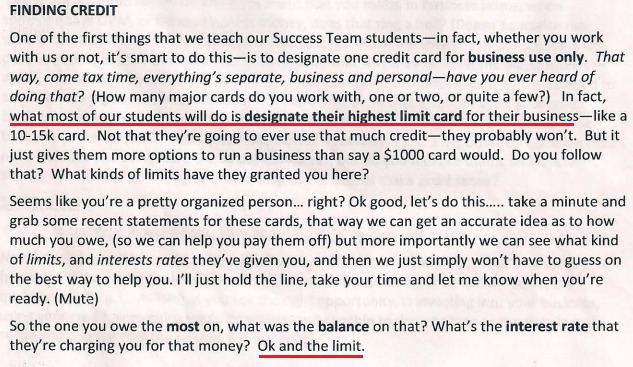 There are literally thousands of complaints online from people who fell for Anthony Morrison's BS and ended up losing $10,000's as a result. This is no joke.
3. Beware The Crazy-Priced Big Ticket Items
Take a look at any of Anthony's courses and you'll see they're very modestly priced – $7 here, $37 there. No one would blame you for thinking this was a small price to pay for an apparent $1,000/day system.
Except, after reading hundreds of reviews, it's clear signing up and getting involved with Anthony always ends up costing you way more than you ever thought possible.
Here's a visual representation of what Anthony's sales funnel looks like: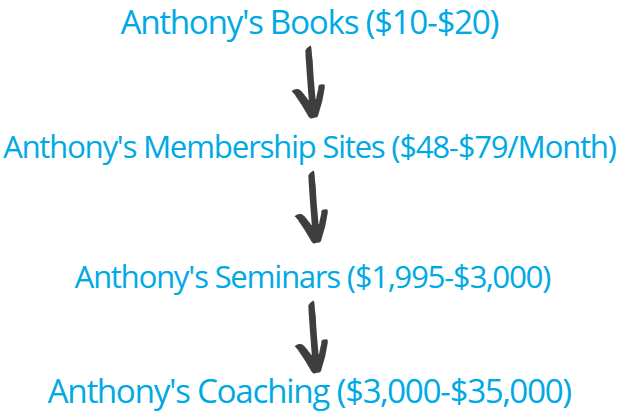 Once his team of salesmen have your name and number you can expect to be called and harassed until you authorise the payment required to go to the next step…
Politely decline their offer you'll be bullied, berated and even threatened.
Let me give you some real-life examples of this playing out. This guy's story is typical of someone who enrols into any of Anthony's programs: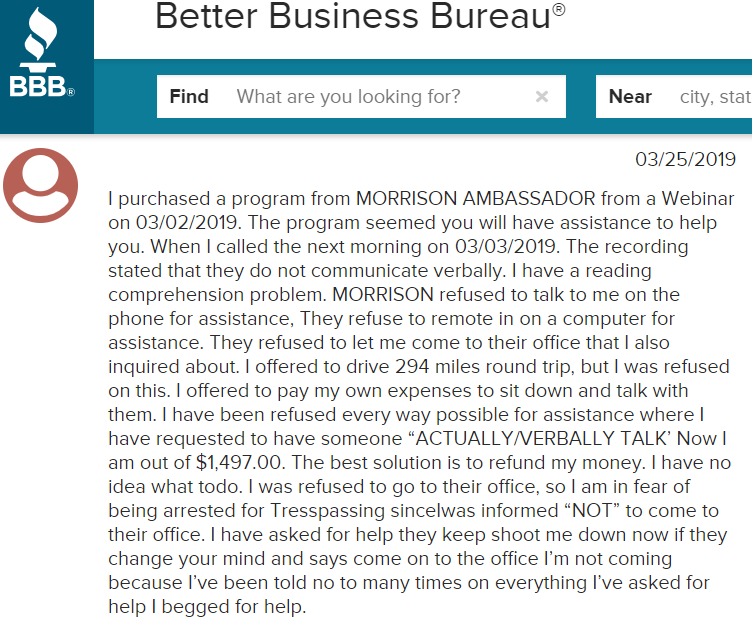 The Morrison Publishing support staff decided NOT to give this person a refund.
Here's another guy who signed up for Anthony's Inbox Inner Circle System, a scam I've recently exposed on this site. What started out as a $77 program ended up leaving Kevin $4,000 worse off: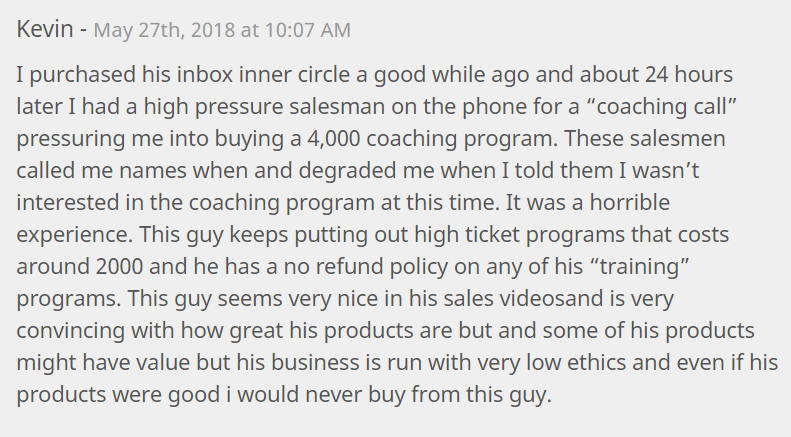 4. Morrison's Courses Are All About Making HIM Money, Not You!
The final reason Anthony Morrison is a scammer you should most definitely avoid is that all training products are focused on teaching people how to make money online by promoting HIS training products.
In my recent Partner With Anthony review, I exposed the fact that the only way to make money with this latest program is by promoting the said program to others.
Digital Marketing Mastermind is all about getting you to pay $99 a month for ClickFunnels through his link.
Every single one of his courses is solely designed to put more money in his pocket, not yours!
You'll Do Better Without Anthony's 'Help'
I know it's easy to fall for the fake smile and fancy sales talk and give Anthony the benefit of the doubt, believing you'll learn something valuable from his courses, but please don't.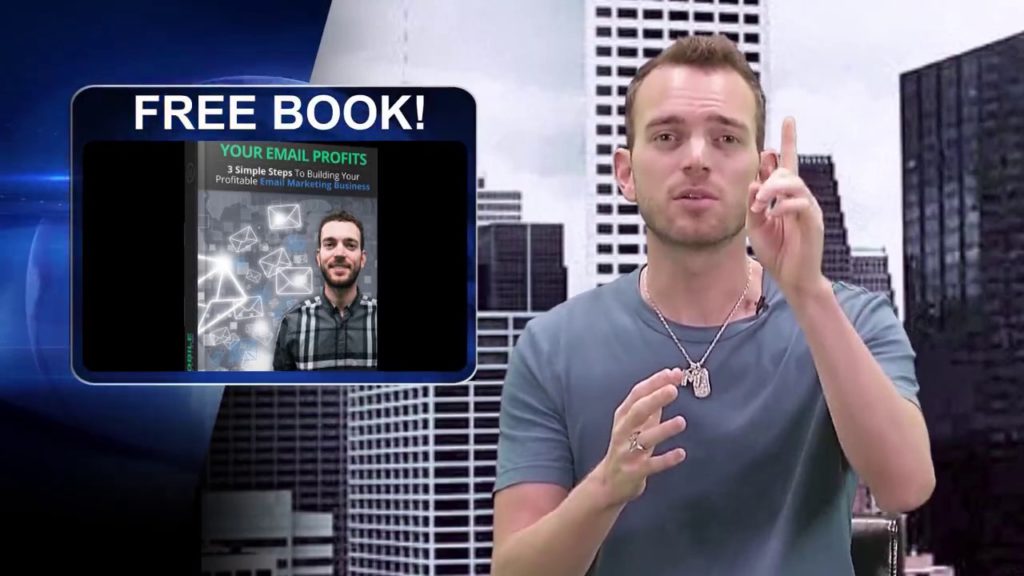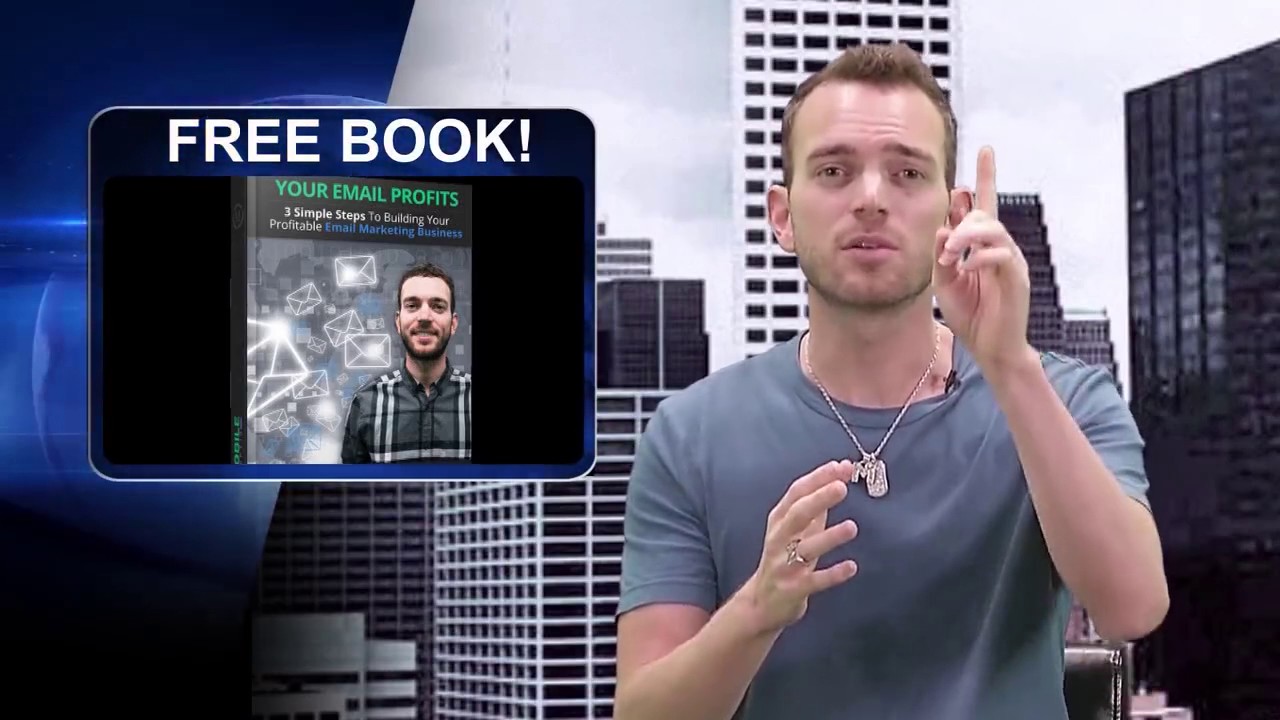 You absolutely CAN create and build a very lucrative online income stream for yourself, but try and do that through any hyped-up Morrison Publishing course and you'll find yourself losing money rather than making it.
Rather than being a genuine guy helping people find true financial freedom, Anthony Morrison has scammed countless people into maxing out their credit cards, leaving them to drown in debt without a chance of getting a refund.
My hope is that having read this review, you won't be duped into funding Morrison's scam empire and you'll now be wise to his salesy gimmicks and tricks and won't be fooled into handing your personal contact details over and have to deal with aggressive sales calls.
If you're looking for a no-nonsense guide to earning a full-time income online then get my FREE affiliate crash course here.
You can always go back to Anthony's programs if you think I'm talking crap.
The choice is yours, my friend.
Share Your Thoughts & Experiences
Have you ever fallen for Anthony Morrison's scamming tactics only to find out you'd been duped? What would you say to anyone considering buying any of Anthony's courses?
Scroll down and share your thoughts and comments about Anthony and his products below so that others can learn from your experiences!
Simon Crowe is on a mission to help as many people as possible kiss their bosses goodbye.
Take the free Commission Academy course to discover how to smash your online income goals and make your dream business a reality.