This is the definitive review of Anthony Morrison's Digital Marketing Mastermind program which aims to give newbies a proven strategy to start an online business and help existing digital marketers go to the next level.
(Already bought it? Leave us your review in the comments!)
So if you want to find out:
What Digital Marketing Mastermind is
What's on the inside
How much it costs (including upsells)
How it compares to other affiliate training courses
Then you've come to the right place.
Let's dive in:
Digital Marketing Mastermind Review At A Glance
About: Digital Marketing Mastermind is Anthony Morrison's latest program designed to help internet marketers "take your business to the next level and create more income."
Price: $7 per month plus upsells priced at $3,437/year (details + upsell info)
Pros: Low initial price tag. Some value in the weekly webinars.
Cons: An absurd amount of upsells and Anthony has a lousy track record.
Verdict: A massively overrated, yet rather disappointing done-for-you ClickFunnels funnel promoting ClickFunnels. This isn't how you build a proper online business.

The Best Affiliate Marketing Course?
We've spent $10,000s and 1,000s hours looking for the best affiliate marketing course…
Digital Marketing Mastermind is more of a done-for-you system than a course, but regardless, it doesn't make the top of our list…
What Is Digital Marketing Mastermind?
Anthony Morrison's Digital Marketing Mastermind is sold as an affordable mastermind group to help aspiring entrepreneurs start an online business and to show existing internet marketers how to take their businesses to the next level.
Digital Marketing Mastermind doesn't teach you how to do affiliate marketing though.
Instead of equipping you with the income-generating skills you need to be successful online, Anthony offers a done-for-you sales funnel you can use to supposedly make sales on autopilot, mindset training, expert interviews and a private Facebook group.
Read: The Ultimate Guide To Affiliate Marketing (For Beginners)
Who Is Digital Marketing Mastermind For?
Digital Marketing Mastermind is marketed to two kinds of people:
Newbies to making money online who are eager to get started and digital marketers looking to take their businesses and incomes to the next level.
The sales page makes it seem like a surefire, budget-friendly way to make money online.
However, based on what I know about Anthony plus what I've seen inside the members' area, proceed with caution as Digital Marketing Mastermind is neither a guaranteed or cheap way to earn online.
Making money online isn't complicated…
This video will show you exactly how to get started. Tap to watch now »
How Much Is Digital Marketing Mastermind?
You can join Digital Marketing Mastermind for $7 per month but you'll have to pay a minimum of $97 a month for ClickFunnels if you want to make any money with this. There are also several upsells offered after you sign up.
So Digital Marketing Mastermind will cost you $104 a month (minimum):
$7 per month for continued access to Digital Marketing Mastermind
$97 to $297 per month for the ClickFunnels page and marketing funnel builder
But that's not counting the upsells:
So while the initial $7 price tag may seem tempting, if you really want to make a go of it, you should expect to pay a lot more.
What You Get Inside The Members' Area
Log in and the first thing you notice is the sheer number of upsells…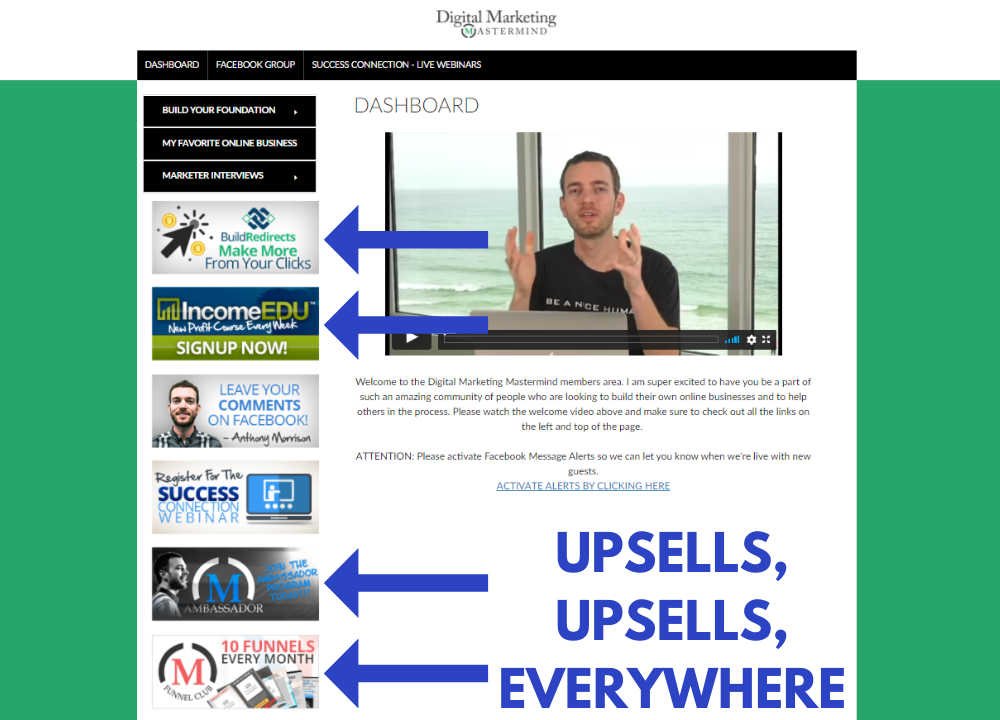 You won't find much in the way of training as it's clear the focus of the members' area is to part you with more cash.
There's a 3-minute welcome video and in the top-left are the 4 sections which make up the Digital Marketing Mastermind program:
1. Build Your Foundation
This is a series of 5 very short videos covering mindset topics like limiting beliefs, negative people, discovering your why and the importance of writing out your goals.
2. My Favorite Online Business
A 30-minute video where Anthony talks about what affiliate marketing is, how he uses ClickFunnels to earn recurring monthly commissions and why you join ClickFunnels (through his link) and promote ClickFunnels too.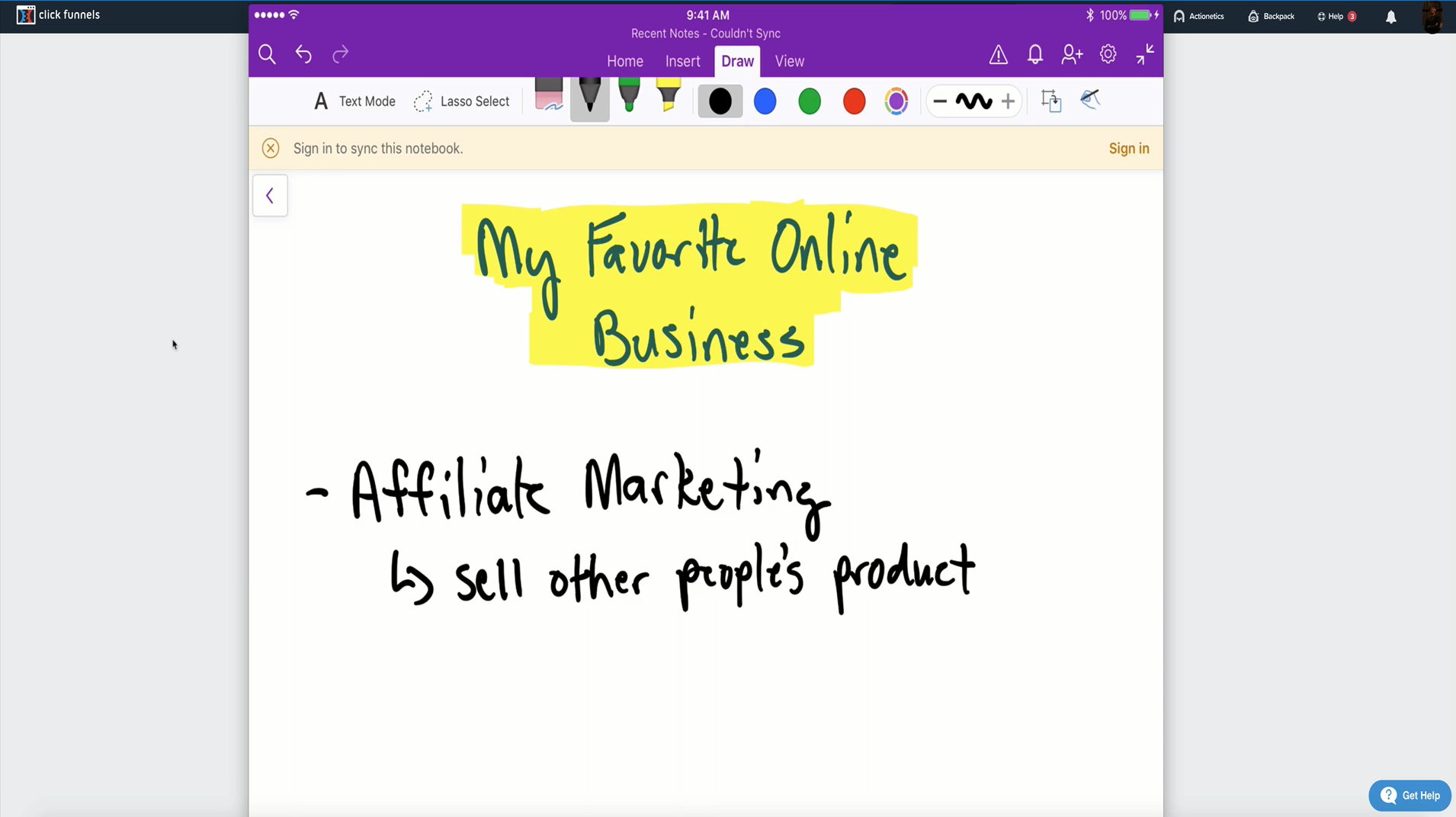 3. Marketer Interviews
This gives you access to 9 interviews with successful digital marketers each around 20-30 minutes in length. Some of the names I recognised like Dan Lok, John Crestani, Kevin David and Desmond Ong.
4. Success Connection Weekly Live Webinars
These are held every Thursday night at 9pm EST and they cover topics related to building a digital marketing business, ways to profit online, how to use email marketing to increase sales and so on.
Can You Make Money With This?
Affiliate marketing is amazing. Really! It's my favourite way to make money online because all you do is send people to a company's website and let them do the rest.
They deal with products. They deal with payments. They deal with shipping. They deal with customer care. And you get a nice commission check at the end of the month.
But instead of teaching you how to become a real affiliate marketer, Anthony gives you a done-for-you sales funnel you're supposed to use to promote ClickFunnels.
We're told you make money with Digital Marketing Mastermind in 3 simple steps:
Step 1: Create your ClickFunnels account for $97 or $297 a month
Step 2: Install Anthony's done-for-you sales funnel
Step 3: Use this to start promoting ClickFunnels to others
Anthony insists: "No, this is not some super sneaky way to sell you something 🙂"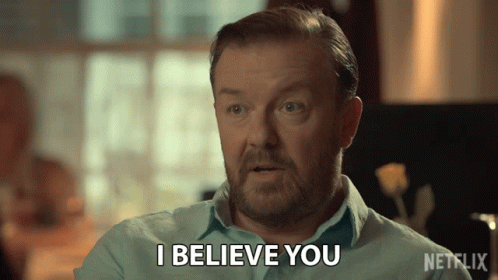 3 BIG Digital Marketing Mastermind Red Flags
Here are a few things about Digital Marketing Mastermind that should raise alarm bells:
1. Done-For-You Is NEVER Good For You
Anthony says join Digital Marketing Mastermind and he'll give you his entire business funnel complete with done-for-you capture and sales pages. All you have to do is plug and play to earn autopilot profits and you'll be laughing all the way to the bank.
Sounds great! Makes sense! Anthony's split-tested them so they're guaranteed to convert! Except done-for-you systems are a total hoax and doom you to failure every time.
Here's why…
Anthony's been promoting Digital Marketing Mastermind for the last 3 years. He's got 10,000s or 100,000s of students promoting the same exact sales funnels to death.
There's nothing unique, no value-added, no way to stand out. Everyone's seen them before and people stop opting in.
The end result?
Conversion rates drop dramatically and you always spend more than you make.
The second reason you're better off without done-for-you systems is because they're like riding a bike with training wheels and you can never take the training wheels off.
You never learn the income-generating skills you need to become an independent, successful entrepreneur. You never learn:
How to create simple sales pages
How to make your own videos to market a product
How to write your own emails
Anything about online marketing
So you're forever stuck in the boom-and-bust cycle of done-for-you. And learning this stuff really isn't difficult! You just need to be shown how to do it.
2. You DON'T Need ClickFunnels. Period.
ClickFunnels is expensive and completely unnecessary. Really, I've made $100,000s online and I've never used them and never will. You can easily create beautiful, high-converting sales pages on WordPress for free.
So why is Anthony pushing you to pay the extortionate ClickFunnel fees?
Because they pay 40% commissions that's why!
Here's Miles Beckler debunking the whole "One Funnel Away" myth:
3. Anthony Has A "Less Than Stellar" Reputation Online
Anthony Morrison, brother of Adrian Morrison, is a speaker, author and entrepreneur and the founder of Morrison Publishing. His net worth is estimated to be around $1.5 million, though this is probably a very conservative estimate.
Many say he's earned his fortune as an internet scam artist duping people into buying his make money courses like:
We've pointed out Anthony's apparent lack of ethics in the past, but getting banned on Clickbank because his refund rates were too high did not help his reputation one bit.
Oh and be in no doubt, Anthony WILL spam your inbox, have his sales agents call you and sell your contact information to the highest bidder.
He says so on Digital Marketing Mastermind's order page:

Is Digital Marketing Mastermind A Scam Or Legit?
Digital Marketing Mastermind is not a scam, but it is an expensive, overhyped and ineffective way of using done-for-you ClickFunnels funnels to promote ClickFunnels. Not exactly the solid foundation you want to build your financial future on.
Anthony isn't upfront and honest about the real costs involved and I can't shake the suspicion increasing his ClickFunnel commissions is the main reason Anthony created this program.
Should You Join Digital Marketing Mastermind?
Anthony is giving you a legitimate way to make money online through affiliate marketing, but he's not giving you the complete picture. He's merely giving you tidbits of information before asking you to pay more.
You'll not make a penny from Digital Marketing Mastermind without investing in a bunch of monthly subscriptions and that's before you even start paying to drive traffic…
Personally, I would steer clear of Anthony Morrison and whatever get-rich-quick course he comes up with next.
A Smarter Way To Start Earning Online
There are some really top-notch affiliate marketing training courses out there but Anthony Morrison doesn't create them or even tell you they exist.
After reviewing 700+ courses, I've finally found the best free 100% beginner-friendly course that will give you everything you need to build a 6-figure income online:
Share Your Digital Marketing Mastermind Reviews
Already bought it? Share your review so others can see if it's worthwhile.
Have a question about this program? Let me know below and I'll try find the answer.
Simon Crowe is on a mission to help as many people as possible kiss their bosses goodbye.
Take the free Commission Academy course to discover how to smash your online income goals and make your dream business a reality.