Is Money Genie a magical platform providing you with a sustainable monthly income or is it all just smoke and mirrors to hide the fact it's a scam?
This is the tell-all review where I reveal every filthy reason you shouldn't sign up with Money Genie. That's right, you're going to discover what it really is, how it works and what the blaring alarm bells are so you can avoid getting scammed.
By the end of this review, you're going to see through the illusion Money Genie tries to deceive you with. Not only that, but I'm also going to show you an honest and legit way to achieve your online income goals. 
Money Genie Review At A Glance
About: Money Genie claims to be a social media affiliate network where you can earn by referring others to the platform.
Price: Free to join.
Pros: There are none.
Cons: No owner info, fake testimonials and income proof, misleading claims and worst of all: they never actually pay.
Verdict: Money Genie is a rehash of the tons of "#1 influencer network" scams littering the web designed to get your personal info. Don't fall for it. 

What We'll Cover In This Post:
What Is Money Genie?
Money Genie poses as the #1 social media affiliate network paying members for referring others to sign up. It also offers simple tasks like taking surveys and playing games as an additional source of income.
In truth, Money Genie is no different from scams like EZ Bucks, Cashgem, Influencer Cash and Tap2Earn. The owner is unnamed and the company address is bogus.
The initial address was:
1295 Northland Drive, Suite 300, Saint Paul, MN.
The good news is, this is a real address. The bad news is, it's the same address for InboxDollars.
Maybe they realized this mistake of having an identical address of another scam so the changed it to Schadijk 94, Veenendaal, Utrecht, 3095 XA. Again, it's a real address, but sadly it's not a commercial location: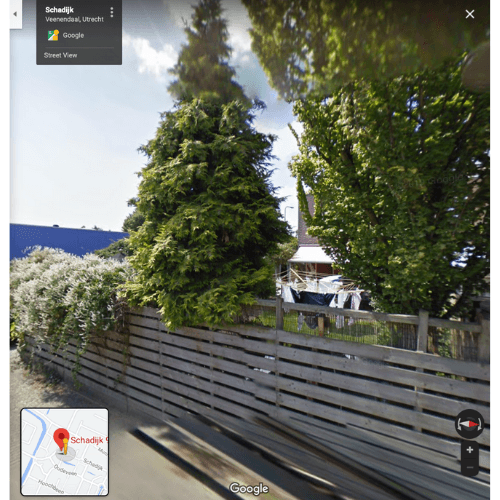 I have a lot more red flags to show you, but for now, let's talk about how you're supposed to "make money" with Money Genie.
How Money Genie Works
In theory, making money with Money Genie is as simple as sharing your links on Facebook and inviting others to sign up. Just a few clicks per day and you have yourself an online income enough to pay the bills.
Sound too good to be true? This easy-money for no work gimmick is exactly what characterizes a get-rich-quick scheme.
Anyway, to access the members' area, you first have to provide your name, username, email, and password. After successfully signing up, you'll be directed to the dashboard and see it already has a $35 (sign up bonus) showing in your account.
You don't actually have to sign up for it because I already did to give you a clear picture of what's inside. But if you really want to try it out yourself, I suggest you create a different email address to sign up for this and also a different password from what you usually use…
They'll bank on the idea that you have the same password for all your online accounts and try to steal your identity and take away your hard-earned money.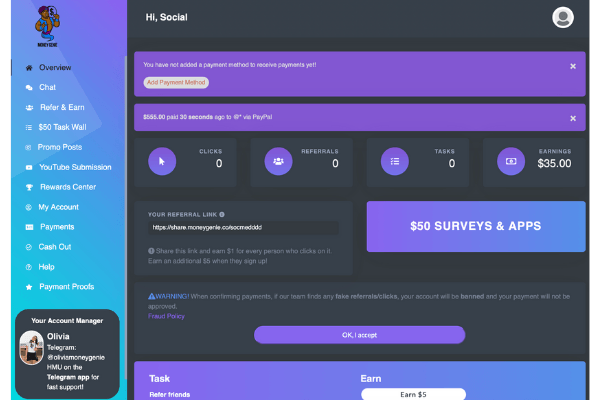 As you can see on the left side of the dashboard, there are supposedly 4 ways to make money with Money Genie:
Refer & Earn
$50 Task Wall
Promo Posts
Youtube Submissions
Refer & Earn
You'll get $1 for each person who clicks your link, regardless if they sign up or not. If someone signs up using your link, you'll get an additional $5.
The dodgy part is this:
Why will they pay you for someone who doesn't end signing up or someone who does sign up but is not required to finish tasks? What's in it for them?
These tells me 2 things:
1. They'll end up losing more than gaining.
2. It supports my point they're taking your personal information.
They even give out $35 as a signup bonus. Just think, where does the money to pay you come from? It has to come from somewhere.
$50 Task Wall
It's funny how they name it $50 Task Wall when all the tasks I found pay just $20. But don't get fooled by this handsome pay for doing something so easy.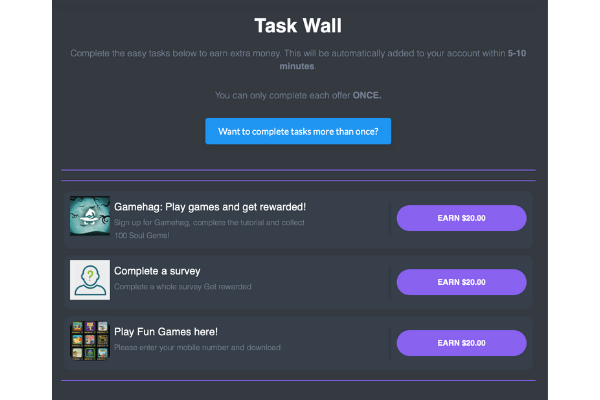 Even legit survey sites like Swagbucks can only afford to pay a few cents for a survey. Promising a $20 reward for answering personal questions won't get you money, only unsolicited calls, an avalanche of sales pitches on your email, or a stolen identity.
The worst part?
Some tasks involve providing your credit card info for free trials. Either you end up getting charged for forgetting to cancel the subscription before the free trial ends or an empty bank account.
Youtube Submissions
Money Genie will pay you for creating a video promoting the website and uploading it on Youtube. If you see positive reviews on Money Genie, these are just members wanting to increase the figures in their account.
The problem is, they're already promoting the website, claiming it's legit even before they try cashing out.
I can't imagine how upset they got when they realized there's no real money waiting to be withdrawn.
"Cashing Out"
To withdraw fund you'll have to meet the requirements first:
20 referral clicks
5 new signups using your referral link
5 Tasks
At least $295 in your account
But you know by now this is just a tactic to stall you before you realize there's really nothing in it for you. The sad part is, you'll only realize this after you've invited friends and family to join, take the effort to answer surveys, and do tasks. This is really not worth burning bridges with your loved ones.
9 Reasons Money Genie Is A Scam
Without a doubt, Money Genie is a scam and here's why:
1. No Owner
Only a shady program creator will try to hide his identity to save face and skip from one scam to another. Legit program creators have no reason to hide who they are. In fact, they'll even be proud to introduce themselves to add credibility.
2. Unverified Claims
The FAQs page says Money Genie gets its revenue from ads but nowhere on the website will you see even a single ad. So clearly, there's no money coming in from where they claim.
Also, the current trend is to advertise on social media more than on any other type of website. The only people willing to pay Money Genie are the ones who want your personal information to spam you with sales pitches are the ones who want to take advantage of your identity.
3. Fake Payment Proofs
No matter how many screenshots they provide, it won't help to gain your trust. First, one payment proof is dated October 2019, how can that happen if the website was launched in November?!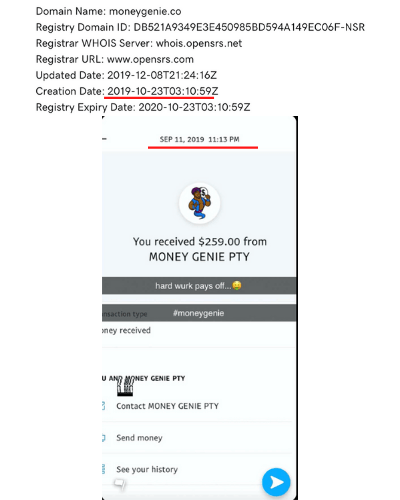 Second, while scanning the photos, I saw a displaced screenshot. Every screenshot is supposed to be proof of Money Genie transactions, but one is of Tap2Earn. No doubt, these 2 are related.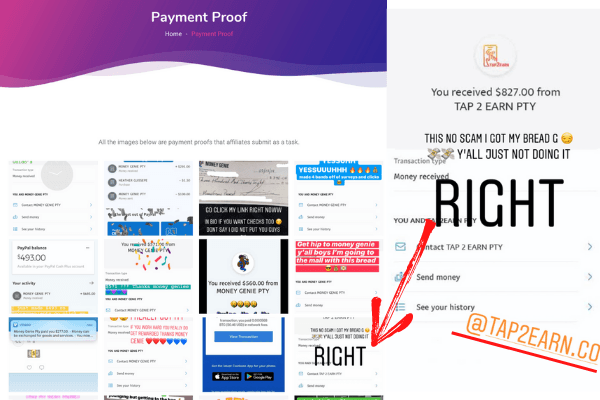 4. Fake Testimonials
When you sign up for Money Genie, they assign an account manager for you. It's either one of these two, but don't get your hopes up, this won't be of any help. These are just dummies using stock photos.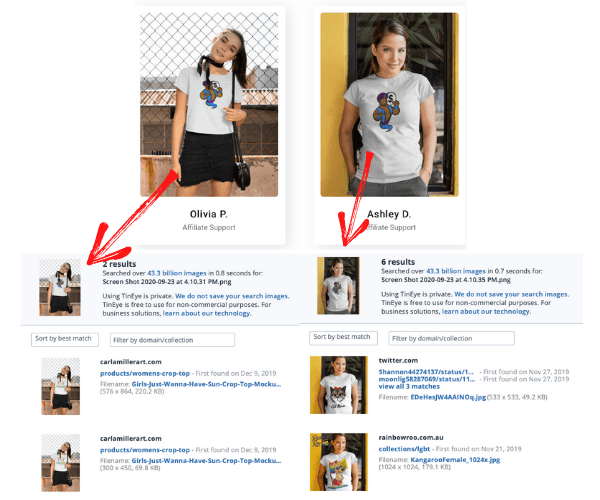 Another thing, on the homepage you'll see testimonials from Ana Cheri and Desi Banks. These people are legit influencers with thousands of Youtube subscribers. It didn't help me trust Money Genie more because I tried searching for the influencers' names together with Money Genie and there's no connection at all.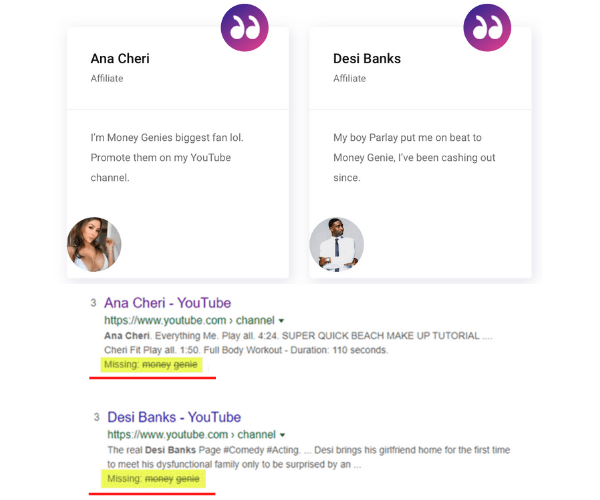 They are real influencers but never have and never will promote Money Genie!
5. A Social Media Affiliate Network With No Social Media
For a legit opportunity that really works, you'd expect a solid social media presence but I checked their social media links and here's what I found out:
Facebook: no content, not even a profile picture
Instagram: can't be found
Pinterest: only 91 follows with no other interaction
Twitter: 828 follows (most likely members who shared referral links) but no other interactions
7. Company Address Is Not A Commercial Establishment
As I mentioned earlier in this review, because of initially using an address used by another scam, they changed it to another. But a quick Google search revealed it's no place for a legit money-making headquarters.
8. Must Be A US Resident
For every review I do, one of the first parts I check out is the Terms and Conditions. Faulty terms and conditions are usually solid proofs of one being a scam.
Anyway, under the "Valid Information. Consent To Receive Communications" is a sentence that says: " Members must reside in the United States while using their Money Genie account". What ticks me off is they don't block users from outside the US immediately when signing up.

Why didn't they disclose this early on? Probably many current members don't even know about this yet. This works in their favor because they can use this clause to ban your account after putting all the hard work!
9. Doesn't Pay After Meeting Requirements
The most heartbreaking thing that can happen after putting time and effort into doing something to make money is realizing you were just chasing after the wind.
Money Genie doesn't pay. They don't have the money to and even real payment proofs to prove anything. Like any other scam of its kind Money Genie's goal is not to help you make money but to use that reason to take advantage of you.
I'm sure by now you're convinced Money Genie is not a program to put your trust on. Rather than relying your income on unproven hyped-up online earning promises, it's way better to trust time-tested opportunities like affiliate marketing.
A Better Money-Making Opportunity
Don't risk your personal information in an opportunity that hasn't proven anything, let alone establish its credibility. There's no reason to trust something created on lies.
Stay away from these fake golden nuggets to success encouraging you to think making money requires no muscle. Online or offline, making money requires time and effort.
This is where affiliate marketing comes in. A tested and proven way to build your online income empire. It's as easy as making niche-based websites, creating powerful content, get rankings and social shares, and finally making money by offering products relevant to the niche you chose.
Generating a sustainable online income is not wishful thinking. You just have to do it right.
You don't even have to know everything to get started. You need to get started to know everything.
Wealthy Affiliate can get you where you want to go. This comprehensive training has all the things you need to know to run and maintain your business.
To get started, check out this full Wealthy Affiliate review.
What's Your Take?
Were you surprised at how absurd the income claims were? What else set Money Genie off for you? Share what you think, the comments section is ready for you.
Simon Crowe is on a mission to help as many people as possible kiss their bosses goodbye.
Take the free Commission Academy course to discover how to smash your online income goals and make your dream business a reality.