After trying it out myself, I'm finally ready to give you a tell-all review of EZ Bucks. I won't even stall, EZ Bucks is 100% a scam you want to avoid.
I hope you haven't signed up for it yet because I'm going to show you how it works, expose the red flags and finish off by giving you a legit way to make money online. 
EZ Bucks Review At A Glance
About: EZ Bucks claims to be a #1 Influencer Network that pays you as much as $50 for uploading content promoting the website to others.
Price: Free to join.
Pros: There just aren't any. 
Cons: It's littered with fake testimonials, fake payment proof and unrealistic claims. The worst con is you'll never get paid no matter how many tasks you do.
Verdict: EZ Bucks is one of the 100s of cloned influencer network platforms that fail to pay. It's a scam that puts you at risk of fraud and identity theft. Stay away.

What Is EZ Bucks?
Launched in February 2020, EZ Bucks falsely claims to be the #1 influencer network that pays you for sharing links, completing tasks and uploading videos.
The website lacks important information like an About Us page, a Terms and Conditions page, and a Privacy Policy page.
These 3 elements could've helped them establish credibility. However, I suppose it's just like any other cloned influencer network platform out there. The scam artists behind it just copy and paste scams like Tap2Earn, Money Genie and Plenty Bread.
What Is An Influencer Network By The Way?
If your initial knowledge of an influencer network is just that it can help you earn an income, here's a little dose of truth to get you back on track with reality:
Simply said, an influencer network is a community of influencers. Influencers are people who can drive public opinion. But you can't easily become an influencer by merely signing up for influencer networks.
To become an influencer, you have to establish your position by gaining public credibility first. This takes time and effort trying out programs and seeing if it's good or not and explaining your opinion to your audience.
So, NO, signing up for EZ Bucks won't make you an influencer.
3 Fake Ways To Earn With EZ Bucks
To get to the dashboard, you simply have to sign up by providing your name, address, and password. Just for signing up, you'll get $35 as a bonus.
Once inside, you'll see the ways to earn on the top tabs. You'll first see "Refer and Earn" which is the main way to make money. Then you'll see "Task Wall" and "Paid to Post" next to it.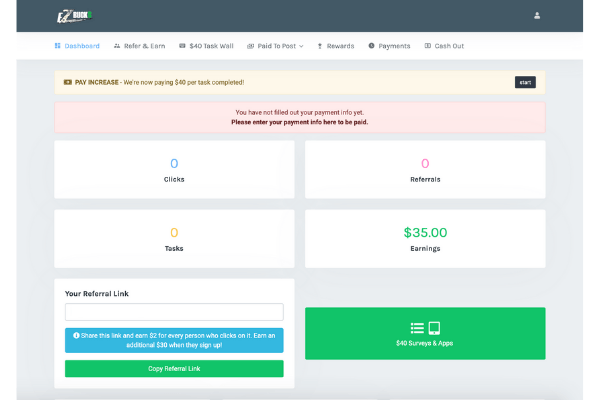 1. Refer And Earn
EZ Bucks promises to pay $2 just for people to click on your referral link whether they signup or not. If they do sign up, you'll get an additional $30.
The problem with this is, there's no sense in getting paid just by getting others to click your referral link. There's really nothing in it for EZ Bucks and they'll end up losing money in the long run. (That's if they really pay up)
2. Task Wall
I tried it out myself to see where it'll lead me. Even though absurd, I clicked on the first thumbnail saying: Win $45,000 Cash HERE!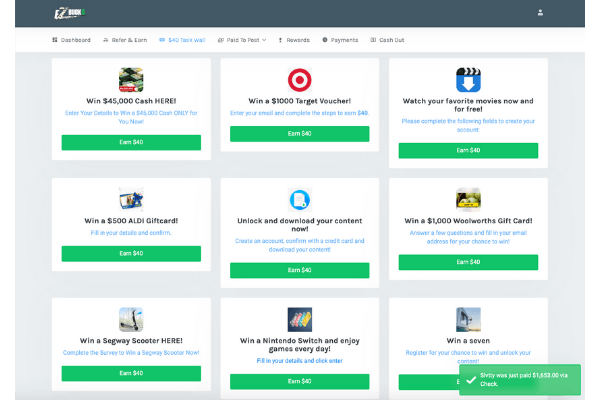 It oddly sent me bitcoins reward site! (I thought I'll win in dollars?!)
Other tasks found here include joining a competition with prizes like iPhones, MacBooks, and iPads. To join, you have to provide your full name, phone number, home address, and email. I strongly suggest you don't give personal information because it'll mean unwanted calls and a spammed inbox.
Other tasks are worse. They'll also require your credit card info for free trials. Either you get charged by forgetting to cancel the subscription or lose your money altogether when they decide to wipe you clean.
Bottom line is, it's simple a data harvesting site that can get you into a lot of trouble.
3. Paid To Post
Posting promotional content on your social media will get you as much as $50. I tested it out by making a dummy Twitter account in less than a minute with no engagements whatsoever.
They have a pre-made post ready to be published, but just for the fun of it, I changed the tweet caption to: "for a few fake $". Once I posted it, my EZ account went from $35 to $59. I deleted the tweet 21 seconds later, but I still had the $24 EZ Bucks paid me.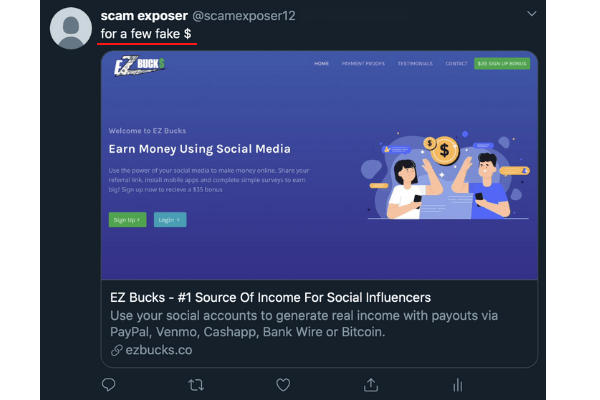 What does this tell you?
EZ Bucks mechanically credits money into your account without really checking the content and the profile for followers. They don't care at all!
The whole thing is just a gimmick to keep you posting about them whether people notice it or not. Now tell me if this makes you an influencer!
Not convinced yet? Check out this EZ Bucks "influencer" who only has 89 views trying to promote the website:
If earning $24 is as simple as making a short promotional post, everyone with a gadget and internet can make a fortune from it!
The question is: Where do they get the money to pay you the handsome rewards?
Is EZ Bucks A Scam?
Yes, EZ Bucks is 100% a scam. Drawn in by promises of fast and easy cash, people create an account and start sharing links on social media without giving it a second thought. It's only when you try to cash out you realize you've been scammed.
Still not convinced? Here's the 7 surefire reasons why EZ Bucks is a scam!
1. Fake Testimonials
Here's a screenshot of "influencers" who supposedly made lots of money from EZ Bucks. A quick photo search will show you these are just stock images with some random name added to it.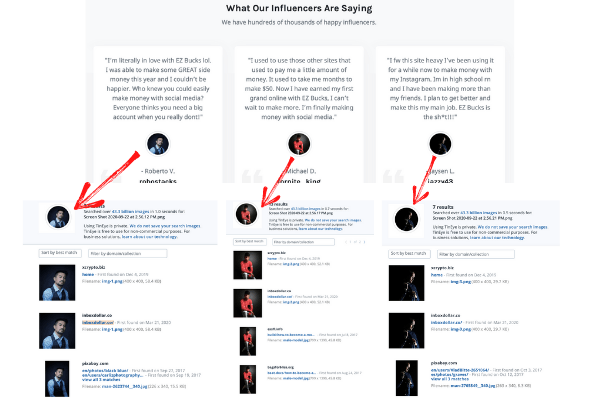 2. InboxDollar.co and Tap2Earn Clone
If you noticed in the stock photo list above, you'll see that InboxDollar.co is a recurring source of the photos. I searched for InboxDollar.co to take a look but it was already rehashed to RewardDollars.co.
I know EZ Bucks is a copy of InboxDollar.co (rehashed as RewardDollars) because they have the same site identity logo of a brown sack with a dollar sign.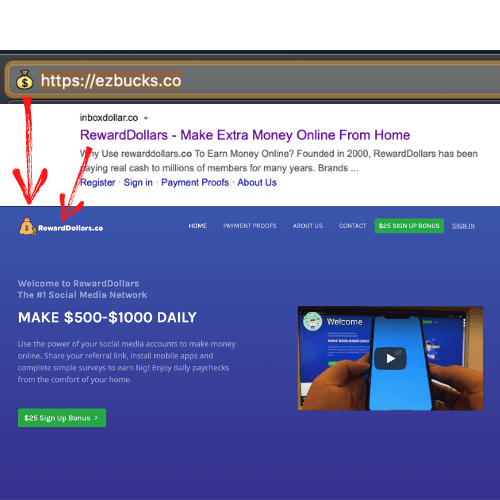 Now for Tap2Earn, there's no denying they're related because the testimonial content for Michael D. is exactly the same with Jamie from Tap2Earn.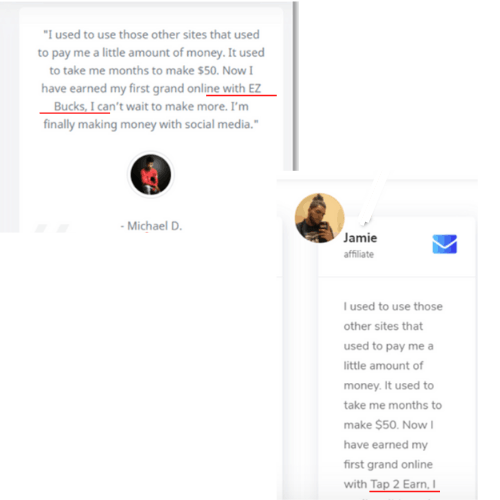 They're all part of a big network of scams!
3. Fake Payment Proof
Checking the domain confirms EZ Bucks was just made this year. The income claims say otherwise. The dates on the supposed earnings are from August and May 2019.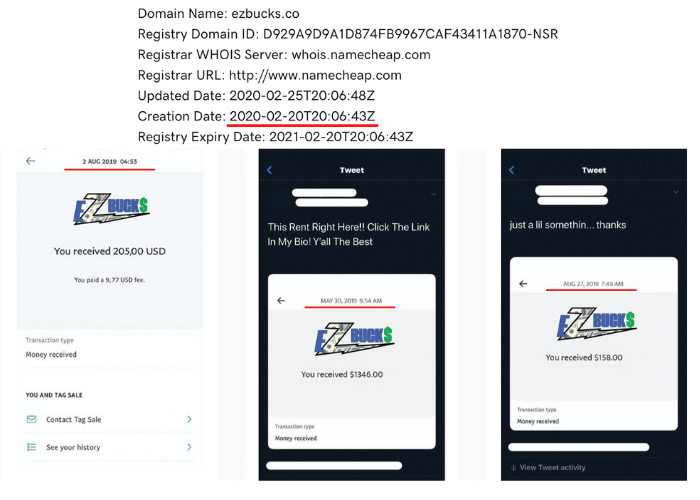 How in the world will people earn from a platform earlier than when it was made?!
Remember, photos like income proofs can easily be edited. Even a teenager is capable of doing the work.
4. No Creator Info
I've said this over and over again: an anonymous owner is concealing his identity so he can easily switch from one scam to another.
Think about it: If EZ Bucks is legit then why hide behind a cloak of anonymity?
5. Useless Contact Information
If you click the Contact Us link you'll be sent to their Instagram page with barely 2 posts. So much for being an influencer network.
On the other hand, if you try to contact them using the contact form, clicking on the "send message" won't get you anywhere. I did it twice, the button just changed from a brighter red to a duller one indicating I clicked on it. Nothing else happened.

6. You Can Get Hacked
Remember what I told you earlier about the tasks? Some of it requires credit card information. Because they don't have a privacy policy to protect your info, they can easily access your account and take away all your money!
7. The Worst Red Flag: Not Getting Paid
Here's a screenshot from the FAQs page showing what's required to cash out: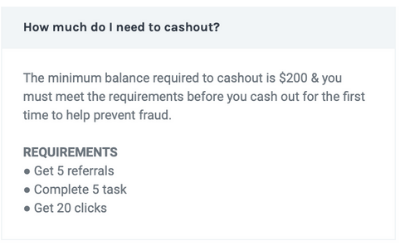 Yet after you've done all these, request for a cash out, and given a payment confirmation and date, they'll ban your account with the accusation of fraud on your part!
You have nowhere to run to here, you don't even have the Terms and Conditions to argue your case and even the payment proof proves nothing!
Where Do You Go From Here?
If you really think about it, EZ Bucks is offering to pay you handsomely for tasks with little to no effort. Everything they claim is just too good to be true.
But it's no reason to give up because you really CAN achieve the goal of a sustainable online income.
Wealthy Affiliate is a great place to start. You'll get access to comprehensive training, everything you need from starting up to maintaining your website, plus a community of affiliate marketers ready to help with any problems you can come across with.
Here are the easy steps to start your affiliate marketing career:


Don't get fooled by shiny shortcuts. Instead, invest your time and effort with a time-tested online income-generating business. Making money online is not a pipe dream if you forget the fake golden tickets to success.
Check out our in-depth Wealthy Affiliate review and take your first step with the time-tested way to make legit money online.
What's Your Take?
What made you suspicious about EZ Bucks? Tell us in the comments below!
Simon Crowe is on a mission to help as many people as possible kiss their bosses goodbye.
Take the free Commission Academy course to discover how to smash your online income goals and make your dream business a reality.