Welcome to my full and honest review of Tap2Earn – a brand new website that pays you up to $15 for every friend you invite and gives give you a way to leverage your social media following to earn $500 a day.
At least that's what the signup page says.
But is it true?
Is Tap2Earn a legit way to start earning online or a scummy scam designed to suck out all your personal and financial information?
Here's what I found out:
Tap2Earn Review At A Glance
About: Tap2Earn is a data harvesting scam posing to be an influencer network where you can make money by making referrals.
Price: Sign up is free.
Pros: Nothing.
Cons: Fake payment proof, fake testimonials, fake support, boatloads of negative reviews.
Verdict: Tap2Earn is undoubtedly a scam. The website is based on lies and is part of a network of identical scams.

What Is Tap2Earn And How Does It Work?
Tap2Earn calls itself the world's #1 leading influencer connecting influencers with big-name advertisers.
On the surface, Tap2Earn looks like your typical Get-Paid-To or rewards site like Swagbucks that pays you for completing simple tasks like filling out surveys, signing up to free trial offers and sharing your unique referral link on social media sites.
According to the site's homepage, making up to $500 a day is a simple 3 step simple anyone can follow:


There are supposedly 3 ways you can make money with Tap2Earn:
1. Complete Surveys And Offers
Go to the Task Wall tab and you're presented with a range of surveys, quizzes and free trial offers you can sign up for to earn $20 a time.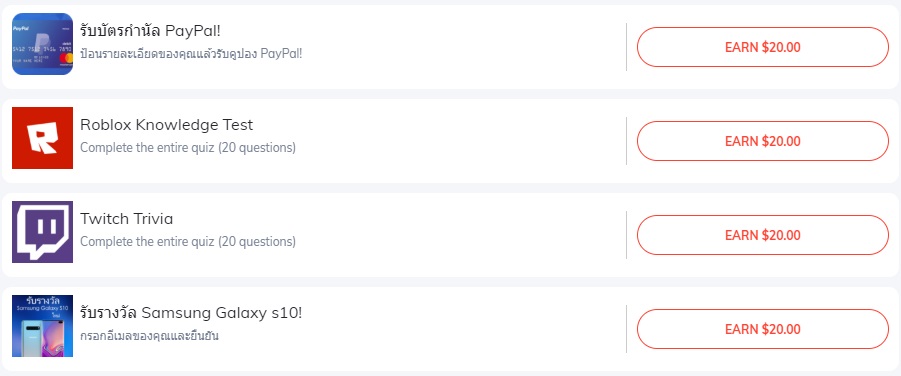 Click on the Earn button and you're taken to very scammy-looking sites and asked for more of your personal information to sign up. Definitely not recommended!
2. Upload A YouTube Video
Next up, you are told you can make $50 for creating and uploading a YouTube video that's at least 60 seconds in length talking about how wonderful Tap 2 Earn is and why you recommend it.
You're even given the exact video title and description to use: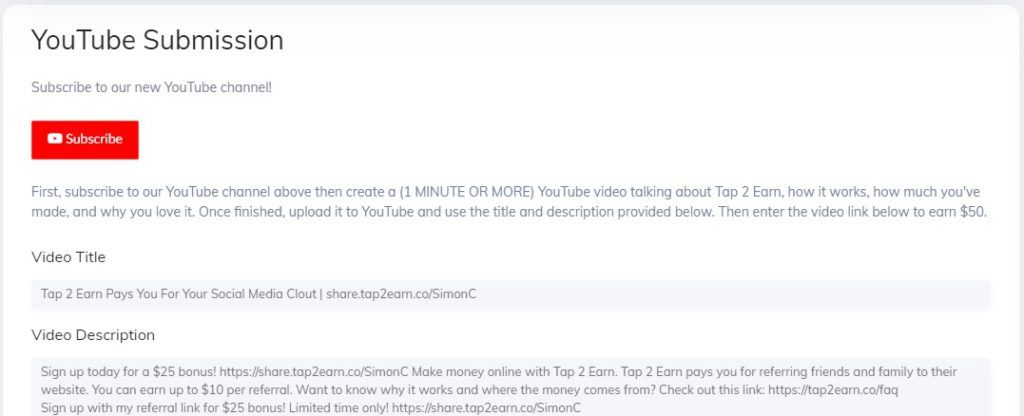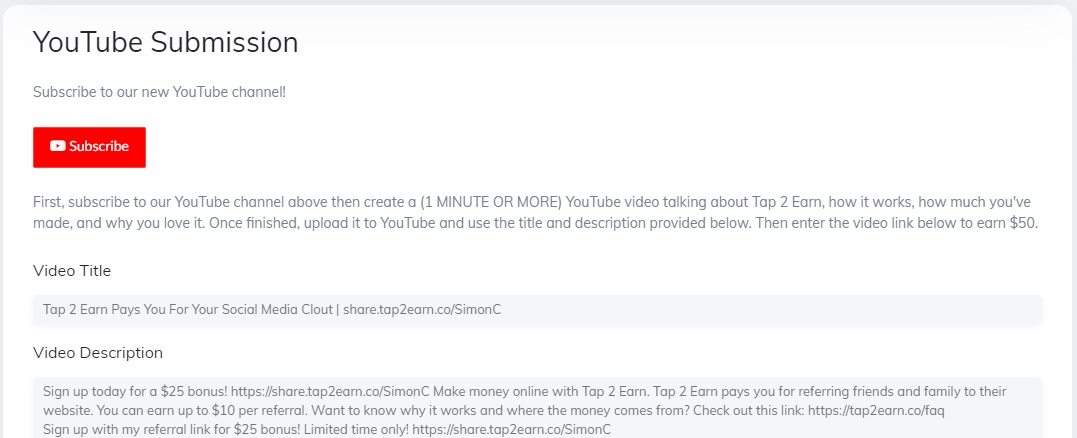 Did you wonder why there were so many overly positive Tap 2 Earn reviews online? I guess now you know! 😉
3. Share Your Tap2Earn Link On Social Media
The third and final way to make money with Tap2Earn is by sharing the unique referral link you'll find inside your dashboard area. You'll find promotional images you can use to promote the site.
You're given instructions to copy and paste this link in places like Facebook, Twitter, Instagram, blog comments, YouTube comments forums, basically anywhere you can.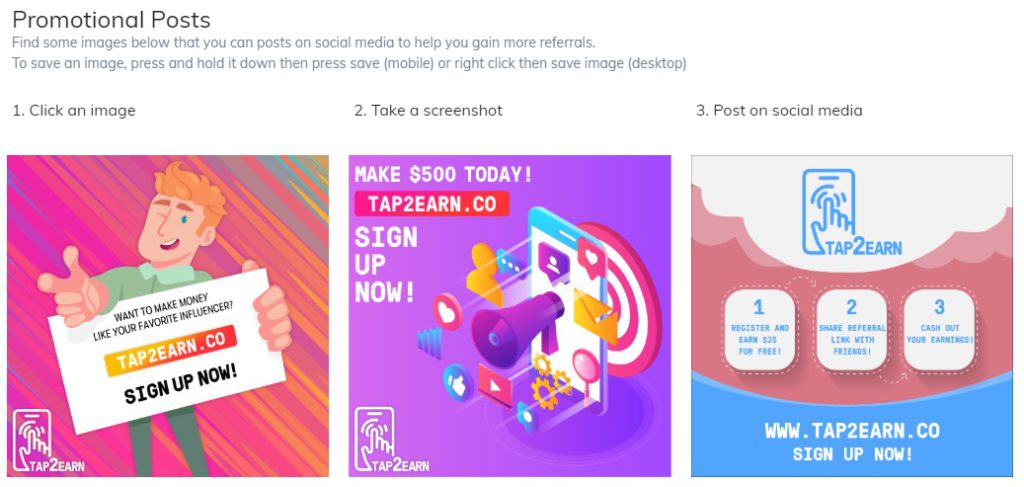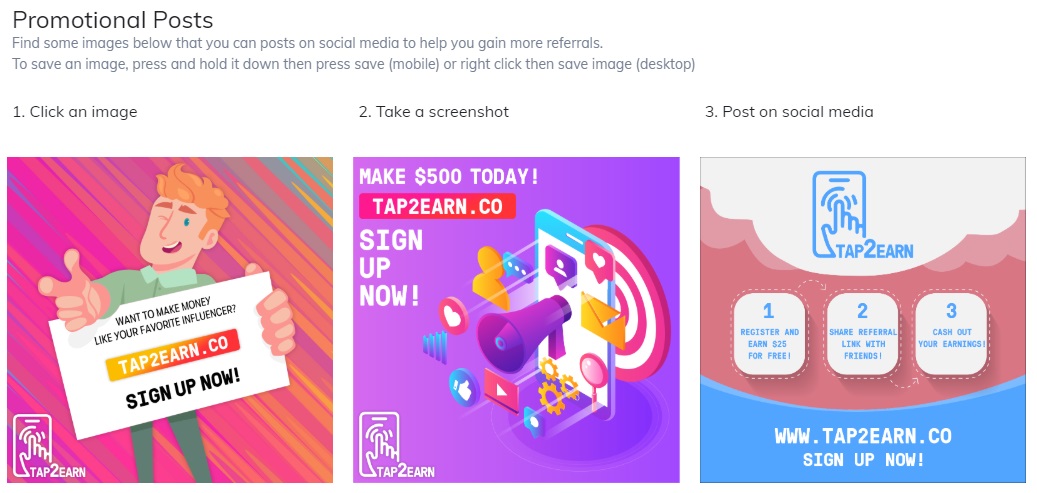 They promise to credit you with $2 every time someone clicks your link and $10 every time someone signs up through your link.
And when it comes time to cash out, you're told you can choose whether to get paid via PayPal, Western Union, Bitcoin or a check in the mail.
What I Like About Tap2Earn.co
Zero, zilch, zip, nada!
Why?
Because there are way too many red flags pointing to the fact Tap2Earn is a scam you should stay away from.
I hope after pointing these out I will have done enough to convince you to avoid this site and anyone promoting it as signing up will only lead you down a road of frustration, wasted time and bitter disappointment.
6 Tap2Earn Red Flags You Should Know About
1. 100% Fake Payment Proof
Head on over to the Tap2Earn payment proofs page and you're presented with deliberately misleading information.
They claim to have paid out a staggering $158,670,000 to 730,000+ members since they launched. To prove it they show dozens of screenshots from happy members claiming to have been paid.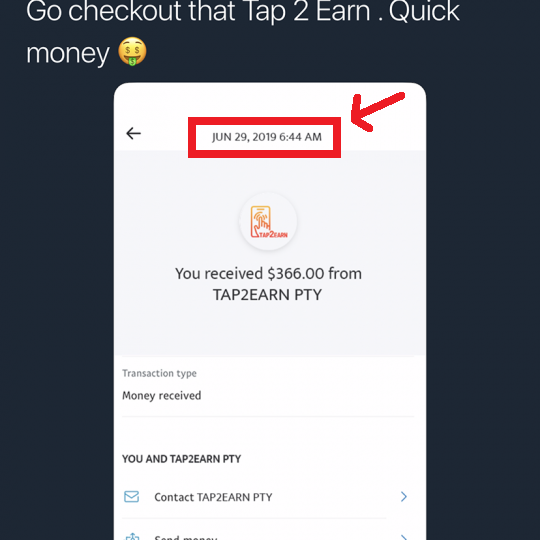 Except you can't believe a word of it.
How do I know?
Because I ran a WHOIS check and found out the Tap2Earn.co domain wasn't registered until the middle of September 2019, despite the payment proof showing dates from June 2019.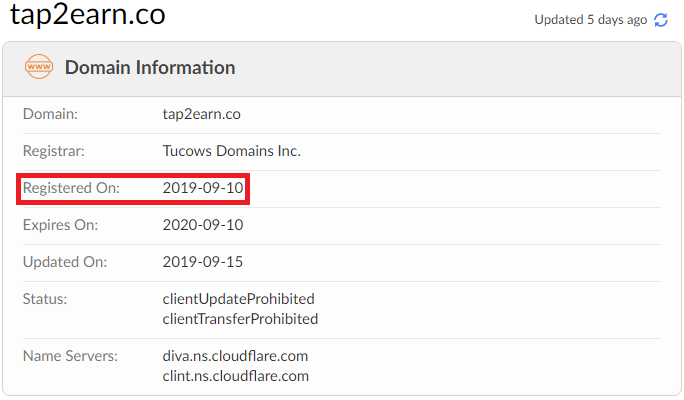 So either these members signed up and invited others to join the website before it existed or someone is trying to hoodwink us. I'll let you be the judge!
2. Hired Actors Give Phony Video Testimonials
Another tactic used to trick us into thinking Tap2Earn is legit is to feed us fake success stories.
Instead of showing videos from actual members making money with this program, the unknown site owner has to use Fiverr.com – a website where you hire people to make spokesperson videos.
Here's a guy calling himself Austin telling us how much money he's made since he joined, as well as his Fiverr gig where he offers to make fake video testimonials for a fee:

It gets worse – Tap2Pay recently tweeted his video out telling people to register:
Austin talking about Tap 2 Earn and how amazing it really is! ? Register today to earn $25 dollars instantly as well as $10 each referral ? https://t.co/duBuFuXs9d

— Tap 2 Earn (@tap2earnpty) November 18, 2019
Why the barefaced lies?
The reason is simple – Tap2Earn has no happy and satisfied members who are making $500 a day because this is a huge setup.
Seriously, if you can't even trust them to be honest with you upfront, how on earth can you expect them to pay you what you're owed when the time comes?
3. Identical Scams Running Under Multiple Aliases
It turns out Tap2Earn is just the latest in a long line of scams calling themselves "the #1 influencer network", all with identical website and membership area layouts and empty promises of easy money.

Whoever is behind this site has been very busy running an entire empire of data harvesting scams across the internet. Here are the ones I've been able to find so far, but I know I've barely touched the tip of the iceberg:
If you do happen to come across any more then please help us keep people safe and let us know in the comments section below.
One of the first things I always look for in a potential work from home opportunity is who is the person running the show. 99% of all legit company websites will clearly display who the CEO and founder is. Most go as far as telling us who their key staff are.
This is not the case with Tap2Earn. Despite my best efforts, I have been unable to find anything about who is behind this website.
This should tell you something is not quite right, because we all know the owner of a legit company offering people a genuine chance of earning an extra income online would be more than happy (if not even proud) to put his name to his program and show his face.
5. There's No Way To Contact Them
So we don't know who the owner is but at least you're given a contact email address you can use to contact them…
However, you guessed it, the email address is fake too!
After running "[email protected]" through Verify-Email.org's email verification tool, it came back with a BAD rating, saying no such email exists.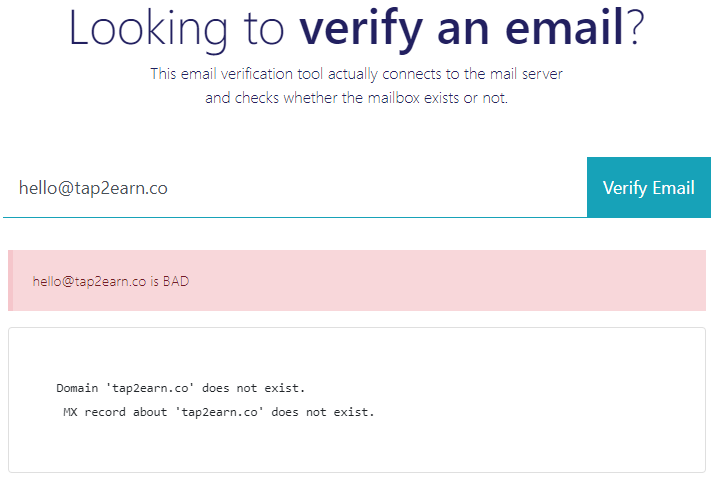 So now not only do you not know who is behind the site, but you also have no way of contacting them, which is pretty ironic when you think about how much of your personal information you're asked to hand over at signup!
6. Boatloads Of Negative Tap2Earn Reviews Online
Search sites like Twitter, Reddit, ReportScam and ScamGuard and you'll find no end of complaints from angry users who took at them at their word and went to work promoting their site, before realising they were never going to get paid:
@tap2earnpty is just another scam trying to steal your data. Please do not fall for this. https://t.co/SQJAj6G2TW#tap2earn #scam #scammers

— Christina (@Blogger1111) November 20, 2019
More Helpful Tap2Earn Reviews
Bottom Line: Is Tap2Earn A Scam Or Legit?
With a pile of evidence stacked against them I think it's pretty clear by now that despite trying to disguise themselves as a legitimate rewards site, Tap2Earn is almost certainly a data harvesting scam.
It's actually a pretty smart setup – by offering free membership and the fake guarantee of $500/day, 1,000's of people hand over their name, email, passwords and PayPal account information with giving it a second's thought. People think they're not paying anything so they have nothing to lose…
But they couldn't be more wrong.
Sign up and your personal contact information can and will be sold on for cash to the highest bidder, probably several times over. At best, your email inbox will be bombarded with spam. At worst, you'll be at risk of fraud and identity theft.
But the Tap2Earn scammer takes it one step further:
By promising to pay members handsomely for sharing links, he has successfully incentivised them to go out and do his marketing for him completely free of charge. By the time they realise they're never getting a dime, it's too late.
Tap2Earn Review Final Rating: 1/100
You absolutely CAN earn 5 and 6 figures online, but signing up to Tap2Earn and spamming Facebook with links isn't the way to go about it.
Those who achieve the laptop lifestyle are those who have learned how to build an online business. I've been a successful online entrepreneur coming up to 5 years now and let me tell you it's hard work, but it is worth it.
The truth is there are 100's of real ways to earn money online, but by far my favourite is affiliate marketing.
Why?
Because of the extremely low start-up costs and limitless earning potential.
There's nothing in the world quite like it – you build income-generating affiliate websites that promote other people's products and services so there's no stock or customer care to deal with, and because it's all online, you'll eventually reach the point when you're making sales around the clock.
I've put together this free Affiliate Marketing Guide For Beginners where you'll find the simple, yet powerful step-by-step process you can use to create a full-time income online.
And if you're looking for a proven roadmap to follow then Wealthy Affiliate's training and community support platform is the best way to go.
You can get the details with my full Wealthy Affiliate review here.
Join The Conversation
Do you know of any other sites out there like Tap2Earn that we should know about? Got any questions about making a real income online? Scroll down and let us know in the comments.
Simon Crowe is on a mission to help as many people as possible kiss their bosses goodbye.
Take the free Commission Academy course to discover how to smash your online income goals and make your dream business a reality.