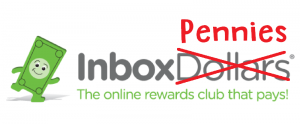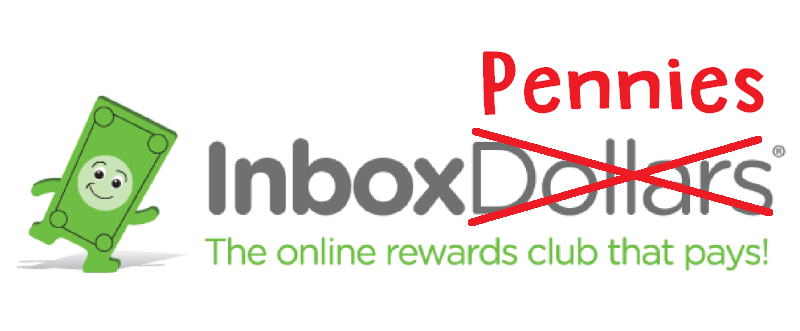 Inbox Dollars Review
Website: InboxDollars.com
Founder: Daren Cotter
Joining fee: Free
Minimum payout: $30
Overall Ranking: Not recommended
Quick Inbox Dollars overview
Inbox Dollars is a free to join website where you can earn a few cents for doing certain tasks like filling out surveys, watching videos and clicking on links in emails.
I can't say whether or not Inbox Dollars is a scam because though there are a lot of member's complaints online about not getting paid, there are also those that do.
But be warned, you really are only going to get paid pennies for this and you're going to find that minimum $30 withdrawal will take you a heck of a long time to achieve.
For example, you get $0.02 for clicking on an email or for watching a video. You could spend an hour completing a survey for $0.50 – it's just not worth it. In my opinion, you're going to get bored and fed up before you get anywhere near that $30 mark.
Honestly I don't understand how people can spend so much time doing this for little or no reward, I mean there are so many better ways to make money online if you really want to.
Which means that you will make money (or should I say pennies) if you persist with it – but frankly there's a lot better ways of making money. I've been making $6,000 a month online since 2014 and it's not by filling out pointless surveys.
If you'd like to find out more about what I do and learn how to do it yourself, check out my top rated online make money online training program here.
It's free to get started!

What we'll cover in this InboxPays review:
What is Inbox Dollars?
5 ways you can make money with Inbox Dollars
How does Inbox Dollars pay you?
The 3 most common Inbox Dollars complaints
Is Inbox Dollars legitimate or a scam?
What is Inbox Dollars?
Inbox Dollars was founded by Daren Cotter in 2000 and was featured in the Inc. 1000 list in 2008 and has over 40 employees.
With the slogan "the online rewards club that pays", they offer members ways to earn extra cash by taking consumer surveys, watching videos, clicking on links in emails and sweepstake competitions.
According to InboxDollars.com they paid over $50 million to their members in 2016.
InboxDollars also owns SendEarnings.com, InboxPounds.co.uk and DailyRewards.com – all their websites exactly the same layout and pretty much the same offers.

So before we get into the nitty gritty let's talk about the overall concept; it's a pretty simple one. Inbox Dollars partner with businesses to provide them consumer research data and will reward you for completing pretty mundane tasks.
Here's their promo video giving a quick overview of what they're all about:
5 ways you can make money with Inbox Dollars
1. Get $5 just for signing up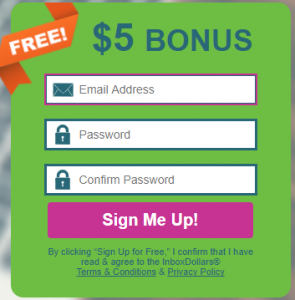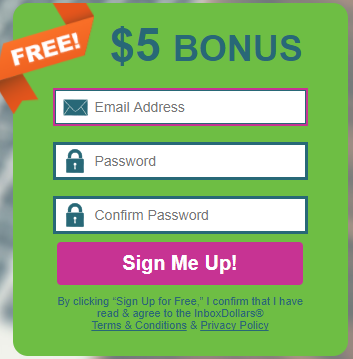 To give you an incentive to get you started, they credit your account with $5 just for becoming a free member which isn't bad as the sign up process is pretty straightforward.
Keep in mind you'll need to reach the $30 mark before you can ask for a withdrawal of funds.
2. Get paid for taking surveys
You can get paid anywhere between $0.25 and $3.00 for surveys, depending on the average time it takes to complete. You'll have to answer questions about your shopping habits, who your internet company is, what credit cards you have and so on.
I'm personally very careful about what information I put out there onto the web and I don't liek the idea of giving my personal details out to companies who can then sell that information on, just to get a $0.25 reward.

3. Get paid to watch TV programs and videos
One of the pros of Inbox Dollars is that they're more than just a survey site. Similiar to InboxPays, you can watch TV programs or videos (approx. 2 minutes long) and earn a measley $0.02.
See what I mean about it taking a long time to get to $30?
While it's easier and probably pays you more per hour than the surveys do, it still works out at less than $1 per hour…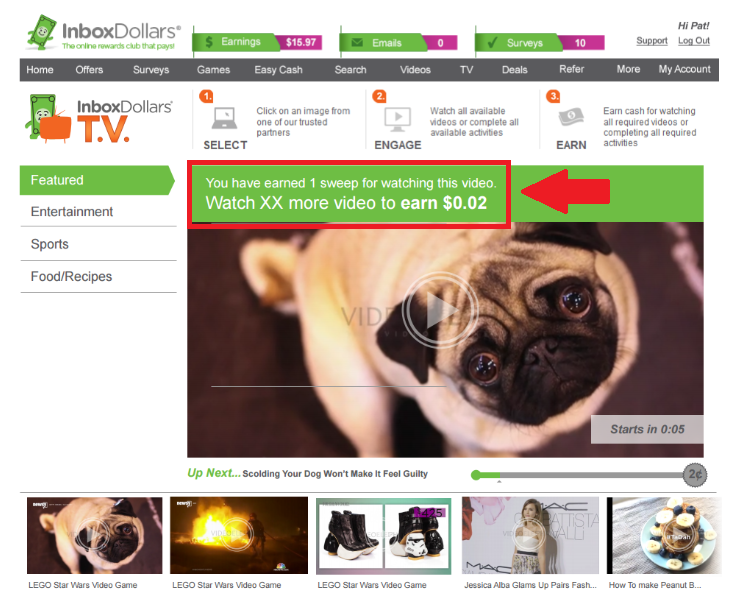 4. Get paid to search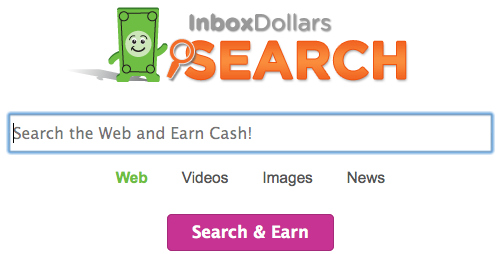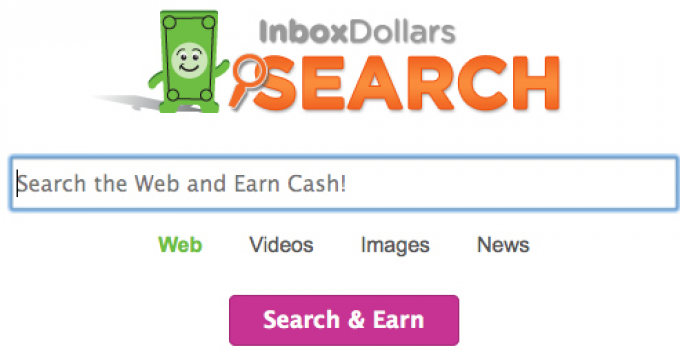 This sounds simple and it is. You just search any random terms into the InboxPays search bar and you'll earn a whopping $0.01 for 4 searches.
If you search for 4 or more days in a week you'll also get a $0.05 search loyalty reward.
They also give you things called sweeps which is like a lottery where you could win cash prizes.
I'd prefer it if they just forgot the whole sweepstakes nonsense and paid you a higher rate but maybe that's just me…
5. Get money back on cash offers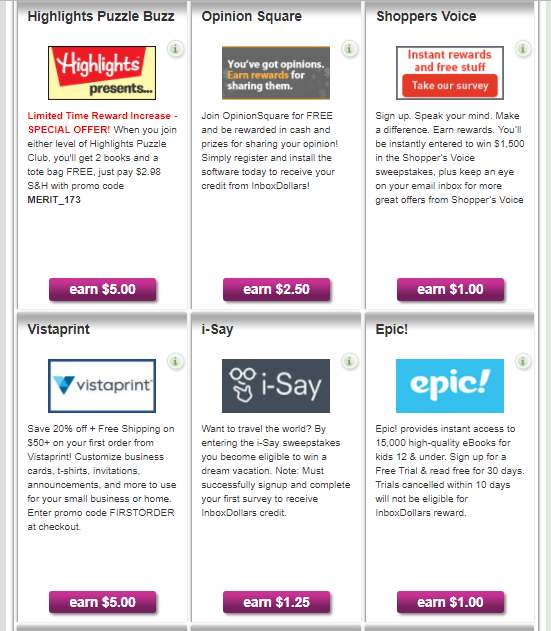 If you select 'Offers' in the menu bar you'll be given a list of trial offers, subscriptions and services you can sign up for earn a few dollars.
I'm going to be straight with you – spending $30 to earn $1 is not making money.
If you're not extremely careful you could find yourself out of pocket.
This, I suspect, is how Inbox Dollars really make their money and why they want you to sign up.
How does Inbox Dollars work?
The signup process was pretty straightforward. You just need to create a username and password and confirm your email address.
This whole process took me about 10 minutes.
To qualify for your bonus $5 you'll need to fill out a few questions about yourself – your age, ethnic background, household income and whether or not you have kids.
If you are going to do this then it's best to be as honest as you can so you don't waste time further down the line filling out surveys you later find out you don't qualify for.
Is Inbox Dollars worth it?
So here's the big question – can you make money with Inbox Dollars? Is it putting your time and your energy into this?
Honestly, I don't think so.
Realistically how much can you make?
$2 a day?
And how many hours are you going to need to put in before you can get to the $30 threshold?
I tried a few surveys and just got bored. I find it hard to get motivated to do surveys for what works out at less than $1 an hour. I just think thre's so many better things I could be doing with my time.
It's definitely not worth it for me, but I don't know, maybe you enjoy this kind of thing and it maybe you'll find it a good way to earn a little extra cash on the side. It's up to you really.
How does Inbox Dollars pay you?
Once you've accumulated more than $30 into your account you can request a withdrawal of funds. Normally this is payed by cheque and Inbox Dollars will charge you a $3 processing fee.
Users have reported that InboxDollars will waive a $3 transaction fee if you wait to cash out at $40.
While there are lots of complaints online from people saying they never received payment (we'll get onto those in a sec), but I think on the whole they do pay.
Here's a couple of people from happy Inbox Dollars members who have never had any issues getting paid and they cash their cheques no problem.
The 3 most common Inbox Dollars complaints
So as those videos show, these people did receive their cheques and although we don't know how many hours they had to put in to earn that money, they seem pretty happy with it.
So now let's look at the most common complaints about Inbox Dollars online.
1. Can't qualify for surveys
Of course if you want to get paid for surveys, you have to qualify for them in the first place. One of the things that understandably gets people annoyed is that a lot of the time you don't find out whether or not you actually qualify for a survey until you're already 10 minutes into it.
If it just happened once, no biggie but depending on your background, this could happen a lot.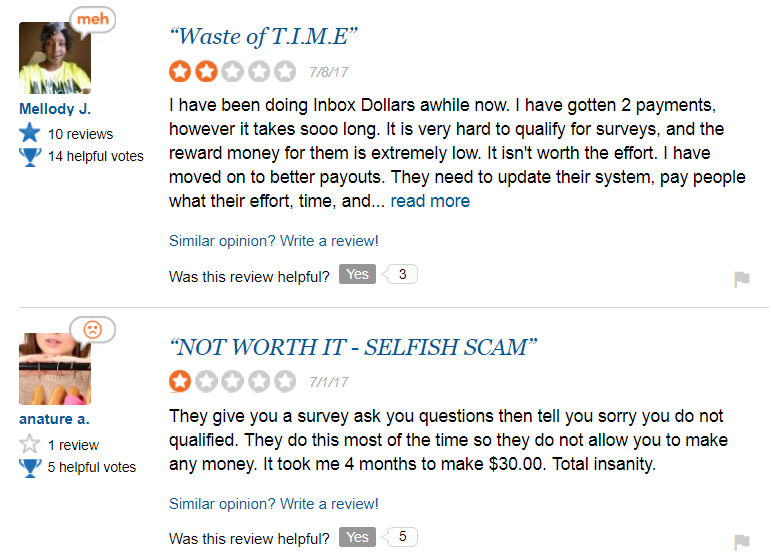 2. They don't pay you
This is by far the most common Inbox Dollars complaint – not getting paid or having your acount suspended right before you meet the payment threshold.
While I'm sure there are instances where members broke the rules and disqualify themselves, there seems to be far too many issues with payment.
Not only do you earn less than $4 an hour, there's no guarantee you'll ever see that money at all.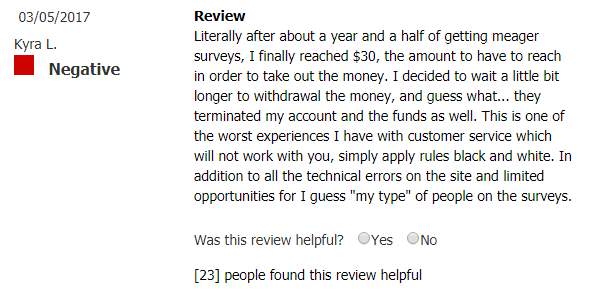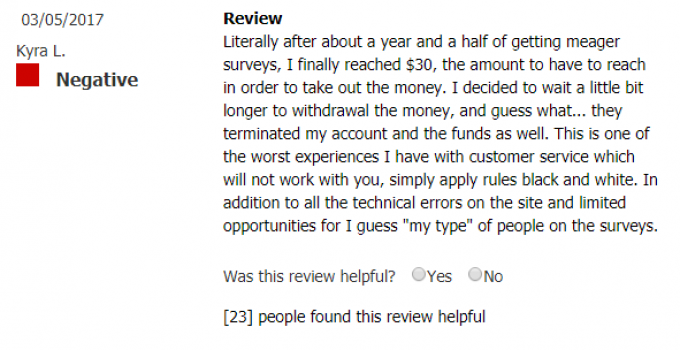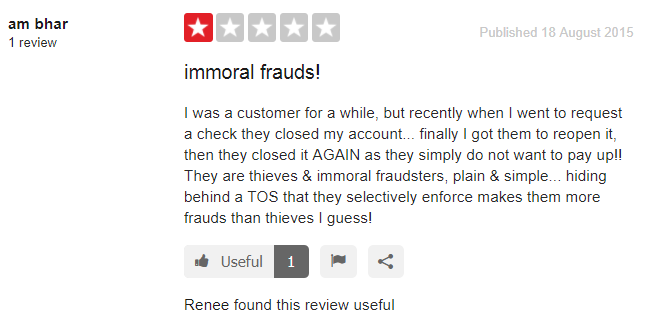 3. If they do pay, it's such a miniscule amount
This is the point I keep coming back to. I understand small actions can add up and accumulate but we're talking tiny amounts of money with $0.25 here and $0.02 there.
Why would you bother?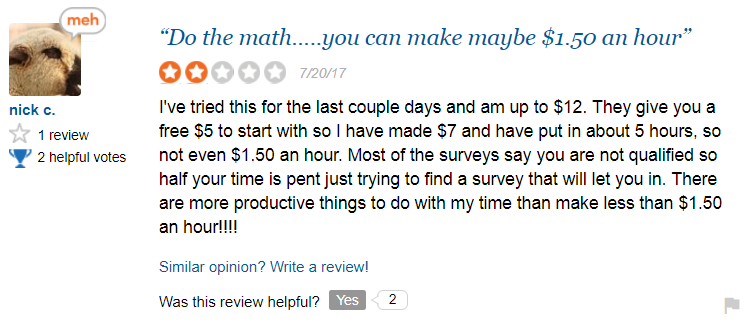 What I like
More than just a survey site, you have a few different ways to earn rewards
Inbox Dollars are very active on Twitter
Lots of people look like they get paid
An Inbox Dollars staff member replies to every BBB complaint
What I don't like
They pay peanuts, it's just not worth your time
It's all very boring and monotonous
It's hard to find surveys you actually qualify for
Surveys take longer than they tell you
Too may complaints from people who never got paid
With the cash offers you could end up spending way more more money than you earn
To sum it all up: is Inbox Dollars legitimate or a scam?
Is Inbox Dollars a scam?
I don't think so. There are lots of people on Twitter and YouTube showing how they got their cheques.
Is Inbox Dollars worth it?
No, no, a million times no!
This is not something I'd ever pursue long-term. It's just too time-consuming for very little reward.
In theory it sounds great – earn some easy money in your spare time by completing simple tasks. What's not good about that?
But the reality is you're going to need to spend many, many hours working for less than a $1 an hour and your time is worth more than that.
This is not the best place to build an online income for yourself because you're never going to be able to earn anywhere near enough to replace your full-time income.
If you're interested in learning how to make serious money online then check out my top recommendation for making money online.
It's where I started 3 years ago and it's got everything you need succeed online – top notch training and awesome community support.
It's 100% FREE to get started!

Do you have any questions about Inbox Dollars? Ask below and I'll always get back to you. If you've ever had any experience with Inbox Dollars, whether you love them or hate them, I'd love to hear from you!
Simon Crowe is on a mission to help as many people as possible kiss their bosses goodbye.
Take the free Commission Academy course to discover how to smash your online income goals and make your dream business a reality.