CashGem sounds like a catchy name, right? But there's a surprising reason behind it. If you're still on the fence if this GPT is a scam or not, you can put that question to rest by the time you finish reading this review.
This get-rich-quick scheme is cleverly designed as a legit opportunity to make money online. However, that's all there is to it. I hate to break it to you this early on, but this opportunity is a mere scam most likely repackaged from old scams that's no longer earning.
A new name gets more unsuspecting people lured into the system and this is the reason why scams are rehashed over and over again. So in this review, I'll share with you the sure-fire reasons why I'm strongly convinced CashGem is a scummy scheme. 
CashGem Review At A Glance
About: CashGem poses to be the "#1 Cashing Network in the world". You're supposed to refer other people to the site to earn $15 for each one.
Price: Free to join.
Pros: None at all.
Cons: Fake history, fake payment proof, has fraud warning, unknown owner, fake tasks.
Verdict: CashGem is a scam. They use fake tactics to deceive users into luring more users which is a heavy reason you should steer clear from this.

What Is CashGem Exactly?
CashGem claims to be the "Number 1 Cashing Network In The World". The funny thing is, this what all scams say.
They have pictures of their "team members" you'll have no reason to trust because these are just mere stock images they put up to gain your trust.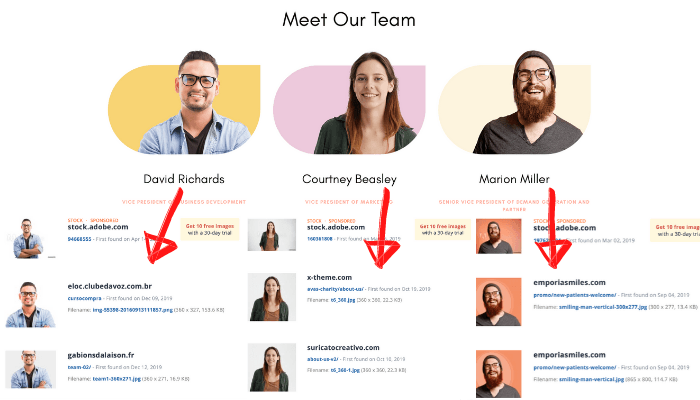 The goal is to bring dollar signs blinking in your pupils while being blind to its real purpose of spamming links and stealing personal information. The website was cunningly devised to get you hooked into harassing people with your affiliate link to get them to sign up so there is commission on your end.
It even perks you up by showing a $30 welcome bonus on your account for signing up. When you're all up and giddy, it will be easier to lure you into doing the useless tasks which is just a mere front to get your email address, password, phone number, credit card, and Paypal information.
They're even crafty enough to put up the logos of big brands like Norton, Amazon, Taco Bell, and Burger King making it seem they're the generous sponsors who flood your account with cash.
But the truth is, these are mere tactics to convince you they're legit.
And oh, before I forgot, I found something hilarious about CashGem. Turns out you have to be older than 99 years old to use the system. I think learning about CashGem is the last thing an almost centenarian person will want to do.

How CashGem Works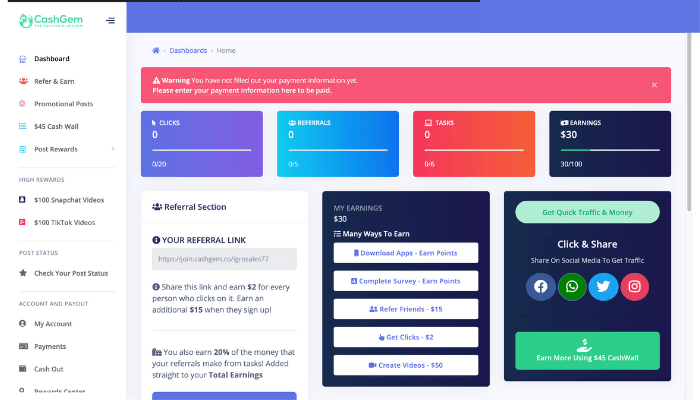 Signing up is a piece of cake. Of course, they want to give you a good head start so you'll stick around for some time. This is also why they "give" you $30 easily.
If you head down to the cash wall (sounding like a huge pile of money waiting to fall on you), you'll see a few different ways to drive up the numbers in your account.
$15 for making recruits
$100 for making Tiktok videos to promote CashGem
$45 for completing tasks like taking quizzes, surveys, playing games, and giving out your phone number.
Easy peasy right?
But here's the dangerous part:
Clicking on some supposed tasks redirects you to fake reward giveaways like gift cards and prepaid Visa cards. Some promise to gift you with the latest iPhone, you'll just have to give them your full name, date of birth, home address so they can "send" it to you.
If you get fooled into taking these bogus tasks, you'll be putting yourself sailing too close to the wind.
The reality is, there's no new gadget coming your way, this is just a dodgy trick to get your personal details so they can sell it to third-party spammers!
Another thing:
The threshold for cashing out your supposed earnings from tasks is around $200. This will make you speed through finishing tasks and spamming your entire network to get people to sign up for a commission.
If I were on your network, I'd surely be annoyed, but not as annoyed as you'll be when you realize after all those tasks that your payment request will simply be ignored.
Yes, when you process a cash-out they'll have excuses as "the system is down' or "some account info still needs verification". Ultimately, it will end in your account getting terminated.
The reality is, the numbers they reflect into your account is again a mere tactic to keep you doing their dirty job.
Making money online isn't complicated…
This video will show you exactly how to get started. Tap to watch now »
You'll end up with tears on your eyes while the scammer behind CashGem is laughing at you while he cashes out his money from spammers.
5 Reasons I Won't Use CashGem
1. Fake History
If this was made to propel optimism, they're doing a really bad job. Scammers usually push the date a lot back to make people believe it's been up for a long time making them feel it's sustainable.
But check this out: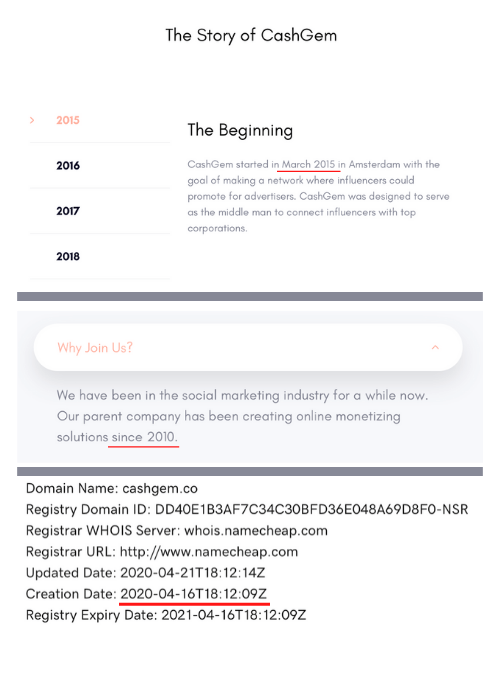 On one page, it says the CashGem started in 2010, in another part it says it's in 2015.
You see, with all the scams the owner made, he couldn't even get the year right on when the website went up and running.
The truth though is it was made just a few months ago. I checked the domain and it was only up last April 2020.
Another kicker is:
It's due to expire next year which shows the owner knows it won't stay up for a long time, just until most people figure out it's no more than a hyped-up scam.
2. Fake Payment Proof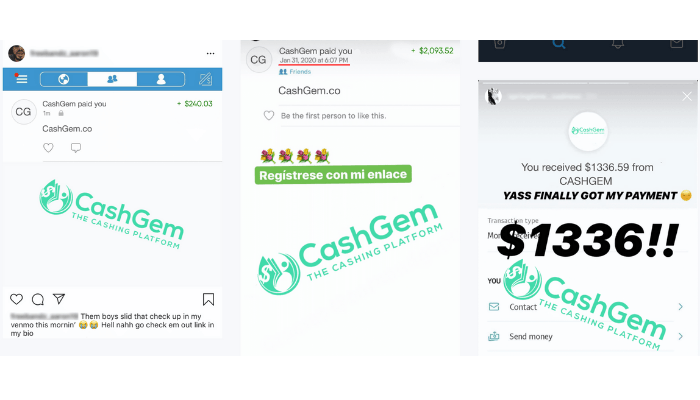 Only a scam with no success story will resort to overly hyped-up income claims. Which is also faulty because one "proof" had a January date when the website had only been up 3 months later.
3. Fraud Warning
It's really funny how they claim on being on the watch against fraud when all this time they should have been swallowing their own pill. The only reason they have this so they can hold something against you when you decide to cash out.

4. No Mention Of Owner
If this was legit, the owner will have no trouble boasting about his product. Sadly, he only put up fake team members with photos taken from stock image sites. It just shows he wants to make an easy and clean run when things go haywire.
5. Fake Tasks
Remember this:
You can't earn tons of money just by answering silly questions and doing useless tasks. Also, there are no big brands sponsoring CashGem. A business's primary goal is to make money. If they sponsor the whopping prices of rewards from phony tasks, they end up bankrupt.
Yes, businesses do charity work, but not the way CashGem makes it seem.
Another thing:
When you're in the US, the "tasks" will direct you to a site called the National Consumer Center. Nope, it's not a government agency nor is it a legit organization. It's actually a spam agency paying CashGem a dollar for directing traffic to their site.
A dollar can't pay for the $45 worth tasks, so where do think CashGem gets its money? From wonderland.
The real score with these tasks is the goal of getting your personal info to hack into your email and bank accounts. 55% of people have the same email and passwords for all their accounts so scammers will just use the info they get from you to loot anything they can in every account they believe you have.
Scary right? That's not all they can do; they can also steal your identity and get you jailed for illegal activities they'll do under your name.
More than stating a fact, I'm actually warning you against easily giving out your info and having the same email and passwords for all of your important accounts.
Is CashGem A Scam?
Yes, CashGem is a scam because it uses fake tactics to lure users.
This is a question I am more than convinced you can answer. All the odds are stacked against them. It's crystal clear by now CashGem is just a mere data harvesting scam wearing a GPT mask to lure you in!
The promise of huge money in exchange for doing useless tasks will never become logical unless if it's for a psychological study.
They're even giving affiliate marketing a bad name for using affiliate links to earn a commission. This is not how affiliate marketing really works.
Affiliate marketing promotes real products and services unlike what CashGem is.
With some scams, they perk you up by paying you for a few months until they leave you hanging for good. CashGem won't even give you back a single penny.
The commission and reward promises are just tactics to get you and others you know to give up your personal information.
So, if you still like to make sure: No, CashGem won't pay you even a single cent. There's no money in this, you'll just be wasting your time and put yourself in danger.
The only people who will make money from this are the scammers behind it.
CashGem Review Bottom Line
This is not a unique tactic CashGem uses. Several other scams have the same pattern. Here are some of them:
Honestly, it can seem quite enticing how CashGem devices its system to make people join. But you know more than enough by now that CashGem is a lost cause.
The scammer behind CashGem is like a wolf leading unsuspecting sheep to the slaughterhouse with pockets empty and identity stolen.
This doesn't mean though that all make money online opportunities are shady.
One legit opportunity that's proven and tested is affiliate marketing.
With affiliate marketing, you can get started for free and continue on for a low cost. It's actually a great income-generating avenue with limitless earning potential.
If you want to make real money online, you have to disregard any shiny shortcut that comes your way, it just brings you up so high but eventually drops you by failing to deliver its promises.
Remember this:
Legit online opportunities require time and effort.
The great thing with affiliate marketing is you can get started with zero skills because you'll be given training on how to make things work. Eventually, the work you put on will pay off when you start making sales around the clock.
To know more about how you can get a starter, check out this in-depth Wealthy Affiliate review. This will be your legit ticket to the real ways of making money online.
How I Make A Living Online?
After years of working in call centres I finally figured out how to create a 5-figure monthly passive income stream and become financially free.
Thanks to the right training and a lot of hard work I kissed my old boss goodbye and booked a one way ticket to Thailand.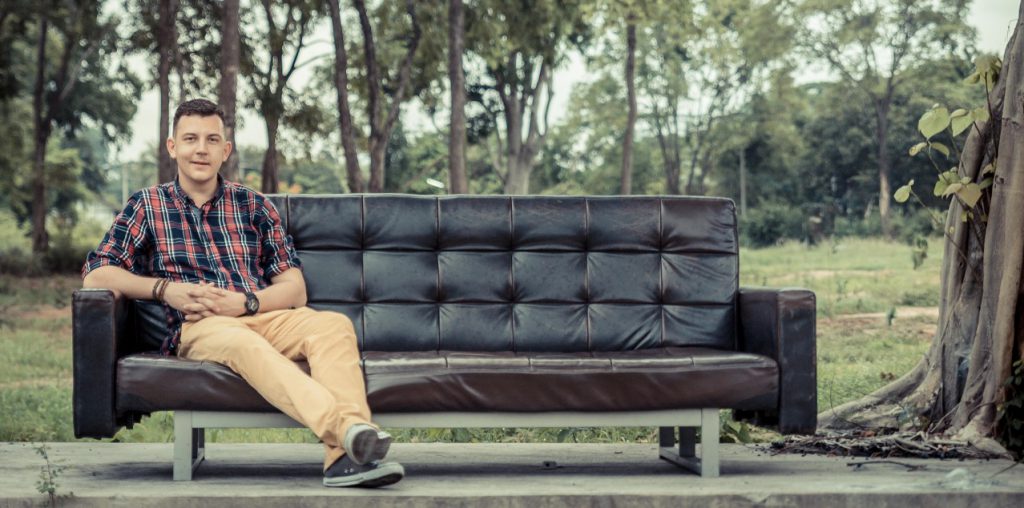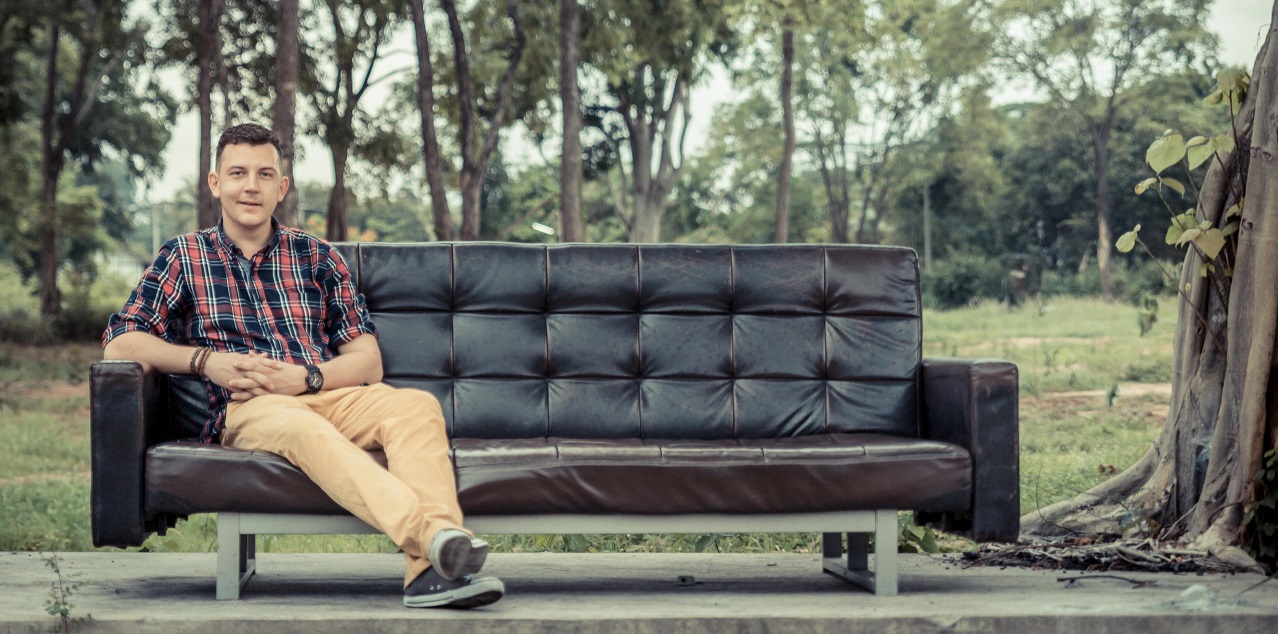 So if you're serious about building a thriving online business, click here for the exact step-by-step formula I follow.
Join The Conversation
Are there other sites like CashGem you've run into? Share your experiences and help others get convinced that shiny shortcuts don't exist. Share your story in the comment section below.
Simon Crowe is on a mission to help as many people as possible kiss their bosses goodbye.
Take the free Commission Academy course to discover how to smash your online income goals and make your dream business a reality.