You don't have to sign up for the free Two Dollar Click membership to know the real score about this opportunity. In this review, I'll show you all the sure-fire proofs why this is a scam.
If you're interested in leaving your 9-5 job and shift to making money online from home, there are some things you need to know.
I'm not trying to discourage you from taking this path, a lot of people are earning from home (that includes me) and reaching online income goals. There are just some virtual mines you shouldn't step on to keep yourself safe from scammers. 
My goal is to expose scams one review at a time so bogus schemes won't blow up in our faces. 
Two Dollar Click Review At A Glance
About: Two Dollar Click is a hyped-up and unrealistic paid-to-click site.
Price: Signing up is free.
Pros: Nothing.
Cons: Outdated website, unknown owner, high cash-out threshold, and no customer support.
Verdict: Two Dollar Click is a scam. Advertisers don't realistically pay $2 for each ad. They only set the budget to a few cents to a dollar for each ad.

Easy Money With Two Dollar Click?
It's the claim but not the truth. For one thing, if they did have a lot of users paid from clicking ads, there will be heaps of good reviews about them and tons more will sign up.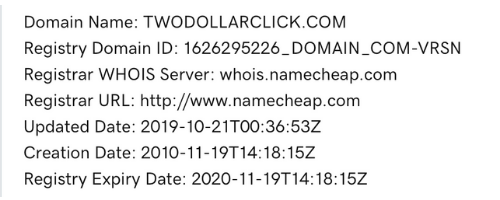 The Two Dollar Click was registered back in 2010. It can be pretty impressive and a lot of opportunities lasting as long are known to be legit. 
This is because most scams only exist long enough for people to trust them and then poof, they're gone with the money they get! 10 years of existence can be a striking feat but it's not enough to label an opportunity as legit. 
There's no info on the website about who owns it, so I put on my sleuth hat and started digging around. Its owner is Jordan Welsh and the only thing that popped up about him is he's also linked to other scams like Two Dollar Click. 
He wasn't even creative enough to produce more striking scam names than Six Dollar Click and Three Dollar Click. 
The hype is all about earning two dollars for every click you make. It can be a very handsome pay but never a realistic one. Like what I've told you earlier, legit PTCs can only afford to pay viewers a few cents per click. 
So, if any opportunity claims to pay a dollar or more with a simple repetitive task like this, it should send your alarm bells ringing. 
How It Works
I actually tried it to give you an inside look of what you can expect from it. 
I'm really ticked off about the number of times I had to log back in every time I click a new tab. It keeps signing me out and getting back inside takes time. Waiting for it to load is like waiting for the turtle to cross the finish line. 
Here's what the members' area looks like: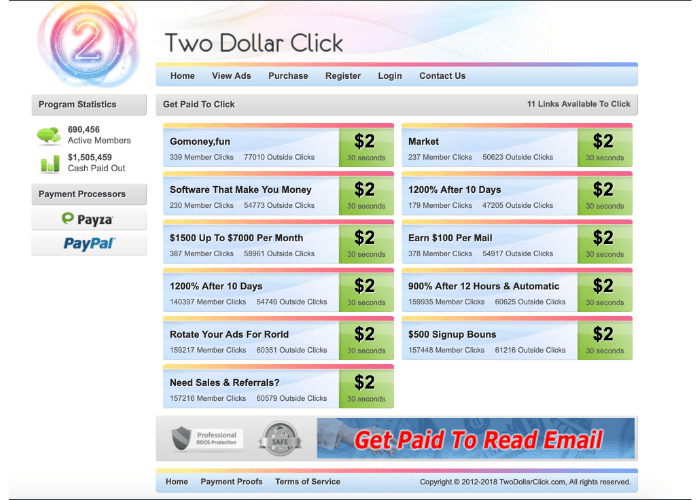 Signing up is free which is a bit of a good thing because I can try it out without paying up. 
After signing up they'll confirm your membership. If you just wait around to be directed to the members' area, you'll get stuck. I actually had to figure it out myself that I'll need to go to the login page to access the members' area.  
You can then head to the ads tab and start clicking on ads to start "earning". 
Each ad has a specified number of seconds as you can see. This means when you click on an ad, you'll be led to a new page with a countdown timer. After the specified number of seconds is up, you'll see a series of numbers and they'll tell you which number to click on. 
After that, $2 will be added to your account as your "pay" for the click. 
So, for example, if you chose a $2 ad with 30 seconds, the timer will count down until 30 seconds is reached. Next, you'll see a sequence of 4 digits. They will tell you which digit to click.
After you click the requested digit, the $2 is credited into your account.
Here's the thing:
Advertisers know most of the people who click on the ads are not really interested in what they sell. They're merely interested in the tiny piece of the pie they can get from clicks. This is why advertisers won't pay PTC sites huge amounts. 
This means PTCs are not flooded with cash enough to pay everybody the hefty promises. 
Here's a video on PTCs:
The truth is, advertisers can resort to social media platforms to promote their products to targeted audiences. This strategy has more chances of reaching people who are really interested in what advertisers pitch.
Two dollars for every click? It's a mere phony tactic to lure people. By the time you reach the minimum threshold to withdraw (mind you it's not cheap, it's a whopping $1,000), you'll realize the numbers you see in your account is just a castle in the sand. 
Plus it will take 60 days before you can cash out your money! I honestly won't wait that long to be paid for a legit job.  
Take note of this:
Legit PTC sites only have a minimum withdrawal limit of less than $10. If you'd need to click your fingers to the bone, I'm telling you you'll end up in tears. 
Two Dollar Click intentionally set the threshold so high so they can use you for a longer time before you'll realize you're just wasting your time.
When people realize this is just a mere scam, the scammer can easily exit and give the scheme a fresh lick of paint to lure more unsuspecting ones. 
Here's another thing to look out for:
They'll hype you up with the promise of new links every day so you can continue earning and if you become a paid member you'll earn 200% of your referral commission.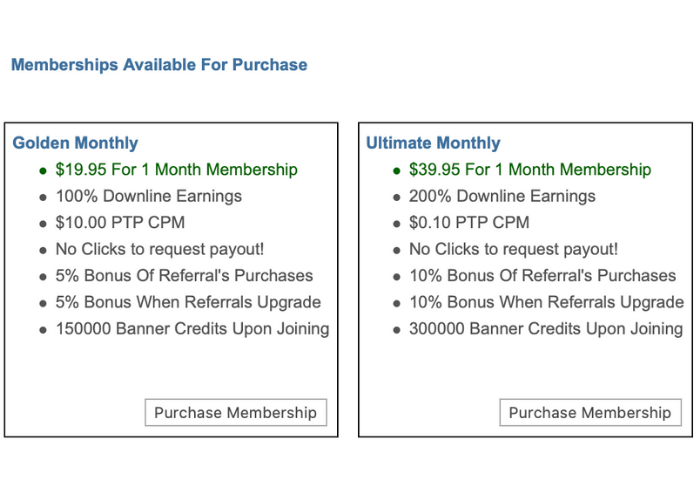 Quite convincing right? Just remember it's only a trick to get you to consider paying up the membership. 
How about the payout proofs? It proved NOTHING. Again, it's designed to dupe you. Numbers like it can easily be edited but hard to prove. (It's not even a good edit)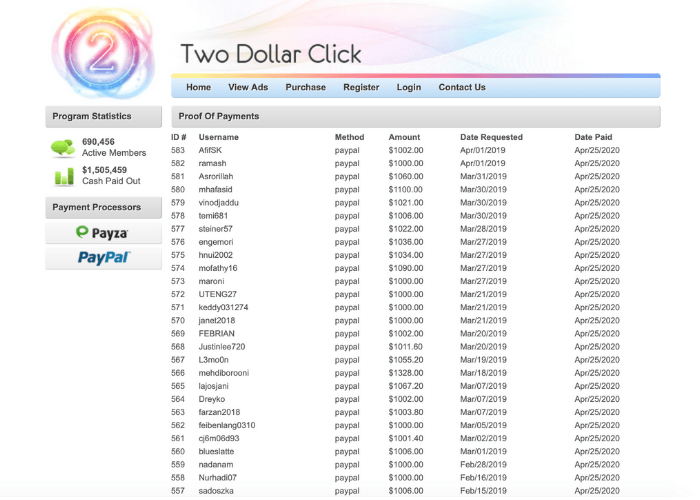 Two Dollar Click Dirty Secrets Exposed!
1. Outdated Website
Many scammy sites look credible but Two Dollar Click looks like it took a step backward with the ancient-looking interface. This tells me the scammer behind this website didn't see the need to tweak it to look more professional because he can easily leave it anyway so why waste time. 
2. Owner Is Unknown
Legit websites owners are proud to introduce themselves because they have nothing to hide. Hiding who they are on the other hand shows how dodgy they can get and how much they want to keep their identity safe so they can make a run anytime. 
3. Unclear Information
No earning disclaimer no important background information, nothing! How do they think I can trust them, right?
4. High Cash-out Threshold
Like I told you earlier, this is another indicator it's a scam. It just shows they really don't want you to cash out so you won't blow the whistle on them. Top that off with a 60-day waiting period. A TOTAL BUMMER. 
Making money online isn't complicated…
This video will show you exactly how to get started. Tap to watch now »
5. No Customer Support
Legit PTCs offer help when you need one, this one doesn't. This tells me they really don't care of you make money or not. 
6. No Privacy Policy
You won't get any assurance the personal details you give them will be protected. This means spammers will come flooding your email and cold-blooded scammers will steal your identity and money. 
If you want to know more about the dangers you can get yourself into, check out how the following scams can rip you off. 
Is Two Dollar Click A Scam? 
Totally! From head to foot, it's a scam! While you can earn from some scams for a few months, with Two Dollar Click you won't.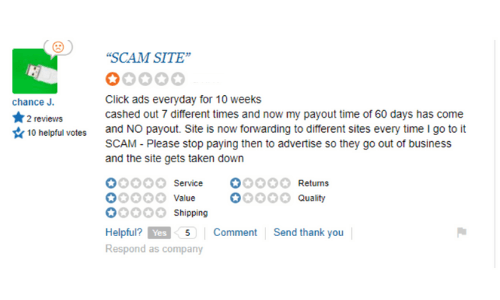 The promised pay is too big for them to afford. They're just actually using you to get money from advertisers without really planning to give you a portion of the pie. 
The owner, who doesn't reveal who he is on the website is a serial scammer who I'm sure hasn't changed his spots yet. (If he ever will)
The greatest danger in signing up for this is your personal details. They can sell it to spammers or worst use it to access your online banking accounts and leave you penniless.
So for your safety, don't try this one. 
Two Dollar Click Review Closing Thoughts
The truth about scummy PTCs is that they're experts in hooking people with the promise of easy money. They'll tell you how much you can earn and how fast it can take, but they can't tell you how they will ever get the money to pay you. 
Easy money can get so tempting but never fall for it because the reality in making money online is it needs time and effort. 
Yes, you can start from scratch but you'll have to develop skills along the way. There's no shortcut to success, never ever forget. 
If you're really interested in making money online, you can try affiliate marketing. 
It's legit and a time-tested online opportunity to make money online. Many have reached their income goals with affiliate marketing. 
But like what I said earlier you have to put in the work needed. The great thing is, you can work on what interests you the most. So, you'll love what you do!
If you're interested in how you can get started, check out this Wealthy Affiliate review. 
How I Make A Living Online?
After years of working in call centres I finally figured out how to create a 5-figure monthly passive income stream and become financially free.
Thanks to the right training and a lot of hard work I kissed my old boss goodbye and booked a one way ticket to Thailand.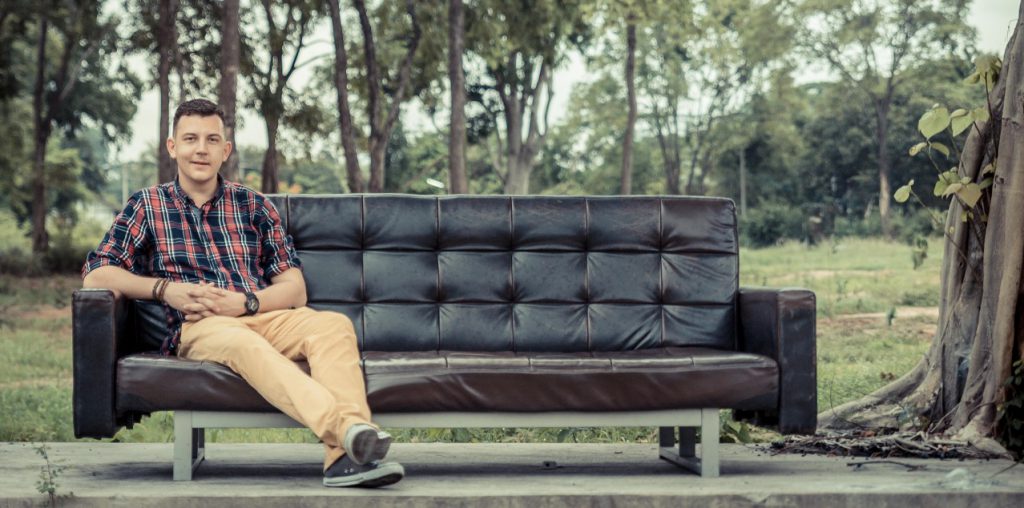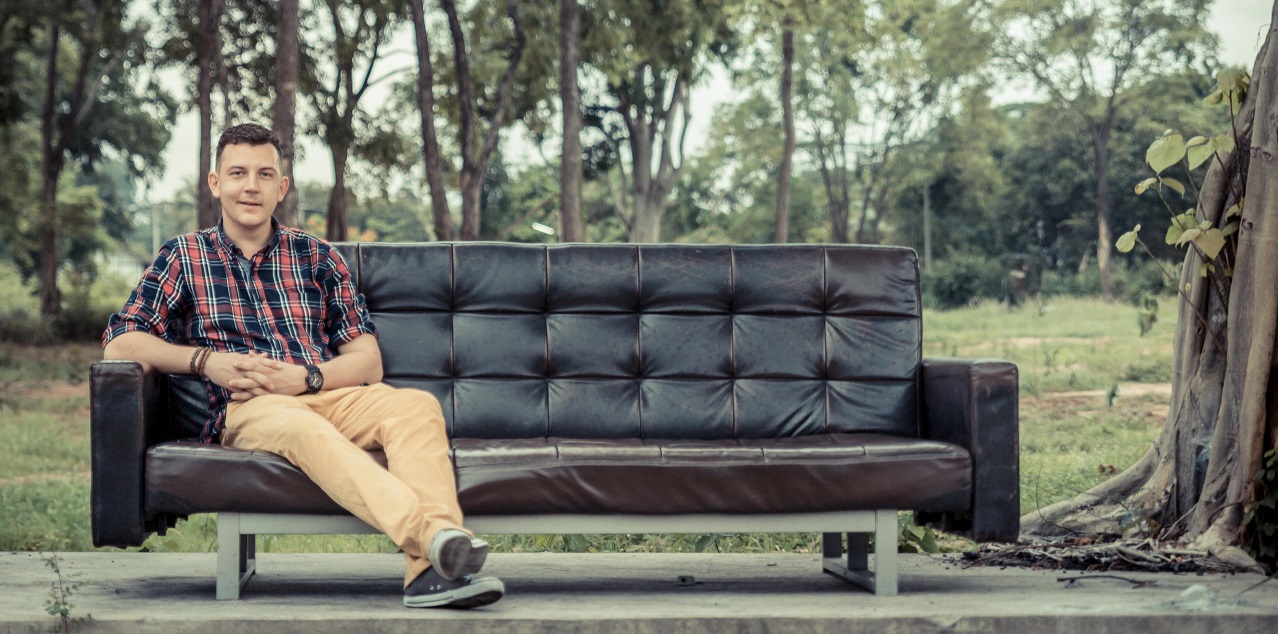 So if you're serious about building a thriving online business, click here for the exact step-by-step formula I follow.
Questions?
Are you sick of scams? Have you ever been duped into joining one? Share with us your thoughts and experiences. We'd love to hear from you.
Simon Crowe is the founder and editor of The Make Money Online Blog on a mission to help as many people as possible kiss their bosses goodbye.
Watch this video here to discover how to smash your online income goals and make your dream business a reality.