Hi, I'm Simon and welcome to the only Paid4Clout review you'll ever need to read because we're about to blow the lid off this scam once and for all.
If you've considered signing up Paid4Clout.com, even if only for a split second, then I'm sooo glad you're here! Seriously, I applaud your due diligence before rushing ahead and joining this scam site – this is the surefire way to avoid online scams.
You've just saved yourself a lot of hassle, headaches and disappointment.
Since the launch of this blog I've uncovered a ton of work from home scams (plus many real money-making programs too!) but I've got to say:
Paid4Clout is one of the scummiest scams I've ever come across and you're about to find out why.
Paid4Clout Review At A Glance
About: Paid4Clout poses to be the "#1 influencer network" that pays out $500/day just like all the other scammy websites within its network.
Price: Free to join.
Pros: Nada. Zilch. Not even one.
Cons: Fake success stories, rehashed scam, never pays out, sells your info.
Verdict: Paid2Clout is a scam. It never pays out. Its sole purpose is to get people's info to sell to other scammers.

How The Paid4Clout Scam Works
Head on over to the homepage and you're told Paid4Clout is the #1 influencer network that will pay you $10-$15 for every friend you invite to join the site. You're also told you can make $500 a day, starting today which is just crazy.
They say making money with Paid4Clout follows a simple 3-step process:
First, you sign up for your free account, then start sharing their links on social media sites and then cash out via PayPal, CashApp or Bitcoin.


Click on the Sign Up button and you are given a form to fill out your name, password and email address before asking you to agree to the terms and conditions.
As you can see from the image below, they also promise you've been awarded a $25 sign-up bonus: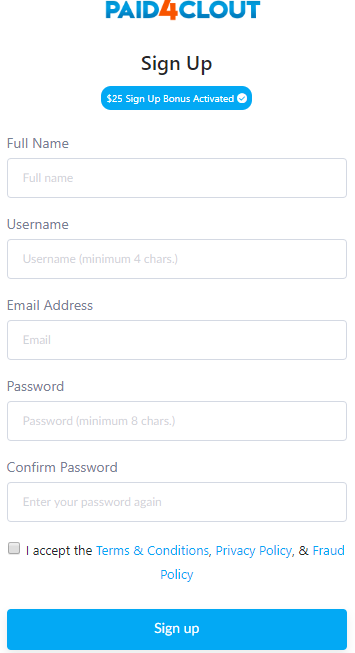 From there you're taken to the member's area where within seconds you'll see this pop up giving your unique link you can use to start getting referrals, saying they'll pay you $2 per click and $10 for each person that joins: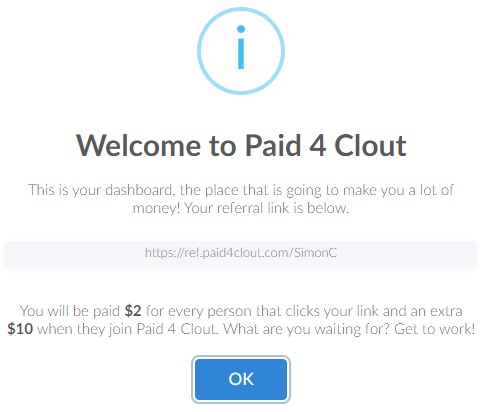 Click past that and you'll see the members' area looks a little something like this: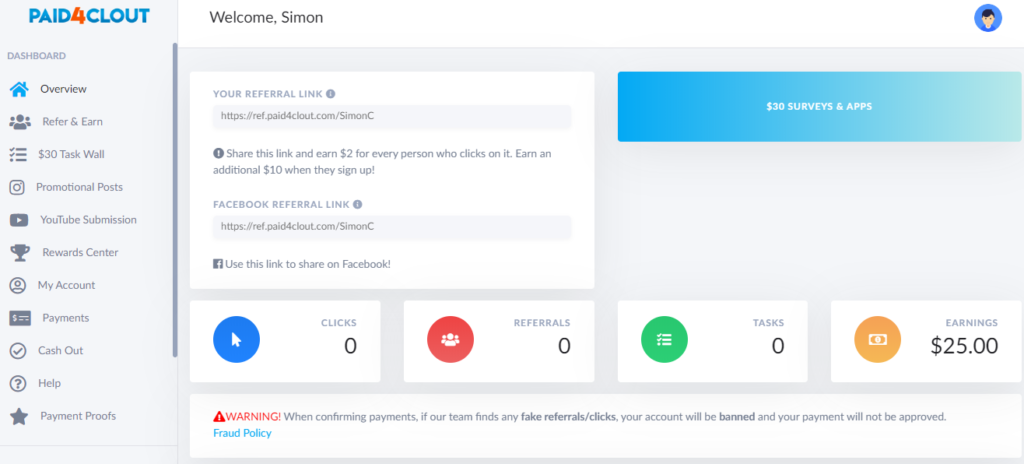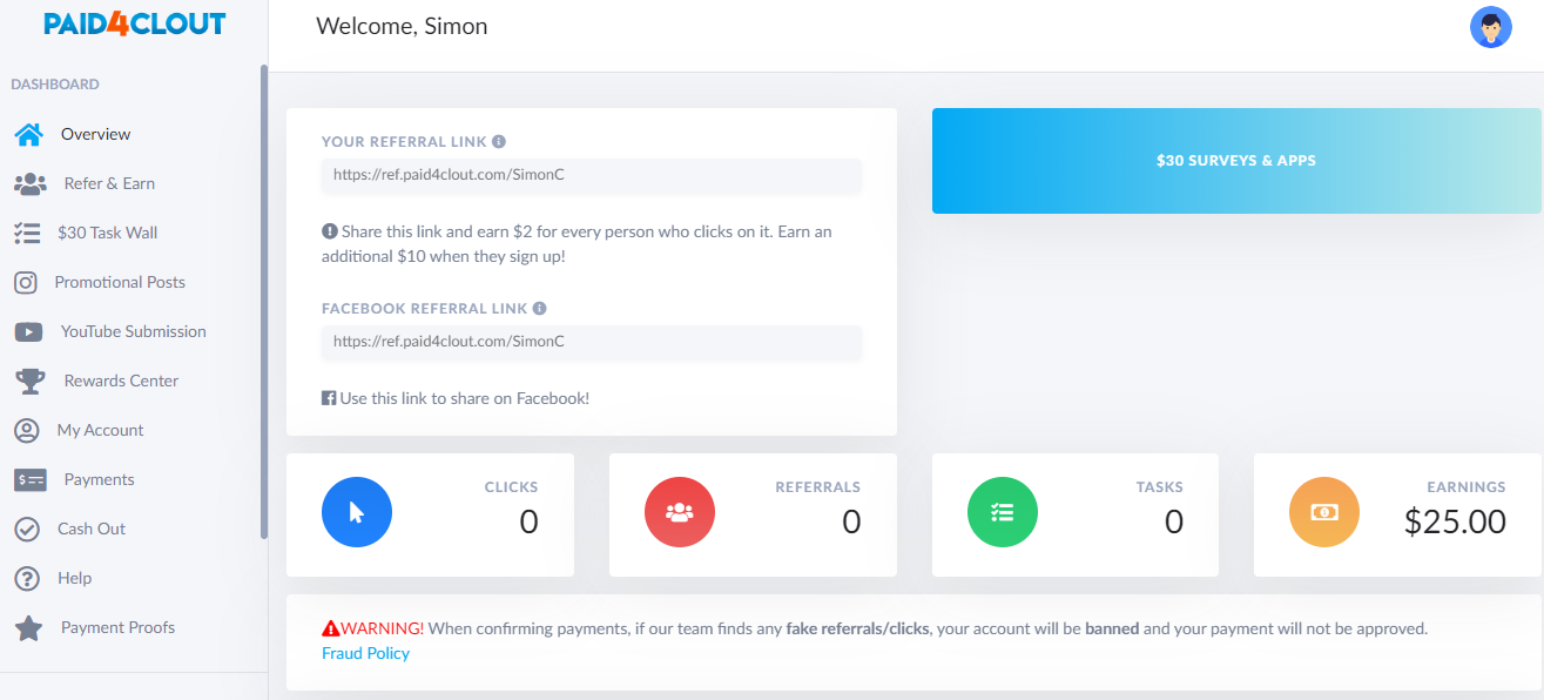 This acts as your main dashboard where you can copy your links, view your stats and check your account balance.
In the left-hand side menu you're given a few different ways to start generating referrals, like the Promotional Posts tab which gives you a bunch of spammy-looking banners to share on places like Instagram: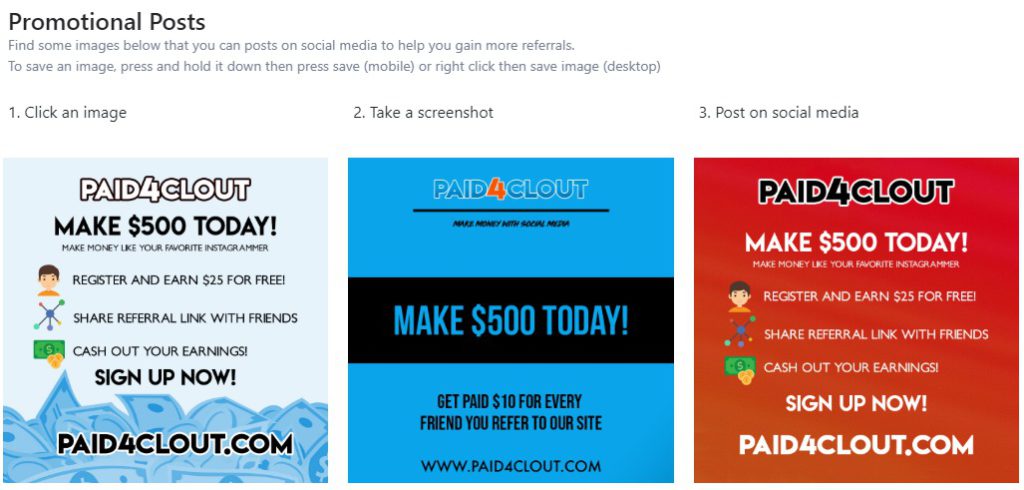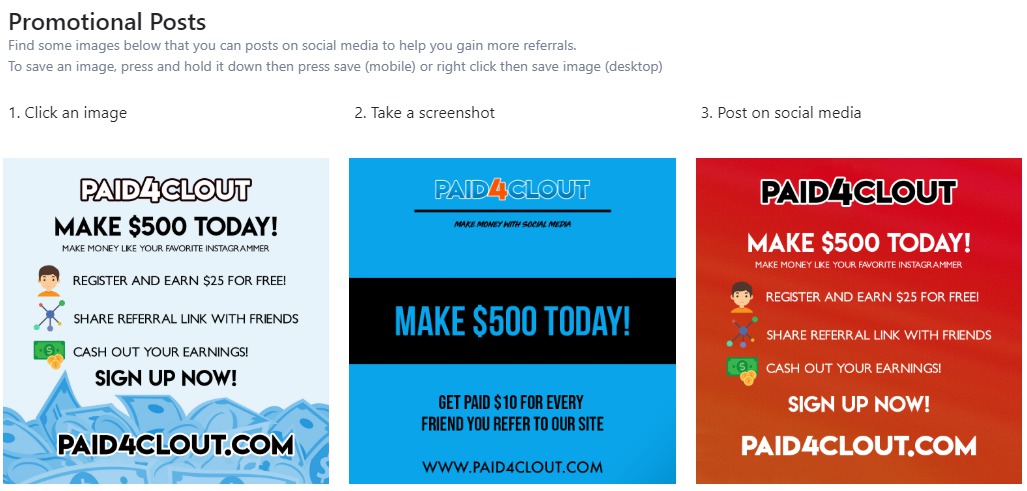 Hit the YouTube submissions tab and you're told to subscribe to their YouTube channel (which now has 111k subscriber count but zero video content).
You're then told to create your own short video talking about how much money you've made with Paid 4 Clout and even gives the exact title and video description and tags you're meant to copy and paste.
Once you've done that they say to paste your video link to earn an extra $50…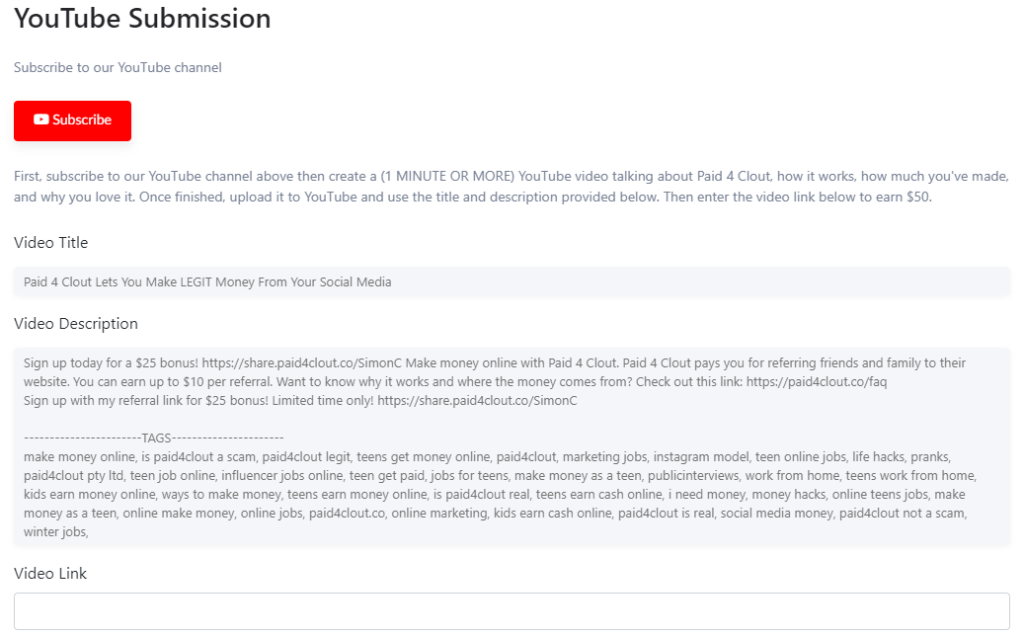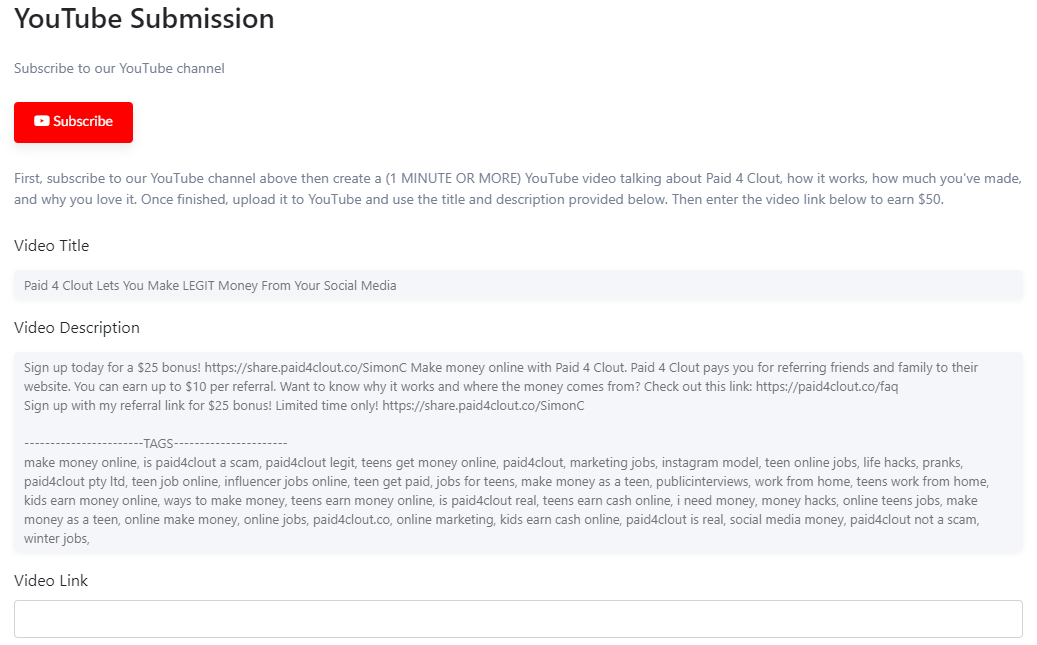 One other money-making method you'll find is in the '$30 Task Wall' tab which gives you a whole list of free trial offers and subscriptions services to sign up for in return for a $20 reward.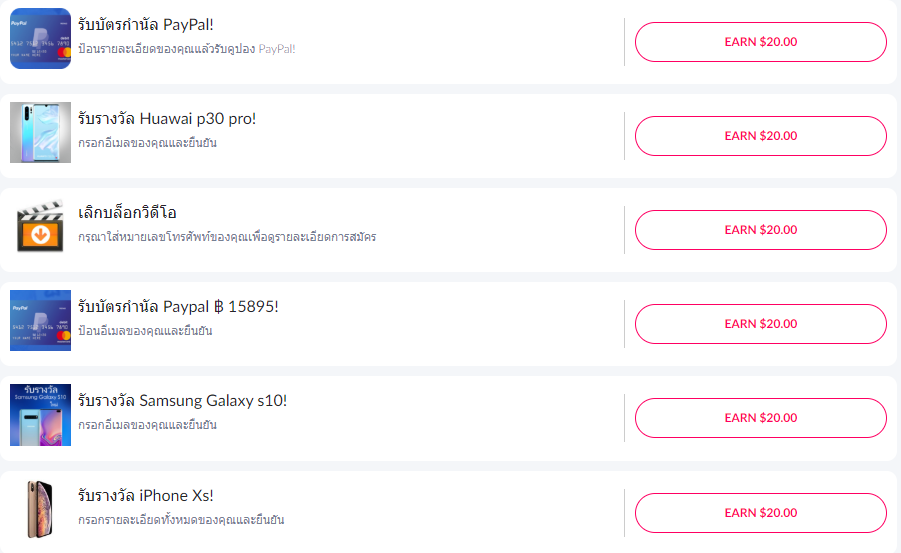 As I'm Thailand the site is in Thai, but you're basically told you can be in with a chance to win a free phone or get a PayPal credit card…
Out of curiosity, I clicked the PayPal credit card one and I was redirected to a very dodgy-looking site called HomeDeal.XYZ where I was asked to enter private information like my address and date of birth to 'win' a Prepaid card with around $525 on it: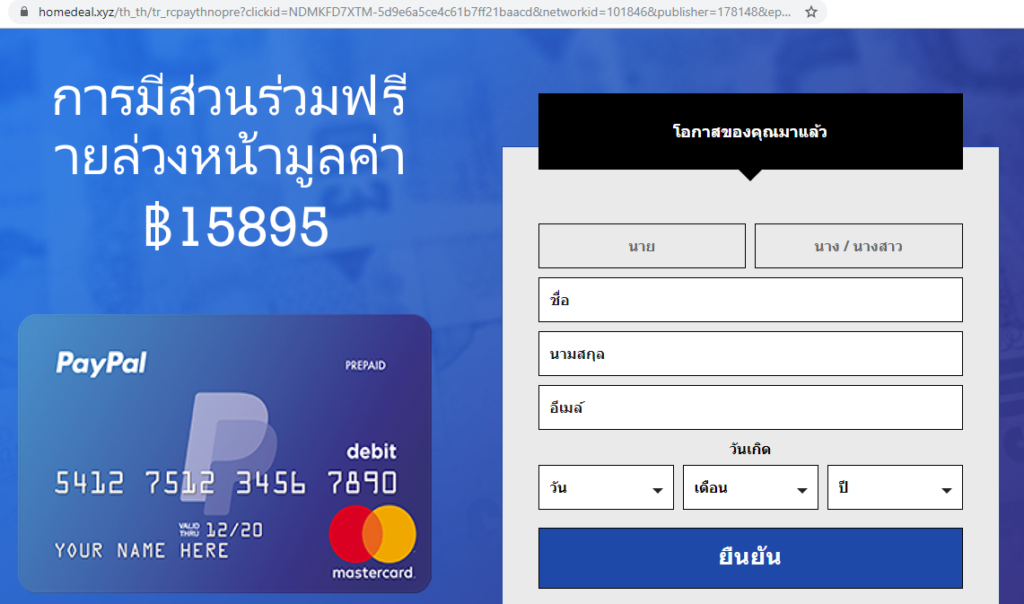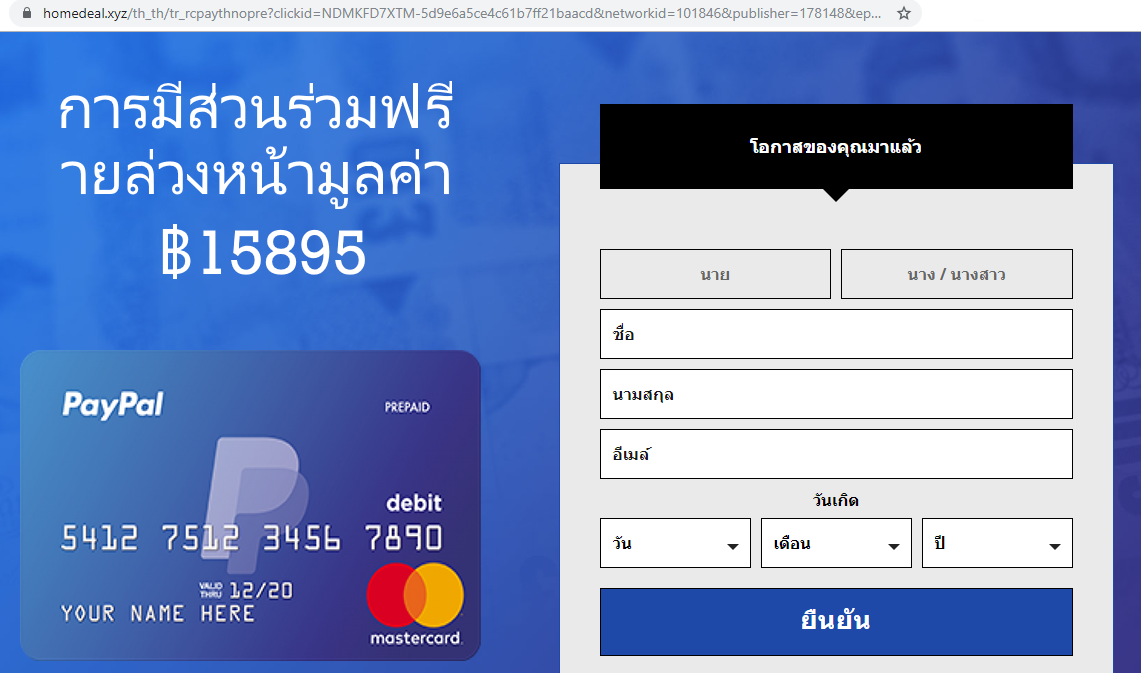 It goes without saying that I did NOT give them any of my details and I strongly advise you not to either – the reasons for which I'll go over with you here in a second!
But Simon, Is Paid4Clout Really A Scam?
Yes, yes and yes!
People see it's free to join and let their guards down. Paid4Clout tell you they pay you from the revenue they generate from ads and yet, as you've just seen, there are no ads anywhere inside the member's area.
Paid4Clout has successfully used deception and manipulation to extract the personal and private information of 1,000's…
Still not convinced?
Here are the 5 top reasons Paid4Clout is one of the most blatant and scummiest scams you could ever be foolish enough to sign up to:
1. The 'Success Stories Are All 100% Fake
Under the heading 'Happy Members' you'll see testimonials supposedly from members who are cashing in bigtime since they joined the site.
Take Darrius J for example:
According to his testimonial, he's made over $19,000 with this program in the last 2 months alone.
Except a quick Google image search reveals this testimonial is anything but genuine:

Then there's David L; a guy who says he's made more than $13,000 since he joined Paid4Clout. Search his image and again, you'll see the same thing happens…
All the website creator has done here is paste fabricated testimonials and used fake images you can find online.

Why?
He has to!
Because nobody (and I mean nobody!) except the Paid4Clout scammer is making money with this and he will do whatever it takes to get your private information, including putting up deliberately misleading testimonials to make you think real people are getting real results.
2. Pay4Clout NEVER Pay Out
Remember how the members' area gives you your stats based on the number of clicks, referrals and money you've made?
As you continue to spam your family and friends with links to this scam site, you'll see your balance go up, which in turn will motivate you to spam even more.
It's quite clever really…
It's only when the promised payment days comes and goes without ever seeing a dime in your account that you'll start to realise you've been duped.
There are tons of negative Paid4Clout reviews and complaints from angry members who, in good faith, followed all the instructions they were given only to find out at the end of the month they had nothing to show for all the time they'd wasted.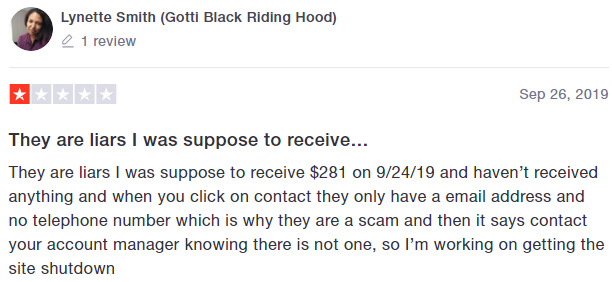 And I promise you I'm not cherry-picking the worst reviews here. On TrustPilot, 82% of Paid4Clout users give the site the worst possible rating and every complaint tells the same story of hyped-up earnings claims and broken promises: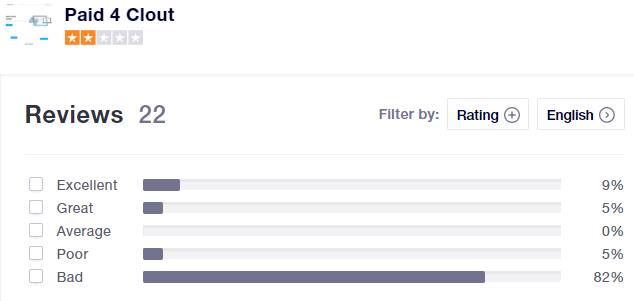 3. PaidForClout Is An Old Scam Resurrected
After doing a bit of digging I found out this scam is only the very tip of the iceberg of a much bigger network of scams – this internet con artist is, in fact, running multiple data harvesting scams at the same time.
So far, I've managed to find at least half a dozen sites that are almost identical to Paid4Clout including:
Each site has exactly the same layout, phoney testimonials and bogus earnings claims: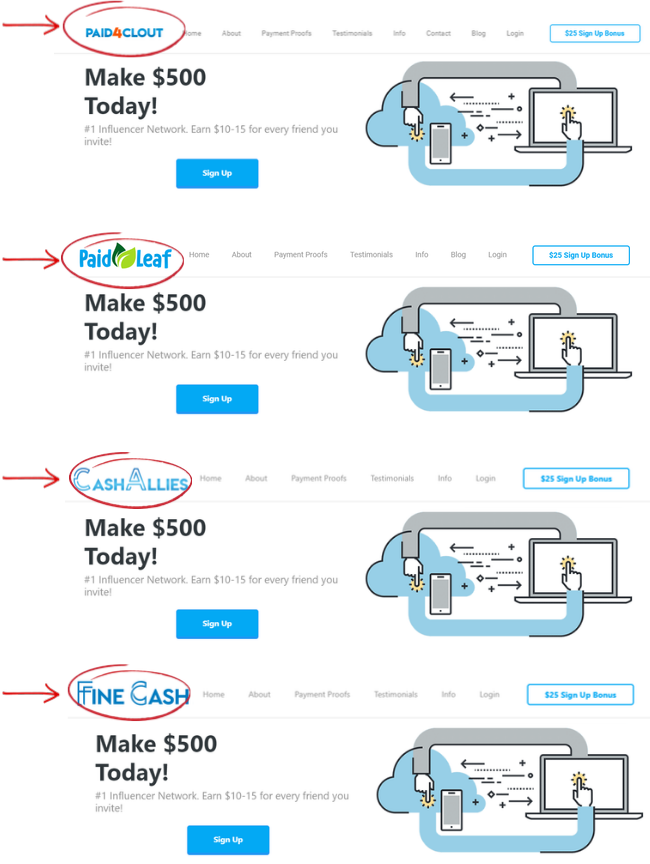 And I know I've barely scratched the surface. I guarantee there are dozens more out sites like this out there we don't know about yet, with new ones popping up every week.
There are so many legitimate ways to work from home but this my friend is not one of them. It's only a matter of time until Paid4Clout.com closes down too as more and more people complain about not getting paid and reviews like this expose them.
4. This Scumbag WILL Sell Your Personal Info
Ironically, while the Paid4Clout creator chooses to remain completely anonymous, he asks you to hand over your name, address, date of birth, social security number, PayPal account information and passwords.
This puts you at serious risk of fraud and identity theft.
Paid4Clout is what's commonly known as a phishing scam because they lure you in with promises of a $25 sign up bonus to get hold of your personal data.
Internet scammers out there are more than willing to pay a very high price for access to this kind of information and the mysterious Paid4Clout owner is very happy to accommodate.
His network of scam sites provides this guy with 100's of new profiles daily which he will then sell as many times as he can to the highest bidders so he can rake in the cash.
5. Scam Victims Become Scam Promoters
This is by far the worst thing about sites like Paid4Clout…
Follow the instructions inside the member's area and you'll be promoting this scam on Facebook, Twitter, Instagram and YouTube. It's pretty smart if you think about it.
By dangling a golden carrot in front of people, he not only gets their private information but they themselves unknowingly recruit others into the same scam they just fell victim to.
Take this new member for example. He says things like:
"I made $180 overnight. I've already paid for a car. I've already paid for an apartment building."
All he's doing is what they told him to do under the YouTube submissions tab because he thinks he's going to make an easy $50 just for uploading this video:
This poor guy still believes he's actually going to get paid…
Whoever created Paid4Clout is taking advantage of people who are desperate enough to believe making money online is fast and easy.
When the truth is get-rich-quick schemes don't exist and if you think something sounds too good to be true then it most probably is!
Bottom Line: Paid4Clout Is A Waste Of Time
If you thought getting paid $15 to spam the internet with scammy links then think again.
Despite the professional-looking website, bold income promises and free signup, Paid4Clout is nothing more than a time-wasting scam that's going to end up being a source of bitter disappointment and you are much better off avoiding it altogether.
Woah so I guess Clout Pay really was a scam… @CloutPay #CloutPay #Pay4Clout

— jjThizzin (@jjThizzin) August 1, 2019
So What Now?
Paid4Clout isn't going to get you where you want to be but don't lose hope just yet! I know you are serious about making money online and I can show you how.
But first, let's get a few things straightened out:
1) You need to put in the time to LEARN
2) You need to put in the WORK before you see results
Do this and you WILL finally achieve the financial breakthrough you've been looking for. By far the best place to learn how to generate a full-time income online is WealthyAffiliate.com.
Check out my full Wealthy Affiliate review to find out how this top-rated training platform will equip you with what you need to make your online income goals a reality.
The best part?
You can take the free beginners training course without ever needing to get your wallet out to make sure it is right for you. You can't get fairer than that! 🙂
What Do You Think?
Now that you've read my full and in-depth exposé, have I done enough to convince you not to sign up to Paid4Clout or do you still think it's worth giving it a shot? Let us know in the comments!
Do you have any questions about this or anything else? Have another online money-making program you'd like us to review? Leave me a comment below and I'll do my best to help you out.
Simon Crowe is on a mission to help as many people as possible kiss their bosses goodbye.
Take the free Commission Academy course to discover how to smash your online income goals and make your dream business a reality.