Are you thinking about creating a free account at Clout Bucks so you can make $500 a day?
Please don't!
If you've already signed up, you might want to change your email and PayPal passwords because Clout Bucks is nothing more than an email harvesting scam designed to trick you into handing over your contact details to an internet scammer who chooses to hide behind a cloak of anonymity.
Clout Bucks Review At A Glance
About: Clout Bucks is another influencer network scam. You're supposed to make easy $500 a day by sharing links, making referrals, and doing other easy tasks.  
Price: Free to join.
Pros: Nothing.
Cons: Fake testimonials, risky identity theft, doesn't pay.
Verdict: Through and through Clout Bucks is a scam. You won't be able to cash out even a cent from this. It's only out to make money from you personal information.

What Is Clout Bucks?
Clout Bucks is an easy way to make $1,000's sharing links on Facebook, Twitter and Instagram. All you have to do is sign up, start sharing and you'll earn $2 for every click and $10 for everyone who joins through your link. They also offer a $25 sign up bonus.
They can pay you this much because they generate revenue from advertising and you can choose to receive payment via PayPal, Western Union or check if you prefer.
At least that's what they tell you on their homepage!
But if you think you're going to make $500 a day with this then I'm afraid you're in for a HUGE disappointment. Be sure to read this review in full to find out why.
So, Is Clout Bucks A Scam Or Legit?
Clout Bucks is a complete and utter scam and a waste of your time and I'm going to prove it to you.
It's easy to think that because it's free you have nothing to lose and you can let your guard down, but don't fall for it!
Clout Bucks is a dangerous and deceptive scam specifically designed to dupe you into giving them your confidential information so they can sell it on to the highest bidder and bombard you with email spam. Don't let them!
How Clout Bucks Really Works
First, you go to CloutBucks.com and sign up for your free account. They ask you for your full name, username, email and password: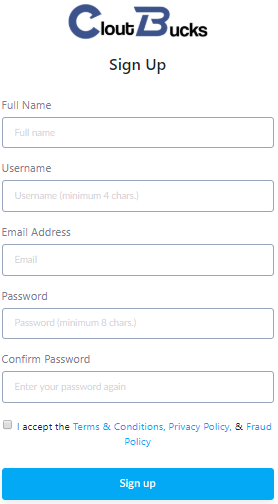 Check the box to say you agree with their terms and conditions and hit the blue Sign Up button and you'll be taken to the dashboard area where you'll find the referral link you need to start sharing on social media so others can join and you earn a commission:


Click on the Refer & Earn tab and you'll find pre-written promotional messages you can send to friends and family members to encourage them to join Clout Bucks for their $25 sign up bonus. These can be sent via Facebook, Twitter or WhatsApp.
Hit the Promotional Posts tab in the main menu and you're given spammy-looking images to upload onto Instagram to gain even more referrals: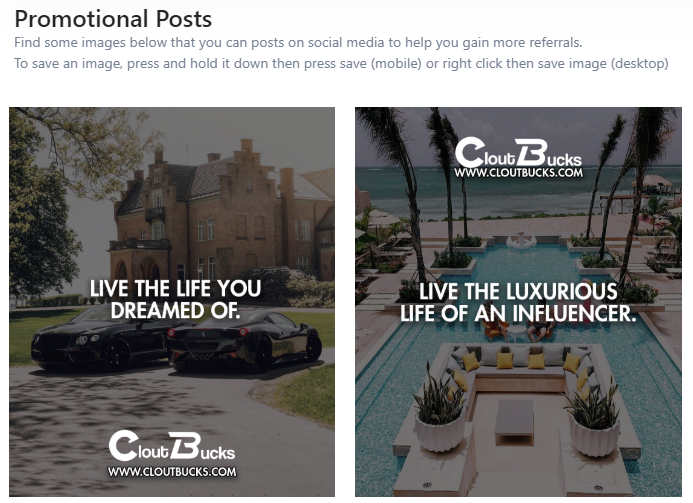 Finally, there's a YouTube section with a recommended video title and description you're supposed to use to make a video inviting others to join the site. They even promise payment of $50 once you've done this.
And that's really it.
I still fail to see how Clout Bucks can legitimately pay you such a high amount for each referral when there are no ads to generate revenue for them. So where is the money they're supposedly paying you coming from?
This made me really suspicious so I decided to dig a bit deeper in my research and that's when I became absolutely convinced this is nothing but a worthless scam…
5 Signs Clout Bucks Is A Shameless Scam
My hope is that by showing you this proof I will have done enough to convince you NOT to sign up to this site. Once you've read 5 signs in full, do me a favour and let me know what you think in the discussion below.
1. You're Fed Fake And Fraudulent Testimonials
The first sure-fire sign Clout Bucks is anything but legit is the website owner has to resort to giving us fake testimonials from members who just don't exist.
Take at these reviews from so-called 'happy members' for example. Ashley's supposedly made $25,000 in the last 4 months and someone else has been making a lot of money over the summer:


The only problem with this is this just isn't possible. As I write this review CloutBucks.com has only been online for 2 months.
Check this out: it clearly shows the website domain was purchased on the 23rd May 2019 so there's no way these people could have made $1,000 with a website that didn't even exist yet: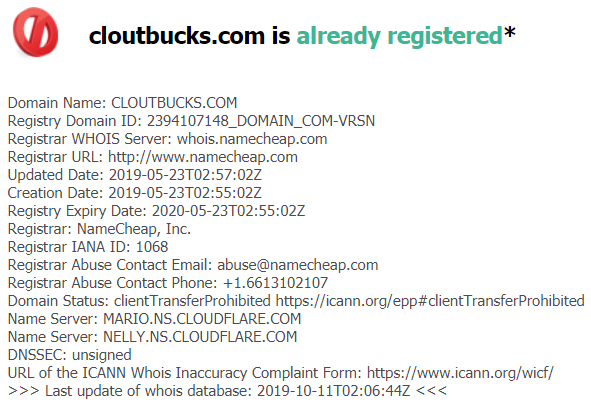 This anonymous scammer doesn't care about what's true or untrue, real or fake, all he cares about is pooling the wool over your eyes and tricking you into joining. He is that desperate for your sign up information.
The reason he has no real success stories to show you is that there aren't any. Nobody apart from the Clout Bucks owner is making money with this system and people like you and me never will.
2. The Clout Bucks Scammer Will Never Pay You A Cent
Remember how the members' area gives you your stats based on the number of clicks, referrals and money you've made?
Search sites like BeerMoneyForum and Twitter and you'll find the same story again and again:
As you continue to spam your family and friends with links to this scam site, you'll see your balance go up, which in turn will motivate you to spam even more. You'll request a withdrawal and even be given a payment date BUT you will never, ever get a penny in your bank account.
It's only when the promised payment days comes and goes without ever seeing a dime in your account that you'll start to realise you've been duped. But by then it's too late – you've already convinced your family and friends to sign up and get scammed just like you have and so on and on it goes.
They are spam and scams

— Nelson (@Rhemazoe) July 12, 2019
Wow that's crazy I'm literally looking on here and yet to see anybody get paid #cloutbucks. Im currently waiting for my payment which will be 8/14 so I really shouldn't be waiting ?

— TrillPaperbOy (@Trilla29) July 31, 2019
Meanwhile, the Clout Bucks scammer is sitting under a palm tree sipping margaritas on some tropical beach somewhere.
It's quite clever really…
He doesn't need to hire a marketing team or run paid advertising campaigns because his scam victims will do all the work for him for free.
All he has to do is see how many names, addresses, date of births and social security numbers he's managed to collect on autopilot at the end of each day.
3. Clout Bucks Is Part Of A Much Bigger Scam Network
As it turns out, CloutBucks.com isn't the only scam site in this internet fraudster's portfolio. I've stumbled across a dozen other sites that are exactly the same…
This is by no means an exhaustive list as I'm sure there are a lot more out there, but here's a list of the ones I've found so far:
When you compare the homepages of Clout Bucks with Paid4Clout and Cash Allies you'll see what I mean: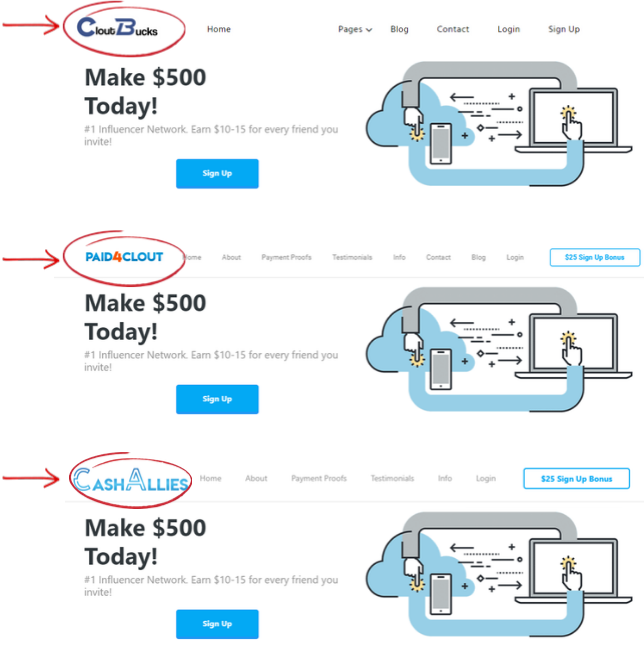 In each case, you're promised you'll make $500 a day, $10-$15 for every friend you invite and given a $25 sign up bonus. You're also given the same fake testimonials and payment proof.
It won't be long until Clout Bucks is shut down as most internet scams are never around for long. There are so many real ways to start making money online but it's clear this isn't one of them.
4. Clout Bucks Members Are At Serious Risk Of Identity Theft
Make no mistake, Clout Bucks is a phishing scam because while the Paid4Clout creator chooses to remain completely anonymous, he asks you to hand over your name, address, date of birth, social security number, PayPal account information and passwords.
2019 phishing stats show that 60% of Americans say that they or a close family member have been the victim of a security break in the last 12 months.
Thankfully you are here reading this review so you don't have to take the bait.
Already signed up? Don't worry, there are steps you can take to can to minimise the risk, including changing your email and PayPal passwords and reporting this scam to the FTC.
5. Clout Bucks Scam Victims Become The Scam's Promoters
For me, the most malicious part of all of this is that by dangling the carrot of a $25 sign up bonus, this con artist has essentially incentivised his scam victims to unknowingly recruit other scam victims through social media sites like YouTube and Instagram.
Don't fall for this bullcrap and don't be the next name on this guy's list.
Clout Bucks Final Review Rating: 1/100
If you thought getting paid $15 to spam the internet with scammy links sounded too good to be true then you were right.
Despite the professional-looking website, bold income promises and a free signup, this is nothing more than a time-wasting scam that's going to end making you feel frustrated and angry and nothing to show for the time you've invested.
So What Now?
The best advice I can give you is this:
Forget about the get-rich-quick scams that never work and start an online business that's going to give a consistent monthly income for many years to come.
If you are ready to put in the time to learn and take action then Wealthy Affiliate will give you the right-know and support to make it happen.
Check out my full Wealthy Affiliate review to find out exactly how they helped me go from being stuck in a dead-end call centre job living in an upstairs bedroom of my mum's house to living the life of my design in Thailand, south-east Asia.
If the training worked for me, I know it will work for you too.
You literally have nothing to lose as Wealthy Affiliate's free Starter membership gives you a chance to test-drive the entire platform risk-free. So go ahead – take that all-important first step to make your income goals a reality.
What's Your Take On Clout Bucks?
Have I done enough to convince you to stay away? Let me know about it!
Have you signed up already? What happened when you tried to cash out? Share your experience with us below!
Do you have any questions about making money online? Scroll down, leave me a comment and I'll do my best to help you out.
Simon Crowe is on a mission to help as many people as possible kiss their bosses goodbye.
Take the free Commission Academy course to discover how to smash your online income goals and make your dream business a reality.