It sounds nice and easy on the surface:
Join Notion Cash and make $500 per day for sharing links with your social media followers.
And yet there's something about this program that doesn't quite add up. Important questions need answering like:
How can Notion Cash afford to pay you $15 for every referral when there are no ads to generate revenue on the site?
Why are there so many complaints from members saying they never got paid?
And ultimately, is Notion Cash really a legit side hustle or just a scummy scam?
And that's why I decided to sit down in front of my keyboard and put together this review. I knew that not everyone was as it seemed and after looking deeper into this program here's what I found out:
Notion Cash Review At A Glance
About: Notion Cash is a social earning network that's said to have paid out $4.2 million to its users.
Price: Free to join.
Pros: Nothing.
Cons: Fake founding date, fake testimonials, fake address, fake payout claims.
Verdict: Nothing is real with Notion Cash making it an outright scam. They've never paid out to anyone. Don't waste your time with this.

What Is Notion Cash?
According to NotionCash.com, Notion Cash is a one of a kind social earning network where you sign up and earn up to $50 for completing simple tasks online.
They boast 185k current members and say they've already paid out more than $4.2 million via PayPal, Cash App, Bitcoin, check or wire transfer.
But absolutely none of this is true and if you stick with me here I'm going to prove that Notion Cash is nothing but a lying and deceptive scam.
How The Notion Cash Scam Works
If you sign up to Notion Cash (which I don't recommend!) let me give you a step-by-step of what will happen:
You'll be given a form where you enter your name and contact details to create your free account. Next, you'll be shown this welcome message promising you'll be paid up to $100 for completing easy tasks: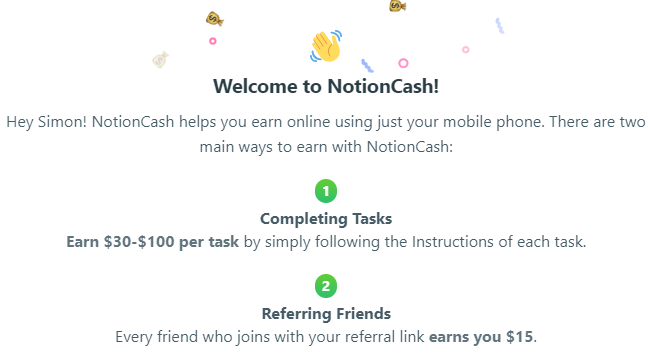 From there you'll be redirected to the members' area where you'll be presented with various CPA offers :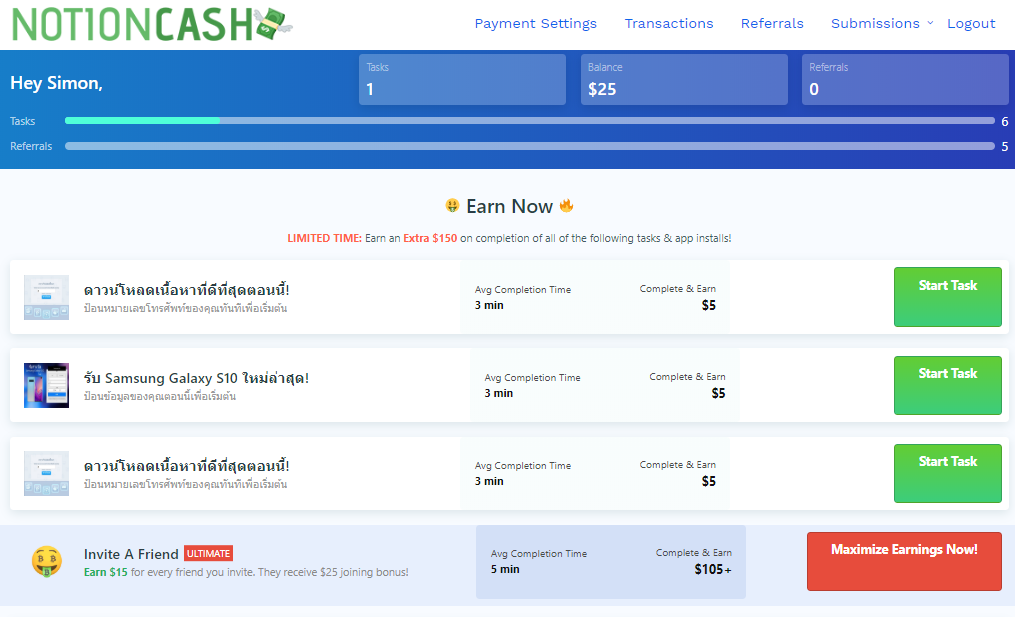 You'll think to yourself all the offers look really, really spammy and that's because they do.
Take this one for example which promises you a chance to win a Samsung Galaxy smartphone plus other prizes in return for you giving them your full name, email address and date of birth: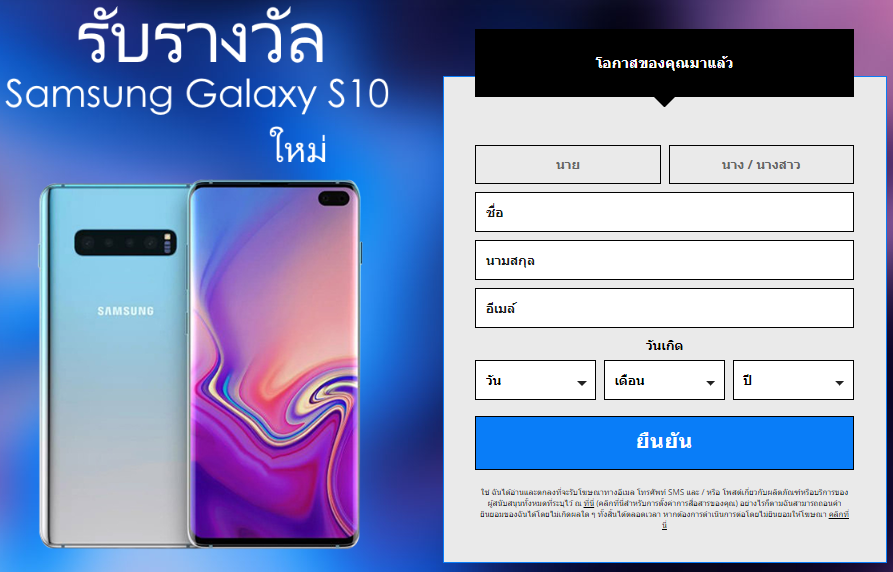 You decide against giving them your personal contact details, not only because you do not want your email inbox hit with an avalanche of spam, but because you notice the tiny print at the bottom says you're also giving them permission to send you promotional offers via phone and SMS.
No thanks!
Other than that, you'll be told the 'ultimate' way to make money is by inviting your friends to join the site. You'll be given a special code and encouraged to copy and paste this code on WhatsApp, Facebook and Twitter to earn $15 for each referral:


So you do what so many other people do and start spamming the heck out of your social media accounts.
You start to get excited as you see your balance, as well as the number of referrals, go up…

Once you've successfully completed 6 tasks and invited at least 5 other users to the site you're officially eligible for a cash-out, so you go ahead and request a withdrawal.
They give you a date 7 days from now when you can expect the money in your PayPal account… all good so far!
Then the date will come and go with no payment ever being made.
When you try and chase them, you're told you somehow violated the terms and conditions and so won't be getting a penny of what they owe you.
That's when the truth dawns on you: they never had any intention of paying you and it was all just a rouse to get you to get as many other people signed up as possible.
This is the same story over and over again – so don't fall for it! Save yourself the hassle, the headache and the wasted time and stay away from Notion Cash.
Don't Believe What You See On The Homepage
As we've already established, these guys are not to be trusted. In case you're still sitting on the fence, here are 4 things you'll find on the Notion Cash website which are completely false and deliberately misleading:
1. They've Been "In Business" For 3 Months, Not 13 Years
You're told Notion Cash has been around since 2007 but this is a total lie to make you think they're a credible and reputable company.


The truth is the domain was only registered in March 2019, as you can see for yourself here: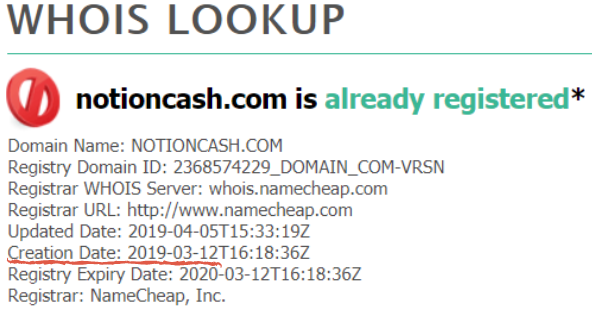 If you think this is bad, trust me it gets a lot worse from here on out!
2. The "Happy Members" Testimonials Are Totally Fabricated
Scroll down the homepage and you'll see stories from supposed real members bragging about how much money they're earning all thanks to Notion Cash.
Take Anython D for example (I'm sure that should be spelt Anthony), we're told Notion Cash has helped this guy earn some extra money and reduced his insecurity at school. Yet, search the image online and you'll see this is fake: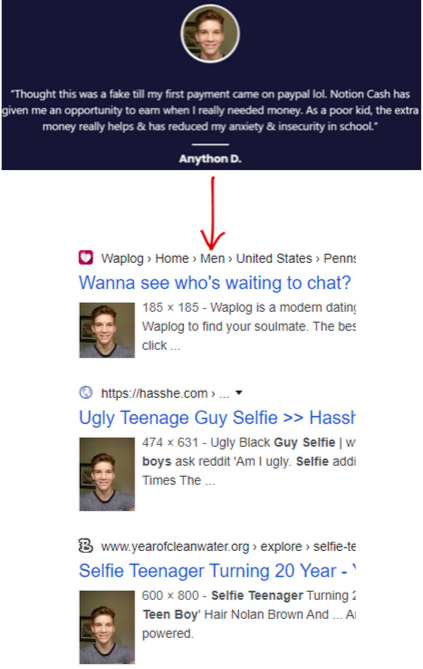 This one made me chuckle:
We're told this guy's called Philip and he's making $100's every week with Notion Cash, except search the image and guess what?
This is actually former boyband member Liam Payne's Instagram photo!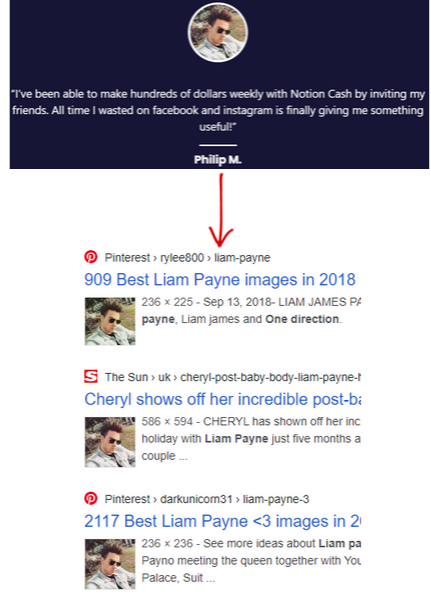 Then there's the testimonials page which shows 100's of video from members encouraging others to sign up, just like this one:
While these videos are from real members, the sad truth is that at the time they uploaded these they still believed they were going to get paid.
3. Their Business Name And Address Is Fake
According to their About Us page, Notion Cash is owned by NotionCash LLC and are based in New York.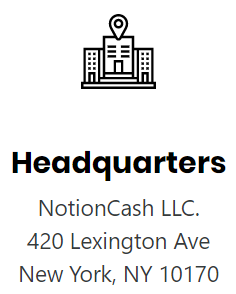 Yep – you guessed it, this is yet another lie. NotionCash LLC has never been a registered company and they are not based in New York.
We actually have no idea where they are located but we do know 420 Lexington Ave is owned by a company who sells the ability to use their address.
4. They Say They've Paid $4.2 Million But Have Never Paid A Cent To Anyone
The Better Business Bureau received 62 complaints saying Notion Cash takes people's personal information but fails to payout.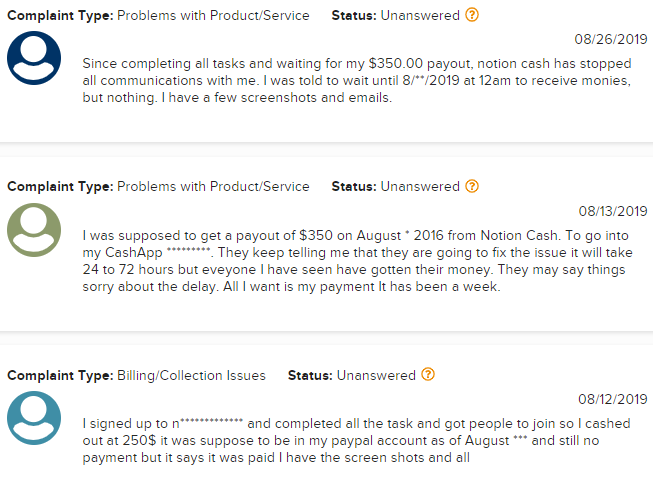 To be honest I'm surprised the number is not a lot higher as Notion Cash have never, ever paid anyone. Just like every other work from home scam out there, Notion Cash promises the earth but fails to deliver.
Notion Cash Is The Tip Of The Iceberg
Due to the extremely short lifespan of scam websites, it's not unusual to find internet con artists running several websites simultaneously. I can tell you this is most definitely the case with Notion Cash.
As well as the NotionCash.com website there's also:
NotionCash.co
NotionCash.xyz
NotionCash.net (website now suspended)
JoinNotion.com
Compare the homepages below and it becomes blatantly obvious these are cloned sites. As soon as one particular website gets shut down, the Notion Cash scammer simply copies his files over to a newly registered domain and starts the scam all over again.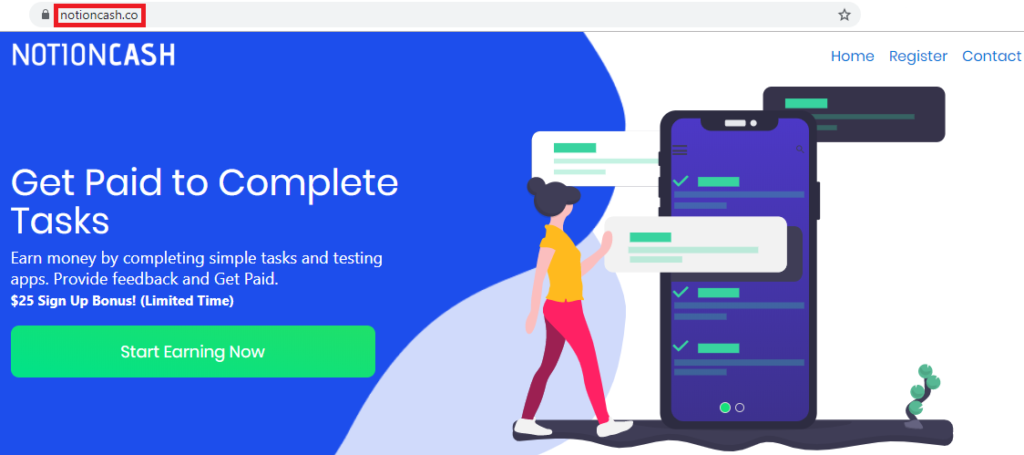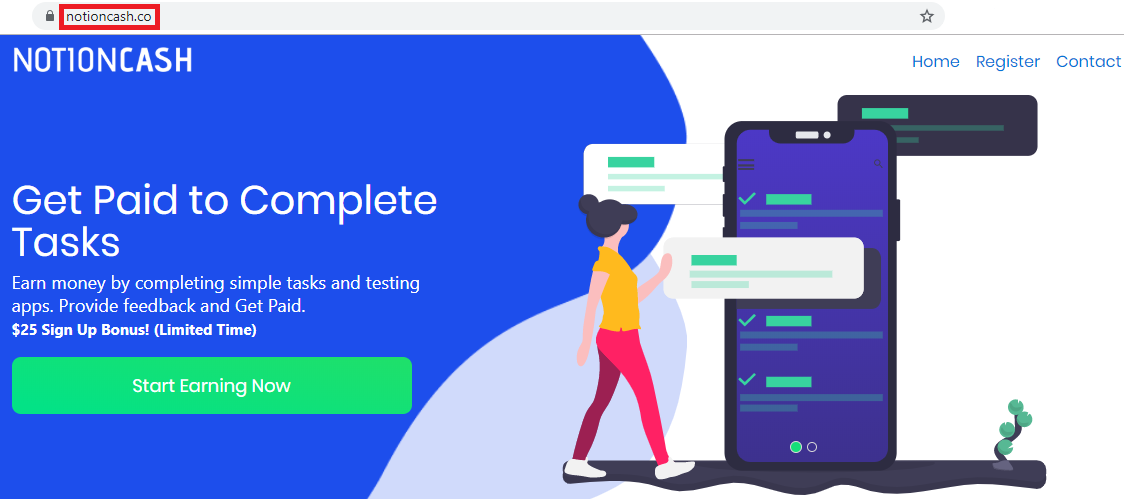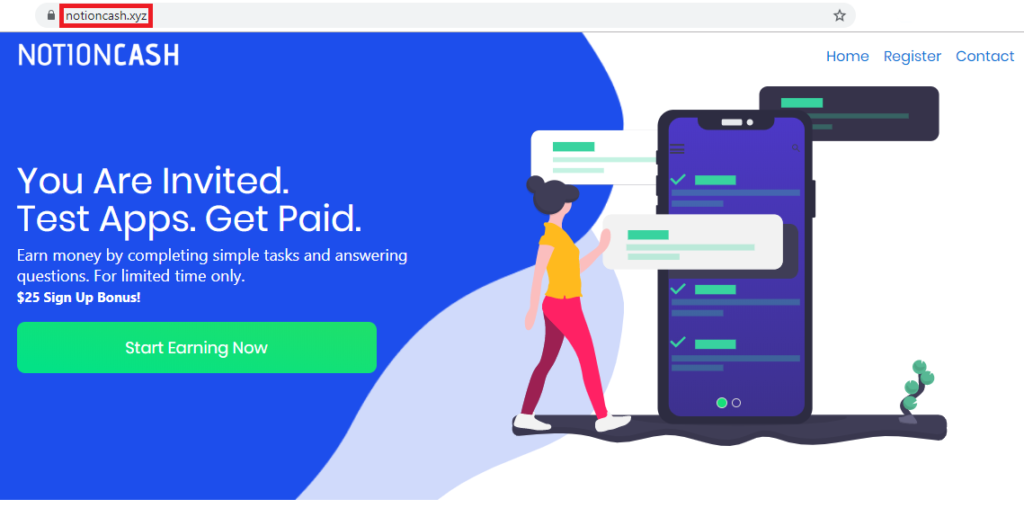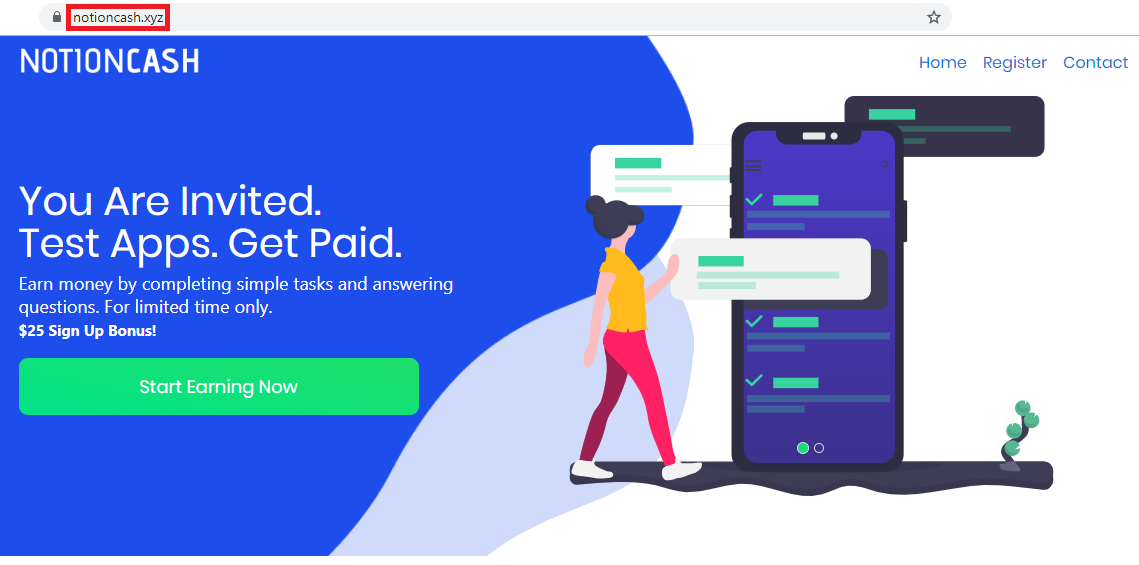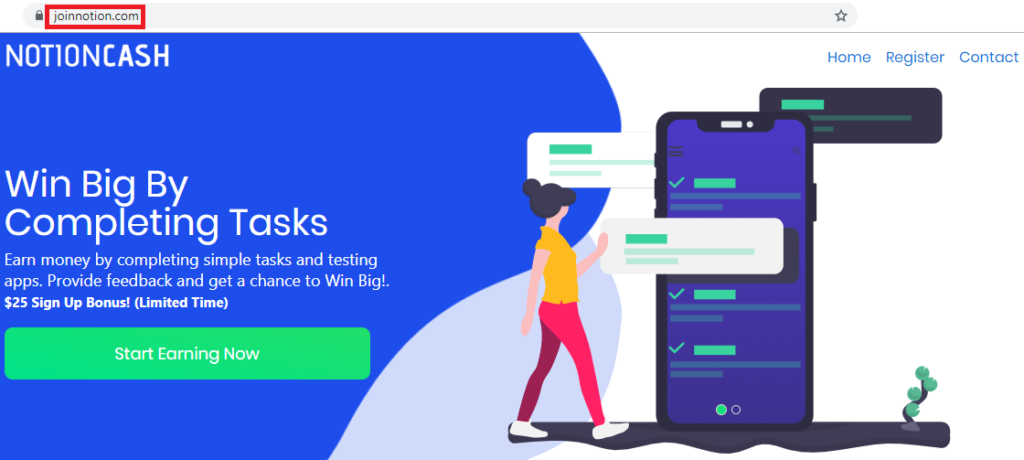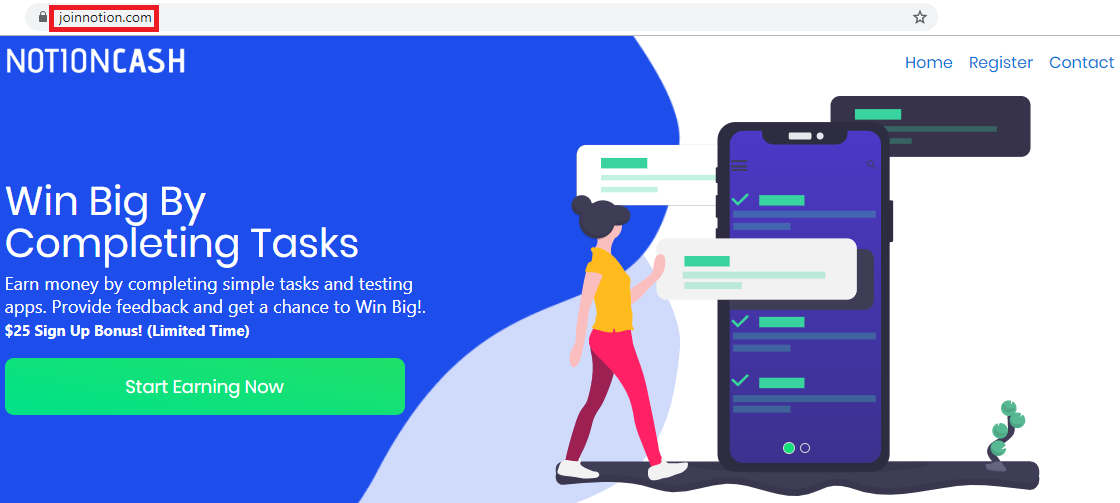 But it gets worse:
Since writing this review, I've discovered that this scam network is a hell of a lot bigger than I originally thought…
There are probably at least 20 sites all identical to Notion Cash that promise the same $25 sign up bonus and opportunity to $100+ per task but never payout. Here are the ones we know about so far:
Don't worry, here at The Make Money Online Blog fully intend to expose them all! 🙂
Is Notion Cash A Scam? Without A Doubt!
I think it's pretty clear by now Notion Cash is not going to help you with your money-making worries. Let's look at the evidence against them:
We have no clue who the owner is or how to contact them
Notion Cash is just the latest in a huge network of scams littering the web
Every testimonial we see on the website is bogus
No-one has ever been paid out
I'll bet you any money it won't be long until NotionCash.com is closed down and another site pops up in its place because scams like this never last long.
Do not join under any circumstances. There's absolutely nothing to gain by signing up this site. You could potentially make yourself a victim of fraud and identity theft.
And if you see anyone promoting this scam on YouTube or in Facebook groups then show them this review so they can stop putting their family and friends at serious risk and wasting their time.
Here's A Much Better Alternative
I know you want to make money online and I can show you exactly how to do it, but let's agree on a couple of things:
First, you need to put in the TIME to learn.
Second, you need to put in the WORK to see results.
Then and only then will you set yourself up with the right mindset for success.
By far the best training I've seen for beginners looking to start making money online is Wealthy Affiliate.
They helped 100,000's of aspiring entrepreneurs build very lucrative internet businesses for themselves since 2005, and if you follow the step-by-step formula they give you, you could be the next big success story.
Wanna know the best part?
Your free Starter membership will give you full access to a 10-lesson course and community support so you can get started right now without getting your wallet out.
Tell Us What You Think
I'd love to hear what you have to say about Notion Cash now that you've read this review in full. If you've narrowly avoided this scam or have been scammed before, please do share your experiences with us.
Whatever you do just promise me you won't give up on your dream of making money online – because it is more than possible!
Simon Crowe is on a mission to help as many people as possible kiss their bosses goodbye.
Take the free Commission Academy course to discover how to smash your online income goals and make your dream business a reality.