Is Growth Commander a must-have tool or is it a scam you should ignore?
Content marketing can turn a molehill into a mountain. I can't overemphasize enough how important content creation is in generating traffic and conversions.
I'm guessing your considering Growth Commander as the solution to your conversion needs because we're told it makes content creation super easy and most importantly, viral.
Today, we're going on a deep dive on Growth Commander. We'll talk about what it offers, if it's really useful, if it's a scam, and if there are better alternatives out there.
Growth Commander Review At A Glance
One thing I appreciate about Growth Commander is the absence of hype. It does not overpromise any whopping income potential, so you won't go overboard with your expectations. It is unlike many scams that promises $1,000s per day but do not really deliver.
What Is Growth Commander?
Growth Commander is a content marketing tool helping bloggers, website owners, advertisers come up with engaging website content. It allows you to create "viral content" with the help of trending online topics where you're supposed to get ideas from and pre-made content found in the website's database.
Since it's a content tool, this means you should already have your own website set in place. If you're just starting out in making money online, this tool won't help you build your business from scratch, hence it's not for beginners.
I suggest you check out my top recommended choices for making money online if you're just starting out.
It is founded by Stefan Ciancio and Greg Kononenko. Searching through Greg's Facebook page, I found several other programs launched by him and Stefan. It's safe to say this is not their first, not their last digital product offered in the market.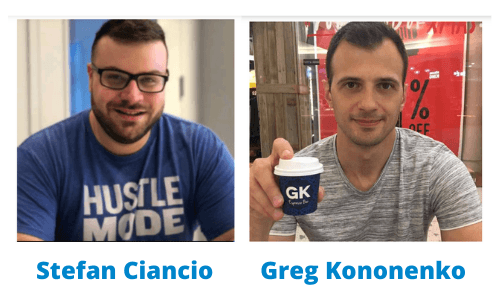 Another interesting discovery I found on his social media is the name Brendan Mace in his friend's list. You can always add friends you don't really know on Facebook, but you can't rule out the possibility that they had or could work on a project together, or even consult with each other.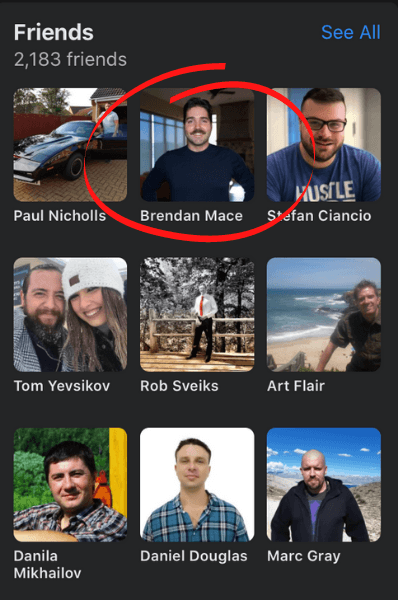 Why am I making a fuss about this? Because Brendan Mace is a serial product launcher who's been infamous for creating several hyped-up schemes like:
I'm not saying they're birds of the same feather, but it's always a possibility.
The good news is, Growth Commander does not employ the get-rich-quick tactic of overpromising income potential but in the end, underdelivers. It only says it can make "viral" content creation easier and you won't need to painstakingly hunt for ideas about it on the internet anymore.
It's a pretty clever software for finding trending content by using Backlinko's "skyscraper technique". Its concept can be summarized in 3 steps:
1. Find trending content
2. Get ideas from it and make something better
3. Reach out to the right audience
In hindsight, Growth Commander can prove to be a valuable tool. But when I went through the member's area, I found out something terrible…
Inside Growth Commander's Members' Area
On Growth Commander's dashboard, you'll find the tools on the left while training and support are on the top part. Occupying a big space right in the middle is a blog content and social media calendar.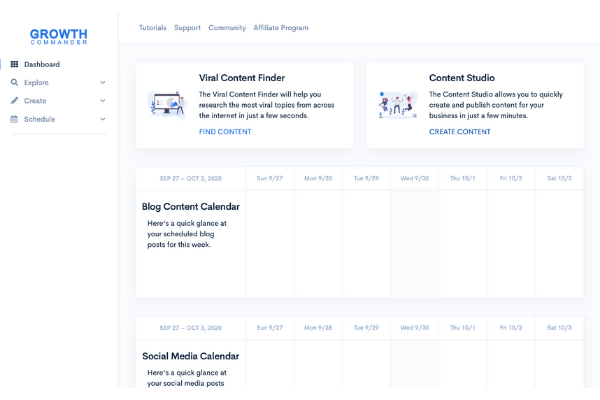 To get an idea of what tools are available together with the functions of each, you just click on tutorials, and then you'll see a list of videos teaching about the first steps you need to take followed by video guides on how to access and use each tool.
The primary videos are mostly about how you can link your WordPress site and your social media accounts to this tool.
Here's what I found interesting:
Greg has a website called dadhustle.com. Since he used it in the tutorials, I assumed it has already ranked very well with the content they made using Growth Commander. So, I checked for domain authority and what I found out is pretty disappointing.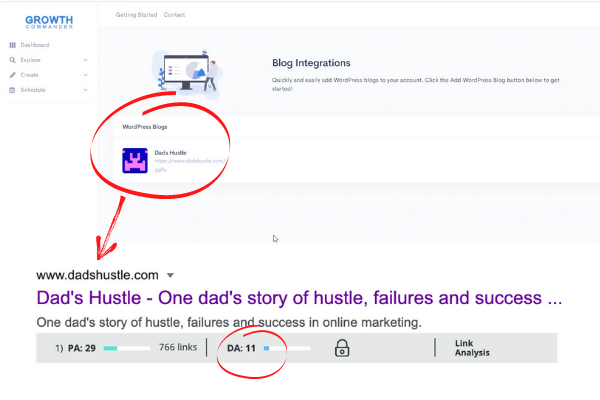 In my mind, if Greg was trying to convince me Growth Commander will bring me viral results, at least he could've used a website showing the great results of the Growth Commander-generated content. Sadly, he used a website that ranked poorly making we wonder if this tool really works.
Anyway, let's move on to the tools and see if it's really worth what you'll pay for.
1. Viral Content Finder
It's true, creating compelling content takes time and effort. You have to do thorough research, write a draft, edit it, check if it's SEO-friendly, and more. There are a lot of elements you need to take into consideration.
Viral Content Finder is supposed to make things faster and easier for you. By simply searching for a topic, a list of trending content will be given to you eliminating the need to research and check if it will rank well.
Basically, you'll use these "viral results" as your guide to make you own content. In other words, you'll just be paraphrasing the content you find to come up with your own. The tricky part is crafting it not to sound like a spun content which is the most likely thing to happen especially if you haven't developed writing skills yet.
If this happens, there's no way for you to rank because Google is smart enough to detect spun or paraphrased content. Google hates this kind of stuff.
Another challenge I find with basing on "viral content" is distinguishing what elements made it rank high. Unless you find these out and use it in, your content will simply get buried deep in the search engine results.
The bottom line, using this tool will still need a level of writing and SEO skills on your end. Unless you have the skills, this tool won't help you get traffic.
NO TRAFFIC, NO SALES.
2. Content Studio
We've been told the content studio makes content creation faster with the massive database of curated articles it contains. It's been said the articles are made "top-notch professional writers" from many niches. (Gives no proof they're top-notch)
The problem is, since it's pre-made, everybody who uses Growth Commander will have access to the same articles. This means you're simply copying content and changing the wordings a bit like everybody else.
If another member is working on the same niche as you, there's a great chance you'll have similar-sounding articles in your websites which isn't a great thing if you want to rank well in search engines. In the end, these curated articles won't get you the traffic you need.
Think too about the gist of the article. You aren't sure when these were made, so you can end up rewriting outdated content. What it contains might have been valuable the time it was written but you can't guarantee it still is today.
One important purpose of content creation is to build authority and credibility, if you had been unknowingly altering outdated content, instead of gaining people's trust you're simply tearing it down.
3. Content Scheduler
Keeping track of deadlines and planning everyday content can be very taxing. You can end up forgetting a lot of important things to do. A content scheduler will be very helpful in this case.
However, there are always free options. There's Hootsuite, Buffer, and SocialOomph to name a few. You don't have to pay for something you can always find for free.
4. SEO Analysis
Growth Commander takes pride in its built-in keyword research tool. There's no question a tool like this is one of the most important things you need to have before making your content. This makes the difference between a content ignored by everybody and a content everybody needs to read.
Like the content scheduler, you can also find an SEO analysis tool involving zero cost. There's keywordtool.io, smallseotools.com, and a lot more.
Growth Commander has some useful tools for your content building needs. But they're just valueless knowing you can find free options off the internet.
Pros Of Growth Commander
Not full of hype and doesn't overpromise
Has video tutorials and support available
Has a free trial and a 30-day refund policy in case you buy any of the 2 packages
Some tools are useful
Cons Of Growth Commander
Pre-made content won't help you rank in search engines
Free options for content schedule and keyword research can easily be accessed
The price is not worth its functions
Won't help increase conversions
Is Growth Commander A Scam?
Growth Commander is not a scam because it has the features it promises. However, it's not something I'll recommend because it's first 2 functions won't help you make rank-worthy content while the other 2 functions have some free alternatives available.
Imagine, spending $297 per year for something you can use for free anytime!
Simply put, the price is not worth the tool.
Where Do You Go From Here?
Before buying any tool promising to help your online business get better traffic and conversions, always check if it's worth the price. In many cases, tools claiming to help you earn easier will fail to deliver and you'll only realize it when you're already lumbered off cash.
It's always better to build your online business from the ground up. This way, you'll acquire all the skills you need to run your business. If you fancy shortcuts, when something goes wrong, you won't be able to fix it yourself because you've bypassed learning the skill you need.
Owning an online business requires possessing the skills to run it.
A great way to learn these skills is through Wealthy Affiliate. This training mainly focuses on building an affiliate marketing business, but the lessons include skills invaluable to any online business you want to pursue.
If you're still on the fence about what business to take, affiliate marketing is one of the most profitable models in 2020. Making an income from it involves these basic steps:


Whether you pursue affiliate marketing, or any online business Wealthy Affiliate's training is indispensable in making money online.
If you want to feel it out for free, the first 10 lessons are available for you to try.
You don't have to take my word for it, you can check it our yourself starting off with this in-depth Wealthy Affiliate review.
What's Your Take?
Did you find Growth Commander useful? Do you think it's worth the price? Tell us your thoughts in the comments section below.
Hi I'm IG, nope not a kin of the social media; I've been IG since '93. I'm 1 part writer, 2 parts reader and 3 parts puzzle nerd.