Hi and welcome to my The Lost Code review, I'm IG by the way, a researcher and a full-time blogger on online money-making opportunities.
Today's goal is to reveal if there is truth to the claims that you can make a massive $4,762.73 per week if you follow The Lost Code training.
Is it a legit course or is it just another scam?
Will you make money in under an hour with this or will it take you years to see some trickle back from your investment?
If you're ready to know the answers, let's dive in!
The Lost Code Review At A Glance
About: The Lost Code is a YouTube marketing training on pitching high-end products that are supposed to help you make more than $4,000 per week.
Price: The front-end is just priced at $12.95 while the upsells staggeringly go up to $2,925.
Pros: The Lost Code training covers the basics of YouTube marketing.
Cons: They make you expect to earn as fast as 20 minutes of making the videos, far off from what happens in reality.
Verdict: For its price, The Lost Code comprises of lessons worth those few bucks, however, I don't recommend it if you're looking for more in-depth training.

How Brendan Pictures The Lost Code To Be
Brendan Mace and Jono Armstrong have partnered to supposedly give you a YouTube marketing training course that works like an income-generating treasure. The Lost Code is training on how you can earn a high-ticket commission with the help of videos.
This is not the first training Brendan and Jono have together. They also have:
With The Lost Code, you're going to do affiliate marketing with YouTube videos as the way to drive people to your offers instead of the usual landing pages or squeeze pages.
Why Brendan Named It The Lost Code
Brendan gave 2 reasons why he came up with this product name.
1. The "bad guys" (he doesn't explain who) supposedly doesn't want you to use this method so they can stay reach while keeping you poor. He ways when you find this, your life will change.
There's no telling if it's a good change or a bad one.
But if you're keeping your hopes up with this, I think the latter will happen.
2. Apparently, Brendan says it's "literally the easiest way to make money online" if you just follow the steps he made.
Here's the real deal:
Tons of people are competing to get user attention on YouTube, things won't be easy when you try to find out how you get people to notice you.
Believe me, you have to pour a lot of research into the work. I've been doing SEO for some time now and there is a lot of things you need to tweak and consider.
It's doable, but not as easy and as fast as how Brendan says it.
What You Get Vs What Brendan Is Telling You
I'll give you a list of what Brendan tells you on the sales page and the reality behind those hypes. I've got to tell you right off the bat, this can turn your interest in The Lost Code off.
1. Brand New And Never Seen Before
It's not brand new and it has been seen before. Since 2005, YouTube videos have been used as a marketing strategy, 13 years before The Lost Code came to exist.
Contrary to what Brendan says, this is not a completely original marketing strategy.
2. 100% Newbie-Friendly
The Lost Code can be good if you're new to using YouTube videos to drive people to your offers. However, if you're a complete newbie to making money online, The Lost Code will do you little good.
The training it covers is about how you can market your product. If you have no idea what to sell and who to sells to, you won't get to learn these on The Lost Code.
3. Take 15-20 Minutes To Make Money
That's a crazy short period of time. No matter how good your videos are and how many you upload in one time, if you haven't built credibility, you won't get people to convert.
Getting people to trust you doesn't happen overnight, it will take months and even years to build your credibility.
4. You Can Make $4,000+ Per Week
In the long run, when you know the ropes and apply the right strategies, making 4 grand won't be a pie in the sky.
However, just relying on The Lost Code won't get you there. You'll need more in-depth training on affiliate marketing which this course won't cover, something Wealthy Affiliate will.
But here's a sobering thought:
After Brendan promises massive dollars, the disclaimer clearly says, you can't hold Brendan liable in case you don't make a cent out of The Lost Code.
Apparently, there's no guarantee you can make the amount of money he promises you.
The Very Basic Training You Get In The Lost Code
Inside the member's area, you'll see the list of topics on the left about what you'll learn in The Lost Code. The videos range from 3 minutes to 57 minutes.
Inside you'll get:
A Welcome video
An Overview of The Lost Code
Case Study and Proof (it's just a bunch of claims about money coming in but not really showing how the exact steps of how you make the money)
The Lost Code Money Pages where they'll teach you to create landing pages to promote affiliate offers
Audition Money Method which is supposed to be a strategy to spike conversions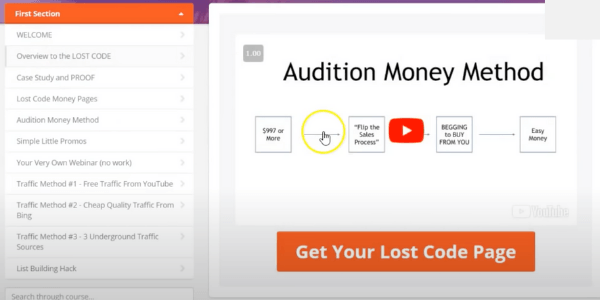 Simple Little Promos where Jono comes in teaching you about including bonuses to get people to buy the product from you and now anyone else
Your Very Own Webinar – Here's the thing, they're pitching The Lost Code to beginners, how are these people supposed to create a web seminar if they still have to learn things themselves.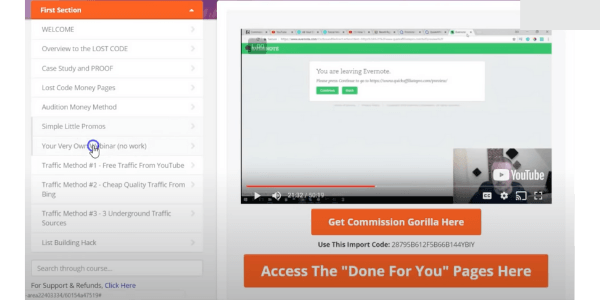 Traffic Method 1 supposedly teaching you how you can get free traffic from YouTube
Traffic Method 2 which are paid ads on Bing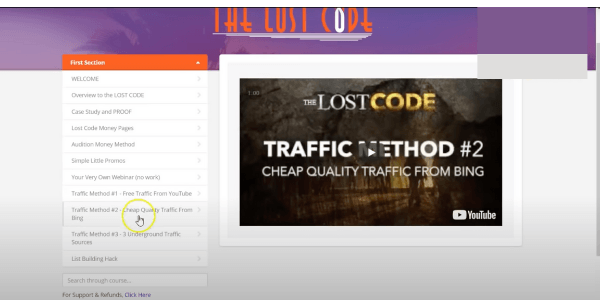 Traffic Method 3 are underground sources where they tell you to use one of their flopped traffic products to drive invisible traffic to your offers
List Building Hack where they teach you to build an email list but not teach you what email marketing is all about.
These videos will only teach the very basic things about setting up your YouTube videos, why they rank, and some on-page SEO.
Disappointingly, the training covers just those things. You have to tap onto other courses to learn everything about affiliate marketing and to bring your online income skills to the next level.
The Reality About The Lost Code Strategy
The training is ok but it's not enough and it's not as easy as they say making money is. You're not going to start making money in just a quarter of an hour especially if you're just starting out.
Brendan is setting wrong expectations for you. The method isn't even new.
Here's why I say you can't make money in just 15-20 minutes:
The thing with YouTube marketing, especially in ranking organically, it takes time to build up. You have t make your presence known and prove you're worth listening to.
Think about this:
Will you quickly believe a stranger who just randomly walks up to you saying you can make $4,000 per week?
Of course not!
Unless he proves his credibility, you won't trust a thing he says. The same principle holds true for YouTube marketing and building organic traffic.
Even if you upload 100 videos today it still takes some time to build authority and to rank on YouTube, it's a long-term strategy.
If you apply The Lost Code training, you definitely need to learn the ropes of affiliate marketing too.
You have to know:
What people buy
Who they buy from
How you get them to trust you
How you generate traffic that converts
How to build relationships with your customers to become they're go to seller
You should know these things, but The Lost Code doesn't cover it in the training.
Again, the videos will supposedly help you make high-ticket commissions. High-ticket commissions only happen if you have high-ticket products.
Since you're a beginner, they've leveraging on your innocence on how affiliate marketing works by offering you their Project Profit Academy training where you supposedly get 50% of the sales when someone buys it from you.
If you think about it, you're logically just paying them to teach you how they can use you to make more money.
Don't get me started on any claims they care for you that's why they made this training hullaballoos. The logic clearly debunks it.
Is The Lost Code A Scam?
No, The Lost Code is not a scam because you do get basic decent training on YouTube marketing. However, it's not something I'd recommend to you because the claims are too basic and misleading, you'll end up disappointed.
Plus, it's so basic, it doesn't cover everything you need to know about affiliate marketing.
My Last Thoughts On The Lost Code
It's way wiser if you invest in a piece of training that provides everything you need to know about making money online.
Although The Lost Code has a very cheap front-end, you'll either end up spending more for upsells or in a completely different training to cover for the learning gaps in The Lost Code.
Training like the one provided by Wealthy Affiliate gets every beginner a great jumpstart in making money online.
It includes a test period where you don't have to shed a single cent to start learning followed by a comprehensive training that covers everything from scratch and last but not least, a community of affiliate marketers who have tried the training themselves.
If you're interested in knowing more about Wealthy Affiliate, head on to this comprehensive Wealthy Affiliate review to get an answer to your questions about the training.
What Can You Say?
Did you think The Lost Code is misleading? Did you feel the training is not enough to help you start making money? Tell us what you think in the comments section below.
Simon Crowe is on a mission to help as many people as possible kiss their bosses goodbye.
Take the free Commission Academy course to discover how to smash your online income goals and make your dream business a reality.