Stuff My Inbox says to prepare yourself for an avalanche of commissions coming your way. We're told, "it's designed and proven to siphon in 24/7 email leads" resulting in "$102 a pop" and "100% free traffic" that's supposed to turn into money in the bank.
Is making money with Stuff My Inbox really this easy? This full review will tell you what Stuff My Inbox really is, how it works, and whether it's a scam or legit.
After signing up, I can tell you there's a few surprises in store so let's jump right in.
Stuff My Inbox Review At A Glance
About: Stuff My Inbox is an incentive-based list building system promising as much as $1,000 a day in income.
Price: The front-end system costs $14 plus a total of $315 for 5 upsells.
Pros: Comes with a 10-day refund policy. 
Cons: It overpromises daily income using a predictable "never before seen system" gimmick that only sounds great in theory.
Verdict: Stuff My Inbox is not an outright scam. Still, I can't recommend it since the money-making concepts of how you make money are fundamentally flawed.

What Is Stuff My Inbox?
Stuff My Inbox is a list building system using Xbox and cash giveaways to gather leads. It is owned by Bryan Winters, the same guy behind 5 Figure Day Full Throttle, Monster Mode 700k and CB Money Vine. He is infamous for launching digital products in the make money online niche every couple of weeks or so.
The sales video is full of hype. It starts off by saying making 100s of dollars online is "stupid simple". It goes on to say things like:
"You can make money even while away from your computer"
"It's ultra-simple – anybody can do it"
"You'll earn 100s of leads with the 30-second trick om autopilot"
"Brand new 1-click super app that does 100% of the work for you"
But my favorite is this: "It employs raw psychological power to help you get leads".
In reality, the trick is not just pulled on other people, but of course you too! Every second of the 13-minute sales video is nothing but pure emotional manipulation to get you to sign up.
Annoyingly, you won't even get to watch the video straight because a sales pitch pops up almost every minute. Talk about hard selling.
I know everything already sounds baloney, however, once you sign up and take a closer look like I did, you'll realize this is just the tip of the iceberg.
How Much Is Stuff My Inbox?
Stuff My Inbox's front-end system only costs $14.95. It's priced cheaply so you won't have second thoughts about buying it. After this though, you'll be surprised that this is only a tiny fraction of what you'll end up spending.
Here's what the 5 upsells worth $315 are all about:
Upsell 1: Autopilot Commission Rotator ($37)
This upgrade supposedly adds $102 in commissions by sending every 5th site visitor in a "visitor pool". Upsell 1 and 2 takers will then divide the leads from this pool. It says you are to expect ultra-high conversions.
In reality, leads will remain leads unless you roll out a great sales campaign to get them to buy what you're promoting. Getting leads alone doesn't guarantee a sale.
Upsell 2: Autopilot Leads Rotator ($37)
We're told you can "expect insane conversions" with this upgrade, but this is almost like the 1st upsell only that the leads come from email subscribers.
Well, with email subscribers you can expect a level of interest but judging from the super squeeze pages on the website, people only give their email addresses for the freebies and not actually because they're interested in actually buying anything.
Upsell 3: Autopilot Reseller Machine ($47)
What this upsell basically does is use the pop-up-on-exit window to lead people to your affiliate link so if anybody decides to buy the system, the sales go to you.
Let's say 10 people bought this upsell but only 5 visitors clicked on the pop-up-on-exit window to buy the system. This practically means you have more competition, putting your chances of making an income next to none.
Upsell 4: Instant Commission Blitz ($97)
Stuff My Inbox will place 5 featured offers in the members' area. Any sales generated from these offers will be rotated to all members.
Members will have been lumbered at least $329 by the time they get to the members' area. I highly doubt you'll be up for some other costs without first seeing the results of what you already paid for.
The chances for members willing to spend more on the 5 featured offers be almost non-existent.
Upsell 5: $1,000 Payday Machine ($97)
This upsell is described as a "high-ticket backend" where you'll earn from built-in webinars promoting various products. They even say they've earned as much as $70,000 in one month from these webinars.
It's easy to make income claims but unless they show any proof, this supposed income will remain as wishful thinking.
By the way, don't fall for the 90-day refund policy, if you check the order details, you'll see the refund is only good for 10 days.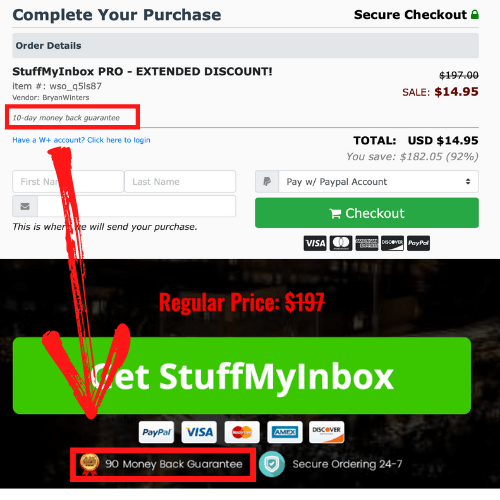 How Stuff My Inbox Works
Stuff My Inbox works by giving away free Xboxes to get leads. When you pay for this system, you'll get your "own" Stuff My Inbox landing page where you offer freebies in exchange for email addresses. Bryan also promises to take care of the giveaway cost.
It's not as awesome as it might seem…
Not everybody giving their email for a free Xbox receives one. One "free Xbox" is only given every 90 days!
So far, the sales video only mentions a single person receiving it and we're not even sure if the recipient was just a friend of theirs pretending to have won the gadget.
In the members' area, you'll see a short video which supposedly teaches you what you need to do to start making money. Realistically though, how can a 15-minute video teach you what it takes to make $100s and even $1,000s a day?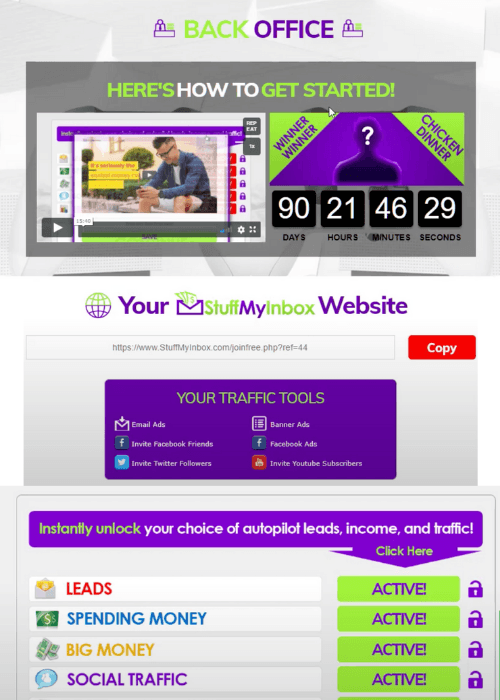 Aside from the video, you'll also get access to:
Stuff My Inbox Replicator: Auto-generates free versions of the site for visitors
Lifetime "World Class" Done-For-You Support
Monster Mode 700k Bonus Income System
Just below the training video are 5 plugins said to help you make more money:
1. Leads Plugin
Unlike all the other plugins, Leads is automatically activated once you access the members' area. This is basically the squeeze page where people get their free version of the site in exchange for their email addresses. This essentially builds your list.
But here's the kicker:
Stuff My Inbox pushes the idea you can make a living from generating leads and building a list. But that's just a part of it. Unless you have email marketing skills, the list you build will practically be useless!
Think about it:
What good will the email addresses you gathered do if you don't know how to pitch a product? Traffic alone doesn't make you money, you need to compel people to convert. Unless you know how to do it your list is a complete waste.
The training video doesn't even tell you about this!
2. Spending Money And Big Money Plugins
Apparently, these plugins include built-in ClickBank products like Perpetual Income 365, Cash Formula and Click Wealth System you can earn a commission from. But since the products are pre-built into the system, you have no control whether the product used is highly sought after or not.
In the end, you're trying to sell garbage ClickBank products to people who gave their email to win an Xbox; you're promoting low-quality products to low-quality leads.
People who want free stuff are very rarely interested in paying for anything. The end result? Your leads won't convert and you won't make money.
3. Social Traffic Plugin
It's a plug-in giving you a done-for-you banner you can use for your social media accounts. It says it can get you "100% free traffic on autopilot". The problem is this won't be so useful if you don't have a great social media following and you could get your Facebook account blocked for spam.
4. Free Paid Traffic
Sound like an oxymoron? You'd be right. Paid traffic has a cost for a reason. You pay for the value. The best you can expect from this "free paid traffic" are tons of bots visiting your site with zero chances to convert.
In general, what Stuff My Inbox offers are merely distorted views of how you can make money online. Once you realize how it's really supposed to work, you'll see how useless it all is.
Is Stuff My Inbox A Scam?
Stuff My Inbox is not a downright scam, but it is borderline. The whole concept of Stuff My Inbox is unprofitable no matter how much they make it seem like an income-generating system you shouldn't pass on.
The way it works is so craftily portrayed it'll be hard for the inexperienced to see how futile it is. By the time you try it out yourself, you'll realize you we're just flushing money down the drain.
To prove my point, here's a screenshot of the Earnings Disclaimer proving all the hype was fake:

How do you expect people only interested in winning an Xbox to buy anything? In the first place they were in for something free, it will be highly unlikely they'll be interested in paying for something they're not even interested in.
A Better Money-Making Alternative
Walk away from easy money rubbish systems like Stuff My Inbox. It's affiliate marketing done the wrong way.
Instead of relying on seemingly lucrative, unproven income systems, it's always better to learn how to generate a full-time income with affiliate marketing the right way.
The hyped-up income systems of Stuff My Inbox will only tell you what you want to hear. Wealthy Affiliate, on the other hand, will show you what you need to know.
You'll learn how to find real products you can be proud to promote to people who are actually interested in what you have to offer. It's a smarter long-term strategy.
There's no need to worry if you don't know where to start, Wealthy Affiliate will help you learn everything from scratch. This way, you have total control of your income source instead of relying on mere flimflam fast-money systems.
To get started read this full and honest Wealthy Affiliate review and find out why it's my all-time top training pick on how to run a profitable online business.
What's Your Take?
Which part of Stuff My Inbox's hype did you find most outrageous? Did you think the sales video was full of hype? We'd love to hear what you think in the comments section below.
Simon Crowe is on a mission to help as many people as possible kiss their bosses goodbye.
Take the free Commission Academy course to discover how to smash your online income goals and make your dream business a reality.