Monster Mode 700k promises 5 huge income streams packaged into 1. It even says making money with this is "ridiculously simple, you won't require a drop of experience."
This piqued my interest because I only hear these kinds of gimmicks from scammy online schemes, which is why I decided to sign up myself and write this Monster Mode 700k review to see if they really are what they say.
So today, I'm going to tell you what Monster Mode 700k really is, how it works, if it's a scam or legit and whether you can or can't make money from it.
Here's a bitesize summary of this review in case you're in a rush:
Monster Mode 700k Review At A Glance
About: Monster Mode 700k is a funnel-based system claiming to get you $500 in daily income.
Price: $18.95 for the front-end product plus $335 for 5 upsells and $99.97 for 5 plugins. 
Pros: Has a 14-day refund policy.
Cons: Everything is hyped-up; you need to buy each of the 5 plugins to earn, but even then the earning potential is next to none.
Verdict: Sign up and you'll be throwing your money down a bottomless pit with little to no return. Monster Mode 700k is a downright scam you'll want to avoid.

What Is Monster Mode 700k?
Monster Mode 700k is another WarriorPlus product by Bryan Winters. It's a funnel-based income system claiming to make you at least $500 per day. It integrates 5 other systems made by Bryan into one where you'll earn a commission from the sales of any of the 5 systems.
The sales video presents this as an "ingeniously simple system packed with ferocious income punch" which you can use to "make you tons of cash without lifting a finger because all the work is already done, and other people send you sales and commission on cruise control".
Sounds like the usual get-rich-quick scheme doesn't it?
It also tries to win you over by saying it's a "groundbreaking funnel-based system that churns out daily $954 a pop" from multiple "viral tiers".
In reality, everything they say on the sales page is deliberately designed to entice the inexperienced into handing over their money, only to be disappointed later on when they're no closer to earning a single cent.
Just take this video for example:
He's was supposed to give Monster Mode 700k a good review but when he said "I can guarantee you, I will make commissions" all hopes shatter into pieces.
WHY?
Because it just shows he's blindly confident about something that DIDN'T EVEN GET RESULTS FOR HIM YET.
How Much Does Monster Mode 700k Cost?
Monster Mode 700k's front-end package is priced at $18.95. There is also an additional cost of $335 for the upsells and $99.97 for system plugins.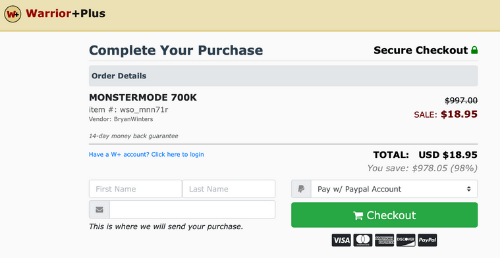 I didn't mind paying $18.95 but paying $335 for the upsells is a completely different story. What's more annoying is they make you pay another $99.97 for the 5 programs you're supposedly going to earn from. (This is if you got the Lite Version)
Here's a complete rundown of the upsells and the 5 plugin systems so you know exactly what to expect:
Upsell 1: Autopilot Traffic Pool ($67)
This upgrade is said to get you "true autopilot traffic" by sending you every 5th visitor from a traffic pool where traffic is rotated to all paying members.
A lot like Autopilot Commission Rotator (Stuff My Inbox's 1st upsell), this traffic will only be useful if you have a compelling campaign in place that converts.
Upsell 2: Push Button Leads ($37)
This upsell unlocks 10 squeeze pages to help you build an email list. Unless you have email marketing skills, this won't do any good either.
How will you pitch your product? How will you drive conversions?
Also, you'll only be limited to pitching Monster Mode and the 5 other plugin systems. If a lead is uninterested with your first pitch, he will likely reject your succeeding pitches too because all these systems work in the same way.
Upsell 3: 1 Click Monthly Commissions ($67)
We're told this is a "secret" upgrade built into the funnels. This adds around $23 in commissions. Sadly, by not explaining what it really is and how it works, this upsell is just pie in the sky.
Upsell 4: Backend Commission Stuffer ($67)
This upsell claims to unlock $300-$400 more in sales by integrating an auto webinar to the back office.
Monster Mode didn't explain if you make money from the webinar itself or what the webinar is about. Still, whatever the case it's unlikely to add $100s to your income.
Upsell 5: 5X Commission Booster ($97)
You can only get a 100% commission on the 1st plugin system. But buy this upgrade and you get 100% commissions on all 5.
That is IF you ever get to sell any of the plugin systems if you're not, you're like throwing money off a cliff.
How Monster Mode 700k Works
You will earn commissions with Monster Mode 700k when a visitor buys any 1 of Bryan Winters' 5 plugin systems through your funnels:
IG Money Tree
Shop Monopoly
There are also 2 versions of Monster Mode 700k:
The PRO version is where you pay for the front-end system and unlock the plugin systems you can earn from by getting more referrals.
The LITE version is where the front-end system is free but you have to unlock the plugin systems for $20 each, except for IG Money Tree which is $0.03 less.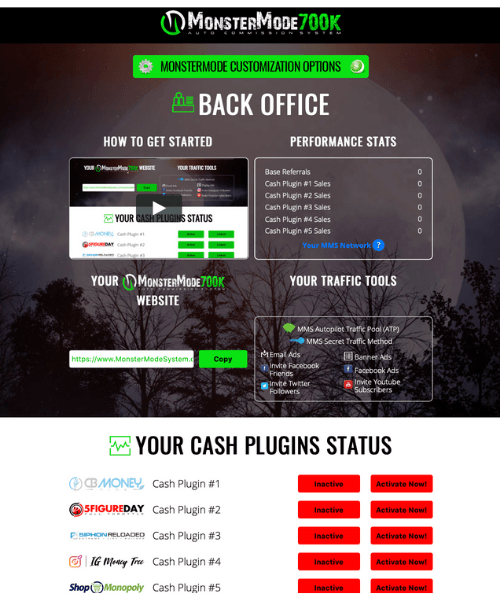 Once the plugins are activated, pre-set funnels are generated so you can earn commissions from people buying the systems.
This is going to be a problem if you have no traffic source. No traffic means no people checking out your funnel and zero commissions for you, which means you need to pay for traffic.
The funny thing is:
The guy on the video earlier said Bryan "obliterates the traffic problem in a uniquely dynamic way". He has a "secret traffic method" put in place.
My guess is, it's secret for a reason because they don't know about it at all which basically translates to they don't really have a secret traffic method.
This can also mean, the 1st and 2nd upsell you paid for will be for nothing. How can you capture email addresses when no one is visiting your website?
Can You Make Money With Monster Mode 700k?
Technically you can make money with Monster Mode 700k but you're going to have a lot of upfront expenses before you're able to. You'll need to buy the upsells and plugins before paying out for expensive, low-quality email ads to drive traffic through your funnel and even then there's no guarantee you'll make any money back.
To drive the whole point of why this whole thing is a waste of money, I'll let their very own earnings disclaimer do the talking:

You see? Byran Winters is essentially turning his back on all of his income claims! How can you trust an income-system whose owner doesn't have confidence in it?
Here's what I think:
The 5 plugin systems probably has little to no conversions. So to give it a fresh start, Monster Mode 700k was made to package everything into 1 thinking people will see it as a superbly amazing deal they shouldn't pass on.
Here's my honest advice to you:
Ignore it. Completely. Don't give it a second thought and don't look back.
What I Don't Like About Monster Mode 700k
1. False Buzz And Hype
Monster Mode promises you $1000s in daily income if you pay for absurdly expensive upsells first. You'll keep plugging away but nothing will play out as you expect.
The cheap front end package is just a dodgy manoeuvre to get you to buy what they really want you to spend your money on; the upsells.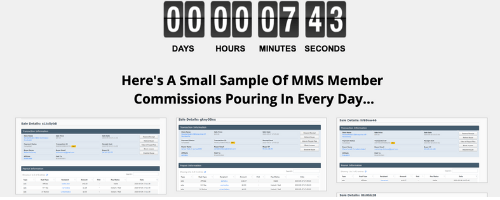 2. More Spending
Once you've paid out for the upsells, you'd rightly assume online earnings are on their way. Think again!
The Lite version will require you to buy each plugin system to earn while the Pro Version will require you to get lots of referrals for a plugin system to be unlocked.
By this time, you will have already spend as much as $453.92 and you're still not making a cent!
3. Traffic Problems
The secret traffic method doesn't exist. Instead of enjoying the "ridiculously simple, you won't require a drop of experience" income-generating system you were promised, you'll be left completely devastated once you realize it's not what it claims to be.
Even the best sales funnels in the world are worth diddly squat without traffic. So how are you going to get it? Pay for Facebook ads? Become an email spammer?
In my experience, the best way to get traffic is by building a website that ranks in the search engines to ensure a daily stream of people looking at your content and clicking on your links.
Traffic is undoubtedly THE most important element in growing an online business and yet Monster Mode 700k gives you zero training on it.
Is Monster Mode 700k A Scam?
Monster Mode 700k is 100% a scam. The only thing you get for your money is access to the members' area and funnels which are unlikely to convert.
Instead of helping you generate income, Monster Mode 700k squeezes as much money as it can out of you. The system doesn't work and their earnings disclaimer can vouch for that.
Every hyped-up claim and empty promise they make on the sales page is a lie. Monster Mode's sole purpose is to get into your pockets and nothing more.
Where Do You Go From Here?
Knowing the truth behind Monster Mode 700k can be disappointing but it doesn't mean making money online is a lost cause.
You CAN earn $1000s online but you have to put in the time and effort. One of the hallmarks of a legit online business is that it requires work on your end.
Easy money is only good in theory, once you discover the whole picture you'll definitely start running away.
It's always better to learn how to generate a full-time income with a proven business model like affiliate marketing.
To put it simply, here's how it works:


The best part is affiliate marketing is free to start and you don't need to break the bank to run a successful 4-figure a month online business.
Top training courses like Wealthy Affiliate will equip you with the right know-how, tools and expert community support to succeed and, unlike Monster Mode, they offer a Starter membership with the first 10 lessons included for free.
Check out my Wealthy Affiliate review to start your financial freedom journey HERE.
What's Your Take?
Did you think the sales video was pure hogwash? Were you surprised by how fake the easy-money claim is?

Have you already signed up to Monster Mode 700k? What was your experience? Let us know in the comments!
Simon Crowe is on a mission to help as many people as possible kiss their bosses goodbye.
Take the free Commission Academy course to discover how to smash your online income goals and make your dream business a reality.