If you're on the fence about Social Bounty, I'd give you two thumbs up. Right off the bat, I'm telling it's a scam and a total waste of your time. But I won't leave you hanging with just those verdicts I made because I'm taking the wraps off on Social Bounty in today's review.
As you read down to the end, you'll know piles of reasons why you should say no to this. Social Bounty makes it seem to make money it a piece of cake. Unless you're a one-bet lottery winner, the reality is, making money online has no shiny shortcuts. 
After exposing Social Bounty for what it really is, I'd give you an idea of how you can really make money online in a legit and sustainable way. So stick around!
Social Bounty Review At A Glance
About: Social Bounty is an "influencer network" where you earn money by referring the website to others.
Price: Free to sign up.
Pros: None.
Cons: Fake founding date, fake owner, fake testimonials, and fake income proof.
Verdict: Social Bounty is a scam. The whole website is based on lies and when you provide your information to it, you're getting at risk with identity theft.

What Is Social Bounty?
While its name can seem like you can earn an avalanche of money from this, the reality is, you won't. It stinks of scam the moment you see the website load.
Social Bounty is mainly rubbish that's going to waste your time and steal your personal data. It won't stay around for long because it will only take a matter of time for the hype to die down and for the money to stop coming in.
Here's a teaser of the heaps of truth you'll find soon:
Social Bounty claims to have started back in 2012 when in reality their domain details show the website was just up and running last year.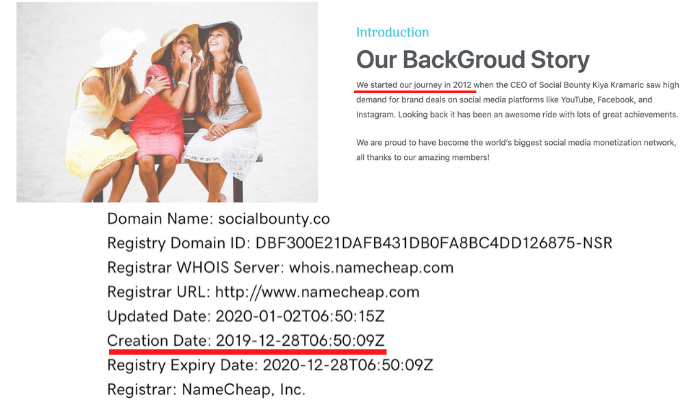 Only bogus websites will resort to faking their founding date to earn people's trust because the truth is, schemes like this won't stand for more than a year. They don't have the patience to wait for their website to last for a bit longer to make a more realistic claim.
They already have a line-up of schemes ready to be launched so why wait too long for one scam to work right? Fast and stealthy, that's how they want to squeeze money out from people.
And check how unprofessional they are by not realizing they got a typo on word Background.
What is an influencer network by the way and why does Social Bounty claim to be one? An influencer network connects social media users with advertisers. You can earn money in social media by promoting an advertiser's products and services.
Basically, Social Bounty claims to be the link between these two parties. They'll actually make you believe they have big brand sponsors who gives your pay.
Here's the kicker:
Social Bounty claims to give large payouts which even the biggest brands won't sponsor. Why? Because companies are not primarily charity, they're businesses! They're out to make money so why will they pay you off liberally for pathetic tasks anyone can easily do?
How To Join Social Bounty?
I was really rooting you'll skip this portion right here. But if I wasn't able to convince you enough yet that's ok. Just a little bit further in this review and you'll start running away without me telling you anymore.
Anyway, if you really want to give this a shot, just head on to the website and click the "register" tab on the top right portion.
Here's a little bit of advice:
Use a dummy email and a password you've never used before. Scams like Social Bounty will take important online information like emails and passwords and try to use it with any online account they think you have and take out what they can from there.
So, if you don't want your bank account cashed out and your identity stolen, use a dummy email.
By the time you finished signing up, you'll see $25 in your account as their "gift" for signing up.
How Social Bounty Works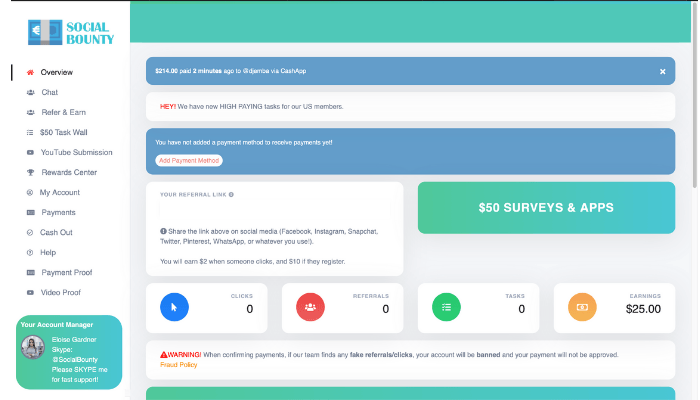 After signing up, you'll be directed to the members' area where you'll see your referral link and a monitor for the activities you've finished doing.
Clicking the task wall tab on the left side will lead you to the things you can do in Social Bounty to start "earning".
Tasks like surveys and playing games can make you earn $30 each. If you share your referral link on social media and someone signs up using it, you can earn $10 for each person. If people just clicked on it without signing up, you can still get $2.
If you want to earn more, you can make a Youtube video that promotes Social Bounty and insert the link they provided so you can earn $50.
Social Bounty also says the tasks will take just around 10-15 minutes so roughly you'll earn $120 per hour. Just 5 hours of doing these tasks will mean $600 every day for you. You won't have any trouble reaching the $250 threshold for cashing out your "earnings".
Seeing the numbers go up can be thrilling and it might let you start imagining buying the gadgets you want to have and the vacation you dreamed of going on. I say, tame your heart because you'll get awfully frustrated.
By the time you cash out, Social Bounty will tell you either an error had occurred, or they saw something fraudulent in your account so they're shutting it down. The truth is that even if you did everything right, these are the same replies you'll get because it was programmed this way.
Social Bounty won't pay because they don't have the money.
Some tasks include rewarding you with items they claim on sending to your home address.
Here's the danger:
They'll also use that information to steal your identity together with all the other info they got from you while answering rubbish surveys.
By the end of it, you've wasted your time and effort on tasks that won't really pay, and you'll get your identity stolen or sold to spammers. The only thing they'll really give you is harm.
Also, here's the truth about making money from Youtube video:
You have to have at least 1,000 subscribers and 4,000 hours of watch time in 12 months. Youtube can then pay you from $3-$7 per 1,000 views.
Granted, Social Bounty has a Youtube channel with around 10,000 subscribers. But they only have 2 videos, so they don't qualify to be paid by Youtube. Which means they can't use Youtube to pay you.
So again, where will they get the money?
The thing is this is not a new scheme, tons of other GPT scams do the same exact things Social Bounty is doing.
If you want to learn more about the scammy pattern, check out these reviews:
Social Bounty Red Flags Exposed!
1. Fake Founding Date
They claim to be founded in 2012 when in reality, their website was only registered in December of 2019! This alone can make you take a step back and it's a really bad move because this can destroy people's trust early on.
The good thing is you'll also see the scammy signs at an early stage.
2. Fake Owners
I told you I will give you a series of reasons why you should stay away, so here's the second one.
Before I even used face detection, I knew straight away these were stock photos and fake names.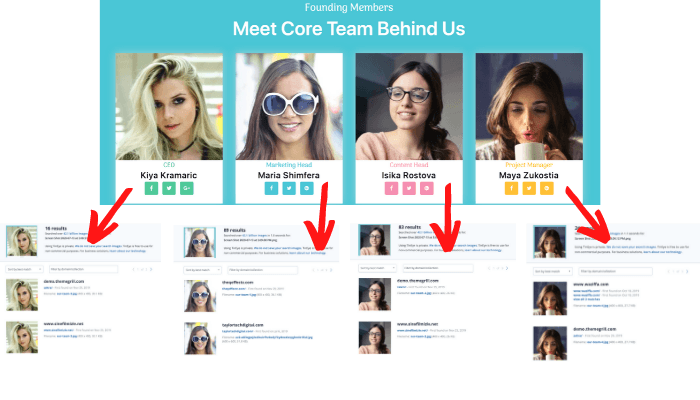 If you try to search Kiya Kramaric in Google, you'll see tons of websites using her photos. (If that's even her real name)
3. Fake Testimonials
Can testimonials make a website credible? Yes! Are all testimonials real? No! When testimonials only say how much they made with a company without explaining how they were really able to make it happen it should send your alarm bells ringing.
The funny thing is, the photos you find in the testimonials are also found in stock photo websites.
4. Fake Income Proof
It's easy to edit these kinds of stuff but it's a different story to prove it's real. If you checked the links to other scams I mentioned earlier, the income proofs awfully look the same.
So, it's either they're made by the same person or the same group of scammers.
Making money online isn't complicated…
This video will show you exactly how to get started. Tap to watch now »
5. No Social Media Activity
Ironic right? How can they be the "#1 influencer network" when there's not even a faint sound of buzz on their social media.
6. Absurd Terms And Conditions

FameCash also made this mistake and it's actually really funny! Even if a person is alive at this age, I don't think he'll waste his time being stuck in front of a computer doing useless tasks. I even doubt he'll know how to operate one.
So basically, this tells us, we don't stand a chance in earning from Social Bounty. Maybe's this is the excuse they'll ultimately use to disqualify anybody from cashing out their earnings.
7. Interesting Facts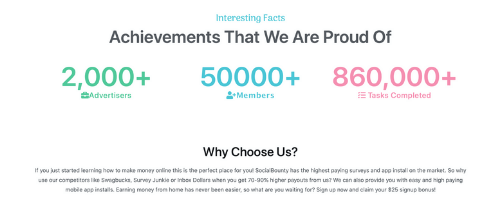 These really are interesting, because they didn't bother giving any proof to validate it. Unless there's any proof, to me, these are just a bunch of numbers intended to give you the wrong sense of security.
Is Social Bounty A Scam?
Here's a little recap of the lies they made:
Fake founding date
Fake owners
Fake testimonials
Fake income proof
Can cash out when reaching $250 threshold
Influencer network platform with no influence
So YES, Social Bounty is a scam you should stay away from. If they can't be trusted with the background information they gave, what more about the sky-high income claims.
Not just that, all other scams have the same exact pattern as them. So, if you really want to make money online, this is not the platform from you.
The worst part is:
You'll be in danger of identity theft. They can sell your information to spammers and bombard your email with more bogus pitch. They can also use that personal information to access other online accounts like your bank and take out every hard-earned penny you have.
The easy-money hype is not worth it so stay as far away as you can.
Social Bounty Bottom Line
The scammers behind social bounty have the habit of ripping people off, and mind you, they enjoy it a lot! Especially when they're cashing out your money.
Social Bounty is not just a total waste of time but also an absolute danger.
I get it you want to make money online; shiny shortcuts won't get you anywhere. The truth is, they're designed to be shiny to warp your expectations with the online industry.
Making money online the legit way involves time and effort, but it will be the kind of sacrifice that will bring you the fruits of your labor.
One legit way to make money online is through affiliate marketing.
In a nutshell, affiliate marketing lets you earn by promoting other people's products. When an entrepreneur makes a sale because you advertised their product, you'll gain a commission.
It a time-tested way to make sustainable money online.
With affiliate marketing, you won't have to recruit, and you can start without prior knowledge because training is available. You'll also have other affiliate marketers to help you with anything.
The best part is, you'll enjoy what you do because there are tons of products to choose from, you can pick what truly interests you. The work becomes play. How great is that?
You can start out for free to test the waters and if you feel it's a good fit, you can pay for the additional training needed.
You'll know more about how this goes with the in-depth Wealthy Affiliate training.
You don't have to take my word for it, you can give it a try and come back to share your experience.
How I Make A Living Online?
After years of working in call centres I finally figured out how to create a 5-figure monthly passive income stream and become financially free.
Thanks to the right training and a lot of hard work I kissed my old boss goodbye and booked a one way ticket to Thailand.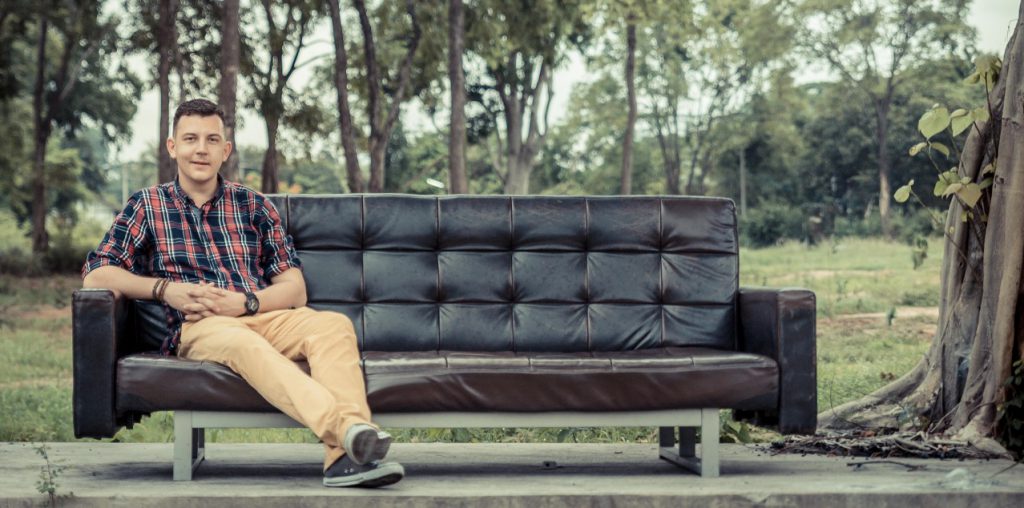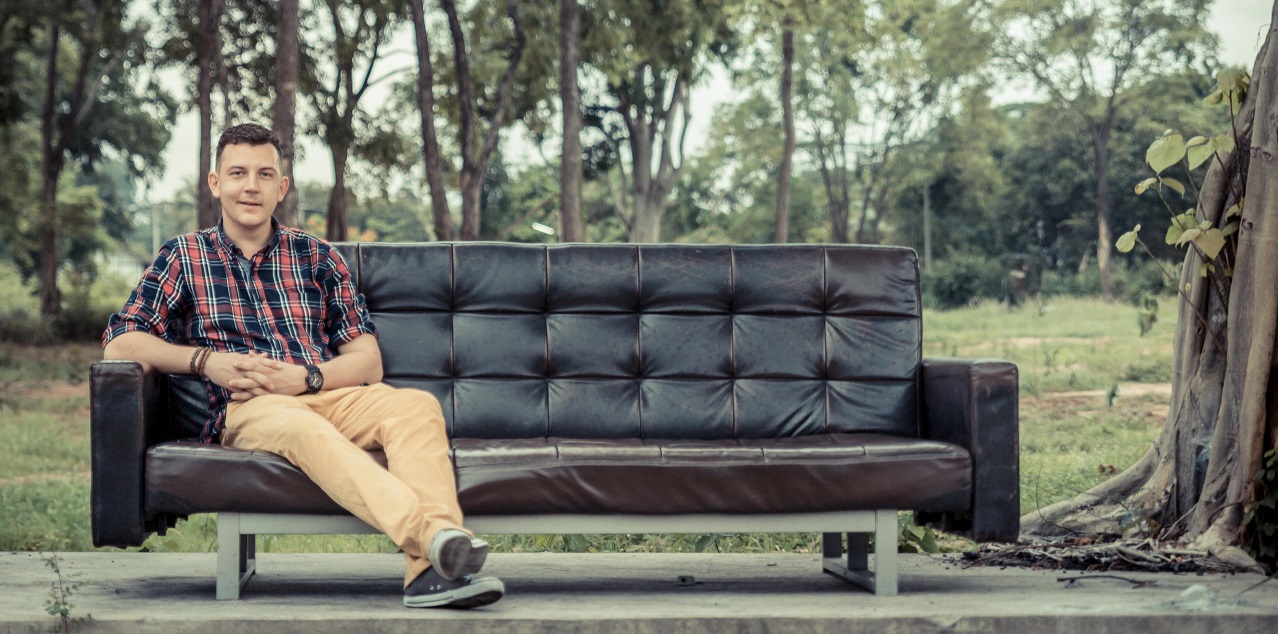 So if you're serious about building a thriving online business, click here for the exact step-by-step formula I follow.
Questions? Recommendations?
Nothing sucks more than wasting your time with bogus opportunities that don't really pay. Have you been a victim with scams like this? Share your experience to help warn others. The comment section below is ready for your story!
Simon Crowe is on a mission to help as many people as possible kiss their bosses goodbye.
Take the free Commission Academy course to discover how to smash your online income goals and make your dream business a reality.