Scrolling Facebook today, I saw a link someone posted to Money Chaser (MoneyChaser.co) talking about how you can make $300 a day (starting today) and get paid instantly through PayPal.
Though I have haven't come across this specific website before, I have come across many websites exactly like it, and I'm sorry to say it, but this is NOT a legitimate way to make money online.
You don't have to take my word for it though, because in this full Money Chaser review I'm going to show you exactly why this is a scam you don't want to get involved with as well as give you some better alternatives for building a real online business.
MoneyChaser Review At A Glance
About: MoneyChaser is a data harvesting scam posing to be a get-paid-to site.
Price: Free to join.
Pros: Nothing.
Cons: Bogus testimonials, fake support, fake founding details, doesn't pay.
Verdict: MoneyChaser is nothing more than one part of a big network on influencer network scams. Avoid at all cost so you won't be risking your personal information.

What Is Money Chaser?
Money Chaser is a site available to anyone worldwide who wants to make easy cash on the internet. Since 2015 they've paid out $14 million to over 300,000 members.
At least that's what they tell you to try to get you to sign up…
They go on to promise that if you go ahead and start sharing their website links across social media that they'll pay you $2 per click and $10 for every friend or family member that joins the site.
We're told they can pay such good money because they have big brand sponsors who earn revenue when you send traffic their way. These big brands include Battle Royale, Burger King, Dunkin' Donuts and Wendy's.
And just in case you were wondering:
No, they are NOT working with any of these brands. In fact, you can't believe a single word they say.
Money Chaser is nothing but a data harvesting scam run by internet con artists who never reveal their true identity.
Their sole purpose is to get as many names, email addresses and PayPal account information as possible and they'll tell you whatever you want to hear to try to convince you they are legit so you'll sign up.
How do I know?
Because just yesterday I exposed an identical-looking site in my NiceCash review where you'll discover just how deceptive and manipulative this scam really is.
How Money Chaser Really Works
The way Money Chaser works is actually pretty smart – they begin by promising people an opportunity to make fast and easy money online and offer a $25 sign up bonus to sweeten the deal.
Once you've gone ahead and created your free account, you're given a unique referral link and told to share it on Facebook, Twitter, Whatsapp and Instagram, basically wherever you can to start generating clicks and new sign-ups.
Believing Money Chasers is actually going to pay them $2 a click and $10 a referral, people go all in and start promoting this site to their social media followers.
Inside the members' area you'll even see your earnings go up as people start clicking your link, except whoever is behind Money Chaser is NEVER, ever going to pay a dime.
It's always the same with of these data harvesting scam sites, many of which I've exposed here on the blog including:
Plus dozens more sites that have never paid members what they are actually owed…
Once you've met the criteria to be eligible for a withdrawal, that's when you start to realise the whole thing is fake and you've been duped, but by then it's too late.
Not only do they have your email address but the email addresses of every single friend and family member you've recommended the site to. The only thing you can do then is prepare yourself for the avalanche of spam that's coming your way.
It works. I mean it must work, otherwise the scammer behind this would have quit a long time ago.
And it works because people see the free sign up, hear the promises of easy cash and hand over the information without a second's hesitation.
5 Reasons Money Chaser Is A Scam You'll Want To Avoid
1. This Is NOT How Affiliate Marketing Works
Lots of people make a lot of money by promoting legitimate products and services online. It's called affiliate marketing and it's how I earn a full-time income, but that's not what Money Chaser is about.
Here's what real affiliate marketing looks like:
Let's say, for example, you have a gardening blog where you share gardening tips and you bought a new type of wheelbarrow you like and you want to recommend it to your readers.
You could sign up as an affiliate with Amazon.com, get your unique referral link and get paid a commission every time someone clicks through and makes a purchase.
Amazon deals with the shipping and customer care side of things and you get a nice check at the end of the month.
With Money Chaser, however, there's no real service or product to speak of. The whole purpose is to get people to sign up so they can get more people to sign up and so on. It's not a real business model and that's why they'll never pay you.
I've recently written a free step-by-step guide on What Affiliate Marketing Is And How It Works where I outline the exact formula I follow to earn $7,000. If this is something you'd be interested in then definitely check it out.
2. The So-Called "Happy Member Testimonials" Are Completely Bogus
Don't pay any attention to the "evidence" you're given to proof Money Chaser is legit.
Why?
Because with no real success stories to speak of, whoever created MoneyCashers.co has gone onto Fiverr.com, a site where you pay people to do jobs for you, and paid actors to read from a script to tell us how great the program is and brag about how much money they're making:
3. Support Is Non-Existent
On the MoneyChaser homepage, they claim to offer the top support in the industry, saying sign up as a member and you'll have access to 24-hour support from their team in case you encounter any issues along the way.
The only email address for them that I can find is [email protected], but send an email to this address and it'll be floating around in digital space forever because the email address doesn't exist.
Try googling "email verification checker" and input their email address and you'll see for yourself it's a fake.
4. MoneyChaser.co Founded in 2015? Yet Another Lie…
To try and make themselves look more credible than they are, their About Me page tells us Money Chaser was created in 2015, yet after doing a quick Whois.com domain check it's clear for everyone to see that this site was only registered in July 2019.
As I sit and write this review, that would make the site just 4 months old… and not 5 years old like they told us.
Do you really believe they've paid out $14 million in 16 weeks? Can we believe anything they tell us? I think it's pretty obvious by now that we can't.
5. No One EVER Gets Paid
You've seen the fake reviews with actors trying to hoodwink you, now let's take a look at a few real reviews and it quickly becomes painstakingly obvious that those promises of $300 days are all hype and no substance. This guy will literally tell you anything you want to hear because he just wants your email address.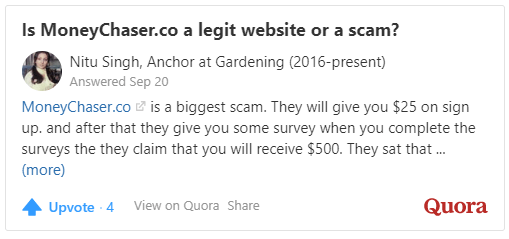 Verdict: MoneyChaser.co Is 100% A Scam
If you're really serious about replacing your full-time income online then you have so many better options out there. Please don't waste your time with this one, you'll only regret it.
After reviewing hundreds of different make money online products and program, I can tell you by far the best place to learn affiliate marketing is Wealthy Affiliate.
Check out my Wealthy Affiliate review and find out how they can help you build a genuine 6-figure business online.
Get In Touch If You Have Any Questions
I hope this review of MoneyChaser.co has saved you from wasting the time you would have wasted if you had gone ahead joined. I sincerely hope so!
If you have any questions at all about how to get started with affiliate marketing or you've come across any other sites like this that you'd like me to take a look at then do let me know in the comments below and I'll do my best to help you out 🙂
Simon Crowe is on a mission to help as many people as possible kiss their bosses goodbye.
Take the free Commission Academy course to discover how to smash your online income goals and make your dream business a reality.