In this Viral Market review, I'm going to show you why Viral Market is a scam you don't want to waste your time with.
The anonymous con artist behind Viral Market uses trickery and deception at every turn. By claiming to be a free and easy way to make $150 a day by sharing a few links on social media, they have fooled 1,000's of people into letting their guards down and signing up.
Thankfully, you're here reading this review so you don't have to fall for the BS!
Create your free account and the system credits your account with a $25 sign up bonus. Then they give you a unique referral link you should copy to share anywhere you can: Facebook, Twitter, Instagram, blog comments, forums, etc.
You're told you'll make $2 every time someone clicks on the link and $10 every time someone joins. In addition, Viral Market will credit you $30-$50 for carrying out tasks such as uploading YouTube videos and signing up for subscription trial offers.
This might sound lucrative, but the truth is these credits will never become real cash in the bank because they'll always find an excuse not to pay you.
(I actually signed up and earned a balance of $211 and I can't cash out.)
Viral Market is an old scam that keeps resurfacing across the web under a ton of different names and websites. Check my Referral Pay and Influencer Cash reviews and you'll see exactly what I mean.
Why?
Because as soon as people wake up to the fact this is a big scam, complaints and negative reviews start flooding the web leaving the anonymous internet scammer no choice but to shut up shop and start again somewhere else.
Don't worry though, in this no-holds-barred review of Viral Market I'm going to expose all the dirty secrets you don't hear about on their website (but should!)
If you are sick and tired of scams like this and you are looking for a real and proven strategy to finally achieve your online income goals then take a look at my practical, step-by-step guide on how to start an online business.
In it, you'll discover how you can use affiliate links to sites like Amazon, Hotels.com and Walmart to earn a substantial full-time income online.
Viral Market Review At A Glance
About: Viral Market is said to be the "#1 influencer network" which pays as much as $150 per day for sharing links and making referrals.
Price: Free to join.
Pros: None.
Cons: Fake testimonials and payment proofs, fake parent company, inconsistent address.
Verdict: Viral Market is undoubtedly a scam. It's a part of a large network of scams with the same functions but different names. They're into your personal info. Avoid at all costs.

What Is Viral Market?
Viral Market calls itself a "#1 influencer network" which pays you a lot of money (up to $150/day) for completing easy tasks which consist mostly of recommending the site itself to your followers on social media.
They say you can earn:
$2 every time someone clicks on your referral link, whether they sign up or not.
$10 every time someone joins Viral Market through your link.
$30 for signing up for promotional offers.
$50 for creating a Viral Market "success story" YouTube video.


I know at first glance this might sound like an irresistible money-making opportunity that's too good to pass up, except for one huge problem…
Viral Market has never held their side of the bargain and paid anyone.
When it comes time to make a withdraw your balance you'll suddenly be given a whole bunch of excuses like:
The clicks and referrals you've generated are from fraudulent sources
Viral Market is experiencing temporary technical issues
You haven't yet completed enough offers to qualify
You've broken their terms and conditions in some way
Sometimes your account will get suspended, other times you'll be given a payment date, but in the end, the result is always the same: you never get the money you're owed.
As I said in the intro, Viral Market has been deceiving and manipulating people for years under a variety of different names such as:
Every time they make the same empty promises of fast and easy money fro spamming sites like Facebook but never deliver.
Essentially the anonymous Viral Market owner is using the promise of cash as a way to motivate you to advertise his site for him free of charge so he can increase his income. He gets paid every time someone signs up to a free trial offer through his affiliate links.
As long as the new members keep coming in and following his instructions then he's happy. And since he's chosen to keep his real identity a secret, there's no way anyone can contact him once they realise it's a scam.
I've been using Viral Market for a few months now, faithfully sharing my links, completing tasks. I've even managed to get some referrals and clicks and build up a balance of $211.

And yet despite giving them my PayPal account information, I'll never be able to cash out.
They say I haven't done enough to meet their requirements, even though I've just given you proof I have: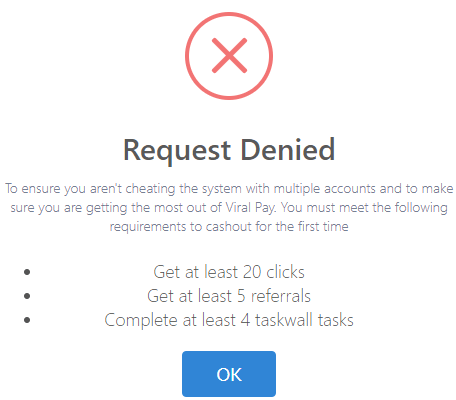 You'll also notice this scammer is sloppy; he's even forgotten to change the text to say Viral Market instead of Viral Pay!
And it turns out I'm not the only one they're refusing to pay. Fellow Viral Market members on TrustPilot.com have rated this 1 out of 5 stars, saying: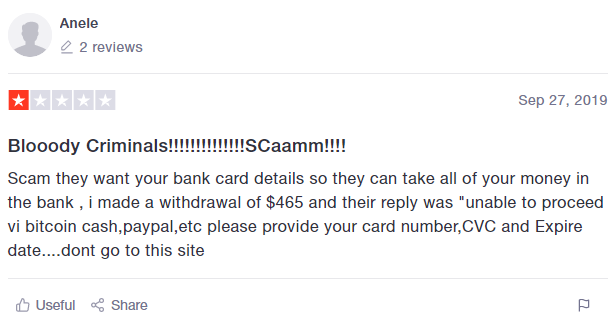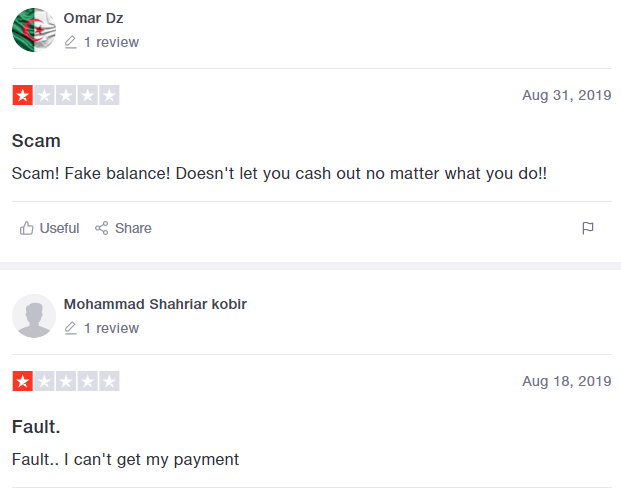 And it's the exact same story on Twitter:
Still waiting on payment (Patrolmac47)#viralmarket

— patrolmac47 (@NigelMcdonald12) September 13, 2019
Trust me when I say it's super annoying when you invest time and energy into a program trying to make it work and follow all of the instructions you're given to find out, in the end, it was all for nothing.
Who Is Viral Market For?
It's for those of you who still believe the empty promises and think there's a shortcut to making money online. There isn't!
If you don't believe what I and others are saying about this program then go ahead and be my guest. Create your free account and start recommending this site to your family and friends. Just don't say I didn't tell you so…
You know what? If I'm wrong and they do actually payout, feel free to let us know down in the comments, but I won't hold my breath.
Who Is Viral Market NOT For?
Viral Market is definitely not for those looking to make real money online.
If you want to:
Escape the rate race
Help supplement your pension in retirement
Find a viable alternative to the 9-5 grind
Make a bit of extra money on the side
Be able to work from anywhere in the world on your own schedule
Achieve true financial freedom
Then affiliate marketing is your best bet. It's the most beginner-friendly way I've seen for average Joes like you and me to build a steady and consistent online income stream.
And Wealthy Affiliate is the best step-by-step course that gives you a proven roadmap to success. Read my full Wealthy Affiliate review here to find out how they can help you achieve your online income goals.
3 Major Viral Market Red Flags Exposed!
1. No Real Member Testimonials Or Payment Proof
One way Viral Market tries to convince you they're legit is by showing you so-called "payment proofs" from members who are apparently earning enough from using the site to pay their rent:

There are a couple of major issues with this:
Firstly, these are so easy to fabricate. It only takes a couple of minutes at most to make these up, so they prove nothing.
Secondly, ViralMarket.co website only registered their domain in May 2019, despite these payments proofs supposedly from February 2019, before the site even existed!

Either there's some kind of time travel happening here or this guy can't be trusted – I'll leave you to decide.
2. Confusion About Viral Market's Address…
The problem with running so many scam sites at one time is it's easy to get mixed up with small details like where you are based.
Hit the About Us tab and you're told they're based at 4459 Hillview Street, Columbia. Then hit the Contact Us tab and you're told they're at 6100 Wilshire Blvd, California.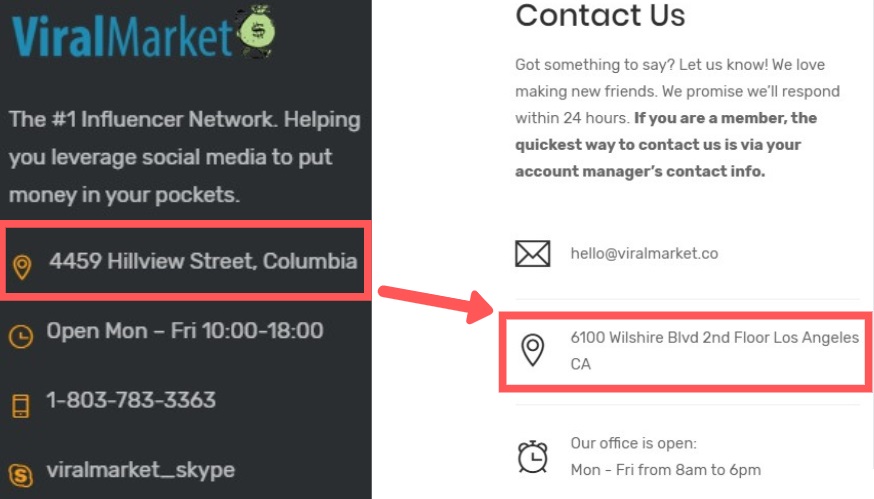 3. Fake Parent Company
On the same About Us page we're told Viral Market was founded in 2015, but as I just showed you the domain wasn't registered until 2019, we know this is just not true.
Then we're told they are owned by a parent company called Zindex. Except, do a Google search for Zindex and you'll find nothing about Viral Market or any other of the dozens of sites in this scammer's network.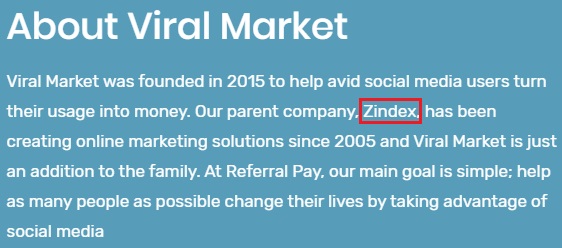 Obviously nothing this you see on the site can be trusted!
More Helpful Viral Market Reviews
Is Viral Market A Scam? Absolutely!
The most genius part of the Viral Market Scam is that it's free to join.
Thinking they have nothing to lose, people freely and willingly create their accounts and hand their name, contact and PayPal details over to an unknown internet con artist.
This is going to put people at serious risk of data mining and phishing. I strongly suggest NOT signing up at all.
Viral Market Review: Final Words
Learning how to make money online is one of the best choices I've ever made, so don't ket the fact Viral Market isn't what you were hoping for stop you from pursuing your dreams of financial freedom because it's sure as hell worth it when you get there.
A lot of people want to sack their boss and achieve financial independence online but so few do. Why? Because they don't realise that…
1) It takes TIME
There's no such thing as an overnight success and anyone who tells you there is is a liar. When starting a legitimate business (whether offline or online) you have to give you and your business time to grow and develop. Sadly most people throw in the towel right before their breakthrough point.
2) It takes WORK
Being an online entrepreneur takes hard work, commitment and self-discipline. When it comes to potential earnings, the sky is the limit – but it's down to you and you alone to make it happen.
If you're willing to put in the time and the work then Wealthy Affiliate free Starter membership is the best place to start. You'll be given all the training, tools and expert support you need to build a thriving online business of your very own that will provide for you and your family for many years to come.
Check out my full and honest Wealthy Affiliate review to find out more.
Comment Below If You Have Any Questions!
Thank you for reading my Viral Market review and I hope I've managed to answer any (or all) questions you may have had about this program and why you're better off staying away.
Do you have any questions at all about making money online? Scroll down and get in touch below and I'll do my utmost to help you out.
Stay safe out there! 🙂
Simon Crowe is on a mission to help as many people as possible kiss their bosses goodbye.
Take the free Commission Academy course to discover how to smash your online income goals and make your dream business a reality.