I sat through the 1 hour 20 minute sales pitch and cringed at the godawful acting all the way through, so you don't have to! If your gut is telling you Six Figure Sunday is a scam, it's 100% right.
In this Six Figure Sunday review I'm going to:
Let's get straight to it!
Six Figure Sunday Review At A Glance
About: Adrian Gee's 6 Figure Sunday is an 8-module course promising to show beginners an easy way to make 6 figures a year working only one day a week.
Price: Three lifetime options: Core $497, Essentials $697 or Elite $997
Pros: Has a handy 60-day money-back guarantee.
Cons: Very expensive, questionable marketing, and Adrian has a dodgy track record.
Verdict: An overhyped system not worth the high price tag. Best avoid this one.

Get-rich-quick scams like Cash Formula, Partner With Anthony, 3 Step Method and yes, Six Figure Sunday, are specifically designed to get you to spend your hard-earned cash.
The scammer promises that if you just buy now, riches will rain down on you without you needing to do anything. If only such a program existed!
Unfortunately, the only person making money with Six Figure Sunday is its creator, Adrian Gee. Pay for this course and all you'll get is disappointment and buyer's remorse.
I know this is a bitter pill to swallow, especially if you've been subscribed to this guy for a while on YouTube. Just remember, if it sounds too good to be true…!
What Is Six Figure Sunday?
According to course creator Adrian Gee, Six Figure Sunday is THE program that will get you out of the 'rat race' and into a life filled with financial freedom.
Adrian promises to show you "Exactly how to make $500 an hour today", ditch the 9 to 5 and earn six figures from the beach or anywhere else in the world you want.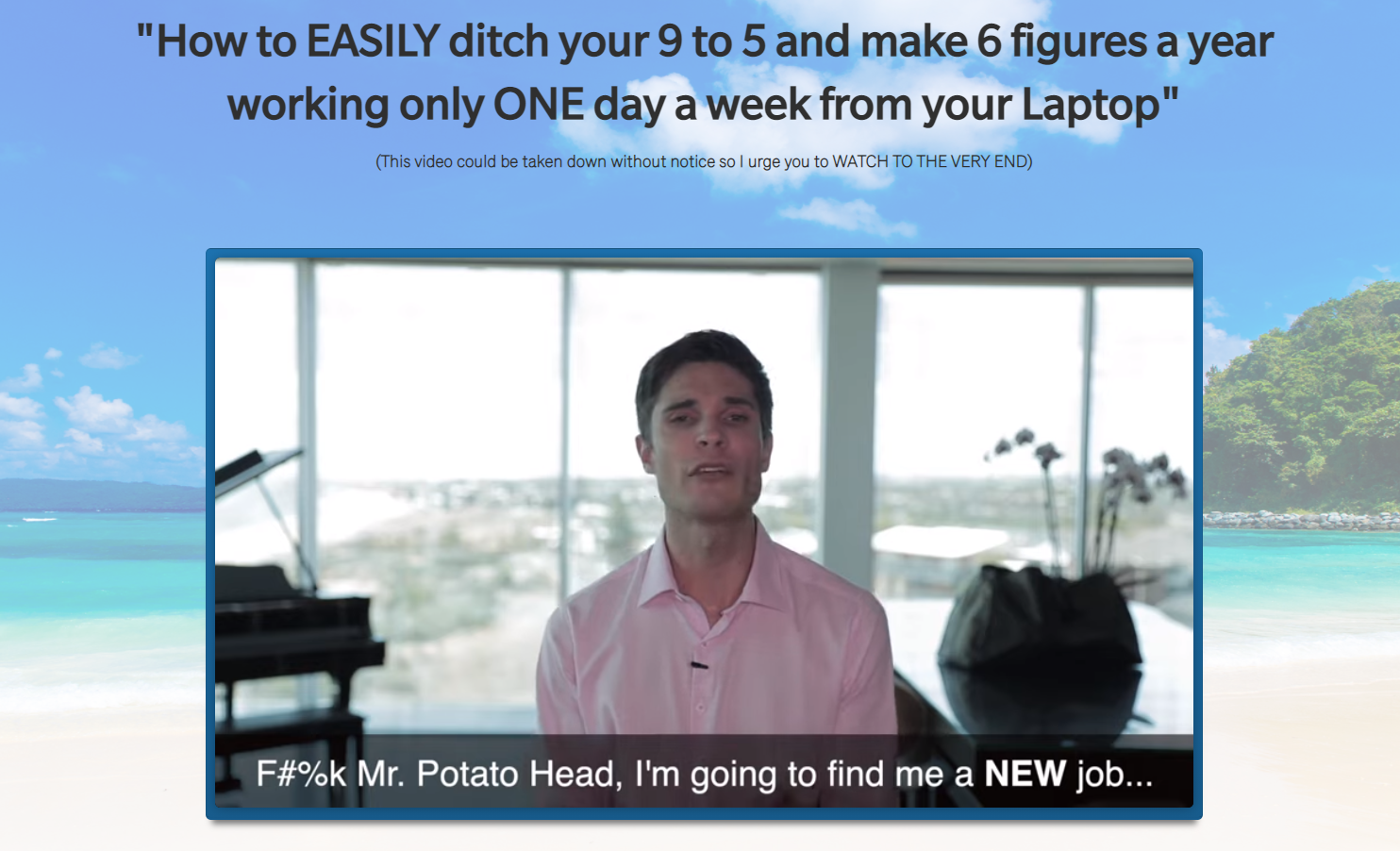 Adrian is very good at pushing your buttons so you'll hit the Buy Now button.
One minute he's belittling you, then he's telling you the "secret presentation video" could be taken down at any time (to create fake scarcity), then he's trying to hype you up with promises like:
"Six Figure Sunday is the most powerful, detailed, easy-to-use program ever created on how to generate a six figure revenue working just one day a week, GUARANTEED."
He spends the rest of the 1 hour 20 minute sales pitch rambling on about how angry he was at getting fired from his call centre job and slating his former boss who he affectionally refers to as "Mr Potato Head."
About 30 minutes in, Adrian mentions affiliate marketing – when you promote other people's products or services and get paid a commission when someone buys.
Okay, now we're getting somewhere!
This is a legit and lucrative business model I've used to generate $100,000s online, but you don't need to fork out $997 to learn how to do it. Courses like Commission Academy will show you how to get started for free.
Who Is Six Figure Sunday For?
Six Figure Sunday is primarily marketed to newbies who want to make money online.
You'll see things like this on their sales page:
"Don't worry, you don't need any previous experience or to have a fancy degree or anything like that. The most valuable thing you can have is an inquisitive mind, and a system to work from. I'm giving you my proven system, you bring the inquisitive mind. Add some hard work to that and you're golden!"
Despite the high price tag, it's also marketed as a budget-friendly way to start an online business:
"You may have the odd expense here and there – it's pretty hard to start a legit business without spending anything at all – but don't worry, it's pocket money, $10 or $20 for this and that. The rest is just about you following the system and putting in the effort."
However, based on my years of experience with affiliate marketing, and from what I've seen in the short and skimpy training videos, I struggle to see how anyone following Six Figure Sunday could ever make six figures online.
How Much Does Six Figure Sunday Cost?
Six Figure Sunday has 3 lifetime membership options:
Core membership ($497)
Essentials membership ($697)
Elite membership ($997)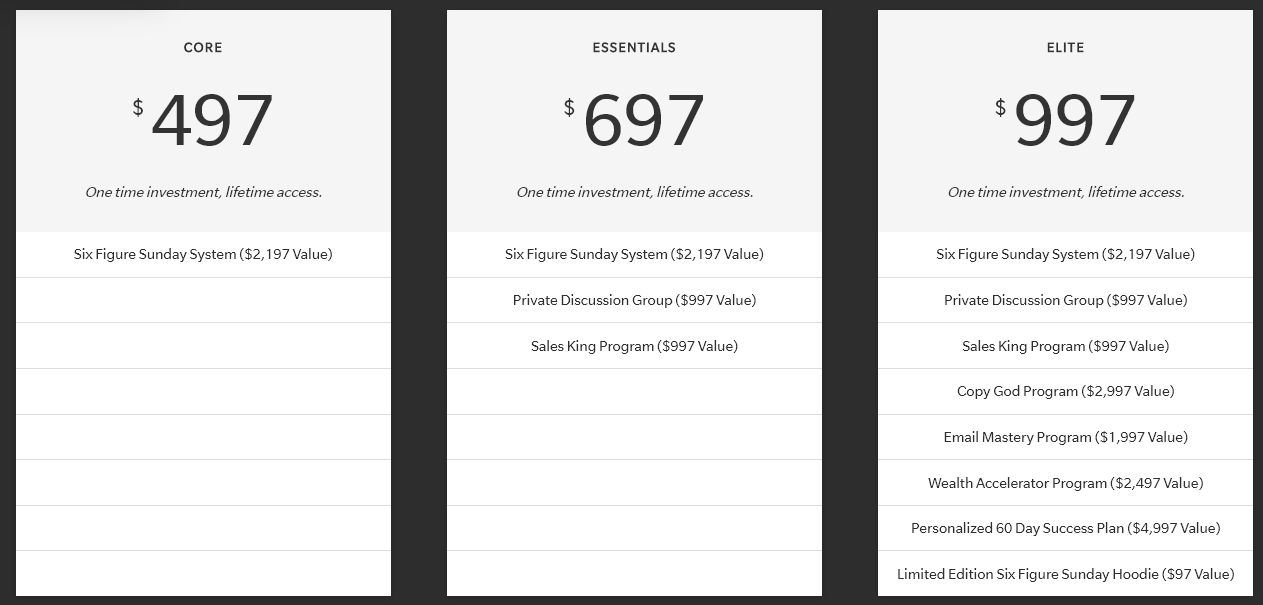 The only difference between Core and Essentials is you're paying an extra $200 to access a Facebook group.
The only difference between Essentials and Elite is you're paying an extra $300 for the "Bonuses" listed on the sales page. Oh, and you get a hoodie…! 🙂
What's Covered In The Training?
Here's how Six Figure Sunday looks once you're logged in: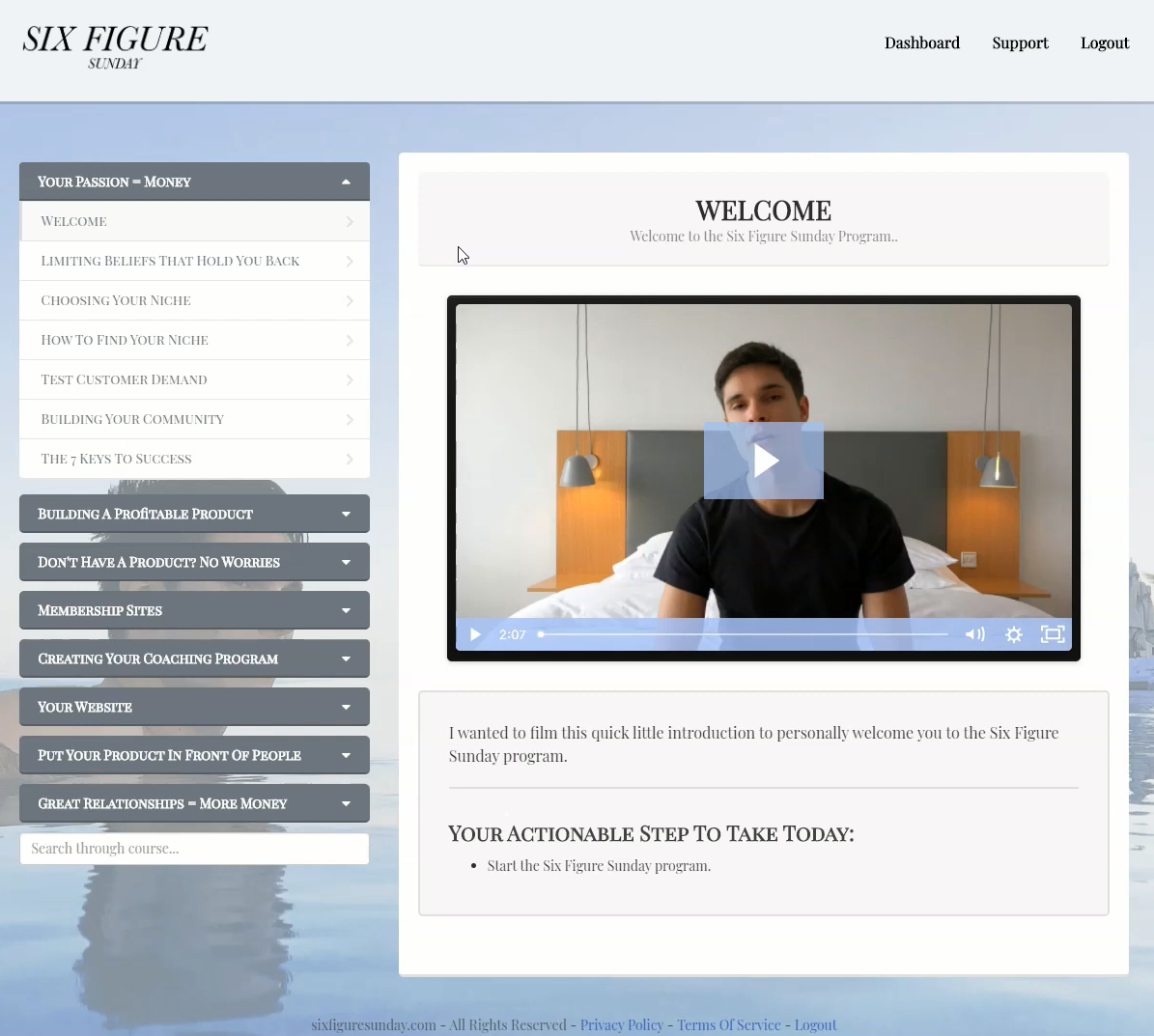 There's not much in the way of training. There are 8 modules of very short 2-10 minute videos that give a decent enough introduction to various money-making methods but never go deep enough to actually show you how to get started.
Here's a quick overview of the training modules:
Module 1: Your Passion = Money (7 lessons)
The first module kicks off with some mindset hacks and tips on choosing a niche.
Module 2: Building A Profitable Product (7 lessons)
More mindset stuff, then a video talking about selling digital info products vs. physical products and how to create your own digital product to sell online.
Module 3: Don't Have A Product? No Worries (6 lessons)
There's a 2 minute 55 second video on what affiliate marketing is and how it works, a 6 minute 40 second video on how to pick the best affiliate products to promote, then another giving general tips on how to succeed as an affiliate marketer.
The next 3 lessons are a random mix of network marketing, freelancing and how you can "become a millionaire by copying."
Module 4: Membership Sites (6 lessons)
This module introduces yet another different income model entirely, with lessons on how to start a membership site.
Module 5: Creating Your Coaching Program (6 lessons)
In total, about 15 minutes on how to start an online coaching business.
Module 7: Your Website (8 lessons)
This module is about how to create a website, design it and make landing pages. Except, the final lesson is about e-commerce. Random, I know… 🤔
Module 8: Put Your Product In Front Of People (5 lessons)
Adrian talks about lead generation and gives some traffic sources you could use to get eyeballs in front of your offers.
Module 9: Great Relationships = More Money (5 lessons)
The final module is about how to use email to build trust and sell more products.
Can You Make Money With Six Figure Sunday?
Online coaching. Affiliate marketing. Ecommerce. Freelancing. Starting a membership site.
These are all legit routes to making money online, but the training is far too short and brief. You may get a decent intro to these strategies but nowhere near enough real info on how to actually get started with any of them.
You'd have a better chance of making money with this if Adrian chose just one of these business models and actually explained how to do it properly so beginners could actually follow along, instead of jumping from one to another like a kangaroo on crack.
Making money online isn't complicated…
This video will show you exactly how to get started. Tap to watch now »
ONE Six Figure Sunday Pro
This wouldn't be a fair review if I didn't at least point out the good thing about this program, so here it is:
Buy this program and you have 60 days to get a full refund. Thank God for that! 🥳
But ignore Six Figure Sunday's refund policy which says:
"To get a refund, you must first:
1. Complete 100% of "Building A Profitable Product", "Your Website" & "Put Your Product In Front Of People" (20 Video Lessons)
2. Pick 3-5 niches
3. Name your business
4. Pick a strategy (and map out your 1 year plan for your passive income strategy)
5. Submit your offer to your chosen marketplace (and have at least 1,000 total visits to your landing page)"
This is total BS.
As Clickbank is the vendor, you're covered by their 60-day, no-questions-asked money-back guarantee. So skip the part where Adrian gives you the runaround and get a refund from Clickbank directly.
3 Six Figure Sunday Cons
1. Adrian Can't Be Trusted
Adrian Gruszka (or Adrian Gee for short) is an actor, though not a very good one judging by the lousy Six Figure Sunday sales video…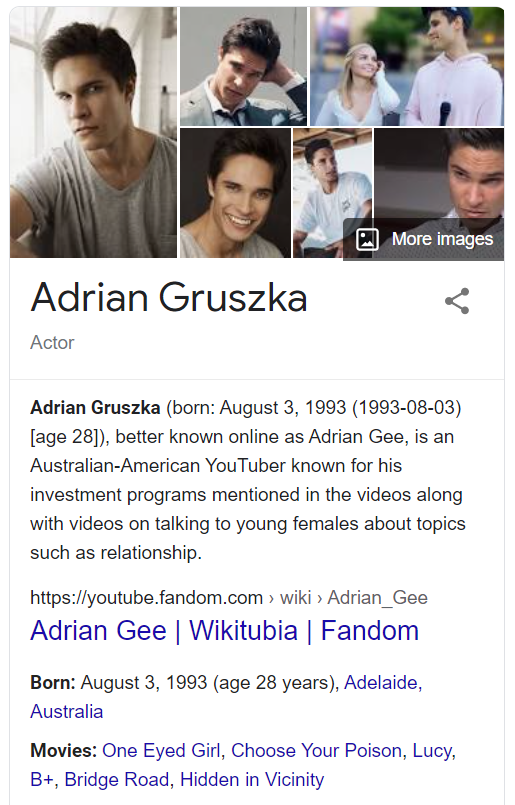 6 Figure Sundays isn't the first Clickbank course he's created. In 2019 he launched The T8 System, a dating and relationship course that promises to "completely revolutionise your sex life in 8 weeks" where he frequently refers to himself as "The Love Doctor".
In 2015, Adrian was outed by the Australian Today Tonight programme for hiring actors to stage fake social experiment videos and walked out mid-interview:
This caused quite a storm on Reddit and he later responded by posting a weird vlog saying "I've been dishonest" and how sorry he was and how he'll never do it again.
I just don't buy it.
Whether you think Adrian Gee is a scammer or not, his words and actions do not match and I don't believe a single word that comes out of his mouth.
2. No Real Student Success Stories Here
If you thought Adrian's acting skills were bad, do NOT watch the testimonial videos!
Listed on SixFigureSunday.com are supposed success stories from actual members saying things like:
"Went from working 7 days/week, barely getting by, to making $8,000+ online!"
"The amount of value you get from the Six Figure Sunday program is unbelievable!!"
But of course, these are not real members, but friends Adrian has hired to dupe us into thinking this is a legit program. Truth is, we've seen no evidence of even a single student earning a dime with this system.
3. No Real Training To See Here Either
Duped into believing they're getting a complete, step-by-step system to follow, anyone paying $997 for this is going is in for a huge letdown when they see there's less than an hour's worth of 'training'.
What little training there is talks about "having a success mindset" or "getting rid of negative thoughts". When Adrian does mention strategies like affiliate marketing or freelancing, he gives only a 2-minute overview with no real step-by-step or actionable how-to.
However you look at it, there's simply no way anyone can earn six figures working one day a week with this program.
Is Six Figure Sunday A Scam?
If a get-rich-quick scam is something that's missold, makes false promises and doesn't live up to expectations then yes, Six Figure Sunday is a scam that's sold using fake scarcity, deception and emotional manipulation.
If you're new to online entrepreneurship and looking for a quick and easy way to make money online, you will end up bitterly disappointed with Six Figure Sunday.
Personally, I'm putting in for a full refund and I recommend you steer clear because – scam or not – it's a waste of your time and money.
Want My Honest Advice?
If you're serious about making money online then stay away from get-rich-quick crap like Six Figure Sunday and learn how it's really done instead.
Watch this SUPER honest video where I outline exactly how I earn $10,000/month and how you can too.
I can't promise an instant and automatic way to online riches, but I can promise if you follow the right training and work hard then the results will come.
More Six Figure Sunday Reviews
Your Six Figure Sunday Reviews
Think Six Figure Sunday is a scam or legit?
Either way, have your say in the comments!
Simon Crowe is on a mission to help as many people as possible kiss their bosses goodbye.
Take the free Commission Academy course to discover how to smash your online income goals and make your dream business a reality.