Reading this 12 Minute Affiliate review to see if what they say on the sales page is true?
12 Minute Affiliate owners Devon Brown and David Sloan make big, bold promises like:
"This is a revolutionary new online marketing solution that can have even new entrepreneurs ready to start earning commissions in as little as 12 minutes!"
And then there's this: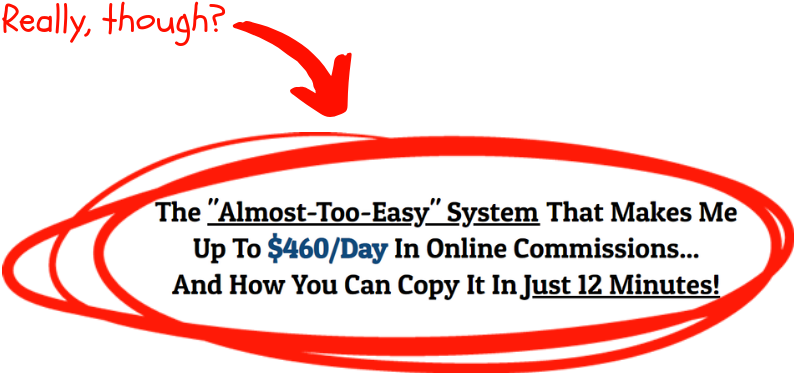 Stick with me because in this review we're going to look at what you get if you buy 12 Minute Affiliate, how it works and whether this is the best program to start earning serious commissions.
I am not affiliated with 12 Minute Affiliate in any way.
I am just a successful online entrepreneur who's on a mission to help you avoid the scummy get-rich-quick scams and find real money-making methods that actually work.
Here's what I found out:
12 Minute Affiliate Review At A Glance
About: 12 Minute Affiliate is supposed to be a done-for-you system newbies can use to make their first affiliate commissions.
Price: $9.95 14-day trial then $47/month basic or $97/month (discount info)
Pros: Comes with Facebook group support and a 60-day refund.
Cons: High costs and outdated traffic methods make this difficult for beginners.
Verdict: The worst affiliate marketing training I've seen and a borderline scam

12 Minute Affiliate is a clever little piece of software put together by Devon Brown and David Sloan which is designed to take the legwork out of creating sales funnels and landing pages.
But rather than being an easy '$460/day system', you're forced to shell out cash for low-quality email leads that might generate a few clicks but will never convert.
There's a better way:
To learn how to make affiliate sales without paying for expensive, ineffective ads check out this free beginners course.
What Is 12 Minute Affiliate?
12 Minute Affiliate is a done-for-you sales funnel with pre-designed landing pages and pre-written emails designed to be a 'plug and play system' that even complete newbies can use to make their first affiliate commissions.
A lot of beginners struggle with affiliate marketing, either with getting traffic or sales and this system is being promoted as a way to help with that.
This isn't the first program like this I've come across: 7 Minute Sales Machine, 1K A Day Fast Track and Bulletproof Profits all promise you shortcuts to success.
But can you really make money in 12 minutes with 12 Minute Affiliate?
Definitely not, that's just some gimmicky marketing tactic. But I can see how this program can help some people…
Devon Brown and David Sloan have created pre-made sales funnels for the 3 main affiliate marketing niches:
Home business
Weight loss
Personal development
Deciding to become an affiliate marketer is one of the best decisions I ever made. Now so many people are jumping on the digital bandwagon and for good reason:
With affiliate marketing, you get paid to promote other people's products so you dn't have to create or ship products and someone else will handle all of the payments and customer care.
And with over 4 billion people online every day, the potential for earning a truly passive income online is huge!
BUT…
You do not need a done-for-you sales funnel to become a full-time online entrepreneur.
Not at all!
In fact, as you are about to see, following the 12 Minute Affiliate system will more likely hinder, not help your chances of success…
12 Minute Affiliate Costs
The $9.95 initial price is just for a 14-day 'trial', after that you'll be charged $47 per month or $97 per month depending on the membership level.
Basic Membership
Monthly – $47
One-Time – $397
Gold Membership
Monthly – $97
One-Time – $797
The biggest difference between the basic and gold memberships is that with basic you get landing pages, recommended products and email templates for the make money online niche but as a gold member you get this for 3 niches.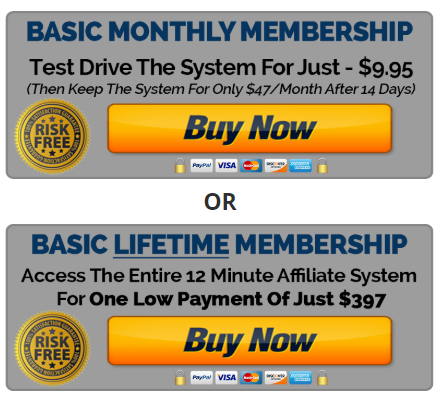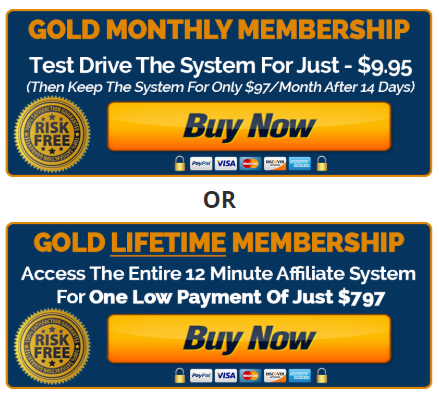 Before you can login to the member's area you're hit with 2 upsells:
Upsell 1
3x Your Results Blueprint
$39
Upsell 2
Done-For-You Setup
$67
After skipping those, I got inside the training area which looks like this: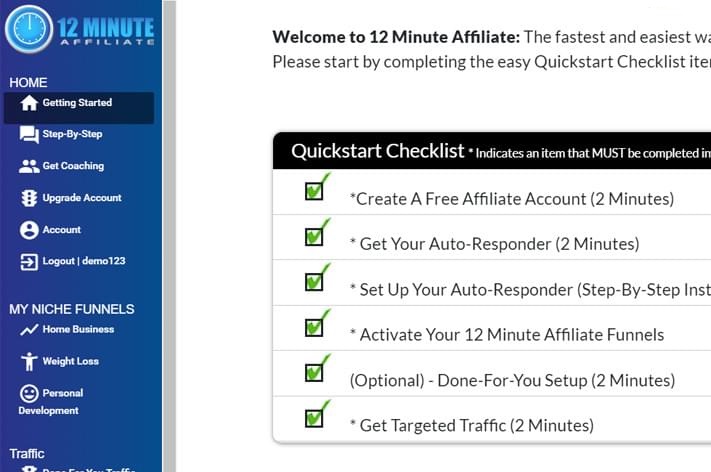 Can You Make Money With 12 Minute Affiliate?
While it is technically possible to make money with 12 Minute Affiliate, this is not the route I would recommend for beginners because you're going to have to pay out for solo ads before hopefully seeing a return.
Devon Brown and David Sloan teach an all-too-common and outdated way of making money promoting ClickBank products, common in the land of crappy affiliate marketing products, that is.
The gist of the strategy is:
1. Pick either the make money, weight loss or self-development niche.
2. Add your own affiliate links to the pre-made sales funnel.
3. Sign an up to an autoresponder service like AWeber.
4. Pay solo ad vendors to send your offers out to their list of email subscribers in the hope of making sales.
There are a couple of things I'd say about this money-making strategy:
First off, there's nothing new here.
This is all stuff I've seen a hundred times before. Yes, you may generate the odd sale but it's the riskiest and costliest way to start.
Secondly, this is an extremely short-sighted method.
There are no instructions on how to create and build an income-generating website business that will be making money even a year or 2 down the line.
You end up promoting Easy Cash Club, The Profit Shortcut, Click And Bank and Daily Profits; not exactly high-quality products that are going to help build credibility with your subscribers.
Not to mention the traffic strategy they recommend requires a lot of money upfront and usually gets the worst kinds of results.
This is certainly not something that's going to make you $460 a day like the 12 Minute Affiliate sales page claims and you could potentially lose a lot of money trying.
Your Biggest Challenge Is Gonna Be Traffic
There are some things about 12 Minute Affiliate I really like:
The best-selling products have been chosen for you…
The emails have already been written…
The landing pages have already been designed…
But all of this is totally worthless without traffic (i.e. people reading your emails, seeing your landing pages and clicking the 'Buy Now' button.)
Even if this is the highest-converting sales funnel in history, you are still going to need to pay to send people through it.
Devon Brown and David Sloan's recommended solution?
Solo ads = the worst way of generating traffic imaginable.
You pay third-party solo ad vendors to send your offer out to their list of email subscribers, but costs can easily spiral out of control.
Solo ads are notorious for generating extremely low click-through rates and low-quality leads.
Why?
Because the people on these solo end vendor's lists are constantly pummeled with spammy offers that never get past the junk folder filters.
And just think, every single person who signs up to 12 Minute Affiliate is going to be sending out identical emails promoting the exact same offers as everyone else.
You might get lucky and get a few clicks, but you're really gonna struggle to get sales.
Other 12 Minute Affiliate Reviews
Is 12 Minute Affiliate A Scam Or Legit?
Despite the hyped-up claims about making commissions in minutes, 12 Minute Affiliate is not a scam, though they advocate a method that makes it really hard for beginners to get started and for that reason, I can't say they're legit.
If you want to, go ahead and give 12 Minute Affiliate a try and come back and tell us if you made a sale in 12 minutes but I seriously doubt it!
There's always the 60-day refund policy to fall back on, but honestly why waste your time?
There's just no easy shortcut to success and making money online is nowhere near as simple as the 12 Minute Affiliate creators would like you to believe.
A Badass 12 Minute Affiliate Alternative
There's a better way to make daily commissions which doesn't involve paying for ads.
What if I told you that, instead of having to constantly chase sales and risk cash upfront, there was a way to get free and targeted traffic to your offers around the clock?
There is!
Instead of spamming people with crappy products, smart affiliates make $1000s/day creating websites that attract customers looking for the very thing they are promoting!
Wealthy Affiliate teaches aspiring entrepreneurs exactly how to create successful websites that get ranked #1 in Google and get 1,000s of people clicking on their links every day.
With step-by-step core training courses, newbie-friendly website builders and 24/7 support from the biggest community of affiliate marketers online, they set you up for success.
You'll learn Wealthy Affiliate's simple 4 step formula to earning daily commissions:


Does it take hard work and patience?
Yes, but it's worth it.
Because you're building a real online business on a solid foundation that will help you achieve true financial freedom for many years to come.
And Wealthy Affiliate doesn't ask you to pay $10.95 for a week's trial like 12 Minute Affiliate does…
In fact, you can try out the whole training platform for free for as long as you like.
Check out my SUPER in-depth Wealthy Affiliate review >>
What Do You Think?
Now we've gone through the full pros and cons of 12 Minute Affiliate in this review, is it worth buying?
Have you ever tried these done-for-you sales funnels before?
Scroll down and share your experience with us, we'd love to hear from you!
Simon Crowe is on a mission to help as many people as possible kiss their bosses goodbye.
Take the free Commission Academy course to discover how to smash your online income goals and make your dream business a reality.