Fresh out of the oven is Shuffler Pro; Bryan Winters' latest income system, but is it a scam or legit?
In this Shuffler Pro review, we're going to take a deep dive into the members' area to show you exactly what you get so you can decide if it's worth your money.  
Bryan says his team has finally cracked the code of generating $467 in daily income with just 30-seconds setup.
Will this really give you these results as promised? Let's find out! 
Shuffler Pro Review At A Glance
About: Shuffler Pro is a "viral funnel generator" which claims to make $400+ for you in daily income. 
Price: $19.04 with $525's worth of optional upsells, but email marketing software and solo ads will add to your expenses.
Pros: Comes with a 7-day money-back guarantee.
Cons: It overpromises what the system can do without really explaining how you can get a booming start in driving traffic.
Verdict: Bryan Winter's lastest system only works in theory. Invest your time and money elsewhere if you want a real online income.

What Is Shuffler Pro?
Shuffler Pro is yet another sales funnel made by serial product creator Bryan Winters that promises $400 a day in internet income.
What I can tell you about Bryan Winters is he never fails to come out with new hyped-up income systems that almost always underdeliver.
Check out his long list of disappointing programs and you'll see what I mean:
Funny enough, like DiddlyPay, Bryan claims Shuffler Pro has a patent-pending, but check out the United States Patent and Trademarks Office database and Google Patents and you'll see this isn't true.
Bryan describes Shuffler Pro as a groundbreaking online system that unlocks 52 billion unique viral funnels in 1 click to pay you $500 a pop.
The sales page has a fake 12-minute countdown timer that's supposed to trigger a price increase every hour. Except refresh the page and the timer resets.

Bryan goes on to say Shuffler Pro gets rid of the duplicate funnels problem by "churning out 100% unique done-for-you" funnels.  
Apparently these funnels will generate email leads and commissions on autopilot.
How Much Does Shuffler Pro Cost?
Shuffler Pro costs $19.04 but there are also 5 upsells with a whopping $525 price tag. To apply the methods taught you'll also need $300/year for an email autoresponder.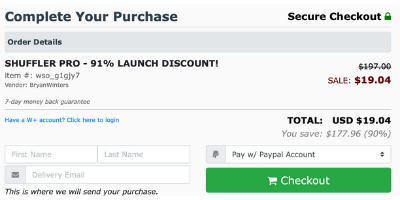 Shuffler Pro's upsells are pretty much the same set of upsells on all his other products, but let's quickly run through them for you:
Upsell 1: Daily Traffic Machine ($97)
Daily Traffic Machine supposedly sends 24/7 autopilot traffic to your funnels, though the quality of traffic you'll get is questionable.
Think about it:
Where will this traffic come from? Traffic bots perhaps?
Getting traffic alone doesn't close the deal, this needs to be highly converting traffic and I highly doubt that's what you're getting here. 
Upsell 2: Viral Funnel Pro ($67)
Shuffler Pro comes with 20 funnels. You have to buy this upsell to get the 52 billion options promised in the original sales video that you were told were already included.
Upsell 3: 7-Figure Niche Activator ($97)
This unlocks 20+ additional funnels which are said to be in the multi-billion fitness, health, and self-help niches. 
Except, at no point do they give any proof (other than fake earnings screenshots of course) that they actually made tons of money from these funnels. 
Upsell 4: 5X Passive Cash Plugin ($97)
This plugin with 5 6-figure affiliate offers is supposedly placed on all back offices so when anyone buys, you get the commission. 
If anyone ever buys…
Remember people are looking for ways to make money online, not more ways to spend it! 
Upsell 5: $1,000 Commissions Robot
This upsell installs a built-in webinar on all Shuffler Pro websites. You supposedly get $1,000 every time somebody clicks thorugh and makes a purchase. 
How Shuffler Pro Works
Shuffler Pro supposedly gives you a billion different funnel combinations complete with affiliate offers so you earn commissions and capture email addresses. 
A visitor can access the offer when they provide their email address, if they move forward and buy the product, you get commissions. Their email address will then be put into a list pool and divided among the members.
Since you don't know how many members there are, you might have to wait for ages to get your share of leads. 
Once you get leads you can either store it in Shuffler Pro's storage system or transfer them to an autoresponder like AWeber which costs $300 a year.
Now here's the big problem:
Where do you get initial traffic to drive to your funnels? 
Shuffler Pro recommends paying for solo ads which means adding more onto your costs before you've even earned a dime.
The problem with solo ads is finding the right kind of solo ad vendor with the right kind of targeted buyers on his lists. The last thing you want is for your emails to end up sitting in people's spam folders unread. 
The only other course of action is sharing your links on Facebook, Twitter and Instagram. This could work well IF you have a large following.
Here's a great video that'll give you the proper perspective on sales funnels:
Inside The Members' Area
Here is a sample of a funnel I generated especially for you: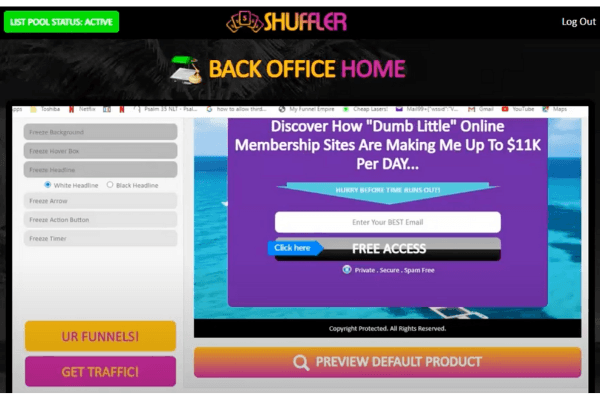 If you don't like a funnel, you can simply shuffle to get another one. You can also tweak it to your taste by freezing elements you want to keep like the background or the headline and just shuffling ones you like to change. 
Each funnel comes with its own high-converting product, you just have to input your affiliate ID so you get the commissions. 
What I Don't Like About Shuffler Pro
1. Lack Of Training
The sales page said you wouldn't need much training because the system is so easy to use, but remember you have an email list to work on and that takes some learning.
2. They Use A Fake Countdown Timer
This is always a red flag to me and a pitiful attempt at pressure sales.
If you need to manipulate people's emotions using bogus tactics like this then it's a pretty good indicator your product is not as good as you say it is. 
3. Same Testimonials As Bryan's Other Products
While I get that some people will buy more than one of Bryan Winter's products, I'm less convinced they'll give the same exact feedback for them. 
But compare Stuff My Inbox's sales page with Pro Shuffler's and the testimonials are identical: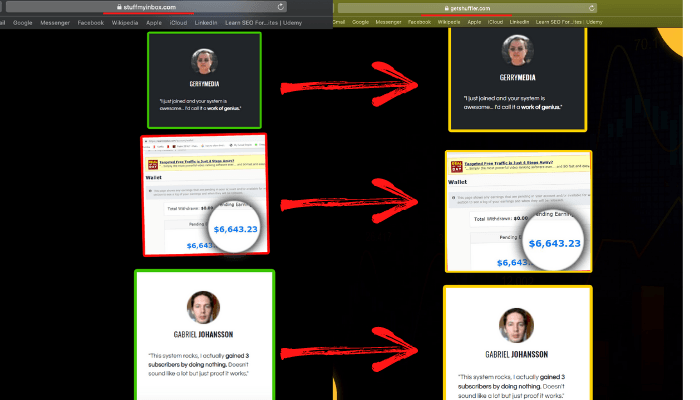 This is a lousy move by Bryan. He could at least have had the decency to use real testimonals. 
4. Getting Your Money Back Is Only Good For 7 Days
One problem I have with processing money backs especially in Bryan's products is instead of smoothly directing you to process the refund, many members report that they have to fight to get a refund.
Instead of simply giving you what you've asked for, he'll try giving you more products, upselling you, basically anything but a refund! What a hassle!
5. You Have Very Limited Control
Yes, you can tweak your funnels, but that's about all you can do.
You won't be able to choose what products you're promoting and worse, you won't have any control if Shuffler Pro decides to shut down.
In this case, you left alone without a business and worse, all that time and money you invested down the drain.
This is NOT the best the rock solid foundation you can build a strong financial future on! 
Is Shuffler Pro A Scam?
Shuffler Pro is not an outright scam because you get a low-quality funnel-building software, but that's all you get. Don't believe those hyped up earnings claims or anything else you heard on the deceptive sales page.
I won't be recommending Suffler Pro because it's hyped-up and mis-sold as the answer to all your money-making worries.
In reality, anyone buying into this will end up extremely frustrated and lose a lot of money paying for low-quality ads that don't convert.
Where Do You Go From Here?
Shuffler Pro promises a shortcut to financial success. I've reviewed 150 make-money opportunities and so far, not one shiny shortcut has made good on the promises they made. 
Ditch this fast-income fantasy and start learning how to build a sustainable business instead. 
Wealthy Affiliate will train you how to create your own income-producing websites from the ground up, with 70+ core video lessons and a whole community of like-minded entrepreneurs ready to rally alongside and help you out.
The great thing is you can try it out for free.
Click here for the full Wealthy Affiliate review and see why this is my #1 top pick.
What Do You Think?
Did the sales video sound too good to be true to you too?
Were you surprised when Bryan said you don't need much training at all?
Share your thoughtsbvelow. We want to hear what you have to say! 🙂
Simon Crowe is the founder and editor of The Make Money Online Blog on a mission to help as many people as possible kiss their bosses goodbye.
Watch this video here to discover how to smash your online income goals and make your dream business a reality.