Welcome to my review of Kash Kow and today you're in for a treat!
I'll be showing you why I have zero confidence in Jason and Seun and most importantly, why Kash Kow is NOT the push-button profit system it promises to be.
At the top of the sales page in big, bold text it says:
"Discover the method responsible for more internet millionaires than anything else"
It looks like you'll be thanking Kash Kow for making you a millionaire later…
NOT!
I'll be debunking Kash Kow for it's true colors first by telling you:
What the system is
What I know about Jason and Seun
Who Kash Kow is for
How Kash Kow is supposed to work
Why it's not as advertised
If it's a scam
I'll then wrap everything up by giving you my views on Kash Kow and what I think will help you reach your online income goals.
Kash Kow Review At A Glance
About: Kash Kow is a page builder posing to be the method that brings you a sustainable income online.
Price: $25.54 for the front-end, $682 for 6 upsells, and $600/year for an autoresponder.
Pros: You get a software that builds squeeze pages.
Cons: The squeeze pages look like the all too common spammy pages that are desperate to get people on their list.
Verdict: Kash Kow is a low-quality system not only for the pages it generates but also for the traffic method it teaches which involves spamming.

What Is Kash Kow?
Kash Kow is a cloud-based page builder built by Jason Fulton and Seun Ogundele. They launched it back in August 2020 in the WarriorPlus network.
We're told Kash Kow "lets you monetize 1 billion potential buyers for passive income within minutes" and everything is in autopilot, you won't need paid ads.
It supposedly gets you 5 done-for-you campaigns and a free built-in traffic source, so you'll have your own "online ATM", the "whole shabang" as they call it.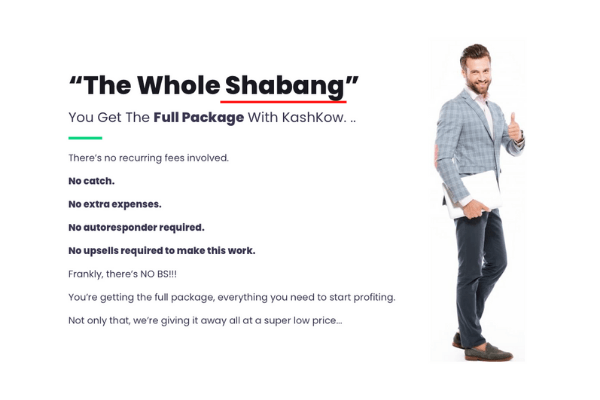 I really think it's supposed to be "shebang". But whatever, what they mean is Kash Kow gets you the whole package to make money online.
Jason and Seun also say Kash Kow is a "loophole hidden in plain sight" and it's the "#1 creator of internet millionaires" dragging a lot of successful marketers on the sales page like Neil Patel and Tai Lopez.
Frankly, these successful marketers never used Kash Kow before, let alone heard about it. Attaching Kash Kow to them is a very sketchy practice, a whole lot misleading and it already gives me a glimpse of what the whole system will look like.
And one last thing:
You'll also read about no recurring fees or extra expense. There are extra expenses because you have to pay for an autoresponder, which you can only integrate IF you buy the first upsell.
So, although buying upsells is not mandatory, it will still seem like it because you can't use basic functions without paying for it.
If the recurring fees mean no running maintenance cost, don't be too happy about it. It just simply means no support service is paid to keep it going, installing upgrades and all. So one day it'll end up obsolete.
Remember, the front-end just costs less than $26, not enough to pay someone to work on the upkeep of the system.
What I Know About Jason And Seun
Both of them are serial product creators. They peddle digital products every month. No wonder they leave errors like typos in sales pages as it is because it all churns and burn for them.
They easily abandon it after 10s of newer products are launched.
Some of the products they peddled that we've made reviews on are:
There's another one but I'll save it for later for an important reason.
Who Is Kash Kow For?
The sales page says Kash Kow is for anybody. Whether you're a grandma, a student, or a stay at home parent, Jason says you can do Kash Kow because it's a set and forget system. After you launch a page, you supposedly earn from it for a long time.
Reality though, that's not the case…
Kash Kow is just for those who are confident enough to trust in a shiny shortcut that's not built to last. If you're willing to get your heart broken you can try Kash Kow out.
How Kash Kow Works
In a nutshell, Kash Kow creates squeeze pages or pages you can gather people's emails from so you can direct them to your offers. The initial traffic is from their "built-in" traffic source which is Instagram.
Kash Kow sales page made it look "stupid simple" for you by saying its just 4-step process:
1. Choose a done-for-you squeeze page to collect leads, better known as email addresses.
2. Activate the built-in traffic (Instagram) to supposedly grow your buyer list.
3. Pick a pre-approved offer with the email swipe you'll send to the list you built.
4. Watch profits roll-in like clockwork. AS IF!
Here's a diagram to understand it easier: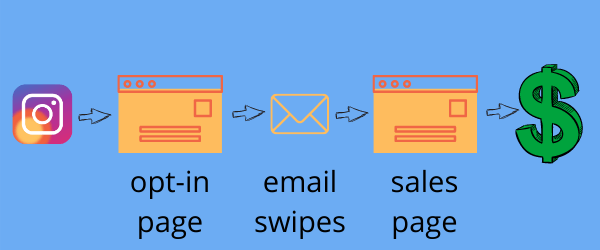 Now once you buy Kash Kow, you get 2 separate systems, one the page builder, and the other, your Instagram automation system.
Kash Kow Page Builder
As you can see, you'll get tons of squeeze pages to choose from.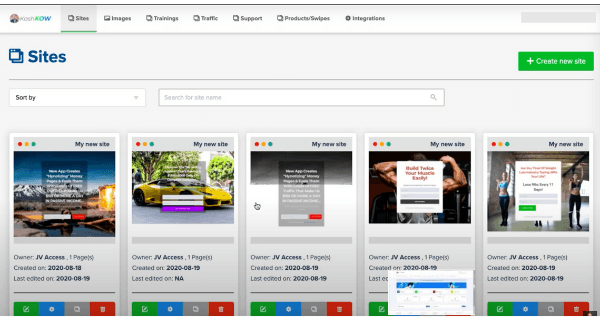 If you want to change the image background, you also have built-in images to choose from. I personally don't fancy it because most of the images are the ones you'll use if you're in desperate plea to get leads.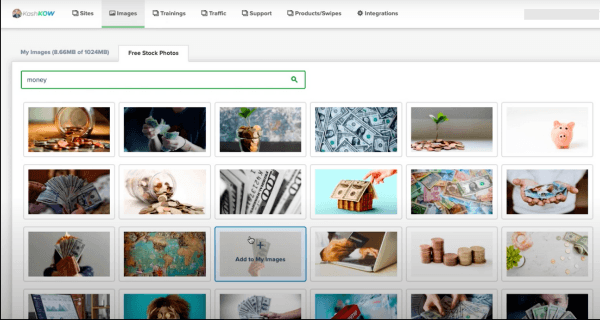 After choosing a template you can head on to page builder where you can add buttons, headers, footers, and so on. But ultimately your squeeze page will still look it's in a dire need of subscribers.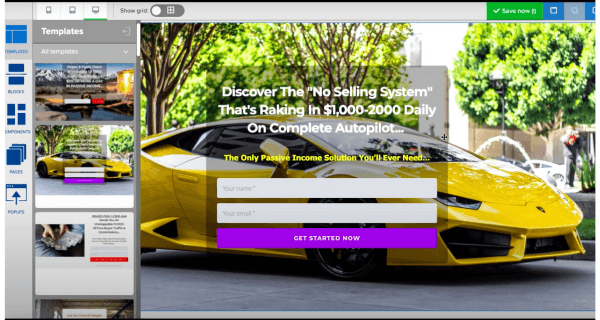 Obviously, your pages will be hosted by Kash Kow but since there's no provision for maintenance, you can't expect it to be supported going forward.
After making your squeeze page, you have to connect it to an autoresponder, and this is where the $600/year and $47 for upsell 1 cost kicks in.
Now for the email swipes, these will supposedly do the magic for you to get people to convert.
Again, along with swipes are the products you'll be promoting to your email list.
I told you I saved one of Jason's product for later and this is where I'll tell you about it.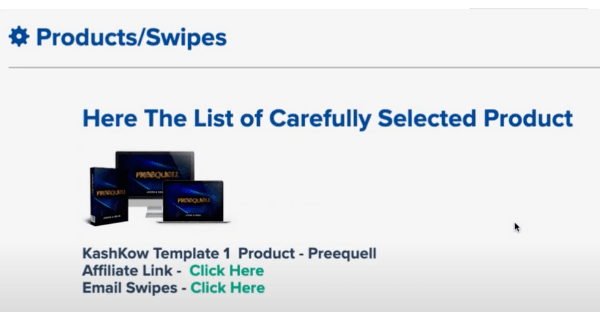 One of the swipes is for Preequell, I just did a review on this recently, and it's a system using quizzes to get traffic. It's totally low-quality which gives you a rough idea of the quality of other products you'll be promoting.
Now, these swipes are valued at around $300 on their sales pages. If you just go to WarriorPlus directly you'll see you can promote the products without the cost found on the sales page.
Kash Kow Traffic Source
For the initial traffic, you'll have to go to the 2nd system where you'll link your Instagram account.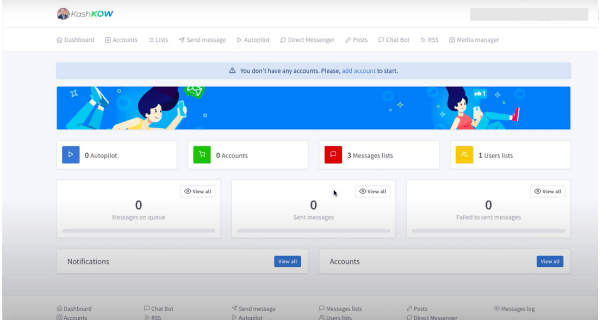 Here, you can the start sending messages to your network to get them to the squeeze page. A lot like spamming them just so you can get their emails to pitch the real offer.
Usually, your traffic will be limited to your network. Jason sort of eliminates this problem by saying you can also access those outside your network. This is why they confidently said on the sales page you'll have 1 billion potential buyers.
Is this a good thing? No it isn't.
The whole idea is you'll send messages to random people hoping somebody clicks on them and gets interested giving their email to buy any of your offers.
Logically though, you can't just send messages to anyone and expect to be taken seriously. This is what spamming looks like.
For people to give you a shot, they have to know you enough to trust what you'll say and give your pitch a chance.
Kash Kow's method doesn't allow for an opportunity to build your authority and credibility to be trusted by people.
It's through and through spamming. You can't add loads of people and send them unwarranted messages because Instagram's algorithm will find your scammy tactic and will get your account banned.

A better way to generate targeted traffic is by helping people solve a specific problem, answering their questions. You give them something valuable to help them build their trust in you.
One way to do this is by building a niche-based website where you answer people's concerns and offer them a better solution.
Simon will tell you a bit about it in this video:
If you want to know more though, you can sign up for Wealthy Affiliate to get in-depth training about what Simon just talked about.
4 Reasons Kash Kow Is Not As Advertised
1. At best, you only get limited success but never long-term income so you can't generate millions of dollars as promised.
2. Spamming is not an effective traffic method.
3. Even if you tweak it enough, you might get a decent squeeze page but not get anyone interested because you're not providing anything of value.
4. You don't get 1 billion in potential buyers because you can't even guarantee everyone on Instagram will get interested in your pitch.
Is Kash Kow A Scam?
No Kash Kow is not a scam because you do get a page builder as promised. However, I don't recommend you use it because the traffic method taught won't be able to help you reach targeted traffic.
In the end, you won't get conversions, there's no income for you.
Where Do You Go From Here?
Kash Kow is just another churn and burn quick fix that's here today and gone tomorrow. If you want sustainable traffic for your offers, you have to take time in learning to generate long-term traffic, something Wealthy Affiliate offers.
The in-depth training is mainly on affiliate marketing but the traffic methods taught are useful even when you're doing drop shipping or anything else. Unlike Kash Kow's training which is just a demo of how to set squeeze pages up.
What you sow, you reap. If you rely on quick fixes, you'll get quick disappointments. However, if you take the time to learn about how traffic really works and what methods work best, you'll get long-term results.
If you want to know more about the training you'll get in Wealthy Affiliate, head on to this tell-all Wealthy Affiliate review.
What's Your Take?
Were you dumbfounded about how spammy Kash Kow's methods are? Were you also cynical about how the squeeze pages look like? Tell us what you feel in the comments section below.
Simon Crowe is on a mission to help as many people as possible kiss their bosses goodbye.
Take the free Commission Academy course to discover how to smash your online income goals and make your dream business a reality.