Jason Fulton partnered again with Seun Ogundele to present you with another "new software" creating "hypnotizing money pages" fueled with tons of traffic to supposedly earn $515 per day. But is Preequell a legit system or is it just another scam?

I find it quite irksome that Jason is leveraging the pandemic to dupe people just so he makes some cash.
I don't mean they're duping people with phony software, it's more on how Jason makes Preequell appear. Just see the claims:
$515 or more a day
100% done-for-you
Fully automated income
That's not even all of it, I'll tell you more on the What Is Section.
In this review, I'll show you how Preequell is supposed to work and tell you why making money with it is only good in theory.
I'll then tell you if it's a scam or not and end up this review by telling you of a better solution that's actually going to help you achieve your online income goals. 
Preequell Review At A Glance
About: Preequell is an income system creating surveys to engage an audience and direct them to your offers to supposedly make $100s from.
Price: $23.59 for the front-end and a whopping $672 for 6 upsells. If you want an opt-in page you'll also have to spend $600/year.
Pros: The method works well in theory. 
Cons: The built-in surveys are crappy and the traffic method used won't drive visitors to your offers.
Verdict: Preequell is a low-quality income system that only works in theory. Using social sites as the traffic source will hardly get anyone interested.

What Is Preequell?
Preequell is an income system launched by Jason Fulton and Seun Ogundele last June 2020. It utilizes quizzes and surveys as the funnel to drive people to ClickBank affiliate offers. 
The sales page says plays with over the edge hype like:
This system gets 1000s of people "begging" to buy from you
It's completely saturation-proof
Get boatloads of free traffic
Drop-dead simple
Includes a $1,225.60 case study
But really, think about it, is it logical to get a $1,226 case study from buying a $23 system? I hardly think so.
But why quizzes and surveys?
Jason says it has tremendous benefits. By using surveys and quizzes, you'll get people hooked and get them to commit making it "harder for them not to buy from you".
They even dragged a Soviet psychologist to their gimmick. Jason says it utilizes Bluma Zeigarnik's shocking discovery, which she calls the Zeigarnik Effect.
This discovery states that people are better able to remember uncompleted tasks than completed ones.
Basically, the idea is to hook people with survey questions, wanting them to complete it so you can get some sort of commitment from them to supposedly get more conversions once presented with an offer at the end of the survey.
Jason banks on the idea that you'll get people to want more through the survey questions, they'll be more likely to buy something from you.
The problem is, it's appallingly executed in Preequell. I'll show you what I mean in a minute.
Who Is Preequell For?
Preequell is for those who do not believe in the fact that it still takes effort to build a sustainable online income. Basically, it's for anyone who believes that quick fixes are their ticket to success.
Be very careful. These are the kind of people Jason lures to the bait. You'll only realize you made the wrong decision once you're already ripped off your hard-earned cash.
I know you know better, that's why you're reading this review.
You won't get disappointed because by the end of this review, you'll be better equipped to make the right choice.
Preequell Members' Area
Inside the dashboard you'll immediately see some sort of stats and monitor on the surveys you've created. On the left side are tabs on surveys, funnel/campaigns, and tutorials.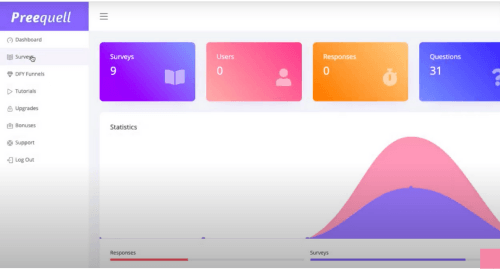 Essentially, you'll be sharing the pre-built surveys to different social networks and when people take the survey or quiz, they'll be passed on to your affiliate offers.
Preequell Training
The training videos you get range from 2 minutes to 12 minutes long talk about how you go around the members' area.
You'll be taught how to make a survey and how to use the built-in traffic. You'll also be taught how you can include an opt-in form which means you'll need an autoresponder or an additional cost of around $600 per year.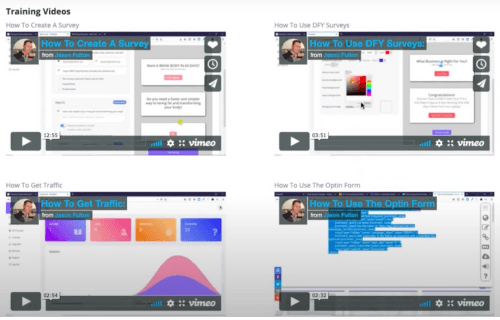 This is one section of Preequell proving to me this system is not for beginners. For starters, you won't actually get taught about affiliate marketing, the element to monetize your surveys.
Not getting to know how your business works from end to end will be really problematic. Frankly, you're building something without knowing what it really is about.
How can you scale your business, when you don't know anything, right?
Also, when Preequell shuts down one day, which is inevitable knowing Jason is a serial product launcher, you won't be able to use the training you get from Preequell with other online businesses.
Prequell Surveys
For the Surveys Section, you'll see a couple of surveys with each of their stats. As you can see, they're from different niches. There's one for making money online, for getting rid of belly fat, for muscle building, and so on.
Those surveys are then connected to one of the 5 built-in campaigns.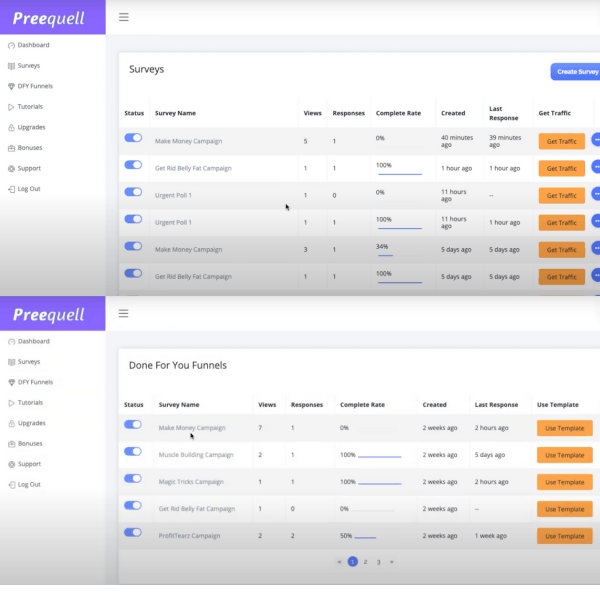 Here's the problem:
You'll be sharing surveys and pitching products from different niches.
Does this give you wider audience and more earning potential? Absolutely NOT!
This is not an advantage at all. When you're not focused on 1 niche, you won't be able to build authority. In a way, people will think you're not qualified to pitch those kinds of offers. Thus, they won't take your offer seriously.
This is not the worst part.
We'll try checking out 2 of the surveys you get with Prequel. Let's start with the magic tricks niche. Here's how your survey will look like: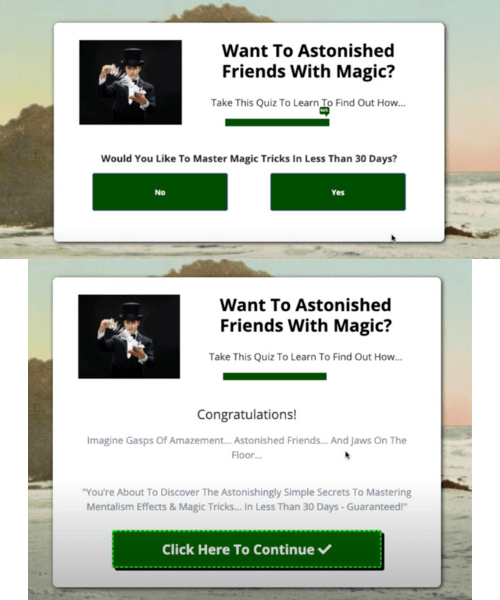 Boring, right? Even the questions are lifeless. All you get are yes and no questions. These are not kind which make people anticipate for the next one.
This won't work. It's a total crash-bang method. The cheap-looking survey you take starts the downfall and the ultimate bang is when they see how rubbish-looking the sales page is.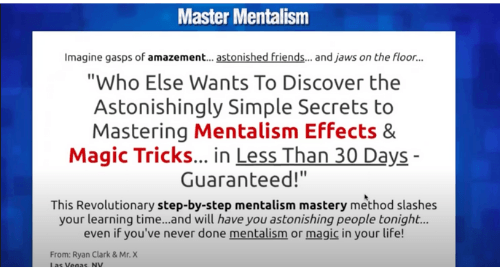 Looking at it, I'm not getting interested, more so others.
Maybe other quizzes are better? I don't think so. Here's one for the make money online niche: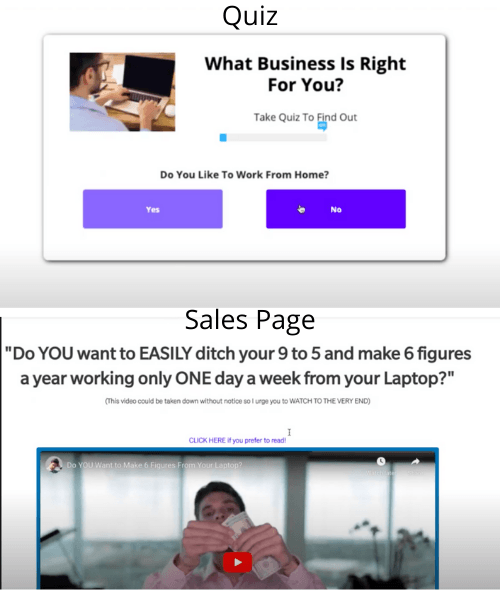 It looks way awful! And I couldn't say differently for the sales page.
Honestly, I think quizzes and surveys are a fun way to engage people. When someone takes it, you sort of give them a micro commitment to keep on going until the end. If done right, you can even push them to take action for the offer you pitch at the end.
In Preequell's case, it's only good on theory but utterly fails when executed. You couldn't get anybody motivated with how the quiz looks and the questions it comes with.
Preequell Traffic Source
Preequell's traffic method won't get your surveys viral. Aside from Facebook, Twitter, and Pinterest, I don't think you'll get a lot of audience with other social sites you can share your surveys too.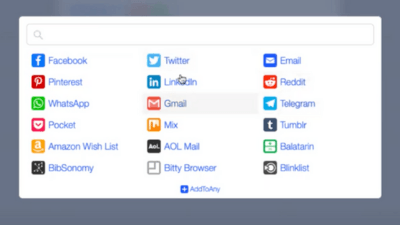 I hardly even know any of them. You can't really expect a lot of people there. As for the 3 social sites I mentioned earlier, your surveys still couldn't get viral.
The only people who'll see your surveys and quizzes are those on your network, you're not even sure they'll be interested in clicking it.
It's even 5x harder to get targeted traffic because you have surveys from different niches.
And remember how those surveys look. I highly doubt you'll be proud enough to share it with friends and family.
Now think if you share a 2nd survey. If the people who clicked on your 1st survey realized how lousy the surveys are, they won't be interested in taking another one. Your traffic flow will go down to zero.
3 Reasons Why Why Preequell Won't Work
1. The surveys and quizzes are from different niches so you won't build authority.
2. The surveys and quizzes look awful and the questions are unengaging.
3. The traffic method used won't generate the traffic you need.
Is Preequell A Scam?
No, Preequell is not a scam because it provides surveys and quizzes you can share on social media. However, there are a lot of major factors proving it won't drive traffic, and in turn conversions for your offers.
If you bank on the 100 days money back because you really want to give it a shot, think again. On another part of the sales page, it says the moneyback guarantee is only for 30 days.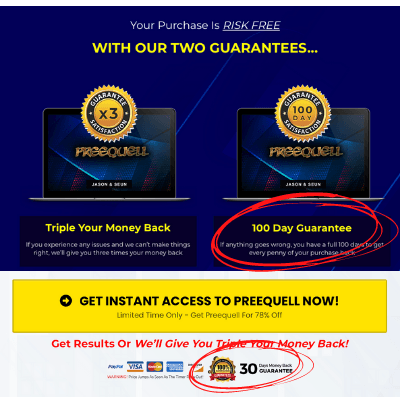 They can't even get their refund policy straight. Plus, the policy is too open-ended. It says if you experience issues, they can't fix it's the only time they'll give your money back.
They can basically put the pressure back on you saying if you did something wrong or are not implementing the strategy long enough. The next thing they'd tell you is to wait longer to see results, long enough for the refund period to be over.
Where Do You Go From Here?
Ditch the quick-fix gimmicks in generating traffic to your offers and learn how you can drive sustainable traffic and higher conversions with Wealthy Affiliate.
Simon will give you a glimpse of the traffic method taught in the training.
If you like what you learn, you'll get more of it in the step-by-step Wealthy Affiliate provides.
You can even continue to test the waters out by trying the 1st 10 lessons which you can watch for free.
Head on over to this in-depth Wealthy Affiliate review to learn the ropes of generating traffic and making money online from beginning to end.
What's Your Take?
Were you gutted seeing how awful the surveys and quizzes look?
Did you roll your eyes realizing the traffic method doesn't bring you traffic?
Share your thought, the comments section is waiting for you.
Simon Crowe is on a mission to help as many people as possible kiss their bosses goodbye.
Take the free Commission Academy course to discover how to smash your online income goals and make your dream business a reality.