Imagine I walked up to you in the street and offered you $2,642 every day for the rest of your life IF you just open up your wallet and give me $47 first.
What would you think?
Either that I'm a total nut or a downright liar, right?
And yet this is exactly what Michael Cheney promises with The Commission Machine.
He claims this is the money-making method that works even if you're starting from scratch with no email subscribers, no money and no previous experience.
But is The Commission Machine a scam designed to fool you or a legit money making method you should buy in to?
Let's take a closer look and find out!
The Commission Machine Review At A Glance
Unfortunately, this machine has more than a few vital cogs missing with no training whatsoever on how to build a landing page, create opt-in forms or even find subscribers you can send emails to.
It's going to be hard for beginners to learn everything they need to know to be successful in the affiliate marketing game in just a few short videos.
What Is The Commission Machine?
That's a great question because if I'd just watched the sales video and read the landing page I'd still have absolutely no idea!
The Commission Machine by Michael Cheney is a 7 module video training course that says it'll teach you the secrets and strategies you can implement to make $2,642.60 per day.
That's a whopping $964,549 a year!
Similar to other training products like Evergreen Wealth Formula, Michael says you'll make these amounts of money by running email campaigns that promote affiliate offers to others looking to make money online.

You're told once your payment has cleared you'll gain access to a system you can 'copy and paste' to earn money through email marketing by promoting affiliate marketing products even as a complete beginner.
You're told you don't need a website or a list of email subscribers to start making money.
If this all seems a little too good to be true, you'd be right.
Head on over to the Commission Machine website and you'll see this video:
Michael Cheney gives you a live demonstration of him transferring $85,000 from PayPal to his bank account.
What we don't know is whether all this money came from his sales of The Commission Machine or not…
So many online training products within the make money online world package themselves as complete 'systems' 'formulas' and yes, 'machines'.
Why?
Because it's great marketing!
It gives potential buyers looking for a way out of the rat race the false expectation that earning an income online is as simple, easy and automatic as clicking a few buttons then sitting back and watch as your bank balance shoots up.
I'll let you in on an insider secret the make money online gurus will never tell you:
The only way to make a substantial and long-term income online for yourself is to start a real online business.
It takes work, it takes time and it takes commitment to see it through… but you can be successful ONLY IF you can free yourself from the 'get-rich-quick' mentality that holds back so many.
How Do You Make Money With The Commission Machine?
What's the system he teaches and how are you going to make almost $1million a year?
Since the landing page and promo video don't tell us much, this is a great question to ask. I decided to try the course and find out for myself.
Let's take a closer look at what you'll learn in the 7 video Commission Machine training modules…
Module 1: RAPID

Module 1 consists of a 28 minute video where Michael Cheney gives an overview of what he likes to call the RAPID method.
R.A.P.I.D. stands for:
Research
Angle
Provide Incentive
Deploy
The next modules will go through each of these in more detail.
Module 2: Research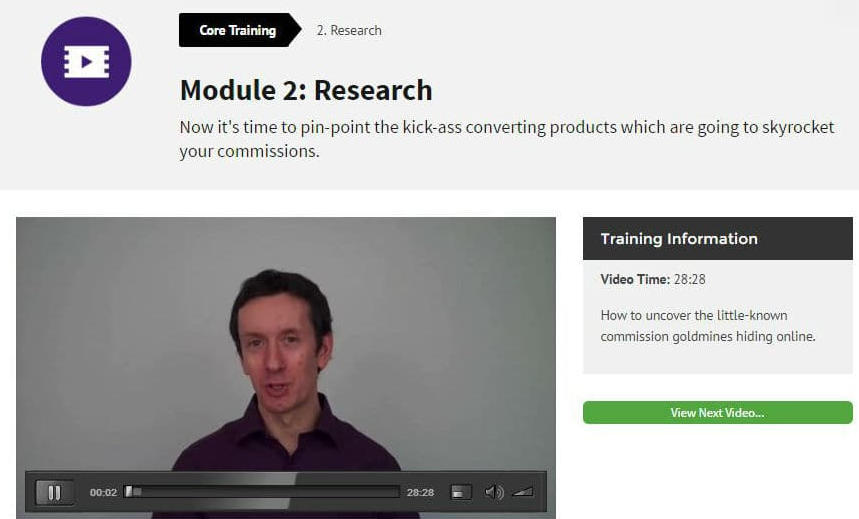 Since you're going to be promoting make money online products in the hope of getting an affiliate commission, in this first step, Michael will show you how to find the best products to promote on JVZoo.
He teaches that the best products are the ones that get you the highest commission or are the highest converting.
The fundamental flaw in this strategy is just because a product converts well doesn't mean it's a good product.
Speaking from my own experience and after reviewing 100's of JVZoo's products I can tell you 90% of them are utter rubbish.
Follow the Commission Machine's training and you'll become the guy who spams email inboxes with shoddy get rich quick schemes…
Is this really the road you want to go down?
Module 3: Angle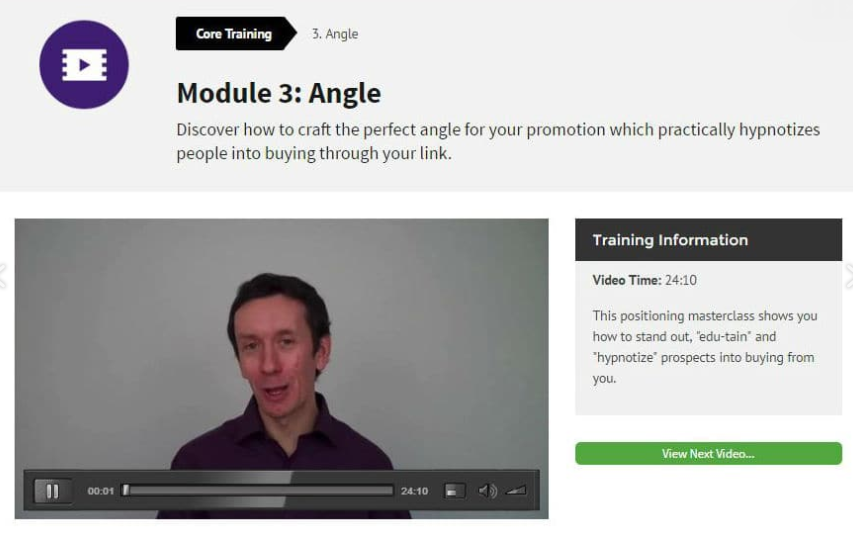 Now you've chosen a product to promote, module 3 is all about putting your emails together.
Since you only make money if someone opens your email, clicks on the link and buys in, Michael shows you the email templates he uses with attention-grabbing headlines.
Module 4: Providing Incentives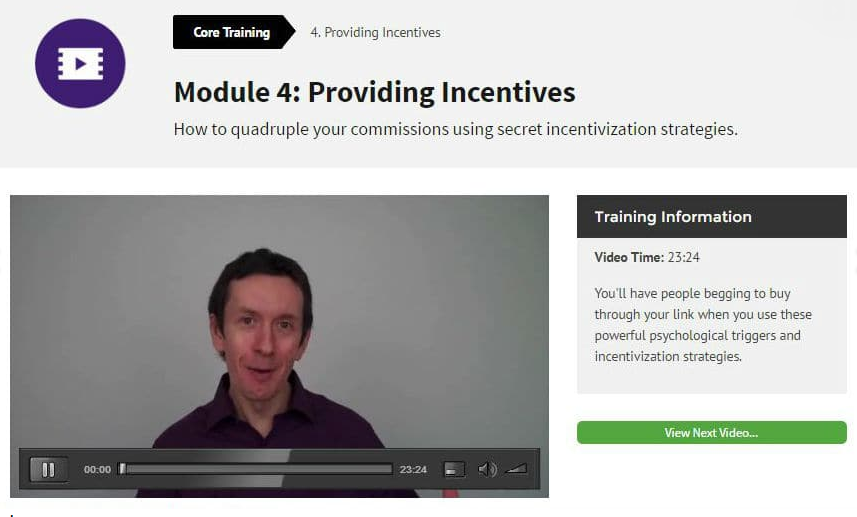 This is all about giving prospects reasons to buy in and more specifically, buy in through your link.
This means employing scammy selling tactics like giving false time pressures, i.e. "Only available for the next 7 minutes – don't miss out!" to try and add a bit of urgency and increase conversions.
Michael talks a lot about offering bonuses as an incentive to help push people into buying what you're offering.
Module 5: Deploy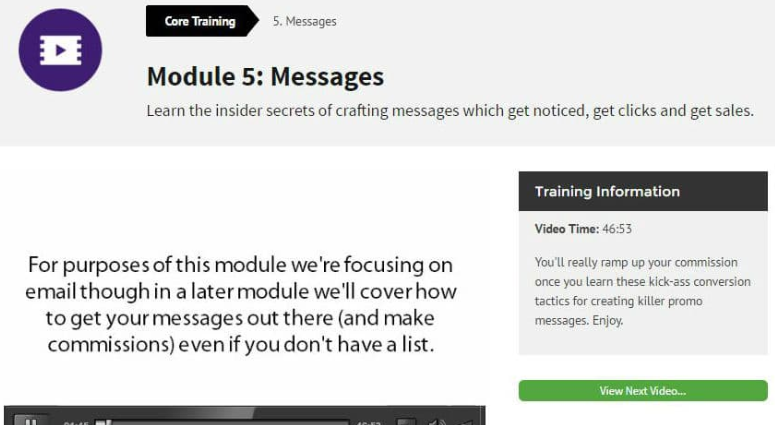 And last but not least… you've got your offer, written your emails giving people an incentive to buy, now it's time to get these in people's inboxes.
This means you're going to have to pay out for an autoresponder service like GetResponse and start adding your emails.
If you're a beginner, the chances are you have no email subscribers in which case, who exactly is going to be reading your emails, nevermind buying what you're promoting.
On the other hand, if you're already a seasoned online marketer who's already had experience with affiliate and email marketing you'll not learn anything you don't already know here.
RAPID makes for a great sounding acronym but there's nothing "magical", "secret" or "revolutionary" about sending affiliate offers via email.
What if you've got no list?
As we've just seen, modules 1-4 are only applicable if you've actually got a list to send to.
In modules 5-7 Michael Cheney offers up some traffic generation ideas like posting your affiliate links in Facebook groups (not recommended!)
He very briefly mentions setting up a website (highly recommended) but he then doesn't go on to tell you how to go about it. and still doesn't address the major issue of getting visitors and traffic to your site, not to mention how to create an opt-in form so you can start building a list of subscribers.
When you add up the 7 training videos the total amount of training is less than 3 hours.
Affiliate marketing, whilst being a very valid way of earning an online income, is just not possible to master in such a short amount of time.
My Top Rated affiliate marketing course has more than 50 core step-by-step training lessons.
And it's perfect for beginners because it walks you through every single step you need to take to be successful online, including how to get your first website up and running, how to get free and organic traffic and build your email list.
How Much Does Commission Machine Cost?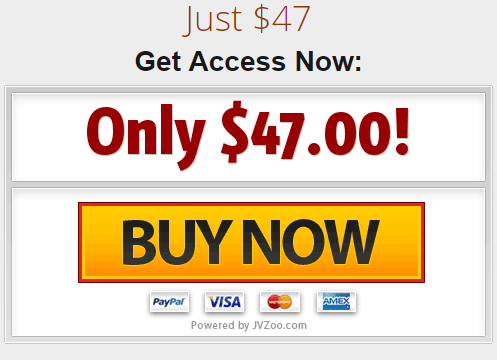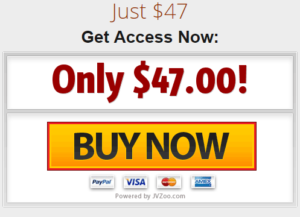 In 2017 The Commission Machine price was $19.95.
In 2019 The Commission Machine is $47.
While I recognise the creator has the right to change the price of his product at any time, it seems odd considering no other updates or extras were added to justify the increase.
Then there's the upsells…
Almost every JVZoo product out there has numerous upsells attached to them. The Commission Machine is no different.
If we're going to talk honestly about what this system is going to cost you we're going to need to factor these in as well because, well without these upsells you're less likely to get the results they're promising.
You think you're paying $47 to get the full system but in reality you've just taken your first step inside their sales funnel, designed to squeeze even more cash out of you.
As soon as you buy the Commission Machine you'll be bombarded with emails trying to persuade you to pay out a little more so you can "take your potential earnings to the next level."
Let's take a look at the numerous upsells so you don't have to fall for these spammy sales tactics…
Upsell 1: Golden Ticket – $27/month
You've literally just paid for Commissions Machine and before you can put your wallet back in your pocket you're hit with the first upsell.
Golden Ticket claims to help you make commissions even faster and easier.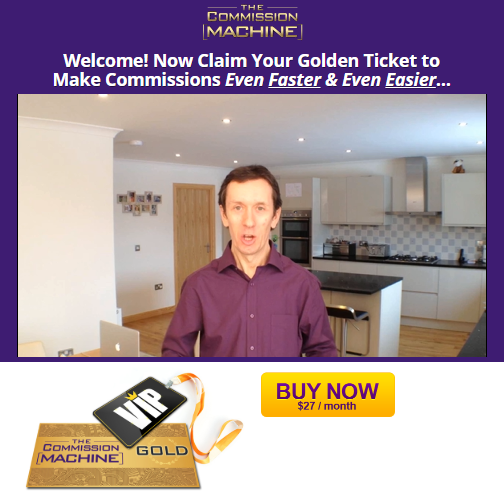 Getting access to Michael's monthly live webinars will set you back an extra $27 a month or a $197 lumpsum for lifetime access.
Upsell 2. Commissionology – $27/month
You haven't got to the actual member's area yet when you're hit with the second upsell.
Commissionology comes with yet another monthly membership fee of $27.
In return, you'll get Michael Cheney's email templates you can copy and paste which will of course mean "You'll make profits quicker than ever."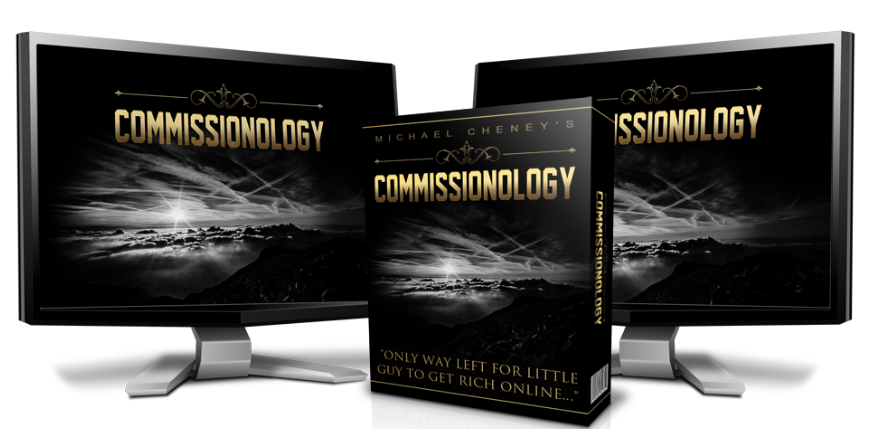 The other expenses Michael doesn't mention…
The sad truth is that the Commission Machine doesn't equip you with what you need to apply what they're teaching you.
You're going to need to make sure you have the budget for an email autoresponder service like AWeber who have a 30 day free trial then it's $19/month for up to 500 subscribers.
You're probably going to need a website too. This means buying a domain name and hosting for your site.
Who Is The Commission Machine For?
The Commission Machine claims it's a system for stone-cold newbies with no subscriber list and no money but I don't think it is.
As we've already seen, you're going to need a list and you're going to need money before you can make this work.
Don't get me wrong, the training content is good and there's definitely something you can learn from it as a beginner, I just think the chances of you actually making any money with it are small at best.
There's just so many things you need to have in place before making money with affiliate marketing like a website, landing page and most importantly, daily website traffic, especially in the long-term.
If you're a beginner looking to get started in affiliate marketing this course is a much better fit.
On the other hand, if you're a more experienced affiliate marketer with an already established site and growing list of email subscribers then you'll get a lot from this course that might help you take your email marketing campaigns to the next level.
What I Like About Commission Machine
1. Michael clearly knows what he's talking about
If you can get past the hyped-up sales tactics and the upsells to the training course itself, it's pretty well put together.
He teaches from his own experience which shows through in his confidence and the quality of the videos is better than the vast majority of similar training courses I've seen out there.
I really like the fact he doesn't just tell you how to do it, but he shows you how to do it too.
For example, when he's talking about putting emails together, he'll switch to his screen to show you examples of what kind of headings to use and how to lay it all out so you can see it for yourself.
2. Affiliate marketing is a legit way to make money
Despite my complaints about how Commission Machine is promoted and my issues with the gaps in training, fundamentally Michael is talking about earning commissions with affiliate marketing, which is a solid business model that works.
Which is why I encourage and teach others how to launch their own successful affiliate marketing businesses online.
How do I know it works?
I know it works because it's how I make $6,000+ per month online.
If you're new to affiliate marketing here's a quick overview: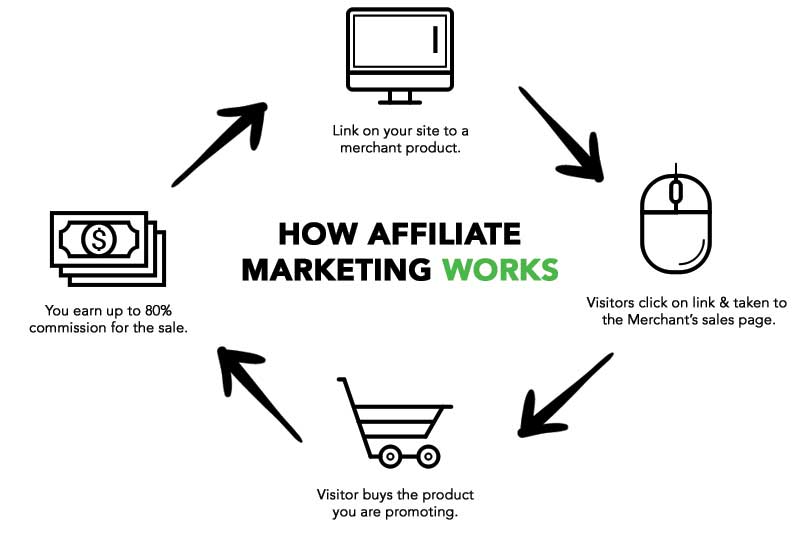 As I say, you can become very wealthy through email and affiliate marketing but you do need to have a website in place that generates traffic.
3. Commission Machine's 30 Day Money Back Guarantee
Michael says:
"If, for whatever reason, you want your money back just let us know before the 30 days is passed and you'll get a no quibble, no questions asked refund."
This is always a big plus, right?
And the good news is you don't have to take his word for it either…
Because Commission Machine is a JVZoo product, it comes with a no questions asked 30 day money back guarantee as standard.
What I Don't Like So Much…
1. It's just NOT going to work for beginners
I've mentioned this point already but let me hammer it home once and for all.
Commission Machine teaches you how to run email campaigns which is all well and good, but with no email subscribers and no way of getting email subscribers how on earth can you make any money?
Email marketing can be a brilliant additional income stream for experienced affiliate marketers who already have a website that attracts a lot of traffic, otherwise it's just not going to help you.
You see, a website is the foundation for earning money online and not just that, but a website people actually visit. Anything else is just window dressing.
I just don't think Michael's alternative traffic-generating techniques are good enough either, nowhere near.
His "No List Method" consists of a short 13 minute video where he talks about spamming comment sections of Facebook with affiliate links.
Really. That's it.
Hardly what anyone would call a secret money making method, let alone a long-term business plan.
2. CRAZY income claims… seriously guys!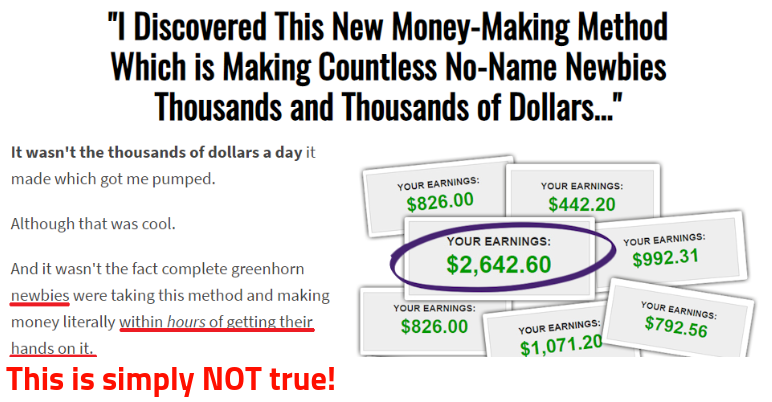 Make $1000's a day starting today!
Just copy and paste and watch the profits start rolling in!
Honestly I'm surprised people still fall for this crap.
Instead of giving you even a small clue about you'll be learning or giving any indication as to the method you'll be using to make money, the sales video bombards us with lots of dollar signs followed by lots and lots of zeros.
All hype and no substance.
Nothing but promises leading to a huge letdown.
Of course we know why – hype sells. And rather than genuinley looking to help people put money in their pockets, they're just filling their own.

3. Where are your email subscribers?
You'd think a 7 module course on email marketing would at least mention something about how to start and grow an email list but no, nothing.
All you're taught is where to find links to products you want to promote and how to put together sales emails.
If this is the Commissions Machine then I'd say there's more than a few vital cogs missing.
The training is completely void of essential elements you need to know like:
How to build a website
How to get people to visit your website
How to set up a sales page
How to start and grow an email subscribers list
These are the basic starting blocks of any serious email marketer but you'll never hear them mentioned once in the training.
You could have the highest converting offers with the best written emails in the world, but without anyone to read them your bank balance stays at zero.
Simple as that.
4. The Commission Machine turns you into a spammer
The Commission Machine course teaches people how to sell low quality get-rich-quick schemes that works for no-one, so don't be surprised when Commission Machine doesn't work for you.
Why won't it work for you?
Because without an email list you're told to spam Facebook groups with links.
Yeah, you'll never make money doing that my friend.
People are more sophisiticated online nowadays and they can spot spam a mile off and they won't just click on random spammy links on Facebook or anywhere else for that matter.
But more importantly than that, is this really the road you want to go down?
You can only get away with promoting crappy get-rich-quick schemes for so long and it's definitely not something you want to base your future financial success on.
Is The Commission Machine A Scam?
Can a training course be labelled as a scam if it's telling people to post spammy links on social media?
Is Commission Machine a scam because it teaches you how to promote scams to others in the hope of a quick buck?
Whether you want to call it a scam or not, one thing's for sure:
Commission Machine doesn't live up to it's own hype.
Michael Cheney knows a lot when it comes to email marketing but he hasn't done nearly enough in my opinion to help people start earning online.
If you're determined to give The Commission Machine a try click here and go right ahead, but I can't recommend it.
I just don't believe it helps anyone looking to make real money online get to where they want to be.
A Better Way To Start Earning Commissions
I'll be honest, I'm bored of the whole "send emails out with your affiliate link" stuff…
It's an old method that's been around since people dialled onto the internet and it just doesn't work.
The problem is you're always having to chase new subscribers and trying whatever you can to get them to click on your links, usually without much success.
I make over $6,000 a month in affiliate commissions by setting up websites around topics I'm actually interested in, and because I've learned how to get my sites at the top of search engines I never have to worry about chasing down traffic or wondering where my email subscribers are going to come from ever again.
And that's without the need to do any selling or needing an advertising budget.
Every day I get tons of free and targeted traffic clicking through my affiliate offers because they come looking for me, not the other way round!
Start earning commissions the right way using the same training I did and get your business rolling today.
The best part?
The beginner's training course is completely free without ever needing to open up your wallet.
And you'll get my support every step of the way, I'll be on hand to coach and guide you through the training personally.
Simon Crowe is the founder of The Make Money Online Blog and is on a mission to help as many people as possible kiss their bosses goodbye.
Get his free Affiliate Marketing Guide For Newbies to learn exactly how to build a real income online and make your dream business a reality.