Hi, I'm IG, and welcome to my review of Commission Pages.
If you're new here and not familiar with Glynn Kosky yet, right off the bat I'll tell you this is my 9th review of the same system he recycles almost every month. (some of them we're even launched in the same month)
Before Commission Pages, this system was named:
Crazy, right? I even think there's more versions of these!
In this review, I'll tell you what Commission Pages is and what you'll see inside the members' area, so you'll see how outrageously similar it is to the systems I've put on the list.
I'll also tell you why I don't like it and won't recommend it to you then finish off by telling you about a make money online opportunity that'll keep your mind off Commission Pages.
Commission Pages Review At A Glance
About: Commission Pages is a recycled funnel-builder promising $525 in daily income.
Price: The front-end is just $17 but 7 upsells total $339.
Pros: Nothing. 9 times over, there are no pros.
Cons: It's a recycled system from flopped versions with produces shabby funnels that will never get anyone to convert.
Verdict: Commission Pages joins our "must-reject" list. You won't get anything good out of it. Not even a good traffic solution.

Glynn Thinks We're Too Dumb Not To Notice Commission Pages Is Repurposed
Commission Pages is Glynn Kosky's November 2020 version of his recycled system. This system supposedly provides you with done-for-you marketing funnels so you can earn $525 every day.
If you've read my other reviews on his products, you can safely say this is the same program again and again…
And again…
And again…
And again…
And I won't bore you by emphasizing this 9 times, I know you get my point.
But there are some things I haven't mentioned in previous reviews that you should know about so this is still a worthy read.
If there are things that change with each rehash, it's undoubtedly just the logo, the color scheme, and sometimes the product offers bundled in each pre-made campaign.
The Obviously Phony Hype On The Sales Page
Almost immediately after seeing the words "brand new done-for-you system" in bold letters, I'm no longer questioning whether there's truth to it or it's just hype. I automatically scan for facts to prove it's a sham.
Claiming to be brand new is one of it.
Another selling point they try to convince you is that by using Commission Pages, you're supposedly able to live the laptop lifestyle.
Great to think about, but completely different in reality.
Well, you can live the laptop lifestyle, but in a penniless kind of way.
Here's something sunny I've read on Commission Pages' sales page:
Glynn says you can say goodbye to nonsense in the next 2 minutes.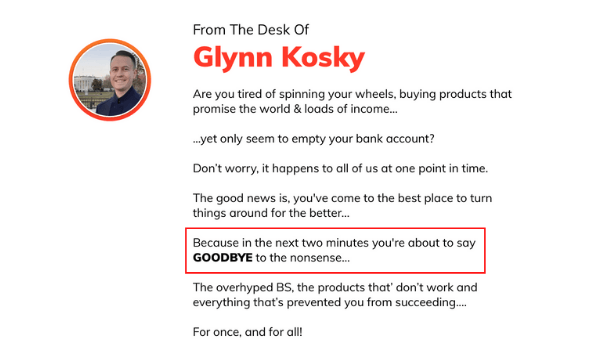 Is he subtly anticipating you'll leave this rubbish sales page soon?
Other hyped-up promises you'll see in the bullet list are practically the same ones you'll see in every rehashed version of these products.
1. It says it's beginner-friendly but doesn't cover the basic things you should learn about affiliate marketing.
2. Glynn claims the free traffic works in 60 seconds, no it doesn't. No legit sustainable online business has a traffic solution that can deliver that fast.
3. He says there's no email list required, but the very first page they provide you is about gathering email addresses to do email marketing with.
4. He says you won't need a website, but you actually do because 2 of his recommended plugins require you to have a WordPress website.
5. He takes pride in the 180 days moneyback guarantee which he doesn't grant by coming up with ways to offer you other stuff until you get tired from requesting a refund.
The hypes' goal is not to tell you facts about Commission Pages, but to get you engaged so he can lure you to buying the front-end which is one step closer to enticing you to pay up for the upsells.
One last thing, he has a testimonial of Jason Fulton, an infamous affiliate marketer vouching about how effective Commissions Pages is.
Jason also has a bad reputation for being a serial launcher of shabby products like Kash Kow so having him back up Glynn isn't something that'll make him credible.
Commission Pages' Predictable Members' Area
Each paying member of Commission Pages gets the funnel-building software, a "step-by-step training", and free traffic sources.
I'll talk about each of these in detail, so you say how lousy the package is.
Let's start off with the software.
Commission Pages Software
A lot of affiliate marketers, especially those focusing on WarriorPlus and JVZoo start off by promoting other people's products and eventually making their own, so they get the full commission.
Sadly, many of them, just like Glynn, when they start making their own products, they tend to repurpose digital products they make. They give it a fresh lick of paint to make it look new, but deep down it's just the same one.
Glynn is just overdoing doing it.
Commission Pages' function and members' area look exactly the same with Passive Profit Funnels and every system before it.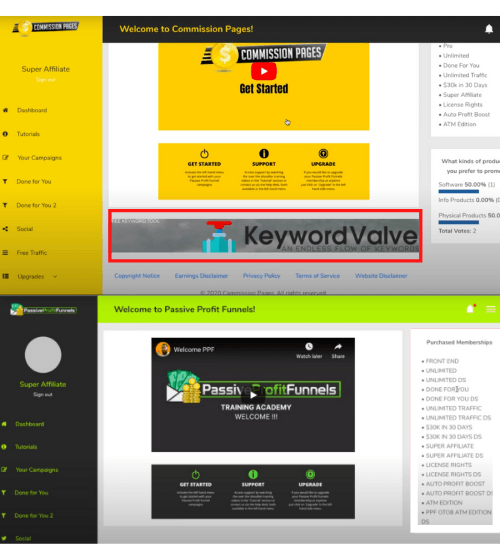 Lately he added a random ad banner at the bottom of the sales page. I guess the income is going low from rehashing systems so he's tapping to other sources of income, in this case ads.
Inside, there are done-for-you campaigns you can use. These campaigns' built-in offers are just the older versions of this system.
Basically, you'll just be paying Glynn to help him promote old versions of this same product.
Sad but true.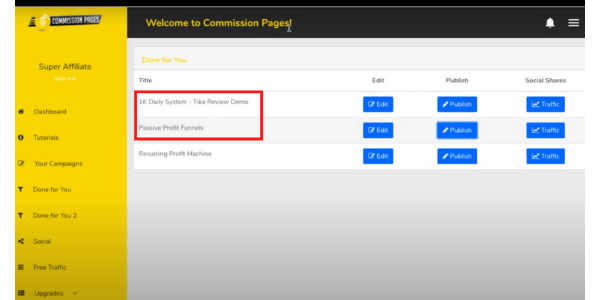 You'll see 1K Daily System and Passive Profit Funnels. If you check on my reviews on these 2, aside from proving it's a clone of Commission Pages, you'll see dumbfounding reasons why they're too shabby to generate income for you.
Anyway, each of the pre-made campaigns come with:
A Squeeze Page – to collect people's email runs into his claim of not needing an email list
An Affiliate Page- the idea is to give them 12 Point Checklist, some PLRs for free either one of Passive Profit Funnels or Passive Income System. (He labels one as a popular choice while the other as a fast-track choice to make it look like you're up for something great)
A Lead Magnet Page- a page where you're offered the same freebie from the Affiliate Page. I really don't get the purpose of this page.
A Download Page- well, self-explanatory. You can now download the free stuff here.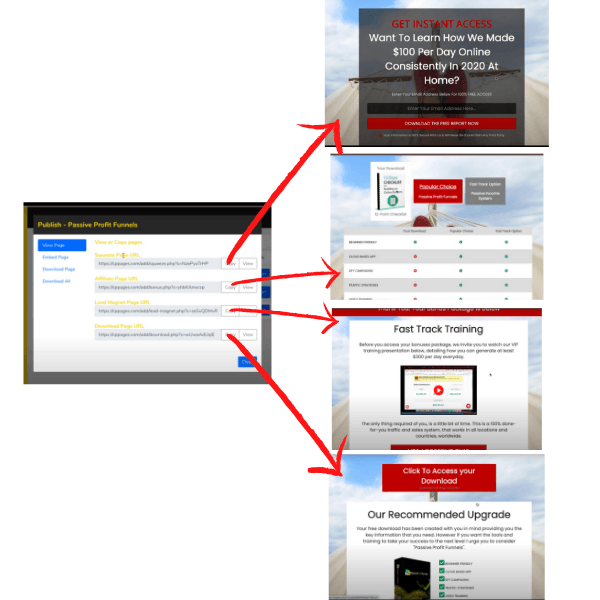 Glynn made the funnel into a 4-step process to supposedly capture users each step of the way. A good marketing strategy of you as me. But the execution is an utterly different story.
If they offered high-quality products (one that's not rehashed over and over), they might just get more people to convert at any stage.
Glynn says you don't need to worry about buying a domain and hosting because Commission Pages host your funnels.
The problem is, in this setting, you'll have little control on what you can tweak on the pages and absolutely no control on its maintenance and when Glynn decides to shut it down for good.
It's way better to have your own website, domain, and hosting. It comes with a little cost but it's way more sustainable rather than relying on free hosting that comes with the software.
Commission Pages Training
Glynn says you'll get a step-by-step training.
NOT.
The videos are just guiding you on how to set up your campaigns. It doesn't include in-depth training on how the business really works.
The truth is, completely relying on Commission Pages it does everything for you will mean you'll be left hanging when it shuts down.
You don't have takeaway lessons you can apply to start building your own business. Simply, you'll be left with nothing.
This is why in-depth training like what Wealthy Affiliate offers is a must-take for every beginner. You learn the ropes of the business so you can start and maintain your own, way lesser risk than when you rely on done-for-you stuff.
Commission Pages Traffic Solutions
How do you get people to see your campaigns?
Getting traffic is 80% to 90% of the work when making money online, it's a do-or-die factor for your business.
Commission Pages mainly teaches you to share your funnel links on social media.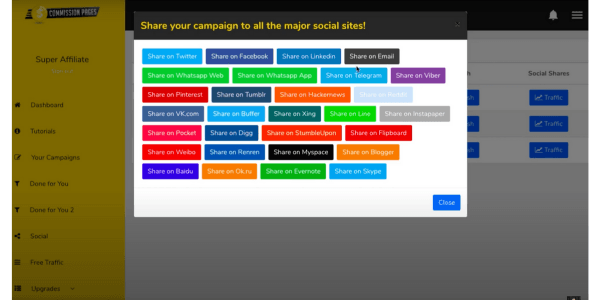 It won't do you any good if you don't have an established following. If you only have friends and family on your list, you'll have lesser chances of those links actually getting clicks.
Even when someone does click on it, the moment they realize this is as shabby as it can get, just imagine how they'll think of you.
Will they still trust what you share?
Absolutely not because you've built a reputation for promoting bad products.
With social media as a traffic source, most likely nobody will come along so you'll just be spending on a software and never making anything back.
Other than social networks, he also offers you Affiliate Traffic Lab, a traffic product Glynn also owns.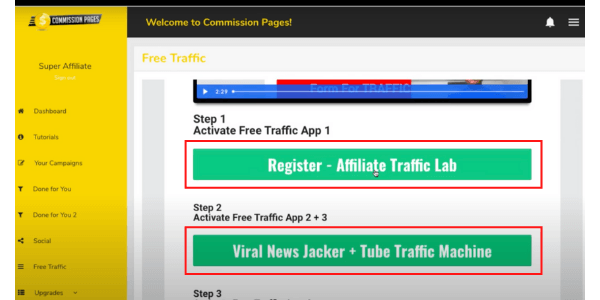 Essentially, it's lousy video-based traffic solution.
There's also Viral News Jacker and Tube Traffic Machine. Both are plugins and so this is why I earlier said you'll actually need a website. You can only use this if you have a WordPress website.
Is anything working so far?
Not a speck!
I Don't Recommend Commission Pages Because You Won't Make Money With It
Using Commission Pages, you'll only get:
Unrealistic claims
An old rehashed system
Low-quality done-for-you funnels
Cloud-based software you have no control over
Useless training
Traffic solution which are actually are actually problematic in themselves
Is Commission Pages A Scam?
Yes, Commission Pages is an absolute scam. Claiming this is a brand new software makes Glynn an outright liar. He promises staggering income claims but all you get is low-quality funnels, training, and traffic that won't convert or generate an income for anyone buying it.
What Do You Do Now?
If you're a beginner, jumping the learning phase to get to the earning pages is never going to work. It's a completely problematic mentality.
Relying on done-for-you software basically means you're cutting corners and not really getting the training you deserve.
If your goal is to start making money with affiliate marketing, the best way to get started is to take your time to know how it works through and through.
This way you'll know what you're doing, and you'll have total control over your business' growth.
A great place to learn all there is in Wealthy Affiliate. You get the in-depth training you deserve on how to start and eventually scale your business.
If you want a risk-free way to test the waters, you can take the 1st 10 lessons for free.
Interested in giving Wealthy Affiliate a shot? Check out this tell-all Wealthy Affiliate review to know all the benefits of taking this training.
What's Your Take?
Are you convinced Commission Pages is just a system with a fresh lick of paint?
Were you disappointed to know it's too lousy to generate commissions for you?
Tell us what you think in the comments below.
Simon Crowe is on a mission to help as many people as possible kiss their bosses goodbye.
Take the free Commission Academy course to discover how to smash your online income goals and make your dream business a reality.