Hi, and welcome to my Success System Revealed review where we're going to answer the question:
Is the Success System Revealed a scam or a real way to generate an income online?
I'm always looking for new online income streams and I enjoy weeding out the real income earners from the scammy money takers. I write this review giving my honest opinion only and I'm not associated with Success System Revealed in any way.
That being said, let's find out what's going on with this site.
Success System Revealed Review At A Glance
About: Success System Revealed is now a defunct company. Go to their website and you'll be directed to an MLM company directory called Be The Boss Network.
Price: Be The Boss is free to join but depending on the MLM you'll be shelling out anywhere from $25 to $500 just to get started.
Pros: None.
Cons: Collects your data to send to MLM companies, low success rates, complicated compensation plans and a strong emphasis on recruitment.
Verdict: This is not something worthy of your time; it's just an MLM aggregate site that gets your inbox pummelled with spam.  

The reason there's a 'Be The Boss Network' logo up there is that when you head over to the Success System Revealed website you're immediately redirected to BeTheBossNetwork.com – an MLM directory.
By asking you to register they get access to your personal contact information which they will sell on for a fee. (They even say so in their privacy policy!)
The website creators are the only ones making any money here and for that reason, I can not recommend Success System Revealed as a viable work from home option.
What Is Success System Revealed?
Success System Revealed used to be an MLM company until they closed down. Now go to SuccessSystemRevealed.com and it automatically redirects you to BeTheBossNetwork.com. (This may change in the future as I'm sure it does often!)
Be The Boss Network is a multi-level marketing (MLM) company directory giving information about the countless number of network marketing companies out there like Isagenix and World Wide Group.
Express your interest in becoming a distributor and someone will contact you to sign you up and get you started.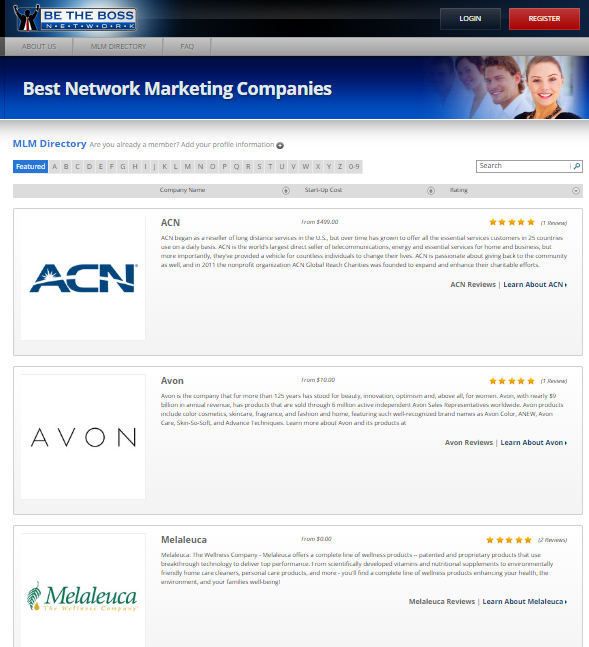 Click on any MLM company you're asked to register an free account to view more details. You'll need to give them your email, phone number and zip code.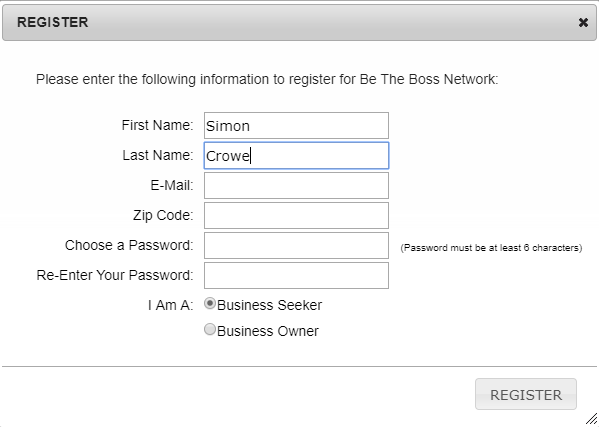 As well as MLM companies, you'll also see paid survey sites being recommended across the bottom of their homepage.


These survey sites are ones I've reviewed in the past:
It's pretty simple really. If you're looking to join a direct selling type business then Success System Revealed (or should I say Be The Boss Network) is a good site to get a breakdown of what the different companies offer in terms of products, commissions and overall business opportunity.
How Success System Revealed Really Works
The owner of Success System Revealed and their partner sites will get paid a commission every time you sign up to any company through their site.
It's basically a site designed to collect your contact details so they can follow up with various work from home programs. So be prepared, if you do give them your information you could be hit with a lot of calls and emails.
The people Success System Revealed will make money selling your information to third party companies. Something to think about before registering!
Check out what it says on their privacy policy page: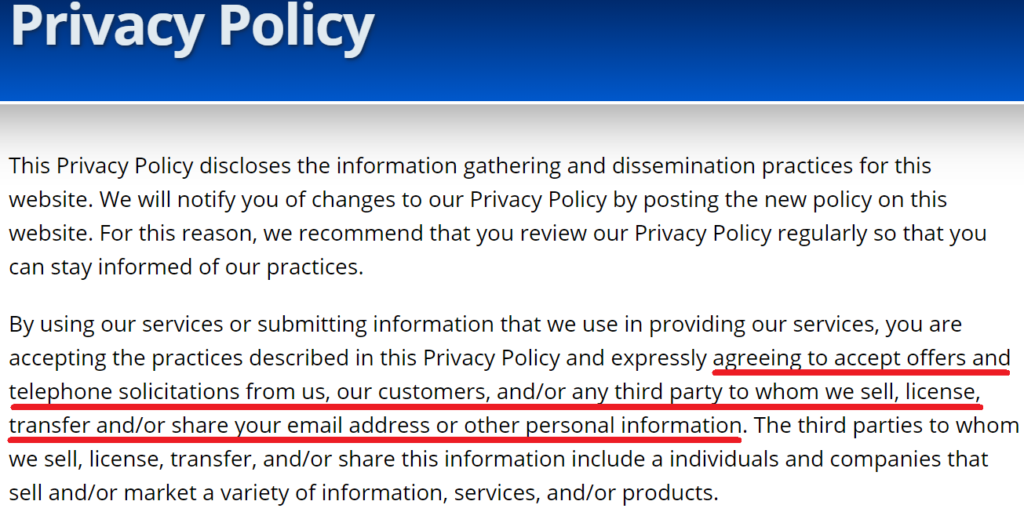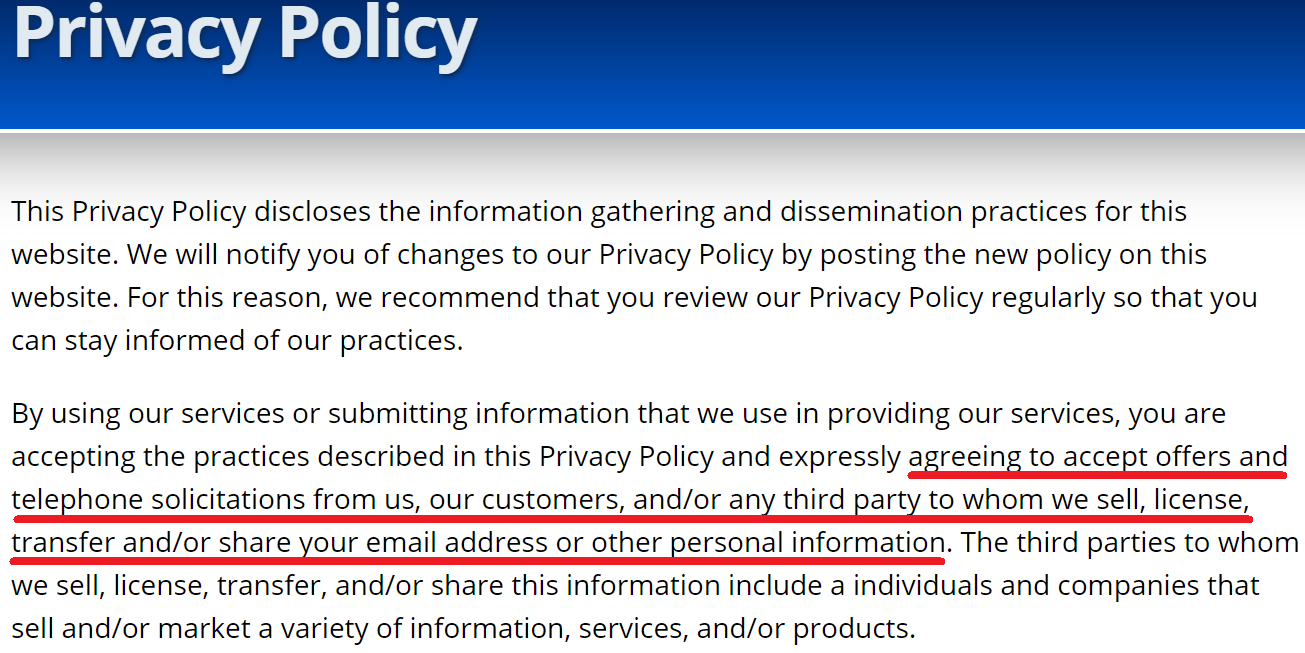 Another way the website owners make money off of you is when you click on any of the survey site links at the bottom of the homepage.
So yeah, really Success System Revealed is a real income generator for the site owners, but what about you? How can you make money?
Let's first deal with the survey sites because that's a lot easier and then we can talk about MLMs in general.
Survey Sites
When people first start looking for ways to earn a bit of extra cash online they almost always go to survey sites like Swagbucks or Survey Squad because they think it'll be an easy way to click around a few times and make a few dollars while they're watching TV.
In truth, it's very time-consuming and mentally intensive as they ask you about every detail of your life like how much you pay for home insurance or on grocery shopping each week. Not to mention you're giving away your personal information.
In the end, it's very rare for survey takers to earn more than $0.50-$0.75 so it's really not worth your time.
Can You Make Money With Network Marketing?
Be The Boss Network is the biggest MLM directory I've ever seen, they've got pretty much every MLM out there on their site.
But is network a good way to go to start your own business? Personally I don't think so.
Can you make money as a network marketer?
Yes you can but I wouldn't recommend it unless you enjoy face to face selling and recruitment. It's most definitely not as easy the person trying to recruit you is telling you.
According to John M. Taylor PhD the vast majority of people lose money with multi-level marketing. He says,
"The loss rate for all these MLMs ranged from 99.05% to 99.99%, with an average of 99.71% of participants losing money in an MLM.
On average, one in 545 is likely to have profited after subtracting expenses and 997 out of 1,000 individuals involved with an MLM lose money (not including time invested)."
The truth is making money as a network marketer is extremely difficult and very few ever make a success of it.
If network marketing is definitely the road you want to go down then here's a list of MLM and network marketing companies I've reviewed so far here on the blog:
Why 99.71% Of People Lose Money With MLMs
1. High Upfront Fees
MLM companies vary widely on how much they charge for a starter pack and application fees. You could be paying out anywhere between $25 to $500 before you even start.
Almost all have a minimum sales quota you'll need to meet to qualify for a commission payout too giving you yet another hurdle to jump over before you start earning money.
2. Limited Product Range (And Usually Way Overpriced)
My guess is 90% of all MLMs are based around the healthy drink industry. But whether it's Avon or Amway you're only able to make money selling the limited amount of products they have available in their catalogue.
And because they have to have enough margin to pay distributors a commission almost always these products are way overpriced, costing considerably more than what you'd pay at your local supermarket.
The vast majority of people go 'all in' and buy a lot of product when they're starting out with dreams of huge commission checks only to find the products just don't sell so they sit in the storage room going nowhere.
Which is why stories like these are all too common:
"Eventually, after months of battling to try & get orders from my locality, I decided to quit. I tried selling my stock at a discounted rate to other sellers, including my manager, but all said they didn't need it.
So, wanting rid, I put the whole lot on eBay. It must've been worth several hundreds of pounds, and I got about £30 back."
Check sites like eBay for example, you'll see people trying to flog their old MLM stock at a discount resorting to desperate measures to at least scrape some of their money back.
3. Strong Emphasis On Recruiting
In 2017, Herbalife was ordered to pay $200 million and restructure it's commission structure by the Federal Trade Commission because they were deemed to be operating as a pyramid scheme.
There's a very fine line between a legitimate network marketing company and a network marketing company disguising itself as a pyramid scheme, namely when the focus of making money shifts from selling products to recruiting into your downline.
The reality is most of these MLM companies make money from new recruits buying the starter packs and purchasing the minimum required product just to be eligible for commissions.
4. Complicated Compensation Plans
Most MLMs I've reviewed have incredibly complex commission structures with different criteria for each level within the scheme, minimum required orders and number of people in your downline.

The worst kind of commission structure is the binary leg structure where you have two legs, often known as a 'power leg' and weaker leg because you have to always balance both legs making it harder to qualify for payment.
5. You Need To Do A Lot Of Face To Face Selling
I'm not saying you can't make money with network marketing but please understand it is extremely difficult for some of the reasons I've just outlined.
To have any chance of making any money at all you're going to have to get yourself out there and be aggressive. If you're a natural salesperson and have the necessary people skills then you could do very well.
If you're an introvert like me, then this is definitely not the business for you.
Is Success System Revealed A Scam?
It's hard to say Success System Revealed is a scam because all they do is redirect you to the Be The Boss Network MLM directory.
Be The Boss Network is a free-to-join MLM business matching service for opportunity seekers but you do need to be aware that they are going to sell your personal information.
Some MLMs are better than others – it all comes down to the quality and price of the products and how they organise their commission structure so it's well worth doing your research.
The problem I have with network marketing in general is the high failure rates, with only 1-3% of the people at the top ever making a profit.
Though I've tried (and failed) with one of the biggest MLM's in the past, I would never even consider getting involved with one now. Honestly, I think it's a really old and inefficient way of doing business.
People don't buy from catalogues anymore, they just go online which is why I now make $7,000 a month with affiliate marketing and I've never looked back.
Why Affiliate Marketing Beats Network Marketing Hands Down
If network marketing is the 20th century way of doing business then affiliate marketing is definitely the 21st century way.
Here's a simple 4 step process on how affiliate marketing works:


As you can see, you make all your sales through your website so there's no need for any direct selling.
Yes it takes time and effort to get your first successful affiliate website up and running but the earning potential is far greater.
Firstly, you can make money promoting absolutely anything you can think of. You're not limited to a tiny and expensive product range. Also, you don't have to buy products or pay a joining fee before you can start selling and earning commissions.
Secondly, your website is open for business 24 hours a day, 7 days a week and to be global audience so yes, you really can earn money in your sleep. (Cheesy but true!)
Thirdly, I never need to chase down sales or recruits. By having my website rank at the top of Google – people come looking for me. I never need an advertising budget. (The fact you're reading this now proves it!)
Fourthly, with affiliate marketing you put the work in once and get paid for your time again and again. I still make about $400 a month through a post I wrote 3 years ago and haven't touched since.
Now that's pretty cool, right? : )
The best part is you can take the exact step-by-step training I did and start earning money from home without ever needing to open up your wallet. The beginner's training course is 100% free.
Simon Crowe is on a mission to help as many people as possible kiss their bosses goodbye.
Take the free Commission Academy course to discover how to smash your online income goals and make your dream business a reality.