Total Life Changes review 2017
Owners: Jack Fallon
Founded: 1999
Website: TotalLifeChanges.com
Price: Min. $40 monthly purchase
Overall Rank: Meh – it's another MLM.
Quick Total Life Changes overview
Is someone you know trying to sign you up as a TLC rep? Then keep reading…
Total Life Changes is about helping people live healthier lifestyles and giving ordinary people the chance to build their own business.
Sounds perfect!
But before you dive in and start devoting your time and energy to this, it's a good idea to dig a little deeper and know exactly what you're getting yourself into.
In this review I'll be looking at the pros and cons of being a representative with Total Life Changes and talk about why so many people have labelled them a scam.
And just so you know, I'm not affiliate with TLC in any way and this review is based purely on my own opinions of the business as a whole as an outsider looking in.
What we'll cover in this Total Life Changes review:
What is Total Life Changes about?
The products
The business opportunity
Is Total Life Changes a pyramid scheme?
Is Total Life Changes a scam?
Should you become a Total Life Changes representative?
What is Total Life Changes about?
Total Life Changes was founded by Jack Fallon 1999 under the name SeAcai but was rebranded and relaunched as TLC in 2012.
Today they operate in 140+ countries including the UK, US, Canada, India and the Philippines.
The ethos behind Total Life Changes is about helping people live healthier lifestyles through organic skincare, natural energy drinks and weight loss supplements.
Their bestseller is the Iosa Tea range designed to help flush harmful toxins from the upper and lower intestines and keep you regular.
According to DirectSellingNews.com they made over $154 million in sales in 2016 and Total Life Changes were even ranked #100 in DSN's 7th Global 100 awards for being one of the top revenue-generating direct selling networks.
So let's talk about the product first and then we'll get onto the actual business opportunity.
Total Life Changes Products
For people looking to live healthier lifestyles through a healthier diet and health supplements, Total Life Changes profucts are a big hit.
Whether it's the organic fat busting gourmet coffee and smoothies or wrinkle removing creams made from natural extracts, everything is all about wellness and well-being.
As with all direct selling companies, quality comes at a premium and TLC products are not cheap.
(You're talking $49.95 for a week's supply of tea.)
That being said, the Total Life Changes range looks absolutely stunning and I can see why they're popular. Their designs team is obviously good at presenting and marketing products for sure and the website looks beautiful.
Now let's take a look at Total Life Changes most popular products; this isn't an exhaustive list but just to give a quick rundown for those of you deciding whether or not to become a Total Life Changes representative.
Skincare range
Iaso Oil
Emu oil provides that helps with muscle and join pain and reduces inflammation and stiffness.
Iaso Night Repair
You apply it before you sleep and it helps reduce wrinkles.
Essential soaps
A soap bar made from a premium blend of oils and shea butter designed to leave the skin feeling moisturised and healthy.
Health and wellness range
Delgada Coffee
An instant coffee mixed with Siberian Chaga mushrooms which suppresses appetite and helps you lose weight.
Iaso Cafe Latin Style
A premium gourmet coffee with a great nutty and caramel taste. Also mixed with Chaga mushrooms.
Iosa Tea
Continuing the weight loss theme, Iosa tea contains oranic extracts known for their anti-inflammatory and antioxidant qualities. It also includes soluble fiber which detoxes your body and helps with weight loss.
Nutra Burst
A citrus-flavored liquid multivitamin enhanced with CoQ10
NRG
A natural alternative to sugary, cafeine-filled energy drinks, apparantely this gives you that boost of energy without the sugar crashes.
Here's a video giving details on the Total Life Changes product line:
Common Total Life Changes complaints
While I recognise all companies are bound to have some complaints against them, on sites like the Better Business Bureau and the Total Life Changes Facebook page you can find a lot of people having issues around the same recurring themes.
1. Expensive products
I've already touched on this first one; though I think the product is good, it is overpriced. Supplement Police call the Iosa tea the most expensive tea you'll ever buy.
Total Life Changes have 8 distributions centers worldwide so this should help keep production and shipping costs down, but every direct-sales company has to allow enough profit to pay their reps 50% commissions which can keep costs high.
2. Late or non-existent delivery
While it's obvious most people get their orders on time, another very common complaint from some people is waiting too long.
We'll go on to talk about the Total Life Changes opportunity next but as a rep, these are the customer service issues you're going to have be dealing with, especially when you've personally recommended these products to people…
3. Unable to get refund
All Total Life Changes products come with a 30-day refund policy which you can request by sending an email to info@totallifechanges.com, but there's a catch…
Here's what is says in their refund policy:
[alert-note]
If a purchase is refunded for any reason, it is understood that the purchaser was not satisfied with the product or service and we may permanently refuse any future sales to that purchaser. If the purchase is refunded due to a duplicate transaction or similar, the refusal of future purchases may be null and void at our discretion.
[/alert-note]
I've never seen a company have a refund policy like this before…
Get a damaged product?
Not exactly what you ordered?
Be careful, because if you return it you may never be able to order from them again! Sounds a bit threatening to me and I don't think they'll be receiving any customer service awards for this any time soon.
The Total Life Changes business opportunity
So the product is excellent, though a little bit pricey. If you become a Total Life changes representative you might struggle a little to sell in high volumes but once you get an initial order and people are happy with the product, ou should get repeat orders.
So now let's talking about what I really like to talk about – making money! 😀
Is it possible to replace your full-time income with Total Life Changes?
Like any multi-level-marketing scheme, there's levels you qualify based on your sales and team. As a TLC rep your main priorities will be selling product and recruiting team members into your downline.
You can view the Total Life Changes compensation plan here (PDF).
In a nutshell, there are 5 ways you can earn commissions:
1. Retail Commissions – 50% for every product you sell directly
2. Fast Start Bonus – Earn 50% of commissions generated by your new team members (not sure how long this is valid for)
3. Binary Pay – TLC follow the binary leg model so you have power leg and a pay leg. The Binary Pay reward system means you can earn between 10-25% of your pay leg, limited to $20,000 per week.
4. Matching Bonus – This is basically where you can receive 10-50% of commissions someone you directly sponsor in your downline generates.
5. Lifestyle Bonus – When you get to National Marketing Director level or higher, you're eligible for up to $1,500 per month to help cover some of the costs associate with growing your business like transport costs, team development, home party supplies and so on.
The thing I like about TLC is there's not joining fee to get started and there's a low $40 minimum monthly order required to keep your account active and the 50% commission for personal sales is good.
Here's a step-by-step walkthrough of the compensation plan:
If you've got any questions, be sure to leave them in the comments below
Personally I would never get involved with a company like this. Honestly I just don't like the business model, but if I was I'd start with the goal becoming a Director.
This means you'd be earning around $1,000 per month and getting close to quitting your 9-5 job. Here's a video explaining how you do it:
Is Total Life Changes a pyramid scheme?
Here's the deal:
If someone can't explain the commission structure to you without drawing a pyramid, then it's a pyramid scheme.
But because I know how loyal and protective TLC reps can be, let me just say that Total Life Changes isn't a pyramid scheme but a triangle-shaped, branching tree sort of thing with a few people at the top and lots of people at the bottom! 🙂
In all seriousness though, Total Life Changes is a product-based pyramid scheme which can also be referred to as a multi-level marketing scheme (MLM), a netword marketing or direct-sales company.
There are tons of them out there like Amway, Herbalife, Younique and World Ventures to name a few.
[alert-note]Multi-Level Marketing (MLM) is "a marketing strategy in which the sales force is compensated not only for sales they generate, but also for the sales of the other salespeople that they recruit. This recruited sales force is referred to as the participant's "downline", and can provide multiple levels of compensation."[/alert-note]
Total Life Changes is not an illegal pyramid scheme because they give commission incentives for selling product as well as recruiting others. But I can assure you, you'll need to (and be strongly encouraged to) sign other independent business owners (IBOs) under you to be able to reach Director status.
Total Life Changes follows the Binary leg model
With MLMs you have the unilevel model or the binary model with pros and cons to both.
Just my opinion but unilivel is better than binary because from my own experience with binary legs – you're always going to be struggling to keep them balanced.
Say for example you earned $50,000 on your power leg but only $50 on your  pay leg, you're only going to get $5.
Naturally you're always going to find that one leg will grow quicker than the other and this is where binary model – though sounds great at first – actually cutst your potential earnings in half and residual income in half.
You'll find yourself spending a lot of time trying to balance your two legs out and playing catch up with yourself.
This doesn't mean you can't make money with this or you can't be successful, but I think this system makes it more difficult.
Is Total Life Changes a scam?
I must admit, when I first started looking into company I became a little suspicious when I heard they were originally known as SeAcai when they were founded in 1999 but then rebranded themselves as TLC in 2011.
I don't particularly like pyramid schemes or MLMs but just because Total Life Changes is an MLM doesn't automatically means it's a scam.
But is this a legit opportunity you can actually make money from?
They have a great product range and it is possible for you to make a bit of extra money just by selling products alone without every recruiting others under you.
But it's not easy.
In fact, the odds are against you with this type of business model – network marketing has a 98% failure rate.
Now this could be down to reps selling the opportunity through hype without setting realistic expectations or due to the fact that this business involves a lot of selling and most people just aren't cut out for that.
Unfortunately, though TLC have been around since 1999, they're unable (or unwilling) to release any figures that show average earnings that real people typically earn at each level so it really is a shot in the dark as to how much you can actually earn with this.
What I like:
The health niche is a $60 billion niche and growing
The product range looks fantastic
What I don't like:
You're going to have to sell to your family and friends to make money
Little in the way of training, just hope you get a good upline
They present the opportunity without setting realistic expectation about the real amount of work involved
The binary leg system means you'll lose commissions for the most active side of your business
They've been around since 1999 but they can't provide information on how much money their reps make
Total Life Changes products have not yet been tested by the Food and Drug Administration.
Should you become a Total Life Changes distributor?
Network marketing is not for everyone.
It requires a skill-set most people don't have, like face-to-face selling, team building, coaching and recruiting.
As soon as you become a Total Life Changes rep you automatically become a salesperson. If you're not comfortable with that then you might want to avoid working for TLC.
But maybe you're a really outgoing people person who loves to meet new people, inspire them and help develop them into business owners? Network marketing could be right down your street.
Ultimately the decision to join or not is yours.
What if I told you there was a way to build a business without harassing your family and friends?
I don't like direct sales, I'm not a salesman – I tried it in the past and I didn't like it.
I hate the idea of having to sell expensive products to my family and friends and I definitely don't want to be 'that guy' people cross over the road to avoid.
This is why I started my own business online. I prefer to put in the work once and let my websites do all the selling for me.
Thanks to the internet, my potential customer base is not limited to geographical location and my websites generate sales for me around the clock.
I was introducted to affiliate marketing in 2014 after stumbling across a site called Wealthy Affiliate.
Through the free training courses and the support I received from the helpful and friendly community, it took me only 12 months to replace my income, quit my job and move from the UK to Thailand.
If you'd like to find out more about how I make my money online then feel free to check out my full Wealthy Affiliate review here.
As always, I invite you to share your thoughts and experiences with Total Life Changes in the comments below. Please, if you have questions at all, do get in touch and I'll be more than happy to help you out.
To your success!
Simon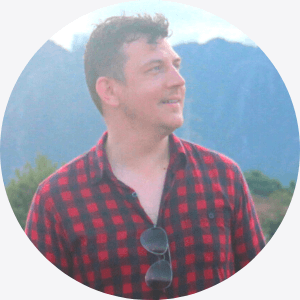 About Simon Crowe
Simon launched The Make Money Online Blog on a mission to help aspiring entrepreneurs kiss their bosses goodbye.
Get his free Affiliate Marketing Guide For Newbies to learn exactly how to make your dream business a reality.