We're on the hunt for the best MLM that will help you earn online!
Nope, not really.
More like we're on the hunt for the best WAY to earn online, but is Isagenix a scam or just another hefty-priced MLM?
That's what you'll know in this review and if you stick around until the end I'm confident you'll find something worth your time and money.
Isagenix Review At A Glance
About: Isagenix is a 19-year old MLM in the health and wellness niche owned by Jim and Kathy Coover. 
Price: $39 for annual membership and $29 for monthly autoshipping.
Pros: It's a legit multi-level marketing company with a long history.
Cons: Offers dangerous peer health advice, received a complaint from a competitor, and products are expensive.
Verdict: Isagenix is a legit MLM but is not sustainable. The products are highly processed and expensive, it's hard to find people who will buy them.

What is Isagenix?
Isagenix was founded back in 2002 by Jim and Kathy Coover and John Anderson. The Coovers have previous experience with MLM while Anderson in the nutrition industry. There's no need to guess why they decided to do a health and wellness MLM right?
I must say, the long history is a big plus in choosing what MLM to work with. Most MLMs, especially the scammy ones do not last for more than five years. They just exist long enough for people to start trusting them and when people do, off they go with all the money of people they duped.
How Much Do You Need To Join Isagenix?
Amazingly, it's really cheap. You just have to pay the annual membership fee of $39. If you join autoship, you only pay $29.
But don't get your hopes up yet.
Isagenix Products
Isagenix products are focused on health supplements that support weight control, health supplement for kids, personal care, and beauty products. One of their flagships, the 30-day program claims to be your way to weight loss success.
Because it:
Satisfies cravings for unhealthy food
Cause dieters to "experience consistent weight loss
Tones muscles
Support the body's natural detoxification system
Interesting right?
But get this:
You can avail the program for a jaw-dropping price of $378!
Making money online isn't complicated…
This video will show you exactly how to get started. Tap to watch now »
Still interested?
Here's what the program includes:
Ionix Supreme – claims to speed muscle recovery, normalizes the body's system, and support clarity and focus
Isalean Shakes – meal replacement shake
Cleanse For Life – claims to nourish the body's detoxification system
Natural Accelerator – claims to boost metabolism and burn fat
Isagenix Snacks – chewable milk-based flavored tablets
Hydrate Sticks – electrolyte containing powder
IsaFlush – claims to support a healthy gut
I'm not saying this won't work. I'm saying it doesn't work for everybody.
They claim to partner with research institutions to test their products, well most MLMs with health and wellness supplements do too.
Here's the thing:
There's a reason why the FDA doesn't "certify" or "approve" dietary supplements. Many of these products of these, if not all don't really work as they claim to do.
Other times, psychology is at play. Of course, when you by something for a hefty price, you'd convince yourself it was worth it so you persuade yourself to believe it works even though it really doesn't.
Placebo effect? Yes!
Isagenix Compensation Plan
Here's the full compensation plan if you want to check it out.
But if you're not interested in giving yourself a hard time trying to understand it, I'll make try to make it shorter.
Isagenix works on a binary compensation plan where you can earn if four different ways.
Retail Sales – Distributors earn between 30%-100%, depending on their level
Promotions – Going up a higher level means increasing your income percentage
Bonuses – A bonus is given when a recruit buys a start-up pack and when a team target is hit.
Incentives – This is works like a bonus to pull an all-out effort to reach a quota the shortest time possible. It can be based on new members and sales.
To receive compensation, you also have to have at least 100 PV. If you can't find someone to buy products from you, you have to buy them yourself which will cost you around $150.
If this trend keeps on going, you're going to spend more than you'll ever earn.
Honestly, if defeats the purpose of doing business when you're losing more than gaining. (If you ever did gain in the first place)
Isagenix Dirty Secrets Exposed
1. Not Evaluated By The FDA
This discredits Isagenix products, it's one thing to not be "approved" or "certified" but it's another to not be evaluated.
What assurance can they give consumers that their products are safe to take in?
Here's what's worse:
Part of their disclaimer also admits that weight-loss results are not typical and is not something you should expect.
So what's all the weight-loss hype if it doesn't work at all right?
2. There's No Guarantee You Will Make Money
The income disclaimer also says that distributors should not expect financial success. The website even says that more than 80% of its members only buy the products for personal use, NOT to make money. Only 12% make money from retail sales.

Here's a kicker:
The average amount they earn per year is only $500! I'm better off doing promo clerk work with that money!
So if you're looking for a way to quite your 9-5 job, Isagenix can't help you with that.
3. There's Danger in Peer Health Advice
Because it's an MLM, you'll find members promoting the product to land a sale. Most of these members had no medical or nutritional background so they're not the best people to help with health and wellness. They're just basically doing the sales talk to earn.
4. Products Are Not Real Food
Isagenix largely relies in highly processed products.
A legit weight loss diet involves food like vegetables, fruits, protein, and complex carbohydrates.
5. It Forks You Out Big Time
The cheap membership can be pretty enticing only to find out when you're in that you're tied to buy products that are absurdly expensive!
The $378 weight loss package means forking out $95 per week for something you're not even guaranteed of the results of.
6. Sued By A Competing Business
In 2012, Isagenix faced a complaint about "interfering and destroying a competing diet supplement business.
Dr. Bill Wheeler was hired by Isagenix as a chief science spokesperson despite his contract with Wright's Gold Standard Protein. The latter claims that Isagenix used its power to terminate Wheeler's contract.
7. Sued For Trademark Violation
In 2016, Ella Novlosky sued Isagenix for trademark violations.
8. Bad Reviews For Poor Services
Isagenix has been put in bad light for several complaints about their poor services.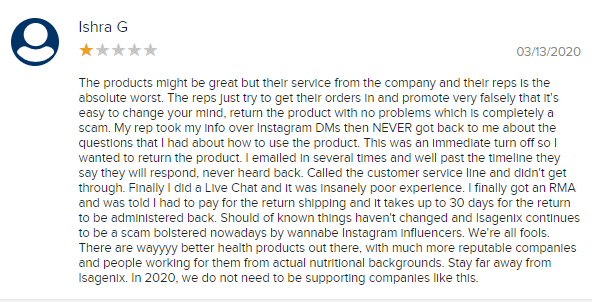 Is Isagenix A Scam?
The good news is even though there were lawsuits and complaints, Isagenix is a legit business.
Knowing that they're legit is completely different from saying that it's a great business to work on. It's proven by time that MLMs have a 99% failure rate.
While a number of people make money from it, all the other people on the bottom of the chain grapple to make a sale hoping to be on the top one day. Sadly, many of them quit knowing it won't get them anywhere.
Isagenix Closing Thoughts
This is not the first MLM reviewed on this website. If you've checked out other MLM reviews similar to Isagenix like Total Life Changes, Xyngular, and Vida Divina you'll realize how low the success rate is with MLMs.
If you have the skills for marketing and face-to-face selling, this might be a good fit for you. But people, in general, do not have that skill.
Just think about it:
You have an office job at a local accounting firm for instance and you're tired of how dragging and exhausting your work is. So a friend recruits you to this business saying this is your ticket to financial freedom.
With what you feel with your job and the overly-hyped promises the recruiter makes, you'll be convinced to give this a try.
So you sign-up and start selling to your friends, family, and workmates only to realize they don't find you credible enough because what you're selling to them is not your expertise.
Not only that, with the hefty prices these products have, but this close network of yours also starts to cross the roads to avoid you.
With no one to buy your products, you're forced to buy them yourself to reach the monthly quota and receive a commission. Months later you realize how absurd you were for spending so much without checking how little you're gaining.
Sounds like something that will never happen to you? Just wait until you go on and sign up. You'll be crying in no time.
If you really want to make money online enough to let you quit your day job you have to get MLMs off your list.
In my opinion, affiliate marketing is much much much better.
Why?
There's no need to recruit
You'll receive the training you need from scratch
You'll have like-minded people ready to help you anytime
When you've established your website, you can earn day and night
You can promote whatever you like. You won't be limited to what you're company offers
Interested in knowing more about affiliate marketing? Check out this link.
If you're ready to get started in reaching your online income goals, click here.
How I Make A Living Online?
After years of working in call centres I finally figured out how to create a 5-figure monthly passive income stream and become financially free.
Thanks to the right training and a lot of hard work I kissed my old boss goodbye and booked a one way ticket to Thailand.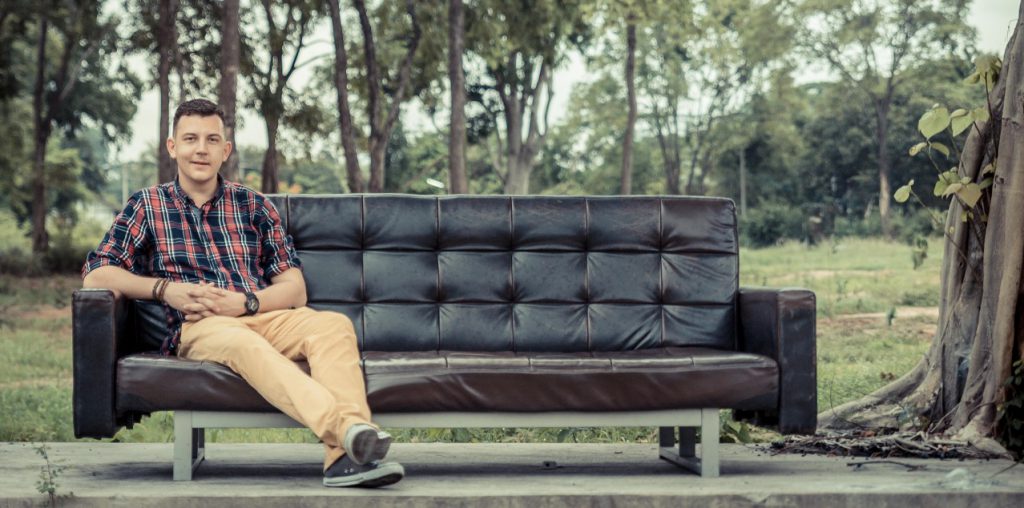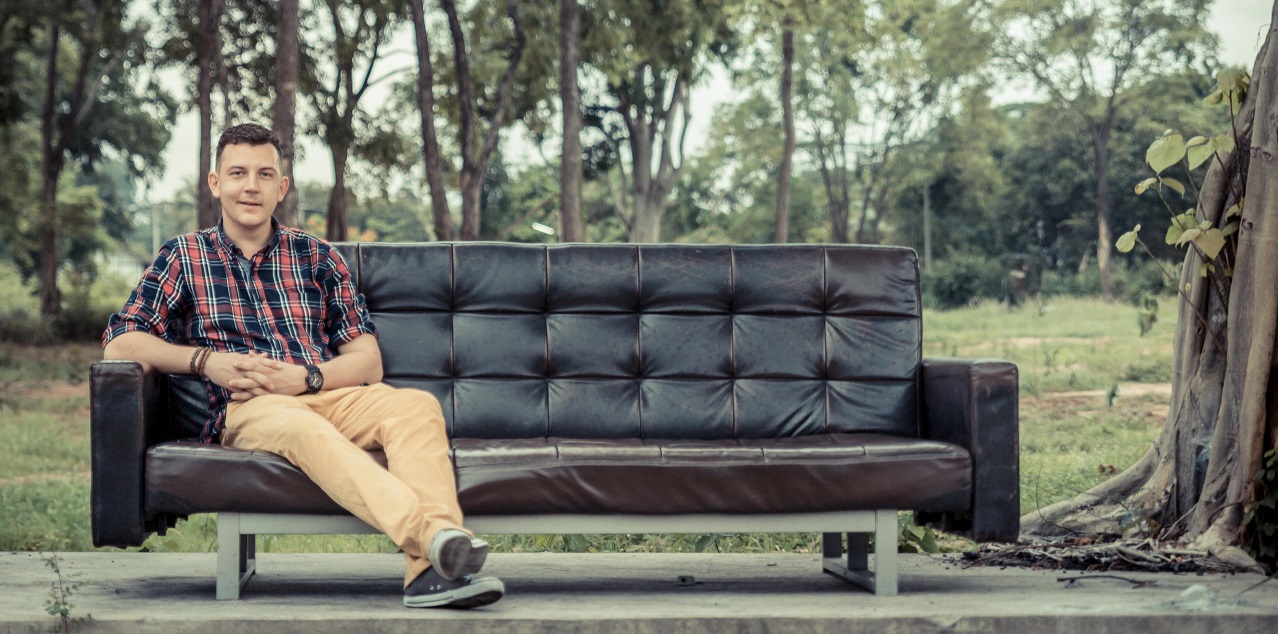 So if you're serious about building a thriving online business, click here for the exact step-by-step formula I follow.
Share Your Thoughts!
Is there something else you'd like to know more? Do you think MLMs are worth trying or is it better to find better alternatives?
Tell us what you thing, drop your thoughts in the comments section below.
Simon Crowe is on a mission to help as many people as possible kiss their bosses goodbye.
Take the free Commission Academy course to discover how to smash your online income goals and make your dream business a reality.