A lot of scammers capitalize on the fame paid surveys are gaining to shake people down. Can you really make money with PointClub, or does it make money from you?
We'll find out whether it's a scam or not in this review.
If you want to make sure you won't end up wasting your time on something that can't really pay you back, you've come to the right place. Today, we're going to talk about what PointClub really is, how it works, if it's a scam, and if you can really make money from it.
PointClub Review At A Glance
About: PointClub is a GPT site where you earn points for taking surveys, answering math questions, and subscribing to email lists. You can convert the points to cash or gift card later.
Price: Free to sign up.
Pros: User-friendly website.
Cons: High minimum threshold requirement and has complaints of not paying users.
Verdict: There's low-income potential with PointClub. There are limited tasks available and you're not guaranteed any payment after finishing tasks. 

What Is PointClub, Exactly?
If you're new to the idea of survey sites, you might be interested in getting to know how it works in general by checking out more sites like PointClub.
Honestly, I didn't see anything special about PointClub, just the same old survey site to me. However, I liked how the website looks and how they inserted a theme to the whole brand.
I actually think this can appeal to the younger generation with all the superhero/mission tone.
Amazing, the website was registered back in 1999 but the PointClub platform was not launched until 2012. It's owned and run by Innovate MR, LLC. They're also working with PeanutLabs for many of their surveys.
Innovate MR, LLC is a market research firm that is said to have around 3,500,000 to date. Judging from these, I think PointClub is somehow legit. I'm not fully convinced yet though, we'll see later on in this review.
A lot of survey sites are only available for those residing in the US. The good thing, PointClub membership is available wherever you are.
Here's the kicker though:
Even though you can join PointClub even if you're outside the US, a lot of their surveys are only available to people living there.
How To Join PointClub
It's really pretty easy. You just have to click on the sign-up button and answer some demographic questions including your email and password. This is a common thing for survey sites so they can find the pair you up with tasks that fit your demographics.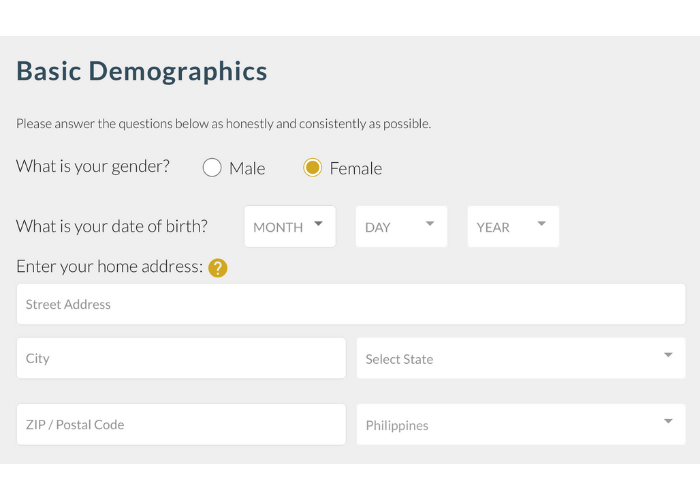 This means, you can't just answer all surveys and do all available tasks, you have to qualify for them in order to earn points.
If you're wary about answering questions like your medical history, family income, and other personal information just know this is a common thing for survey sites to ask.
But a bit of reminder:
Other survey sites are mere fronts for fraudulent schemes. They ask questions like what I mentioned earlier to get the most information our from you so they can use it to open any other online accounts like your bank and take your money.
Others steal your identity to get away with ruthless activities and frame you up. So make sure the website can be trusted before giving out critical information.
Better yet, use unique passwords for each online account you have to be safer.
I'm not trying to scare you. I'm just telling you about dangerous possibilities you can avoid if you're more aware.
Anyway, back to PointClub. After answering demographic questions you'll get at least 3,000 points for:
Email Verification – 1,000 points
Profile Bonus – 1,000 points
Signup Bonus – 1,000 points
Interesting, right? I actually think this is a little perk to get you more enthusiastic about answering surveys.
How Can You Earn From PointClub?
In a nutshell, you can earn points which you'll later on use to exchange for gift cards or cash by doing certain tasks. Here's a list of the things you can do earn points:
1. Completing Surveys
This is the foremost task PointClub offers. You can either log in to your member's area to see available surveys you can take or you can go to your email and check if you've received any notifications for surveys you qualify for.
Survey lengths vary but mostly it takes 5 minutes to half an hour to complete them. You can earn from 500-5,000 points depending on the length of the survey.
If you think each point is equivalent to a dollar, I'm sorry but NO!
1,000 points are just equivalent to $1.
Additionally, the waiting time for the points to reflect in your account takes up to 4 weeks. This is because you'll only be rewarded after the whole survey period closes.
On the bright side, think of it as PointClub teaching you to be patient.
Anyway, you can find the surveys in the offer board. PointClub partners with other platforms like PeanutLabs for surveys. This can mean you'll have to answer the same questions over for each partner platform you'll be redirected to.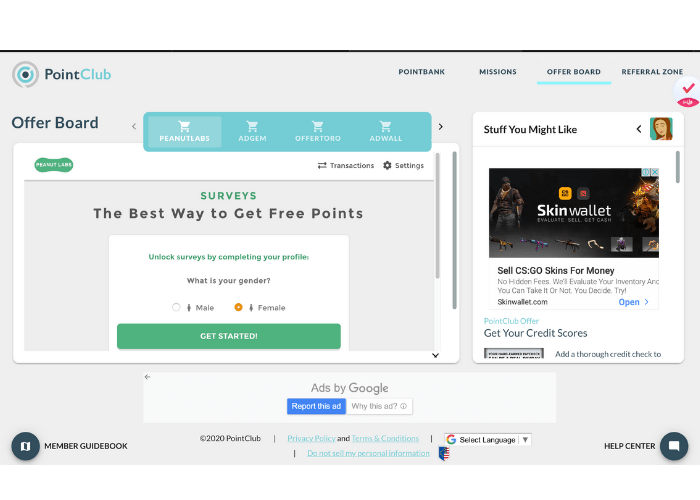 Sometimes you can get screened off in a survey for getting disqualified after further checking of demographics or for getting dismissed because they already reached the maximum number of responses they need.
If this happens, they still give out 12 points for the effort.
2. Media Lab
There's also the part where you can earn points by reviewing content. You'll have to watch videos or ads and rate them in the end. It's easy to do yet it doesn't pay as much as surveys do. You'll only get 30 points for 13 content reviews.
Personally, I think this is a total waste of time unless you have a whole day to spare.
3. Other Tasks
The Offer Board also lists other tasks like answering Math questions or signing up for email subscriptions. The latter part can be annoying though because this means you give them the authority to flood your inbox with pitches you are not even interested in the first place.
4. Referral Program
This is for US members only. You can earn additional referral points by inviting others to sign up and take surveys.
5. Daily Points Giveaway
This is more of a sweepstakes ticket for going to the Facebook page where you can earn 10,000 points. The giveaway is present daily but is limited to members in Austria, Belgium, Canada, Denmark, Finland, Germany, Greece, Italy, Japan, Norway, Sweden, Switzerland, the United Kingdom, and the United States.
6. Daily Streak Bonus
This bonus is a perk to encourage members to sign on the website every day. Consistently logging in will build a streak. The longer the streak, the higher the level which means more points.
The minimum payout requirement is gaining at least 25,000 points which I think is kind of high. 25,000 can only be used to redeem gift cards.
If you prefer cash, you'll have to have at least 50,000 points to cash out. Plus there's a 2% Paypal withdrawal fee to think about.
As for the gift cards, the option include: Walmart, Home Depot, Sephora, Google Play, Amazon, and many more.
Here's my thoughts on the high pay out:
It seems a little dodgy to me judging from the fact that scammers usually require large payouts so members can keep on doing surveys for them for a long time. They'll only realize there's no real payout only after clicking on surveys to the bone for months.
The scammy survey site gets the pay from product owners but they don't pay it forward to test takers so to take advantage of them for a longer time, they require high cash-out thresholds.
I actually found some reviews from bbb.org on members who ended up not getting paid.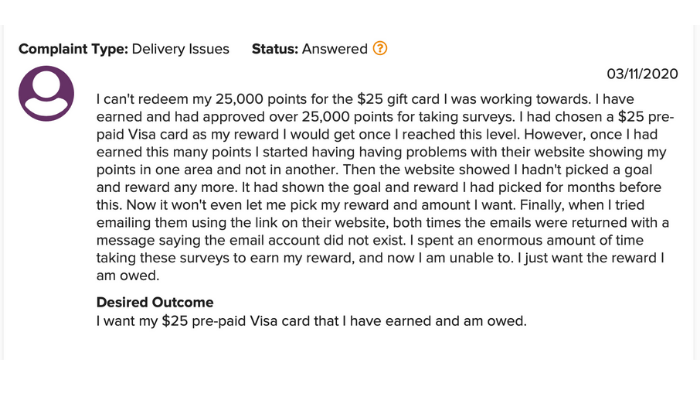 PointClub Pros
Free to join
User-friendly website
PointClub Cons
High minimum threshold
Qualifying for surveys is hard especially when closer to the minimum threshold to cash out
Complaints about not getting paid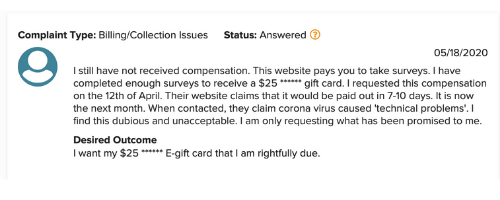 Is PointClub A Scam?
I can't really say for sure. The website owner, Innovate MR, LLC, looks legit but the no cash out complaints say otherwise.
Plus, the website itself says they can disqualify a survey taker if the responses do not match expected results. (Uh, so you have predetermined results? What's the research for?) Looks to me like an excuse for not paying members.
Even if it's legit, I won't be recommending it to you because the points have way too little value. Your hours are worth more than just a few cents.
PointClub Review Closing Thoughts
I personally think survey sites are a thing of the past. Companies now turn to social media like Instagram, Twitter, and even Youtube to know user feedback.
This is why they don't invest much on survey sites anymore, in turn, survey sites can't offer hefty pays for taking surveys.
My point is: survey sites are not an opportunity to quit your full-time job over. At best, they can only offer a few extra dollars.
PointClub is not something that can pay the bills, you'll actually be better off flipping burgers.
Like I said earlier, your time is worth more than just a few cents. A better survey I suggest is Swagbucks.
Rather than waste your time for peanuts, why not use it to start an online business that can generate income month after month. The kind of income you can get even when you're not in front of your gadget or your computer.
One great opportunity to try is affiliate marketing. If you're concerned you don't know how it works. Don't worry, it comes with training that will teach you everything you'll need to know to start making money online.
To know more about the training, you can check out this Wealthy Affiliate review.
The great thing with affiliate marketing is, you'll also get in touch with other affiliate marketers who can help you build your business. The training does cost a little bit, just $49 a month though but with it, you can kick off with achieving your online income goals.
Scared of making a wrong investment? Test the waters out for free first with 10 free lessons. If you think it's a good fit, you can make the little investment that can build you your money-making empire.
How I Make A Living Online?
After years of working in call centres I finally figured out how to create a 5-figure monthly passive income stream and become financially free.
Thanks to the right training and a lot of hard work I kissed my old boss goodbye and booked a one way ticket to Thailand.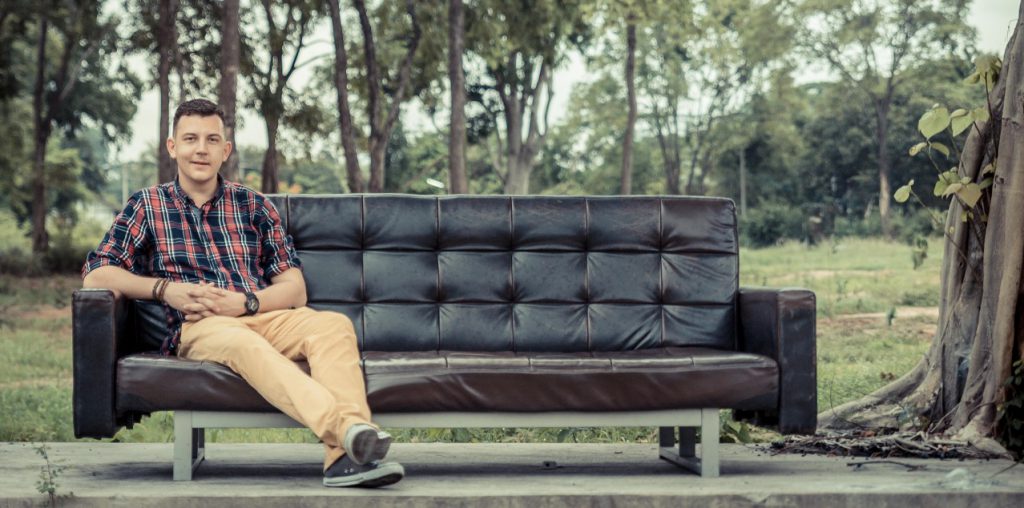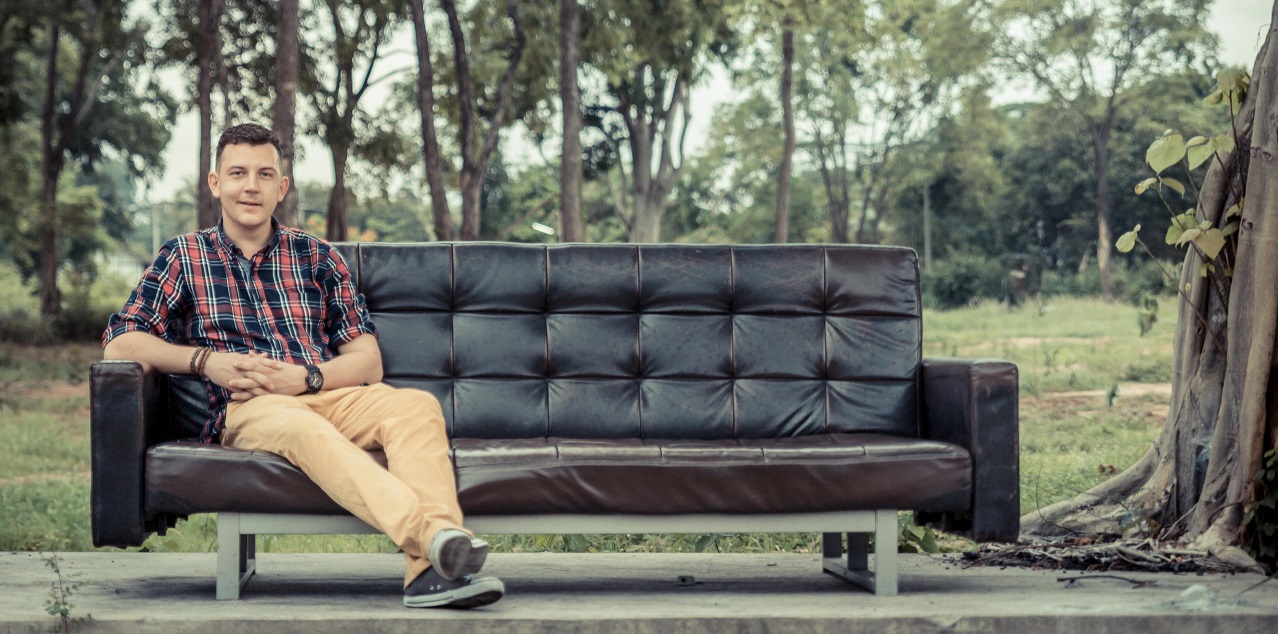 So if you're serious about building a thriving online business, click here for the exact step-by-step formula I follow.
Questions? Violent Reactions?
Do you fancy survey sites, what do you like most about them? Do you think your time is better spent with something else though? Share with us what you think in the comments section below.
Simon Crowe is on a mission to help as many people as possible kiss their bosses goodbye.
Take the free Commission Academy course to discover how to smash your online income goals and make your dream business a reality.