SquishyCash is a get-paid-to (GPT) site that gives you a few ways of building up your balance and cashing out.
I'm all about finding quality side hustles but is SquishyCash a scam or a legit moneymaker?
I'll be honest, usually, reward sites like this, OfferNation and Cash For Apps end up in the "not worth it" category because of the tiny amount of money they payout.
Will SquishyCash do any better?
Let's find out!
SquishyCash Review At A Glance
About: Is a get-paid-to site that rewards you for taking surveys, signing up for free trials, and doing other micro tasks.
Price: Free to join.
Pros: Pay on time.
Cons: Low income potential.
Verdict: SquishyCash is legit but the little money you make from it hardly make it worthwhile. You're time is better spent if you learn about a more profitable venture like affiliate marketing.  

What Is SquishyCash?
SquishyCash.com has been around since 2007 and is a free to join rewards website that's open to anyone looking to make some spare change online.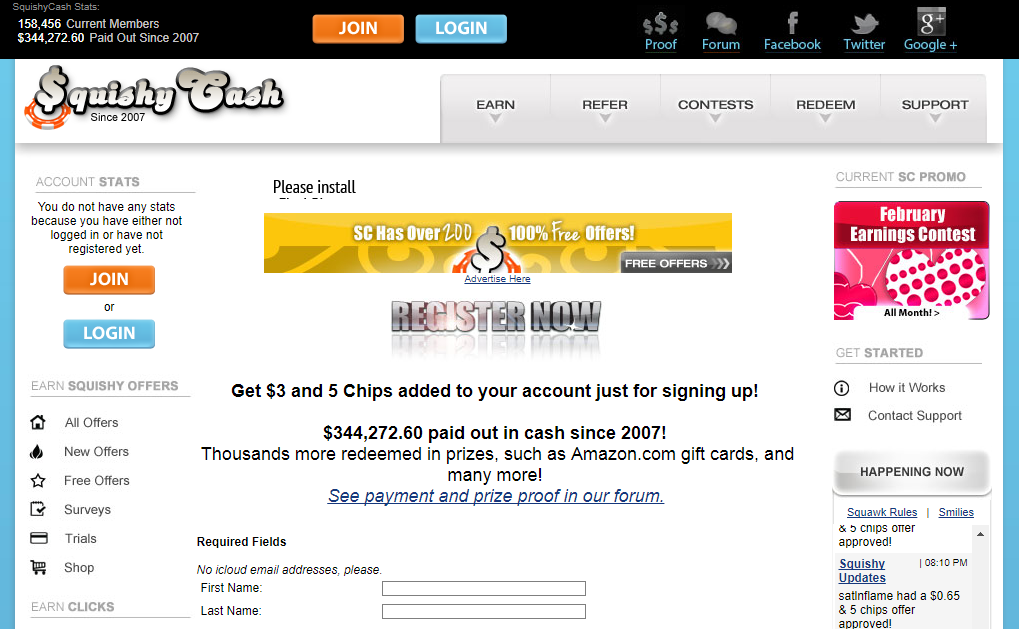 Once you're a member you can earn reward points by taking paid surveys, clicking ads, signing up to free trial offers and referring your friends and family for a minimum cashout of $15 into your PayPal account.
First Impressions
When I first landed on the SquishyCash website I was pretty overwhelmed – the site looks super busy with a lot of different menus and options.
I also don't think this site has been updated in at least a decade…
In the top-left of the screen are some pretty revealing SquishyCash stats. With nearly 160k members and nearly 350k worth of payouts since 2007.

This means members make a lousy $2.17 on average.
What Happened When I Signed Up
What better way to find out the earning potential than to sign up and see for myself?
So I clicked on the big orange "Join" button and filled out my name, address, email and date of birth plus a few other standard details.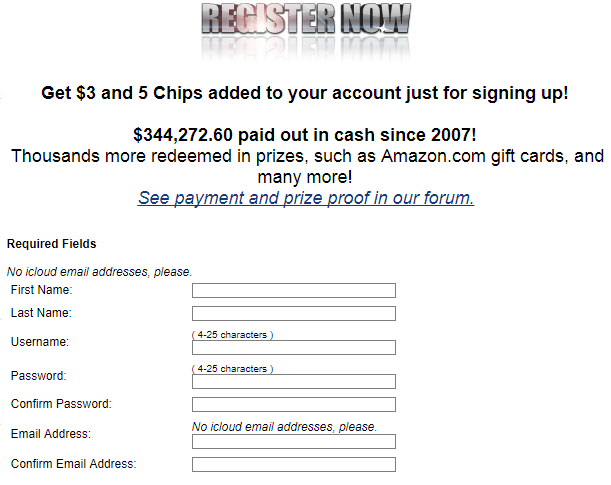 I ticked the box to say I agree with the terms and conditions. This took a couple of minutes max and I was straight inside the member's area.
I had to quickly confirm my email address and the email came through straight away.
I got $3 just for signing up too which is pretty neat.
4 Ways To Make Money With SquishyCash
Now I'm on the inside, it's time to see how much you can actually earn with this site, I mean that's all we want to know right?
It turns out there are 4 main ways to earn with SquishyCash:
1. Signing Up To Free Trial Offers
It seems this site is really pushing you to sign up for the free trial offers. Under the 'Earn' menu option you'll see a whole variety of offers from companies SquishyCash is affiliated with.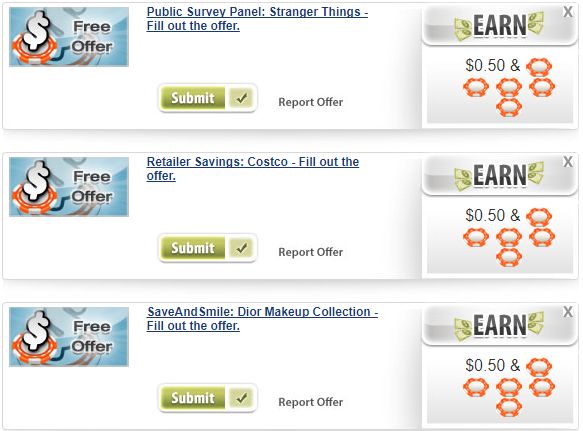 These tend to be free trial offers, for example, you could be offered the chance to sign up to Amazon Prime free trial for $0.75 cashback or the month's free trial at audiobooks to get your account credited $0.50.
SquishyCash is an affiliate of these sites which means if you forget to cancel your subscriptions before the trial end date you end up being charged the full amount and SquishyCash make at least 50% commissions for generating those sales.
A lot of reward sites like Opinion Outpost and GrindaBuck do the same thing and I have to say I don't really rate this as a legit way of making money.
Unless you're super organised and note everything down in a calendar, you could easily forget to cancel and end up spending a lot more money than you ever make.
2. Taking Third-Party Surveys
I was a little bit surprised to see that SquishyCash doesn't have surveys of their own but instead, they recommend other paid survey sites like Univox and Survey Squad.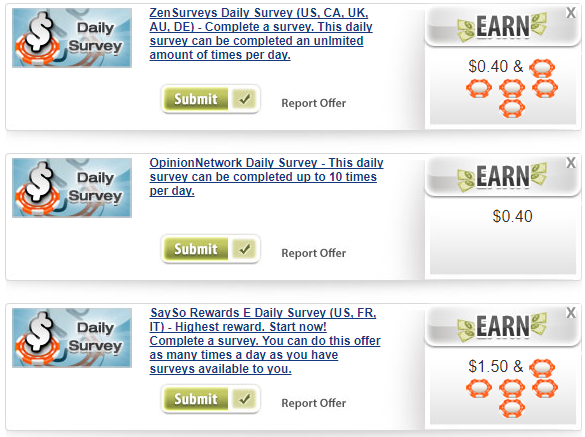 Each of these surveys sites require separate registrations which will take you a bit of time, but it's interesting to note they also have referral programs so again, SquishyCash is making money each time you join and complete surveys.
I was offered 37 different online survey websites to join with 20-30 minute surveys offering between $0.25 and $0.75 per survey which equates to a maximum earning potential of $1.50 per hour.
Because these questionnaires require you to hand over a lot of personal information, expect to get a lot of spam in your inbox and get cold-called from companies.
3. SquishyCash Clicks
Next on the menu is something called "Clicks" which from what I can see, is a series of small, micro-tasks like sharing a website on social media or clicking on ads like you'd find on Amazon Mechanical Turk.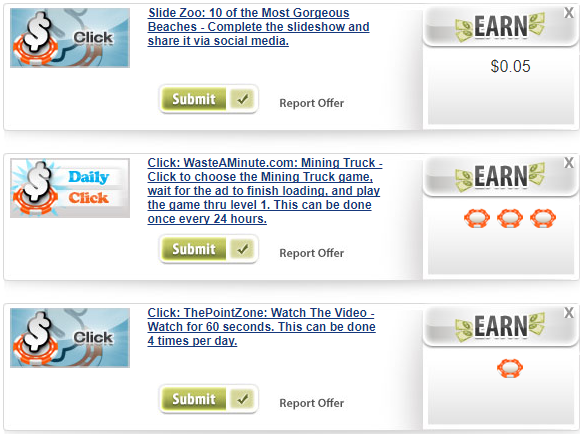 These are very low paying, typically $0.01-$0.10 per task, if they pay anything at all.
SquishyCash offered me 7 tasks, 3 just offered competition entries but paid nothing.
4. Earning Though The Referral Program
The final way to make money with SquishyCash is by referring people to the site and earning 25% of their earnings.
Personally, I wouldn't recommend this rewards site to my family and friends. I can't see anything here that would make it a worthwhile use of my time.
SquishyCash Reviews: What Others Say
All of the SquishCash reviews I've read out there pretty much come to the same conclusion:
SquishyCash is not a scam. It's a legit site that pays its members on time, but the low payouts make it hardly worthwhile.
"Squishycash is a legitimate company, it's not as large as similar websites, but it does pay members on-time.

The main problem is that some offers require sensitive information and you will likely be hit with a lot of spam emails. You can avoid these offers but the other offers are less rewarding." – StealthSecrets.com
Is SquishyCash Right For You?
It really depends on what you're looking for. If you have lots of time to spare and you're only looking to earn a few extra cents per hour then you might be happy with SquishyCash.com.
Another survey site you could try is Swagbucks as they tend to pay higher than most.
But if you're looking to build a serious income stream for yourself then the best way to do that is to build an online business that can turn into an income-producing asset and generate money for you around the clock.
I followed this beginners training course and now I earn more than $7,000 a month.
You need to invest the time and effort to make your business grow initially, but the amount has the potential to overtake your full-time income for years to come.
Simon Crowe is on a mission to help as many people as possible kiss their bosses goodbye.
Take the free Commission Academy course to discover how to smash your online income goals and make your dream business a reality.