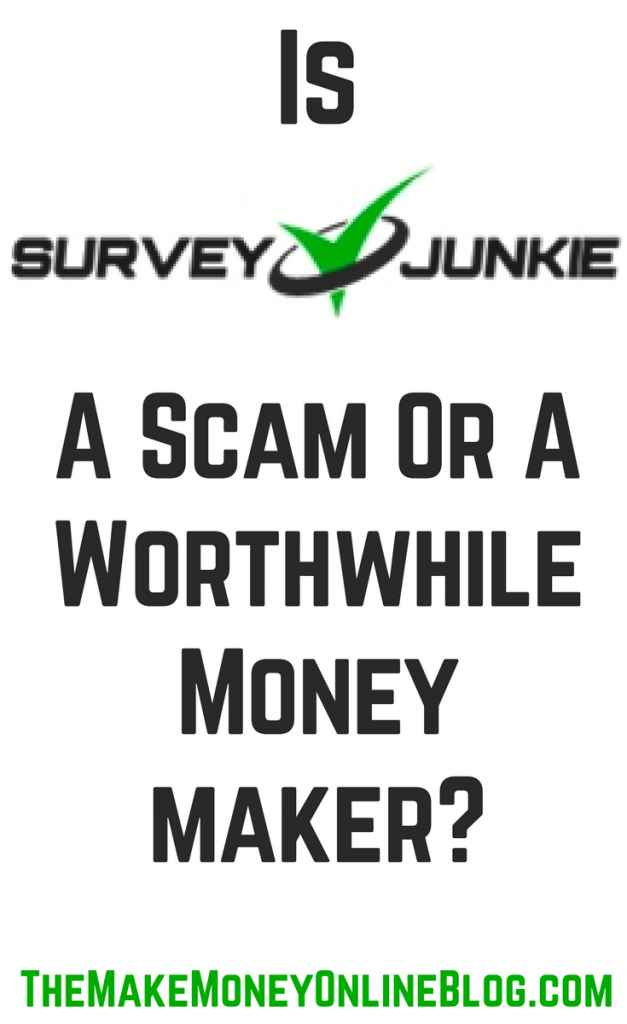 I love anything that'll put a bit of extra money in my pocket which is exactly why I've been reviewing a lot of paid survey sites lately.
Survey Junkie has been on my radar for a while now so I'm happy to finally be able to sit down and take a closer look at this in an effort to save you guys a lot of time and effort.
Is Survey Junkie a scam?
Some people quit say it is, while others swear by it – so which is it?
So far Swagbucks is the best paying survey site I've seen, but I've always got my eyes open ready to find something better…
I heard a lot of good things about Survey Junkie so it's high time I get my investigating head on and take a closer look at this site from the point of view of it's money making potential.
I am not an affiliate of Survey Junkie and this is not a sponsored post, so this is a 100% unbiased and honest Survey Junkie review.
Here's what I found out.
Survey Junkie review (the quick version)
Not everyone has time to read the full review so if you're just wanting the answer straight up, here it is:
Is Survey Junkie a scam?
No.
Does this mean this is a worthwhile way to spend your time?
Honestly I can't say it is.
When you work out the time it takes you successfully complete surveys and take into account the very low payouts, you can expect to make $0.75 – $1 an hour at best.
Personally I would never invest a lot of energy into sites like this because there's just not enough of an incentive to keep me motivated, especially when I know there's so many more worthwhile (and profitable) things I could be doing with my time.
Instead of working for way less than the minimum wage you could be using that time to create your own internet business and making a lot more.
If you're tired of wasting your time filling out tedious surveys for very little cash then I strongly suggest you check out my number one way of making money online here.
What is Survey Junkie?
SurveyJunkie.com was launched in 2005 and has over 6 million members.
It is a free to join which gives you access to paid surveys and is currently available in the UK, United States, Canada and Australia.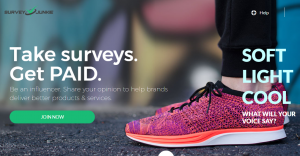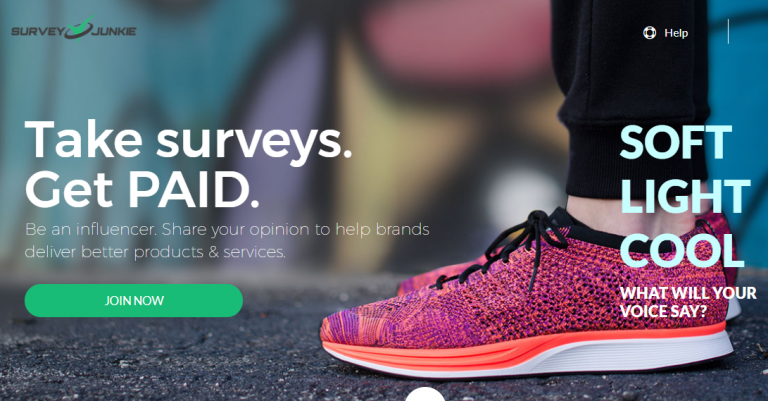 Most people join because they want to make money obviously, but it gives you a chance to have a say on your favourite brands
The site's tagline is: "Be an influencer. Share your opinion to help brands deliver better products & services."
I was pleased to see Survey Junkie scores a respectable 4 out of 5 stars on Trust Pilot. They also have 100,000 likes on their Facebook page and 2,000+ followers on Twitter.
Like most survey sites, Survey Junkie rewards you with points every time you successfully complete a survey. Once you've reached the 1,000 points mark you can redeem these points and get paid money straight into your PayPal account.
1 point = $0.01
10 points = $0.10
100 points =$1.00
1,000 points = $10.00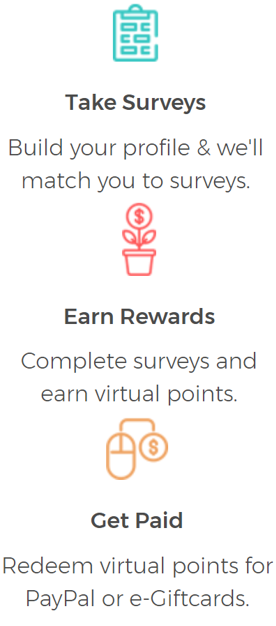 The good news is, unlike some dodgy survey sites, Survey Junkie don't charge you a transaction fee.
All they ask in return is that you set up your profile correctly at sgn up and be honest when you're answering the feedback questionnaires.
As well as completing surveys, you can also earn points for referring your friends through their affiliate program.
Once you sign up as an affiliate you'll receive a link that's unique to you which you can share on social media or email and you get paid a commission for every person that signs up under you.
Unfortunately I can not find what commission rate they actually pay you anywhere. It could be $1 per person, or could be 10% of what your referral earns which is paid at checkout.
I really like the look of the website, it's crisp and clear and easy to find your way around.
But this is where thing start going a little but downhill…
Survey Junkie don't have surveys of their own but they find them for you
Unlike sites like Project Payday, Brand Institute and SurveyBods, Survey Junkie is that they don't actually have their own surveys for you to fill out, instead they redirect you to recommended sites.
I wasn't expecting this and it kind of had me wondering what the point of Survey Junkie was in the first place.
I mean, why hand over your details to this site when you can just find other survey sites to join yourself?
I was also taken aback by the sheer number of probing questions they ask you at the sign up stage. I could understad if it's so they can find suitable surveys for you, but they don't even do that.
I suspect the real reason is so they can send you. We'll talk about this next but a lot of members comaplitn about the high levels of spam…
Here's the deal though:
The reason Survey Junkie exists is to make money off of you signing up to other survey sites through them, so they're basically playing piggy in the middle.
Watch out for an avalanche of spam flooding your inbox
As I said before, it's in their best interest for them to get you signed up to as many different sites as possible and some of these sites will sell your personal information on.
If you are going to go ahead and join Survey Junkie then I highly recommend you don't use your primary inbox.
Disappointingly they pay you diddly squat…
Take a look at the image below for an example of what you can expect. Earnings 250 points for a 20 minute survey might seem worthwhile, but in reality you're earning $0.25. That's slightly over a penny a minute.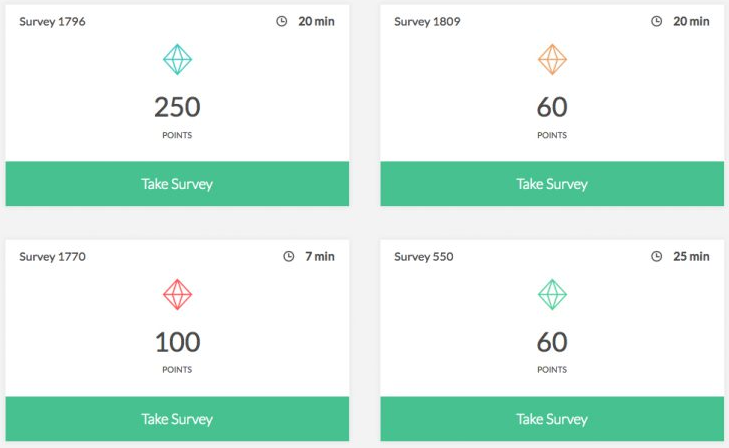 If you manage to find 3 surveys per hour you can qualify for, you're earning $0.75 an hour.
It's important to keep in mind that they're aren't always surveys available and you won't qualify for them all. Just to get to the minimum $10 withdrawal limit could take you 12-15 hours, if not more.
I think after you've invested an hour or 2, you'll soon realise how much of a time wasting exercise this really is. You're working for pennies while the Survey Junkie owners sell your information on for profit and get richer.
What I like
Can give you access to dozens of survey sites
They seem good at paying out in most cases
What I don't so much…
The surveys don't pay out much at all
They're well-known for the sheer amount of spam they send out
There's so many better options out there
Is Survey Junkie a scam or not?
Survey Junkie is not a scam. They're free to join which means all you have to lose is your time and energy.
But at the same time I can not recommend this site as a legitimate way of making money.
The hours you're going to have to invest into this for such a low payout makes this so not worthwhile.
If you want to earn real money online, short-term or long-term, let me suggest you look at a different approach altogether.
Ideally, your focus shouldn't be on working for anyone else for less than $1 an hour, but on creating your own business.
With your own internet business, you are in charge and it's up to you how much money you make. The potential earnings are also far greater because you can build your business up over time, something you can't do taking surveys.
Creating your own online business mght sound like a daunting prospect, but in the internet age it really isn't.
The truth is you can earn money entirely online without need to come up with your own product to sell. No storage or shipping to worry about and this can all be done from the comfort of your own home.
The internet has opened up so many possibilities and it's high time you started taking advantage of it. Through a business model called affiliate marketing, you earn money by promoting the products of other companies.
It doesn't matter how social media savvy you are or what your background is. I was a complete newbie when I first started out but it didn't take me long to figure it all out.
I got my start through the training offered at Wealthy Affiliate and I recommend that anyone interested in making money online starts there.
They have really good courses put together with beginners like you in mind. You can even get started for free.
Instead of wasting time taking surveys and have nothing to show for it, you'll be building an online income stream for yourself which you can reap the rewards from for years to come.
Read the full Wealthy Affiliate review to find out how you can get instant access to the right know-how and support.
I hope this Survey Junkie helped point you in the right direction. If you have any questions at all please leave them in the comments below and I will get back to your personally.
Related posts
Simon Crowe is on a mission to help as many people as possible kiss their bosses goodbye.
Take the free Commission Academy course to discover how to smash your online income goals and make your dream business a reality.