Is Dollar Surveys a scam to avoid or a worthwhile way to earn some extra dollars online?
Because let's face it, while there are a few survey sites like Swagbucks and Brand Institute that have potential, the vast majority of paid survey websites out there are a complete and utter waste of time.
In this Dollar Surveys review we're going to be putting Dollar Surveys to the test to help you decide whether it's worth joining them or not.
If you've ever been a member of this survey site we'd love to hear your thoughts in the comments below! 🙂
Dollar Surveys Review At A Glance
About: Dollar Surveys is a survey site that claims tp have paid out $2 million to its users.
Price: Free to join.
Pros: Nothing.
Cons: No pre-qualifying questions, no surveys.
Verdict: There's no point signing up for Dollar Surveys since there's no surveys available most of the time. It doesn't make it a scam but it does make it a useless survey site.

What is Dollar Surveys?
My immediate impression on landing on DollarSurveys.net is that this site is very basic. There's just a single page with a space to enter your email and sign up.
The tagline for their site is: "Take a quick survey and earn cash via PayPal! Take multiple surveys everyday!"

In the top right-hand corner they say they've paid over $2million in rewards to members since they launched the site but as we don't know how many members there are and they don't give us an earnings disclosure, this could work out to be less than $1 per member or $100s per member we literally have no idea.
Sounds like something you'd be looking for, right?
I love the idea of earning $1 per survey whenever and wherever I want to. Dollar Surveys say getting started is as easy as 1,2,3 so I decided to sign up for myself to find out.

Signing up with DollarSurveys.net
In the homepage I entered my PayPal email address and clicked "Take a Survey" and while I didn't liked what I saw next (see below) I've go to say this is the quickest and easiest sign up process I've ever seen.

I was a bit concerned that the lack of profile or pre-qualifying surveys might mean a very high disqualification rate on surveys but as it turns out this wouldn't be an issue because… well, there just aren't any surveys available at all.
Here's what I was told:
"Unfortunately, there are no additional surveys available right now. We add new surveys to our system all the time, so check back tomorrow to see if there are surveys available.
Sometimes we don't have enough surveys to go around, but we are always trying to make new ones available. Let us know if we can do anything else for you. Come back tomorrow for another survey!"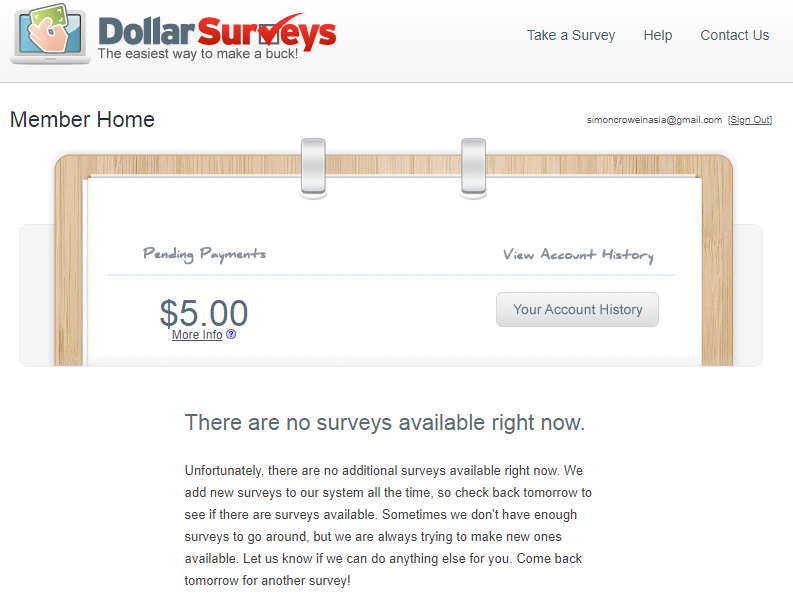 Why join when they have no surveys to take?
It turns out it's not just me getting this message…
In this Dollar Surveys Review a member joined the site and logged in every day to see if any surveys had come up yet and in all that time not a single survey was offered.

Ask me 10 years ago if sites like DollarSurveys, Zap Surveys and Project Payday are worthwhile and I would probably have said yes; there were almost an unlimited supply of short, quick and easy surveys available paying $1 a time, meaning if you wanted to you could earn a semi-respectable $6 an hour in your free time.
Fast forward to now and surveys are hardly ever available, not just with DollarSurveys.net but across the board.
Some people resort to joining a few dozen survey sites at once to try and make ends meet but reaching the minimum required balance for each of these sites turns out a lot harder than you think.
Do Dollar Surveys even pay out?
You're promised a direct payPal deposit within 7 days if you reach $30 but when you look at Dollar Survey reviews on sites like SurveyPolice and SiteJabber you'll see that a lot of members are having to chase just to get payment, that's if they ever get paid out at all.

Whenever problems like this crop up it would be reassuring to know that at least customer support would be on hand to help you solve the issue but unfortunately it looks like they don't even respond to your queries.
This isn't exactly how you'd expect this company to treat the people giving them the feedback that's generating money for them and is yet another sign this site is on it's last legs.
Is Dollar Surveys right for you?
Let me be straight with you, I don't think Dollar Surveys is a scam but with hardly any surveys ever made available nowadays and very low payouts (if you're lucky enough to get a pay out), I don't think anyone can say this is a legit and worthwhile site to join.
Ten years ago it looks like this site was booming with an seemingly unlimited supply of $1 ten minute surveys but things have changed. Earning $0.25-$0.50 for a 20-30 minute survey is now the new norm with surveys becoming fewer and far between
This is the exact reason I quit online survey sites to pursue a better alternative.
I followed this free beginners training course as a complete newbie 4 years ago that teaches you how to build a real online business and I earn more than $6,000 a month as a result.
Simon Crowe is on a mission to help as many people as possible kiss their bosses goodbye.
Take the free Commission Academy course to discover how to smash your online income goals and make your dream business a reality.