This Entre Institute review is not the first review we did on Jeff's products. Just the other day I did a Class With Jeff review which just turned out to be a portal to Entre Institute.
Jeff Lerner has been considered by many as a serial scammer, and for good reason. He has a bad history of releasing pieces of internet marketing training with over-the-edge income claims that time and again fail to deliver.
Is Entre Institute another one of those lousy training? I'll reveal the truth in this review starting off by telling you what Entre Institute is, how much it costs, and how the training works.
I'll then finish off with my personal thought on Entre Institute based on my experience of researching and reviewing almost 200 make money online opportunities.
Entre Institute Review At A Glance
About: Entre Institute is a course on online marketing put together by Jeff Lerner.
Price: The cost starts with Entre Blueprint for $39 and goes up to a staggering $47,381.
Pros: Doesn't have any hyped-up income claims for a change.
Cons: The whole package is just too expensive especially for beginners with a limited budget.
Verdict: Entre Institute doesn't teach actionable goals, so it'll be hard to have a solid start in making money online with it.

What Is Entre Institute?
Entre Institute is an online marketing package made by Jeff Lerner back in 2017. You're made to think you'll learn about affiliate marketing, e-Commerce, or digital with the course but all it really teaches are motivational lessons.
Yes, you read that right, it's not an actual step-by-step course on an online business model.
The package includes several features, from a low-quality course to overpriced community access which lumbers of almost $50,000 from you. It's a high-ticket inline scheme that entices you to pay more to get more features.
Classic pay to play gimmick.
If you did a double-take there, I'd completely understand and you saw it right, I did say almost $50,00 which I'll break down to you in a bit.
Who Is Jeff Lerner?
Jeff Lerner presents himself as a speaker, author, and successful internet marketer. He has the typical sob story of getting drowned in debt, kicked out of his house, and left by his wife.
He supposedly had $400,000 in debt until he learned about digital marketing which helped him pay off his humungous debt in just 18 months.
Impressive? Not to me though.
Jeff has a history for launching completely lowdown and scammy courses like:
How Much Is Entre Institute?
Entre Institute's total cost is $47,381. Not everything here are one-time costs, some you have to keep paying yearly.
Here's a detailed breakdown:
Entre Blueprint: $39
Entre Nation Elite: $348 per year
Entre Digital: $1,997
Entre Results: $15,000 per year
Entre Inner Circle: $29,997 per year
In Class with Jeff, the portal for Entre Institute, there's even an additional $67 for "Millionaire Productivity Secrets".
If you think about it, Jeff is not content with forking out $47,381 from you at the start, he'll continue to squeeze as much as $45,345 from you every single year you believe in his sweet talk.
It outrageously costs more than an arm and a leg especially for those just starting out!
The Entre Institute Package
I'll be giving you an idea about what each feature is about to see if you can justify the cost each comes with.
Entre Elite Nation
This feature is a training and membership community for entrepreneurship and internet business. It provides week webinars on digital marketing.
Entre Digital
This is supposed to be a bundle of programs on affiliate marketing, e-commerce, and digital consulting. Sadly, there are no actionable lessons here, just some mind-setting thingamajigs.
For $1997, I don't think it's worth the cost.
Entre Results
This is a private coaching lesson that supposedly helps you with setting your goals and creating your plans so you can start your online business, but then again, it's basically just a speech on the topic rather than actual "how-tos".
Entre Inner Circle
The costliest feature of them all. This supposedly gives you 2 live workshops and exclusive training. For something worth $29,997 I'd expect something more!
I'd demand to get taught about actions I can take to start the ROI rolling. Anything less is unacceptable.
Ask yourself:
Will you be willing to spend such a staggering amount without really getting a concrete structure on how you can make money?
Entre Blueprint
I put this last on the list for a purpose. Entre Blueprint is supposed to be the front-end product of the whole Entre Institute package.
If you noticed, it's priced way lesser than all the other features in the package and it's not a coincidence. It's actually priced this way to make you think everything is affordable for you.
Once you pay up for this, you'll be connected with an "adviser" supposedly helping you make the right decisions but actually are people hired by Jeff to convince you to buy each and every feature claiming you'll get the best results after buying everything.
If by any chance you really want to try this out, just be careful about these advisers poking your emotional buttons. They might successfully poke out $47, 381 from your wallet.
Anyway, back to Entre Blueprint, this shabby training consists of 6 training videos.
Will this finally be the part of the package teaching you the how-tos?
Sad to say it isn't.
Entre Blueprint in described as the "6-step program for transforming your life" which is annoyingly another way of saying you'll just learn Jeff's business philosophies.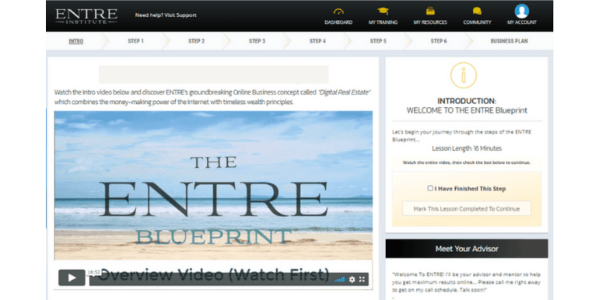 Here's what I mean:
Step 1: The "3 Ps" Of An Awesome Life
Just by the name of it you'll get an idea it's all about mind-setting.
Jeff will teach you how you're supposed to have an awesome Personal, Professional, and Physical life"
I actually find no problem with courses starting off with mind-setting lessons. It actually helps you get in the right focus moving forward. My problem is when after it is just a series of more mind-setting hullaballoos and nothing actionable.
Step 2: 3 Legs Of Successful Action
Jeff will give you a speech about community, strategy, and belief which are supposed to be the legs for successful action.
Now I hope the step will really get the action started.
Step 3: The 3 Phases of Building Your Legacy
Sadly, the answer is no. Nothing practical here still. It's just Jeff brainwashing you with speeches on leverage, growth, and wealth.
Step 4: Affiliate Marketing – The Lazy Person's Online Business Model
First off, although affiliate marketing gets easier in the long run, it's not a lazy person's business at all. To build your sustainable business with affiliate marketing, you need to put in the time and effort to learn and apply certain skills.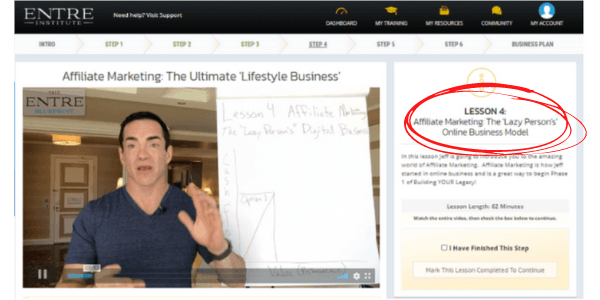 The problem it, Jeff won't teach you about those skills, he'll still go on his motivational speech spree.
Step 5: e-Commerce: High-Profit Stores Without Brick And Mortar Headache
Again, nothing actionable. Jeff just tells you why e-commerce is better than a traditional offline business.
Step 6: Digital Consulting: Converting Online Skills
Guess what you can expect from this module?
Not a challenge to figure out, right? It's become too predictable is just another motivational module.
The bottom line is Entre Institute will hardly help you build your online business. The training is just all talk, and no tiny speck of actin taught. For its price, it's never worth it.
Your money is better spent on a more affordable training that really provides comprehensive and actionable training every beginner needs.
Is Entre Institute A Scam Or Legit?
There's no clear proof Entre Institute is a scam. However, because you'll be misleadingly told to be taught about 3 business models and just actually getting some motivational videos on the topic, I'd say it's a borderline scam.
Another factor to consider is Jeff Lerner's history with launching courses. Each one of them turns out to be a scam because it promises outrageous income claims without generating any of the results they make you expect.
Although Entre Institute has little to no hype, its portal program, Class With Jeff has tons of it. What's worse, Jeff used fake testimonials to vouch for his course here.
Did Jeff already change his spots?
I highly doubt it, Class With Jeff came later than Entre Institute, judging from the fact it's a mere funnel to the other.
If he used scammy tactics with Class With Jess there's no doubt something shady is also going on with the course it's funneling to.
Where Do You Go From Here?
You won't be able to start building your online business with Entre Institute. At best, it just gets you in the right mindset.
But I find the lack of transparency annoying. They make you think it's a how-to course when in reality it's just a bunch of motivational speeches bundled into one and packaged as an actual training.
At the end of the day though, you still won't know what steps to take to get started.
Rather than spend a fortune on a lousily introduced training, it's way better of you invest in a more affordable training that offers way better make money online training.
If you have your eye on affiliate marketing, Wealthy Affiliate is one great course to take to learn the ropes.
You'll get to learn about choosing a niche, making your website, monetizing it with affiliate offers, and driving people to those offers.
It's not just affordable, it cost efficient because they'll let you try the 1st 10 courses for free so you can decide if the $49 per month cost is worth your buck.
If you're interested to know more about Wealthy Affiliate, check this comprehensive Wealthy Affiliate review to get the whole picture of what this training can help you with.
What's Your Take?
We're you disappointed to know Entre Institute is just a bunch of motivational speeches? Did your jaws drop with the cost? Scroll down to the comments to share what you think.
Simon Crowe is on a mission to help as many people as possible kiss their bosses goodbye.
Take the free Commission Academy course to discover how to smash your online income goals and make your dream business a reality.