Hello and welcome to my Class With Jeff Review where we will go behind all the hype and see it for what it really is.
Can Jeff really teach you the way to millions of income or is it just part of a grand scheme to fork out $1000s from you slowly but surely?
First off, I'd like to give you 2 virtual thumbs up for checking this review before bringing your wallet out.
And I'll tell you how wise of a choice you made because if you just jumped right into Class With Jeff you might end up with a wallet with just a fly escaping out of it.
I am in no way affiliated with Jeff Lerner and my goal here is to help you avoid unnecessary heartaches and investments down the drain.
If you're ready for the dumbfounding truth, then let's get right into it.
Class With Jeff Review At A Glance
About: Class With Jeff is online money-making training by Jeff Lerner that's supposed to help you make $1000s up to millions online.
Price: The trial version costs $7 while the one-time fee is $39. However, the upsells go up to a staggering $48,409.
Pros: There's a 30-day moneyback guarantee.
Cons: All hype where you'll just be spending and hardly making anything back.
Verdict: Class With Jeff is just a mere portal to Entre Institute, Jeff's earlier training. He's got a very dodgy history and it's hard to trust him. 

What Is Class With Jeff?
Class With Jeff is nothing more than a funnel to Entre Institute. It's not a training in itself, it's not even software, just a lousy portal to Jeff's other training.
Just A Portal To Entre Institute
Jeff Lerner's main goal is to make you think Class With Jeff is your unique opportunity to learn about his million-dollar business so you can copy it and earn what he does.
It's actually just a funnel to Entre Institute to get you interested in the latter course. It's the same thing he did with 6 Steps To Freedom where he created the Copy The Millionaire to funnel people to it.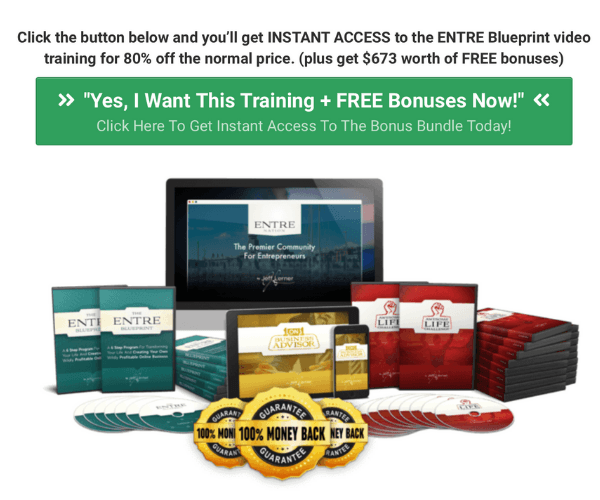 If you fall into his unscrupulous strategy, you might end up shelling out almost $50,000 for upgrades. It's through and through manipulative just like his prior courses.
Want more proof of his scammy history? Check out:
The Puffed-Up Sales Video
Here's where you have to watch with caution because he's good in making it look so legit.
Jeff starts up this video by saying he's going to teach you the fastest way to become a millionaire.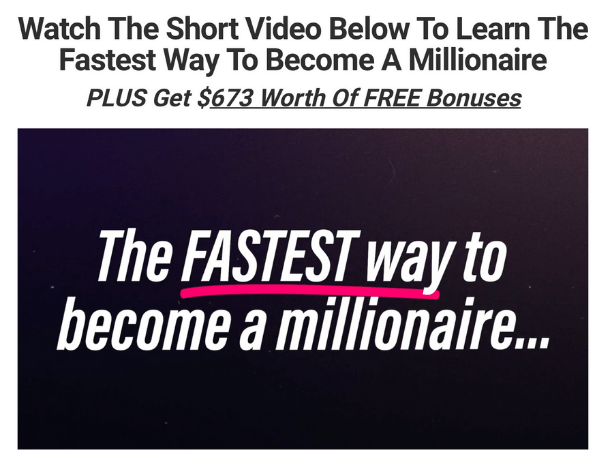 He then flashes a clip of him interviewed in a morning show for Entre Institute. (hinting Entre Institute to start making it credible)
To "prove" he's a compelling guy to trust, he'll tell you he's made $40 million since 2008, was named in the Inc. 5000 twice, and show you a clip of his supposed earnings.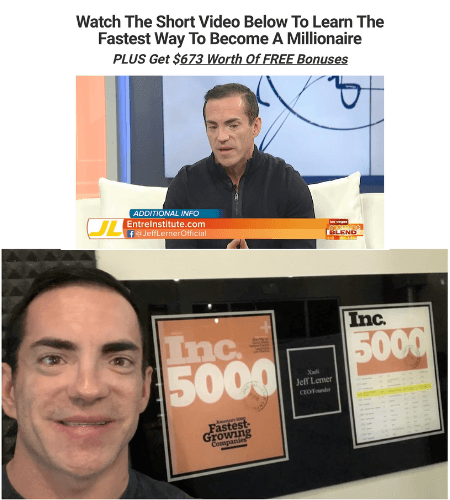 He even tries to emotionally connect with you by telling his own version of the sob story of how he hit rock bottom by losing his business, getting evicted from his apartment, and being left by his wife.
Now, what does he teach you to be the fastest way to become a millionaire?
Just like his experience, you supposedly have to find yourself a mentor and copy what he does.
He then imposes himself as your mentor by offering you to copy 3 of his business blueprints which supposedly helps you make $5,000, $10,000, up to millions.
Does the sales video explain what Class With Jeff is really about?
Not really.
Aside from showing you luxury cars, houses, and vacations, he just tells you vague descriptions of the 3 business models he'll offer to share with you.
Class With Jeff Business Models
Jeff describes business model #1, the ultimate lifestyle business, as the one that got him out of his 400k debt. He adds you won't need products, websites, investing, inventory, employees.
Business model #2 is labeled as the ultimate cashflow business. Jeff says it's the business he did after paying off his debts which he made $300 to $2,500 residual income from every month.
He doesn't go on to reveal it's actually just 6 Steps To Freedom where you need to recruit people to earn from.
He just suggestively says, "you can be on the ground floor of something really big", his way of hinting you start at the bottom as a downline and work your way up as you recruit more people.
Now business model #3 is said to be the long-term legacy business that he currently focuses on to make an 8-figure income.
If you look back at how he described the business models you're supposed to copy from him, there's really no telling what you're in for.
The haze he puts around these "million-dollar" business models definitely makes it dodgy to the core.
I personally don't want to invest in something that doesn't transparently explain how it's supposed to help me make money because in the end I might just be left with a question mark on my head and an empty wallet.
Jeff basically drowned my trust in him by overselling himself but underexplaining how everything really works.
How Much Is Class With Jeff?
Class With Jeff has a $7 trial version. After the trial period, the one-time fee is $39. But the upsells cost way more going up to $48,409.
The Outrageous Costs
Jeff's tactic is to initially make you believe the course is affordable. He said he's giving you Class With Jeff for just a tiny one-time membership fee that's not even enough for a date.
My question is:
If he can sell it so cheaply, why didn't he just dial his charity up a notch by offering it for free?
But think about it:
If a business opportunity had such a big potential, I highly doubt he'd price it this low.
The funny thing is the order page has a countdown timer set to a minute. When you let it run out, it automatically adds 8 more minutes.
Scarcity tactic gone wrong?
Here's another tactic:
Jeff will tell you he'll give free access to his Entre Business advisors if you just hand them your email address so they can contact you.
It's just basically another way of saying you're allowing them to spam you with their advisors whose only job is to convince you to spend on upsells with outrageous cost so you can get closer to your online income goals.
Why'd I say outrageous cost?
For more than 100 make money online reviews I've made, this is by far the most expensive, more than a king's ransom!
Here's a brief breakdown of the upsells:
$348 for Entre Nation Elite- another training membership and community
$67 for Millionaire Productivity Secrets- 20 videos on productivity
$2,997 for Entre Digital- "advanced course bundle" but the same topics you'll find on Entre Blueprint
$15,000 Entre Results- a one-on-one coaching by "top coaches"
$29,9997 Inner Circle – yearly Mastermind event and coaching seminar
Paying for these is totally absurd especially because, at the end of the sales video, Jeff puts a disclaimer about having no guarantee you'll actually make millions, just a few $1000s, even that is not guaranteed.
However, even if you make a few $1000s from it, it'll hardly cover the cost of the upsells you paid for.
More Pushing Of Emotional Buttons
Jeff is not finished with his hard-selling tactics.
He ends his 20-minute video saying things like:
You're crazy to let this go
You own this to yourself to give it a shot
Basically, the same things he tells you in 6 Steps To Freedom to get you to sign up for his misleading course with exaggerated income claims.
You Can't Access The Members' Area Unless You Give In To His Last Scheme
Who says you can already access the members' area once you pay up? (which I hope you never do)
Before allowed access to the Entre Blueprint and Nation, 1-on-1 business advisor, and Awesome Life Challenge, you'll be forced to give up your phone number.
The truth is, the 1-on-1 sales advisors are not content in spamming your email, they'll also do some hard-selling over the phone for this pay-to-play scheme they're playing.
How much more annoying can they be?
It Gets More Annoying…
After all the ways they're doing to empty your wallets, one other thing they do to convince you Class With Jeff is worth it is by showing you video testimonials of people who claim they are "satisfied" with what Class With Jeff has to offer.
I hate to break it to you, but these are just the same people who vouched for 6 Steps To Freedom.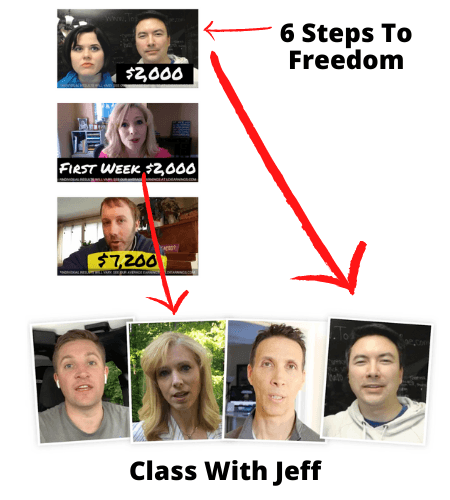 I guess Jeff has a limited pool of hired actors to do some credibility-building for him.
Is Class With Jeff A Scam Or Legit?
Yes, Class With Jeff is a scam. It promises you new training only to be funneled to Entre Institute. It also promises outrageous income claims but ultimately fails to deliver.
Being this misleading definitely makes Class With Jeff a scam.
Ditch Class With Jeff
What do you do now?
Ditching Class With Jeff is not a loss. It's a lousy over-promising scam, to begin with.
If you really want to learn your way to online success, there are several high-quality courses you can take like Wealthy Affiliate.
Wealthy Affiliate doesn't overpromise anything and won't misleadingly funnel you to a completely different course.
It covers the real deal in making money and online and teaches you everything you'll ever need to know to build your foundations.
The Starter membership if free of charge, and if you've tested the waters enough and see it's a good fit, you can then move on to the Premium version are $49/month.
After checking Wealthy Affiliate out, I'm certain you'll find it more worth it that Class With Jeff.
If you're interested to know more, check this comprehensive Wealthy Affiliate review.
What Do You Think?
Do you think Class With Jeff is an outrageous way to mislead people? Do you think Jeff Lerner is worth your trust? Scroll down the comments and tell us what you think.
Simon Crowe is on a mission to help as many people as possible kiss their bosses goodbye.
Take the free Commission Academy course to discover how to smash your online income goals and make your dream business a reality.