This is my complete review of Mobile Site Sniper.
I chuckled my way through the cheesy sales video…
Signed up against my better judgement…
Then spent the next 3 hours going through the training.
So if you're considering signing up for Mobile Site Sniper, this review should help figure out if it's a scam or a legit program worth buying.
Let's jump right in.
Mobile Site Sniper Review At A Glance
About: Joel Rubin's Mobile Site Sniper aims to be complete money-making system beginners can use to make $537 per day online.
Price: $47 plus a $497 upsell, but paying for email software will add $150/year to that total.
Pros: Comes with a 30-day refund.
Cons: Bogus testimonials, stock photos, fake scarcity, outrageous income claims.
Verdict: The sales page is misleading, the 'training' is a few outdated eBooks and Mobile Site Sniper is a get-rich-quick scam you most definitely want to avoid.

In one video Joel says he wants to help you make money online out of the goodness of his heart, in the next, he's pushing you to buy his expensive upsells so you'll "make even more money even faster!"
It's not like we've not heard that one before now is it? 😉
Seriously though, don't waste your time on this crap and try this instead.
What Is Mobile Site Sniper?
Joel Rubin calls his Mobile Site Sniper system a money-making machine that will generate $537 in daily commissions for you thanks to their done-for-you affiliate websites.
The sales video doesn't go into detail about how Mobile Site Sniper works except to say it will flood your PayPal account with $100 and $1,000 deposits several times a day.
If you're like me then you found out about Mobile Site Sniper through a spammy-looking email in your inbox. Click the link and you're taken to a sales page with a 6-minute sales video: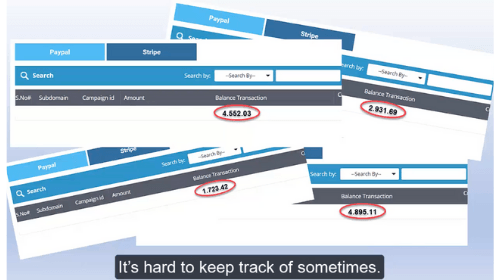 The video is cheesy as hell (and I've seen my fair share!)
At one point a girl called Laura boasts she's always busy counting the stacks of cash coming in and if she wants a new pair of shoes she just has to wait a few minutes to have enough money to buy them.
Sheer emotional manipulation?
Methinks YES!
The cringeworthy gimmicks don't end there though. Laura goes on to say Mobile Site Sniper brings in the cash without her having to buy stock, build websites or do any copywriting or programming.
Apparently, you don't need to do anything to be rolling in it.
At the end of the video, Laura attempts to pile on the pressure, saying Joel won't be taking on new members for much longer so hurry up and sign up before this golden door of opportunity closes.
But if Mobile Site Sniper can really flood your accounts with $1,000s/day then why hasn't it made headline news and why isn't everyone in on it?
I'll tell you why:
Because Mobile Site Sniper is a scam made by money-hoarding buttheads on the lookout for those wanting to live in the land of make-believe.
How Much Is Mobile Site Sniper?
You can buy Mobile Site Sniper for a one-time fee of $47, but there are two additional upsells one for $497 and another for $297.
The first upsell is a done-for-you system that will set up your $1,000 per day income.
Apparently, the $47 you initially paid doesn't release the system's "full potential" and you can only access it when you pay for the $497 upsell.
They make it sound like a bargain with a 50% discount so you'll only need to pay $297.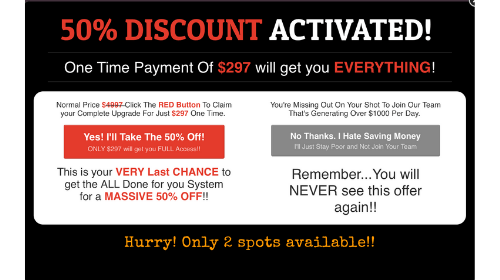 The second upsell is called a Platinum Upgrade for $197 where you can earn 10x more. They'll try to say it's a steal of a deal by saying you'll get $3,794's worth of value for a fraction of the price:
This "Platinum Upgrade" includes step-by-step training, access to the private review club, social media secrets mega course, complete customer support, and a 60-day money-back guarantee.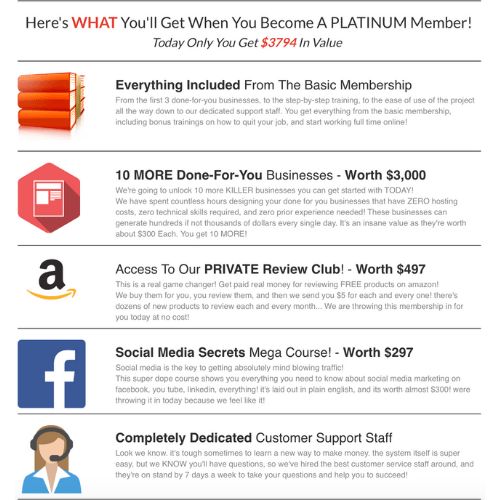 Here's the question though:
Why do I need a step-by-step training course when I apparently don't need to lift a finger to make money?!
Haven't I Seen The Mobile Site Sniper Scam Before?
Before I show you the members' area, I've got to say I had a moment of déjà vu.
I had to double-check myself to make sure I hadn't reviewed Mobile Site Sniper before…
Then I realised the site icon looks awfully familiar. It's the same one you'll see in the Explode My Payday scam: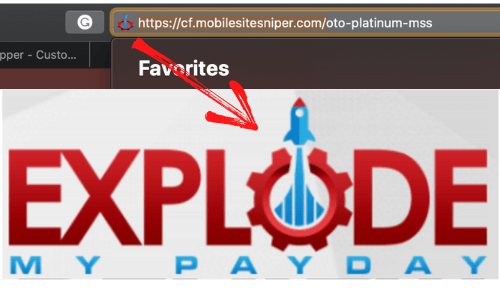 Now it's painfully obvious Mobile Site Sniper is just a rehash of an old scam.
Inside Mobile Site Sniper's Training Area
Login and you'll see 11 tabs with the 4 steps you need to get started.
The intro video says you only need to follow the steps to guarantee your success…
But the training only consists of 21 short and outdated videos and 3 lousy PDFs.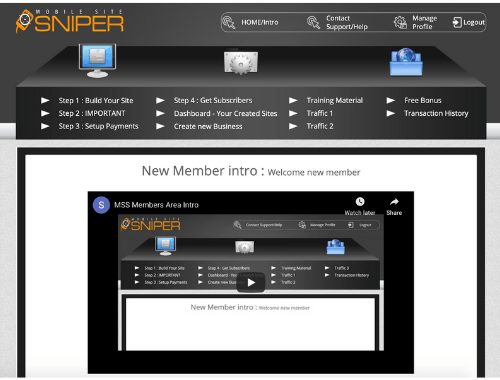 Actually, scratch that, most of the videos are just thumbnails. Click on them and nothing happens. Only 4 thumbnails have actual videos.
How can you be realistically expected to build a $16,000+ a month business from the info in an old 12-minute video?!
I went ahead and clicked on Step 1: Build Your Site. (I thought I didn't have to do anything, now I have to build a website?)
In it is a 4-step video telling you to choose a product to promote, except they only tell you to promote their other programs!
The second step involves paying for an email autoresponder like Aweber which is going to set you back a few hundred dollars a year.
The third step is a video telling you to set up your PayPal to Swipe account. The video actually doesn't tell you how it's done. You have the PDF below the video for that.
The fourth step is about setting up a contact form to get subscribers. Basically, you'll be building a list of email subscribers you'll send spammy sales pitches to.
And therein lies the problem:
Follow what little training there is here and you'll be promoting low-quality make money online programs to a group of email subscribers who already get pummeled with spam offers every single day.
Few will see your emails, fewer will read them and no one will click your link and buy.
It's just an all-around ineffective and outdated method of making money with affiliate marketing and you deserve better training than this.
5 Big Mobile Site Sniper Scam Signs Exposed!
1. Meet "Joel" The Fake Mobile Site Sniper Owner
Remember in the sales video where Joel introduces himself and shows us a photo?
Joel is the screen name we're given to hide the scammer's real identity.
Unfortunately, this is no more than a stock photo. The real scammer behind Mobile Site Sniper is hiding in the façade of this bearded guy in a suit: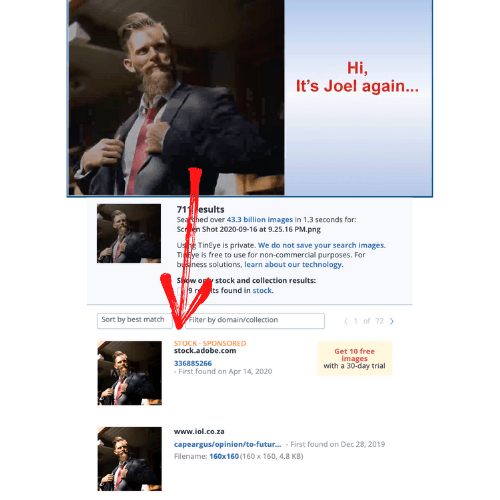 Will someone selling a legit product conceal his identity and use a stock photo?
I didn't think so.
Whoever's behind this is behind the AZ Sniper and Bulletproof Profits scams. They're notorious for super high refund rates and having a stack of complaints against them.
2. An Old Scam Given A Fresh Lick of Paint
Mobile Site Sniper is merely a remake of older scams given a fresh lick of paint.
Look, I get it. When you've got dozens of scams on the go at the same time it can be all too easy to get them mixed up.
Whether it's confusing a stock photo of the "owner" for a member testimonial in another, or in Mobile Site Sniper's case, forgetting to replace the logo with the one for Explode My Payday.
3. Fake Testimonials
You're not to trust anything you saw or heard on the sales page.
Those video testimonials from members supposedly raking in the cash?
Paid Fiverr actors.
Those success stories at the bottom of the page?
Completely fabricated and made with random stock photos: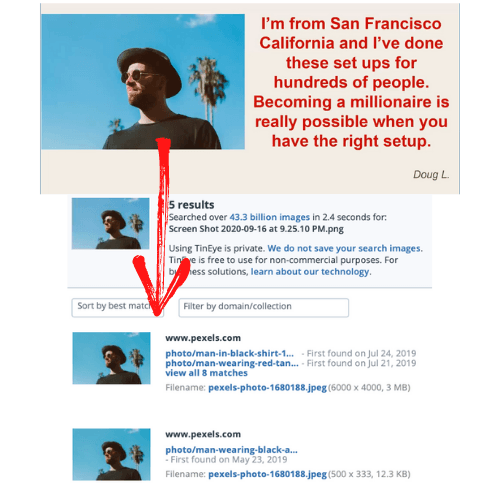 4. Hyped-Up And Highly Exaggerated Claims
Nothing screams scam more than insane promises of fast and easy money.
Joel tells us he's made $10 billion creating and selling businesses. If he were that rich, he'd be featured in the Forbes Rich List right next to the likes of Bill Gates and Elon Musk, but he isn't.
A secret billionaire? Not a chance.
5. Sold Through Clickbetter: An Untrustworthy Platform
Mobile Site Sniper is a product sold through Clickbetter.com; an affiliate marketplace infamous for selling bogus scams like 12 Minute Affiliate, Bulletproof Profits and Easy Retired Millionaire.
Seriously, they're even worse than Clickbank which at least has some controls in place.
Mobile Site Sniper being in that marketplace should set the alarm bells ringing.
Is Mobile Site Sniper A Scam?
Yes, Mobile Site Sniper is a scam without a doubt. Its only goal is to squeeze you for as much cash as possible before palming you off with a few useless eBooks.
Add to that the fake testimonials, exaggerated claims and forgetting to change the logo and it's clear Mobile Site Sniper is not the legit road to riches you were hoping for.
Where Do You Go From Here?
You'll only lose money with fake shiny shortcuts like Mobile Site Sniper. Let's face it, running an income-generating online business is always going to take TIME and EFFORT on your part.
Replacing your income online is not a walk in the park but it's not pie in the sky either.
You really CAN make it happen if you forget about this get-rich-quick rubbish and get real affiliate marketing training instead.
With Wealthy Affiliate's training you'll learn the simple yet powerful 4-step process to build your dream online business the right way:

And as a free Starter member, you don't need to pay anything to get going.
Click here for my SUPER in-depth Wealthy Affiliate review to see why it's my top pick.
Other Mobile Site Sniper Reviews
What's Your Mobile Site Sniper Review?
Do you still think it's worth paying $47 for the Mobile Site Sniper scam when there are better options out there you can start with for free?
Already bought it? What did you think?
Share your thoughts with us in the comments below.
Simon Crowe is on a mission to help as many people as possible kiss their bosses goodbye.
Take the free Commission Academy course to discover how to smash your online income goals and make your dream business a reality.