You're probably wondering if Affiliate Funnel Clones 2.0 is your quick fix ticket to more buyers and sales for your online business.
I hate to break it to you, but this review will not tickle your ears unlike what most reviews you'll find about this software.
You won't see Affiliate Funnel Clones 2.0 as a "fantastic choice" to bring your offers "hot leads".
Instead, you'll see this for what it's really is.
To get you a better picture, I'll first tell you what Affiliate Funnel Clones 2.0 is, run down the costs, show you how it works, then tell you why it won't be as effective as it's presented to you.
I'll then cap everything off by telling you what I think about this software and a better choice for you to consider in scaling your business.
Affiliate Funnel Clones 2.0 Review At A Glance
About: Affiliate Funnel Clones 2.0 is a funnel-building software that promises to help you get more buyers and conversions.
Price: $47 for the front-end, a staggering $996 for upsells, $120/year for an autoresponder, and at least $100 monthly for solo ads.
Pros: None.
Cons: The landing page you'll build will only be useful if you know how to do email marketing, you won't be taught about that here.
Verdict: Affiliate Funnels Clones 2.0 is not for beginners. Getting you more leads and conversions will be highly unlikely.

What Is Affiliate Funnel Clones 2.0?
Affiliate Funnel Clones 2.0 is a funnel builder made by Alan Magliocca and Ryan Allaire launched to the public in November 2020.
Alan also founded Affiliate Academics, Inc. and according to the LinkedIn profile of Edge Marketing Solutions, LLC, he apparently owns it too.
Both these companies can supposedly help you learn more about internet marketing by offering courses and products, similar to Affiliate Funnel Clones 2.0.
Alan can seem to be cut out for the job, but the Affiliate Funnel Clones 2.0 sales page made him look otherwise.
You see, the product name suggests this software will help you out if you're pursuing affiliate marketing.
However, the short sales page mentions nothing about it being something useful for affiliate marketers, instead, it has is an email capture form to supposedly include you in some sort of raffle so you can win a Fino Hummer.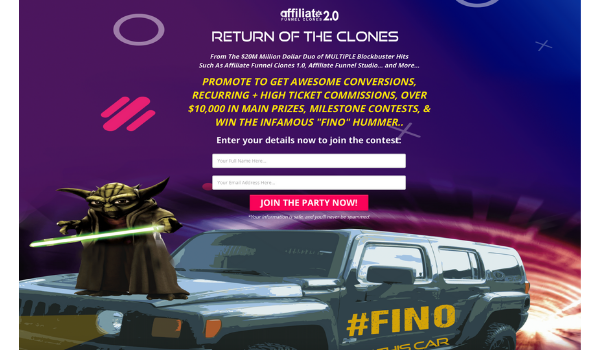 Quite a big disconnect there.
Who Is Affiliate Funnel Clones 2.0 For?
The name suggests it's for affiliate marketers. But it's also said to be for:
Digital Marketers
Video Marketers
Product Owners
Other Online Business Owners
If this was the case, I think Alan is smart enough to name this product something else so it wouldn't be so misleading.
How Much Is Affiliate Funnel Clones 2.0?
Affiliate Funnel Clones 2.0's front-end only costs $49. However, you also have to spend $120 for a yearly autoresponder cost and for solo ads that start at $100 per month but can go up to $1000s. Other than these 3, you also have to spend $996 for upsells.
Here's the thing:
Most cheap front-end prices are mere baits to get you inside. Once you're in, the real cost comes to greet you, and it's not something you'll fancy.
It'll cost way more than the front-end, as in the case of Affiliate Funnel Clones 2.0 because this is where they really earn from.
They'll even push your emotional buttons to get you to bring out more cash from your pockets.
So just beware. And sew your pockets tight.
How Affiliate Funnel Clones 2.0 Works
In a nutshell, Affiliate Funnel Clones 2.0 combines lead generation or finding potential buyers and email marketing.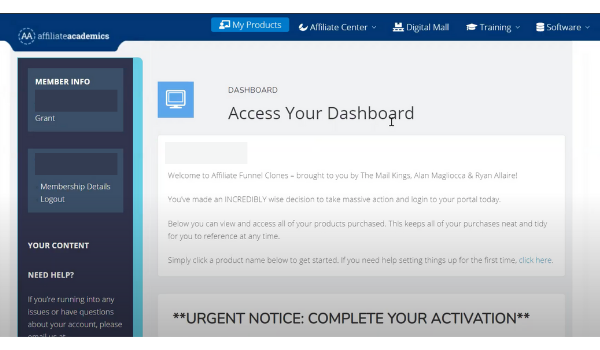 This method supposedly hits 2 birds with one stone because you don't only encourage buyers to convert but also tap them again for more sales.
Making sales is said to be as easy as 1-2-3.
1. Login to your Affiliate Funnel Clones 2.0 dashboard.
2. Connect your autoresponder.
3. Add your affiliate link.
Just by these 3 simple steps, driving sales will theoretically be so easy.
But again, just in theory.
5 Reasons It's Unlikely To Work As Promised
Getting more people to convert and make them come back again to buy some more is next to impossible.
Here's why:
1. No Domain, No Hosting, No Coding Needed
I've reviewed tons of funnel-builders similar to this one like:
This can sound like things are easier for you but the truth is, it isn't.
What this basically means this cloud-based software is hosted by them. Anytime they decide to shut it down, your funnels will be gone in an instant. It'll be an investment that vanished in thin air.
2. Everything Is Automated
Again, this can sound good for you. But it's actually not.
You see, you're basically relying everything on Affiliate Funnel Clones 2.0. You let it do all the heavy lifting while you just wait sitting pretty waiting for buyers to come around.
Relying everything in this software means you know nothing about how it works. When a glitch occurs, you won't know how to fix it.
3. In-depth Training
There's nothing of that sort here. All it provides you are a couple of videos on how to set it up.
Just think about the end goal: you want to gather subscribers so you can pitch to them again.
The sad thing with most funnel-builders is, it only goes as far as teach you how to put up the email capture page. You won't get taught what you actually do with the emails you gather.
If you're a beginner with no experience in email marketing, either you sign up for an email marketing course or if you don't have budget for it, you just go and wing it.
This will be a lot of trouble for you. Most likely, you'll end up doing email marketing the wrong way, which is pitch and pitch all you can.
You won't get anyone to convert doing it.
4. Lousy Capture Pages
I could describe it worse. But I'll be kind here.
This is what your email capture page looks like: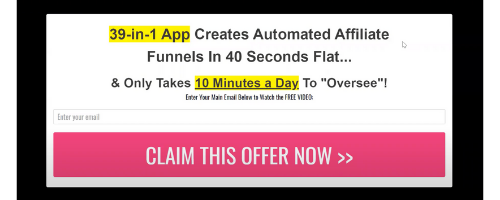 Yes, you can edit the words, the font, the color but that's it. There's nothing else you can tweak.
A capture pages this lousy won't get anyone interested.
Ask yourself: will you?
5. Solo Ads To Drive Traffic
How do you get people to these funnels? You pay for solo ads.
Basically, these are email lists from other people that you pay for to send your pitches to them.
It's less likely you'll find someone who'll convert here.
1. You're not even sure these are targeted list or people who have a level of interest in what you can offer.
2. The people on this list get bombarded with email pitches almost everyday, they mostly ignore emails from random people.
3. You don't pay for solo ads one time, you have to keep spending for them to draw more people to your offers.
At the end of the day, you're just flushing money down the drain.
Is Affiliate Funnel Clones 2.0 A Scam?
Affiliate Funnel Clones 2.0 is not a scam. However, it can't deliver what it promises about more buyers and more conversions. Using this funnel-builder alone won't suffice.
To make it work, you at least need to learn how to do email marketing, if you don't, the emails you gather (granted you're able to get some) will be utterly useless.
Where Do You Go From Here?
Affiliate Funnel Clones 2.0 is just one cog in an entire machine. The machine won't work if you only have this.
This funnel builder will only do so much. You need to learn how email marketing works to see some results.
But then again like I've said in many reviews, I don't fancy email marketing as a way to drive people to offers because you can't assure a level of interest from your subscribers especially when you got them from third-party sourced like solo ads.
For me, creating a niche-website for my offers is a way better traffic strategy. By making good content on the website for the niche, you'll be building credibility so people can start trusting you.
Plus, you get a level of assurance that the people who visit your site are interested in the niche and in the products you offer along with it.
In Wealthy Affiliate, you don't only learn how to create your website, you're also taught the process of monetizing it, so if you're doing affiliate marketing, taking this course will lead you to better-converting traffic.
And if you're just starting out, it's the kind of training that gets you from being a beginner to an experienced online marketer.
If you're interested to know more about what you learn in Wealthy Affiliate, you can head on and check this thorough Wealthy Affiliate review to get started.
What's Your Take?
Did you feel Affiliate Funnel Clones 2.0 is a lousy tool to use? Do you think you're better of learning another traffic strategy? I'll see you in the comments below.
Simon Crowe is on a mission to help as many people as possible kiss their bosses goodbye.
Take the free Commission Academy course to discover how to smash your online income goals and make your dream business a reality.