Matt Bacak's Secret Email System is marketed as a "counterintuitive approach to running an online business", but is it really?
This Secret Email System review is going to show you if this counterintuitive approach can make you profitable online.
You're going to discover exactly what the Secret Email System is, how it works and ultimately if it's a scam or a legit way to make money online.
Secret Email System Review At A Glance
About: Secret Email System is an email marketing eBook claiming to teach you how to build a 7-figure online business.
Price: $5.60 for the eBook, $141 for 2 upsells, and $228 per year for email software.
Pros: Low cost front-end product and comes with a 30-day refund.
Cons: It's not as easy and effortless as they like to make out.
Verdict: A borderline scam because the eBook gives you nowhere near enough info you need to make money. Buy it if you must, but keep the receipt.

What Is Secret Email System?
Secret Email System is a list building eBook launched in September 2020 by Matt Bacak who claims he can teach you how to utilize email marketing to build a 7-figure business.
Matt calls this eBook a "business machine" that only requires 30 minutes of work a day to generate sales around the clock. He says you don't need to create your own products or take care of customer service.
The sales video includes a typical sob story about him struggling, working 80 hours a week and almost giving up until he finally figured out how to turn his online business into a machine, generating income on autopilot.
The eBook is supposed to be the exact duplicate of the steps and shortcuts he took to make it happen.
So-called shortcuts don't sit with me well. Whenever an opportunity describes itself as an overnight solution I smell a rat.
Who Is Matt Bacak?
Matt Bacak is a long-time email marketer with experience going back to 1997, when email marketing was born.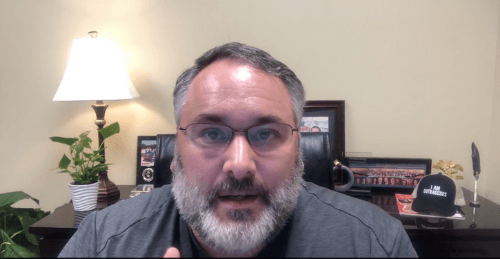 According to his LinkedIn profile he:
Was recognized by Defense Department Official for Internet Marketing Leadership in 2006
Was a Stevie Award Finalist (Premier Business Award) in 2009
Won Internet Marketer of the Year in 2010
He also has a Youtube channel that had videos of him doing internet marketing lectures uploaded way back in 2006.
Surprisingly though, he only has 564 subscribers. If he was such a premier internet marketer, I expected more of a following.
The Secret Email System isn't his first digital email marketing product either.
He's also launched:
5,001 Profit-Producing Emails
Webinar Heist
Instant Swipe File Of The Month
The E5 (Email 5) Method
15 Webinar Sequences
Fast Cash With Facebook Marketplace
Split Test Black Book
Instant Swipe File – Amplified
Forbidden Knowledge Archive
List Building Accelerator
Almost all are email marketing related.
Here are the 2 questions that immediately spring to mind:
Q1. If he was such an expert in email marketing, why would he need to launch tons of products instead of focusing on developing one to make it outrageously profitable?
Q2. How sure are you the email swipe collection you pay for in 5,001 Profit-Producing Emails are not the same ones in Instant Swipe File – Amplified?
At this point, I'm still not 100% sure about his credibility as an expert email marketer.
How Much Is Secret Email System?
The Secret Email eBook is $5.60. As soon as you check out you'll be directed to the first Ultimate Email Marketing Package upsell priced at $97, discounted down to $47. The second The Secret Email Mastermind upsell costs a monthly $9.95.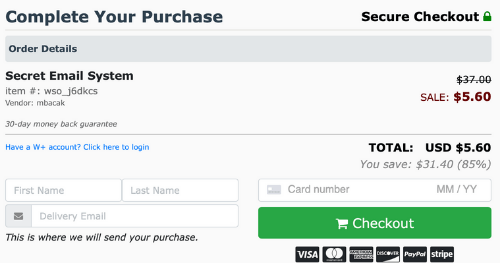 Matt also offers a 30-day refund policy where he'll still let you keep the eBook.
The 2 Upsells
According to the first Ultimate Email Marketing Package upsell's sales page:
"You'll be able to 'Copy and Paste' Your Way To Having People Positively Respond."
This simply means you copy and paste the email swipes he provides.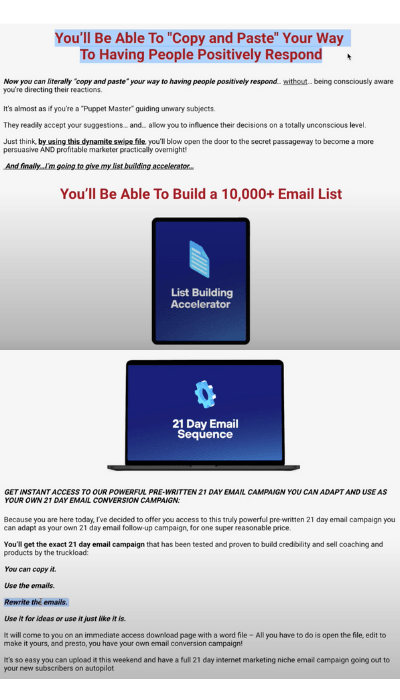 This is quite wide of the mark because effective email marketing means creating a relationship with your subscribers. You can't build a connection with them by simply sending generic emails.
To his credit, Matt does go on to mention you can rewrite the emails to inject that all-important personal touch.
And I'd say rewriting them is critical because everyone who buys these upsells are going to get the exact same email swipes as you.
The second upsell is access to Matt's Secret Email Mastermind Facebook group as a way to get help and support: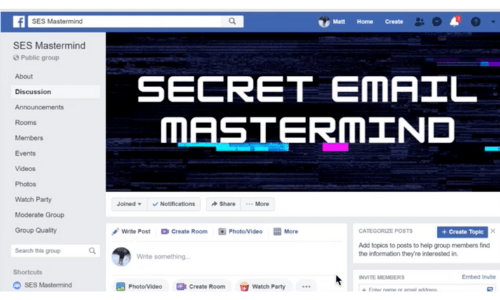 Secret Email System: An Inside Look
The Secret Email System eBook teaches the following:
How to choose a "high-demand" marketplace
How to choose high-converting affiliate offers
How to choose a domain related to your offer
How to choose the right autoresponder
How to make your own opt-in page
How to drive traffic to you opt-in page
How to set-up an autoresponder sequence
Matt's 7 Recommended traffic sources
How to mail a product offer
This outline shows he doesn't just teach about email marketing, but he also teaches how to leverage it using affiliate marketing.
Which is great because unlike other email marketing products like Instant Email Empire and 1K Daily System, Secret Email System actually teaches you how to generate an income from those emails.
To sum it up, the eBook teaches a 3-step money-making formula:
Step 1: Learn to build an email list using others' unmonetized leads.
Step 2: Promote relevant products and services to those leads.
Step 3: Monetize by employing Matt's email marketing strategies.
Aside from the main topics of the eBook, Matt also provides bonuses like:
Irresistible Offer Video Guide: How to get access to great converting offers
Secret Email System Checklist: A checklist on what you need to implement
3x Formula Calculator: A profit equation by Matt to help you maximize sales
$2.1 Million Email Swipe Files: 1,000 emails Matt says is responsible for making millions in sales
The Secret 357,582 Lead Gen Template: Matt's own lead gen template
10,978 Fresh Leads Every Day Masterclass: How you can generate quality leads
Secret Of Millionaires Book: A list of characteristics internet millionaire have that make them successful
Gigantic Swipe File Book: A list of attention-grabbing headlines, words, phrases you can use to personalize emails
We're told these bonuses are valued at $1,500.
Honestly, though, eBooks of this sort can be helpful BUT it takes more than just this guide and its bonuses to help you build an income-generating business.
You can't simply choose a pre-made email and infuse it with random headlines and phrases he suggests. There's more to email marketing than just sending sales pitches.
Like I said earlier, you need to make a connection with your subscribers. You have to provide something of value and not just pitch them every time.
6 Secret Email System Cons
1. The Upsells Are More Expensive Than The eBook
Let's face it, the front-end eBook is just a ruse to get you to buy into the more expensive upsells.
2. There's A High Chance Your Emails Will Land In The Spam Pile
If the email list you build includes people who are inundated with sales pitches on a daily basis, your email will likely land in the spam folder, which means lower open rates and even fewer clicks.
3. Impersonal Emails
Without experience, you'll most likely just copy and paste the pre-made emails or tweak it a bit but still sound unengaging. You won't be able to shine enough to merit getting attention.
4. Getting The Right Products In Front Of The Right People Matters
Even the most eloquently written email campaigns mean nothing if you end up pitching the wrong product to the wrong people.
This is why I prefer building niche-based websites to create an email list. That way, you know you have a target audience of people interested in what you're actually promoting.
5. One eBook Can't Teach You Everything
Learning the ropes of email marketing involves more than just reading an eBook. You'll massively boost your chances of success by getting proper training.
Wealthy Affiliate has over 70 video lessons as well as weekly live classes and a whole community of experts to help point you in the right direction.
6. Unrealistic Earnings Claims
Making serious money online takes more than 30 minutes of work a day.
You need to invest a lot of time learning and trying things out to see what works and what doesn't.
Is Secret Email System A Scam?
Secret Email System is not a scam as you get 1,000s of sample emails and a basic guide on email marketing. Though you may need more training before you start making money with it.
I'd say the front-end cost is reasonable, but you needn't bother with the upsells.
Where Do You Go From Here?
Rather than try and fit all the pieces together yourself, it's way better to follow a proven roadmap to making money online.
Invincible Marketer will give you full, step-by-step training that's been proven to work time and time again. 
They cover all aspects of running an online business; from email and social media marketing to getting Google rankings and finding the best type of products to promote.
Check out our honest Invincible Marketer review to get all the details.
Leave Us Your Secret Email System Review
Do you think a lousy $5.60 eBook can teach you everything about making money online?
Already signed up and paid for Secret Email System?
Good or bad, tell us about your experience in the comments!
Simon Crowe is on a mission to help as many people as possible kiss their bosses goodbye.
Take the free Commission Academy course to discover how to smash your online income goals and make your dream business a reality.