Welcome to the only Instant Email Empire review you need to read. Chances are, you've heard the hype about how much money can make but I'm going to show you exactly why Instant Email Empire is a scam you'll want to avoid.
I'm always on the lookout for real make money online training and when I came across Instant Email Empire I started out pretty optimistic.
That was until I realised how this scam really works…
Keep reading for full details, but first, here's a quick snapshot:
Instant Email Empire Review At A Glance
About: Instant Email Empire promises to show beginners how to make millions from home simply by sending emails.
Price: Advertised as free but, in reality, costs $300 a month.
Pros: There are none.
Cons: Fake owner, tons of complaints and bad reviews and they NEVER PAYOUT.
Verdict: Too many people have lost money with this already. You don't have to be next.

It turns out 'Bobby' is an actor, paid to promote Instant Email Empire as a guaranteed money-making system where you have nothing to lose.
This is just the latest in a long line of scams that present themselves as risk-free, done-for-you systems before getting you to sign up for several paid memberships.
The deceptive marketing tactics used to lure unsuspecting victims has fooled many into losing $1,000's of dollars.
These clever little scammers give people a false sense of hope as they see their balance going up, but it's nothing more than a number on a screen that will never turn into real cash in your hands.
2022 Update: Read the comments guys, you don't get any scammier than this.
If you want my advice, steer clear of Bobby's get-rich-quick crap and learn how to make a full-time income online by building a real online business.
I've written a SUPER detailed review of Invincible Marketer where I outline exactly how this training platform helps me generate $7,000+/month.
What Is Instant Email Empire?
Instant Email Empire is a program claiming you can make millions from home sending emails. The sales video has a guy calling himself Bobby who tells you he's made $1,426,242.09 in the last year alone through email marketing.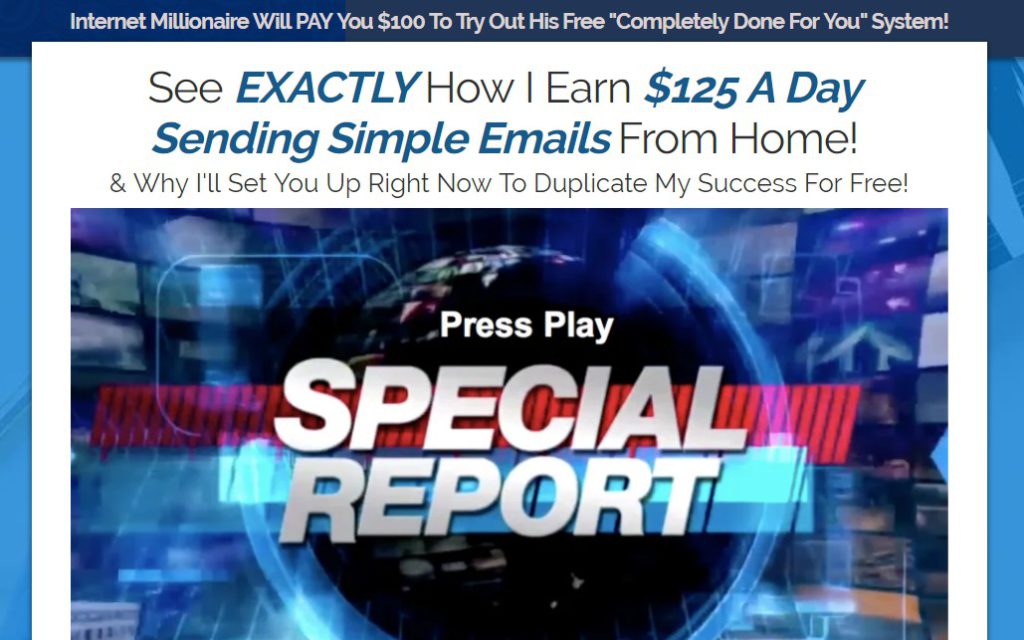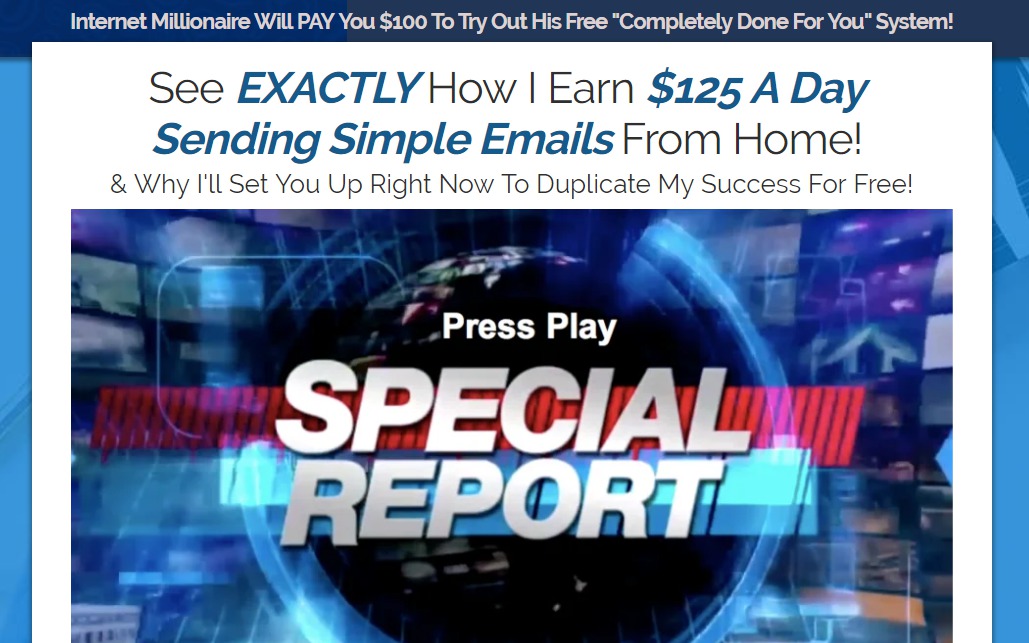 He goes on to brag about his 'gigantic house' and the 'ridiculously lavish vacations' he's taken with his family. To help you live the kind of life you want, Bobby says he's going to give you everything you need to get started.
He says this is a 100% free system: "You'll never pay me a single dime ever."
Unfortunately, this is the first of many untruths…
We're told all you have to do is create a free account and Bobby will send you free subscribers every day and even give you the offers to promote to them so you can start earning daily commissions.
Despite my best instincts, I went ahead and signed up (So you don't have to!)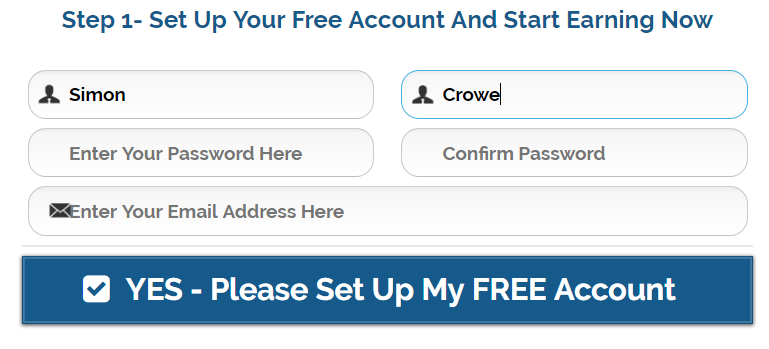 Click the button and you're taken to a second page with another video, this time giving you a few more details about how you'll supposedly make money…
This Bobby character wants to give you a complete turn-key system. After just 10 minutes' set up you only have to log in each day and see how many dollars you've made.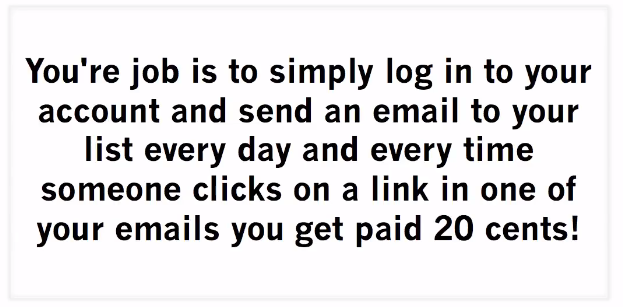 He says he's going to partner with you to give you everything you need to start making money through sending emails.
Why?
Because he makes money when you start making money; you only split the profits once you're in profit so you're never out of pocket. As you'll see though, this guy (whose real name isn't Bobby) is full of baloney.
He claims the real reason he's doing this is that his email inboxes are full.
He says email services like Aweber and MailChimp have a limit on how many subscribers you can have because of limited bandwidth and space.
Apparently, he's struggling to add the millions of people trying to subscribe to his lists because his email service provider won't let him: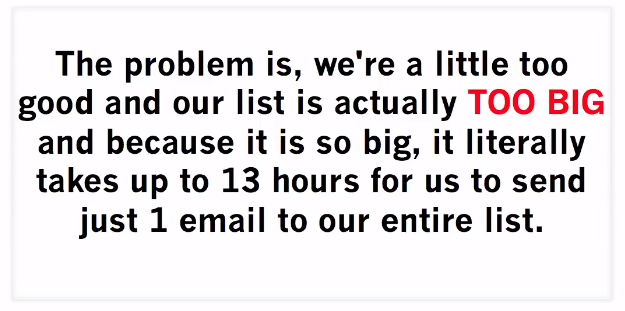 I do a fair bit of email marketing myself and I know this isn't true. There are no limits on the number of email subs you have – ever.
This is a complete LIE!
It's laughable really… it's a bit like saying your Facebook is full… you have so many friends that you need to start sending your new friend requests to your friends' accounts!
See how ridiculous that sounds?!
How Instant Email Empire Really Works
'Bobby' will earn monthly commissions when you subscribe to the Builderall email marketing platform. This is not necessarily a bad thing, (I make a full time living thanks to affiliate marketing) but Instant Email Empire is not free like Bobby told you.
Members are asked to pay a minimum of $9.90 per month for the ability to build a list of email subscribers and send out emails en masse.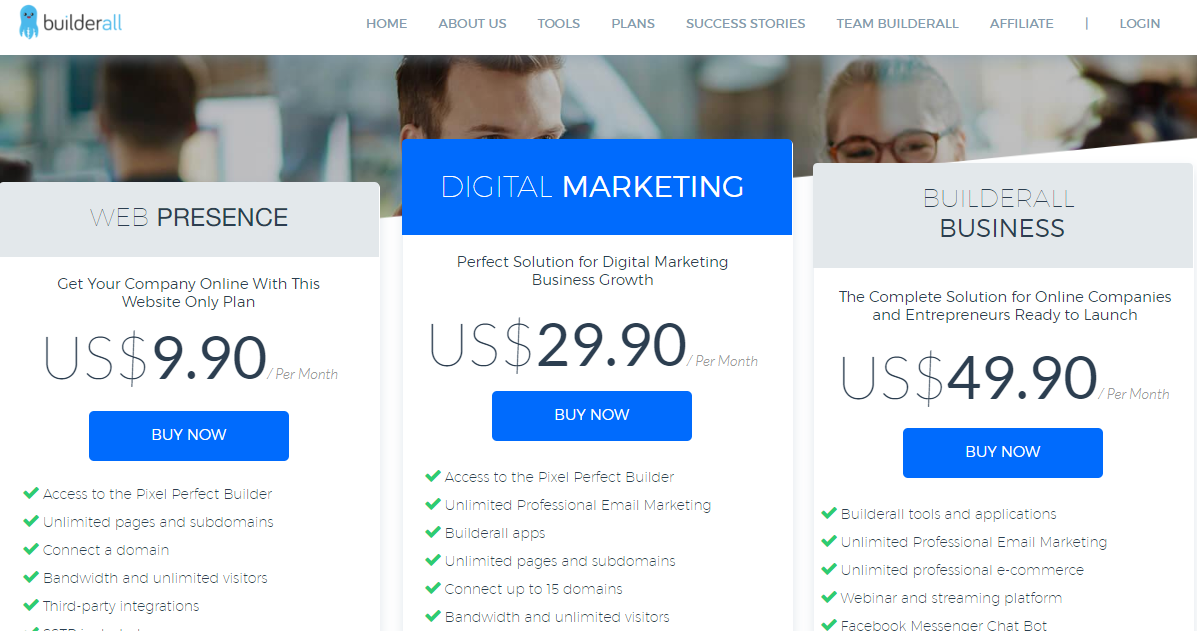 Sign up to Instant Email Empire and you'll see your subscriber count increase and your earned balance go up. This is enough to keep most people paying out for a good few months…
Unfortunately, as I'm about to show you, this is nothing but an illusion – that balance will never translate as real cash in your bank account.
5 Instant Email Empire Dirty Secrets Exposed!
1. Instant Email Empire Is Anything BUT Free
All those claims about this being a completely free system are just not true. The guy behind this wants to fool you into believing this is a zero-risk, zero cash-down business opportunity so you think you have nothing to lose and let your guard down.
Get into the member's area though and you're told to sign up for half a dozen monthly subscriptions for various email service providers and landing page builders.
2. Bobby's A Fake: We Have No Idea Who's The Real Owner
The guy making you all these promises of automatic cash, the guy who told you he made $1,426,242 last year, the guy who said he's going to give you everything you need to get started is nothing more than a paid actor reading from a script: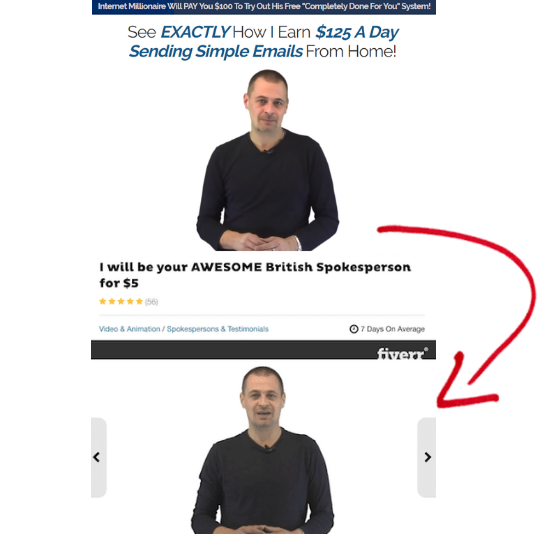 Despite my best efforts, I can find no information about Bobby or who the genuine owner of InstantEmailEmpire.biz is.
This is a huge RED FLAG!
The owner has chosen to hide behind a curtain of anonymity meaning there's no one you can contact to get a refund; a sure-fire sign Instant Email Empire is a scam.
3. Instant Email Empire Is A New Name For An Old Scam
In fact, this is a scam we've seen many times before under a plethora of different names like Guaranteed Income Machine, Guaranteed Email System, GIM System Training, Copy My Email System.
The list goes on and on…
Each time the scam works in exactly the same way; people hand their money over expecting to see a return on investment only to never receive a payout and have their complaints completely ignored.
When complaints start mounting up the con artist behind the site will just shut up shop and relocate to a new web address so he can continue ripping off unsuspecting work from home job seekers.
4. Prepare Yourself For An Avalanche Of Spam
You'll remember when I signed up I had to hand over my name and email address. Since then my spam folder has been inundated with 41 emails in just 3 days from Bobby, Michael and Christian: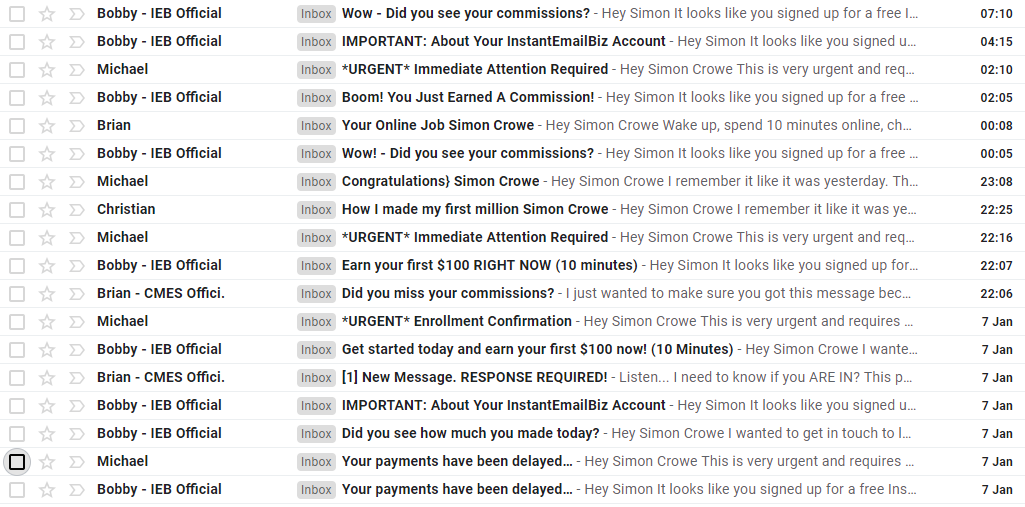 If you are going to sign up, I highly recommend you use an alternative email address so you're not bombarded with spam.
5. Instant Email Empire NEVER Pay Out!
Every single review of Instant Email Empire tells the same sad story, with members reporting when it comes time to withdraw funds they hit a brick wall.
I haven't managed to find a single instance of a member getting paid what they're owed, as these reviews show: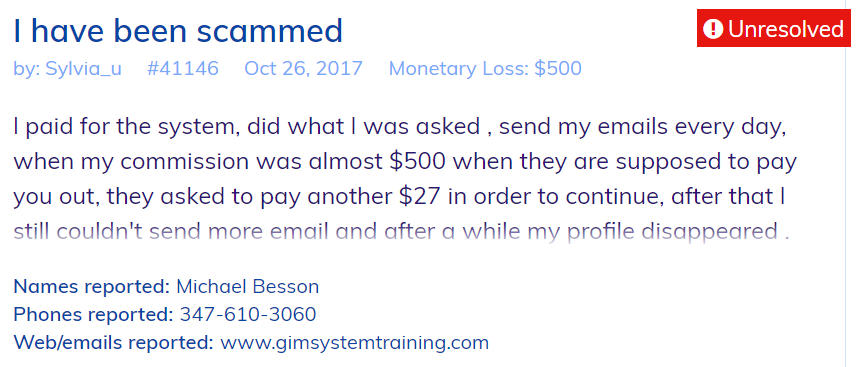 Don't be fooled by the fake numbers in the members' area. Sure, your balance and the number of email subs will look like they're going up but unfortunately these will never amount to anything in the real world.
It's all just a cleverly designed ruse to keep you paying into the system so the owner makes as much money from you as possible.
Is Instant Email Empire A Scam?
Yes, Instant Email Empire is a scam, no doubt about it. This is an elaborate scam with empty promises and a fake owner where, thinking they've struck gold, people happily pay monthly membership fees as they see their fake earnings increase. But sign up and you only lose money.
This scam site may only be around for a couple of months before it's shut down. That's just the nature of hype in the world of get-rich-quick schemes.
Email marketing is a real money-making method and there are so many legitimate affiliate marketing courses out there giving real training on building profitable online businesses without the hype.
I've reviewed a few email marketing courses here on the blog before like Evergreen Wealth Formula and Inbox Inner Circle but the only training system I've seen stand the test of time is Wealthy Affiliate; where I started.
The best part?
You can join Wealthy Affiliate for free and start your first website in the next few minutes.
Your Instant Email Empire Review
If you've tried Instant Email Empire, tell us what you think below!
Got any questions about building a real business empire online?
Ask and I'll get right back to you!
Simon Crowe is on a mission to help as many people as possible kiss their bosses goodbye.
Take the free Commission Academy course to discover how to smash your online income goals and make your dream business a reality.