This review is all about exposing ShareCash for what it really is; a scam you shouldn't even try. I'm going to reveal all its dodgy shenanigans so you'll understand why staying away from it is in your best interest.
ShareCash claims to have "caused an uproar on social media" for becoming the "#1 Network in under 10 years". The truth is, the only fuss about it online is how lots of people gave them away as a complete sham.
Today you'll know what ShareCash really is, how it's supposed to work, and all the reasons why it can't stand to be legit.
ShareCash Review At A Glance
About: ShareCash claims to pay you $500 a day for sharing referral links on social media.
Price: Free membership.
Pros: There are zero pros – seriously, it's that bad.
Cons: They use fake payment proof and phoney testimonials to deceive you into completing tasks you won't get paid for in the end.
Verdict: ShareCash is a blatant scam. It will do you more harm than good because of what they'll do with your personal information.

What Is ShareCash?
ShareCash claims to be the "#1 Influencer Network" platform where you can earn as much as $500 per day for sharing links and doing simple tasks. Its owner is not known just like every scam of its kind.
The basic idea is you become an influencer or someone who has the power to persuade the public once you sign up. The reality is far from it.
Becoming a member doesn't instantly make you an influencer, it doesn't come overnight. It takes time and a lot of experience to gain people's trust and to have the power to shape their choices.
This influencer network gimmick is just a made-up term to make you think it's some kind of unique and profitable platform.
ShareCash employs one lie over another to get you to do the dirty work for them while they hoard the little income they get from third-party websites. It lures you in using the free membership and the promise of earning $500 every day for doing effortless work.
This is no different to scams like:
All claiming to be the #1 Influencer Network!
The truth is, the whole $500 daily income is just a ruse to get your name, email, address, and password. It's banking on the idea you use the same information for every online account so they can steal your identity and money!
Basically, it's a data-harvesting scam.
The funny thing is, they claim to be around since 2015, making it seem they have a long and established history, when in fact they just launched November 2019.
Another thing, the timeline section in the About Us page says they're based in Amsterdam BUT scroll down to the very bottom and their location is pinned as Houston, Texas: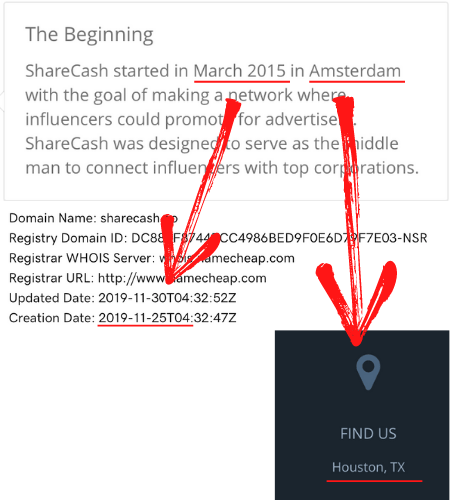 These are just a few of the inconsistencies proving something's fishy with ShareCash, I'll tell you about the rest of it in the red flags section.
The most important thing for you to know at this point is ShareCash isn't exactly being honest about what they are and that should send alarms bells ringing.
ShareCash: An Inside Look
After filling out the sign-up form, you'll immediately be directed to the dashboard where you'll be welcomed by a 3-minute tutorial video.
I was patient enough to watch it until the end, giving its slim chance of being legit but all it shows is how to increase the digits in your dashboard without taking it a step further and showing if you can really cash out.
Anyway, after the video, you'll see the $25 sign up bonus added to your balance and the list of available tasks on the left-hand menu: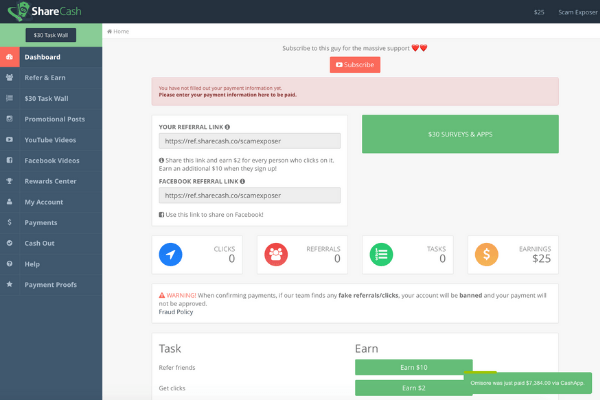 There are supposedly 3 ways to make money with ShareCash:
1. Refer And Earn
Sign up abnd you'll be assigned a referral link to share on social media. When people click on it, regardless if they signup or not, you earn $2. If they join then you're told you'll earn $10.
I even tried one out, with my dummy Twitter account named scam exposer, after one tweet they paid me $2 without even checking if I have any followers:
It'd be easy to think this is easy money, BUT take a step back and think:
Where will they ever get the money to pay you for the referrals, let alone the $25 bonus you got at the start?
Ad revenue? I've never seen a single ad anywhere on the website.
2. Task Wall
Tasks range from surveys to playing games for $30 a pop. After a series of screening questions, you'll be told there are no available surveys as of the moment.
Why didn't just say so earlier? A total waste of time!
3. YouTube Submissions
ShareCash promises to pay $50 for a 1-minute YouTube video. The testimonials section has some of these videos.
The sad part is all theose people ranting and raving about how great ShareCash is stmade those videos when they still believed they were getting paid…
Why Cashing Out Is A Pipe Dream
You're told you have to meet certain criteria before you can withdraw your balance. You have to have at least:
5 referrals
20 clicks on referral link
5 completed tasks
$500 in earnings
Now here's where you'll rip your hair out:
After doing everything you're supposed to do, you'll realize all that time and effort you put in was for nothing. Try requesting a cashout and you'll be told:
"Our system has deemed some or all of your stats to be unauthentic, due to that, your payment has been canceled, and your account is pending termination."
Even if you did nothing wrong at all!
This is the petty excuse they use to ban your account and not pay you. At no point did they ever have any intention to pay out a single dime!
They just want to keep using you so third-party sites will pay them in exchange for your personal information.
The whopping figures you see increasing in your account is nothing more than an strategy to keep you sharing their links.
How about asking for support?
Don't expect a response anytime soon because even their email address is fake.
Is ShareCash A Scam?
Yes, ShareCash is undoubtedly a scam. It's a data-harvesting scheme cloaked as a promising money-making platform. No matter how many tasks you do, you will never get paid.
7 HUGE ShareCash Red Flags Exposed!
Other than the reasons I've already given, here is more proof ShareCash is anything but legit.
1. Totally Unrealistic Earning Claims
Earning $500 with ShareCash is not only unlikely, but impossible.
Think about it:
How can they even pay the handsome bonus if the source of revenue they claim to have can't be found?
Think too about the whole concept of Youtube submissions. You'll be promoting ShareCash, claiming it's legit. You put your name on the line for $50 before you can even prove you can cash something out for real.
2. Fake Payment Proof And Testimonials
A quick domain check shows ShareCash.com was launched in November 2019, but payment proofs are dated way before that date.
We're even shown so-called proof of laptops and phones next to a piece of paper with ShareCash's logo and a barcode on it: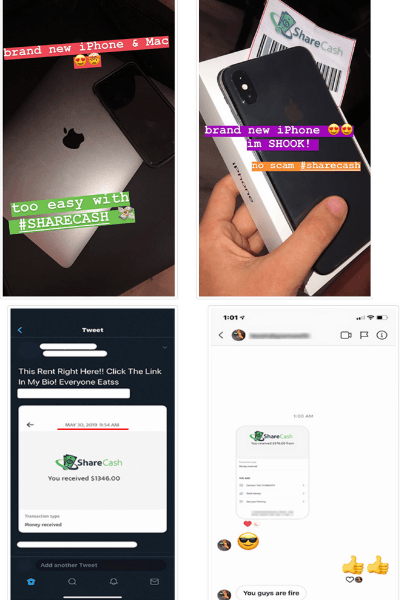 It's so easy to print the logo and put some random barcode on it and place it next to any gadget you have.
How about the testimonials? I know they're fake because it's the same one you can find in OG Bucks before it went under: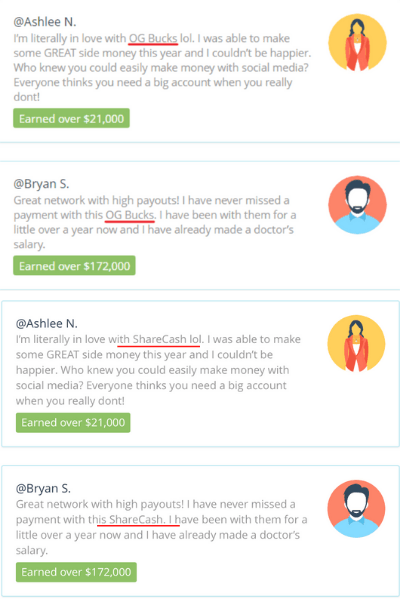 3. It's Impossible To Contact Them
Seriously, will a legit opportunity use a fake email? This only happens when they want to seem credible but don't really want anybody to contact them.
4. Will The Real ShareCash Owner Please Stand Up?
As always, when the owner doesn't even have the courage to show himself then it only shows he has something to hide.
They choose to remain anonymous so it's easier to make a run for it and release a rehashed version with a new name to dupe more unsuspecting people.
5. ShareCash Is Fake News
They claim to be mentioned in a Forbes publication, but when I tried searching for it, this was the result: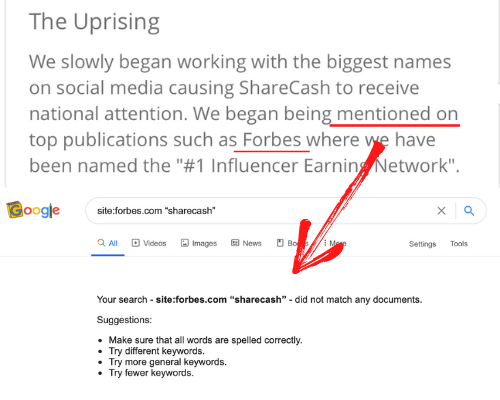 6. You Open Yourself Up To The Real Risk Of Hacking
You'll be redirected to third-party sites for surveys, what's the chance of your information getting into the wrong hands? Almost 100%.
Another thing, some "rewards" require your home address and your credit card details together with your name and password. Try cashing otu and they'll ask for your PayPal details.
They'll basically have access to your sensitive information and can do whatever they want with it because after all, you don't know who they are.
7. You'll Never Ever Be Able To Cash Out
This is the biggest proof it's a scam. It promises to pay you whopping amounts for easy tasks but try to get your earnings and you'll be given a lousy excuse and be banned.
Now, tell me if a legit business has shenanigans like this!
Where Do You Go From Here?
Instead of getting ripped off with fake shiny shortcuts, it's always better to invest your time and effort in learning to build a legit and profitable online business.
You can make $500 per day and even more with affiliate marketing!
You know it's legit because it doesn't promise easy money. You have to work your way into reaching your online income goals but instead of being scammed and getting your time wasted, affiliate marketing will put worth in every second and effort you give.
Simply put, here are the 4 steps to make money with affiliate marketing:


Wealthy Affiliate will provide complete training and community support to help you every step of the way.
Get a better look at the right path to online success in this full and honest Wealthy Affiliate review which will show you everything you need to know.
What's Your Take?
Have you seen how useless the tutorial video is? Did you also think the pay was too good to be true for tasks requiring no sweat?
Share your thoughts, the comments section is ready for you! 🙂
Simon Crowe is on a mission to help as many people as possible kiss their bosses goodbye.
Take the free Commission Academy course to discover how to smash your online income goals and make your dream business a reality.