Tons of people are ditching the 9-5 job to work from home and make money online. However, a lot of scammers like the ones behind PaidNova, are still trying to work their way into people's pockets.
Scammers like to say making money online is as easy as sharing a few links on social media. But think about this: a simple click is not a sale in itself, so why can PaidNova afford to pay you heftily for doing something so effortless?
In this review, we'll go behind the "$300 per day income" claim and uncover the reasons why PaidNova is no more than a grubby scam.
PaidNova Review At A Glance
About: PaidNova claims to be an influencer network offering $300 in daily income for promoting it to social media sites.
Price: Free to join.
Pros: There are no pros.
Cons: Unknown owners, fake payment proofs and testimonials. They never pay and worst of all, they could compromise your personal data.
Verdict: PaidNova is a mere clone of 100s of influencer network scams out there promising easy money when, in reality, they steal your info.

What Is PaidNova?
Created in October 2019, PaidNova falsely claims to be the #1 influencer network where you can earn $300 per day. It deceptively promises to pay for sharing links, finishing tasks, and creating promotional content on social media.
It's easy to blow one's horn but proving it is a completely different story. PaidNova provides no proof it's legit. All it gives is easily fabricated payment proof that contradicts the website's launch date.
PaidNova even forgot to change their name in the Payment Proof page making it easy to tie it with its clones LiteBucks and PaidLeaf: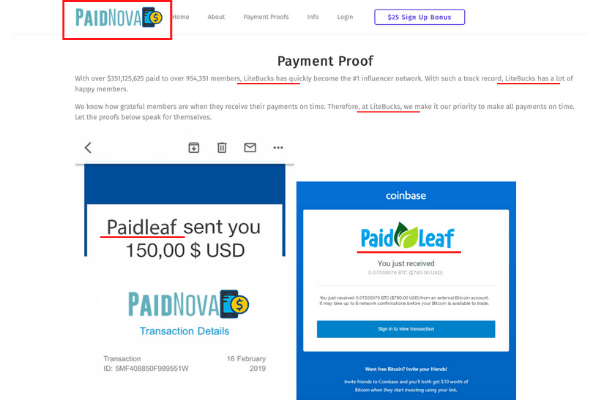 Is PaidNova Really An Influencer Network?
No, it's not. An influencer network is supposed to be a community of people who have the power to drive people's view of matters. But the thing is, you don't become an influencer just because you signed up to a site like PaidNova.
An influencer is someone who is already trusted by the public. Building that trust takes time and effort and doesn't happen over the few minutes you took in signing up for a cloned influencer network site.
3 Fake Ways To Make Money With PaidNova
To start "earning" with PaidNova all you have to do is sign up with your name, email address, and password. After finishing the process, you immediately get $25 as a signup bonus: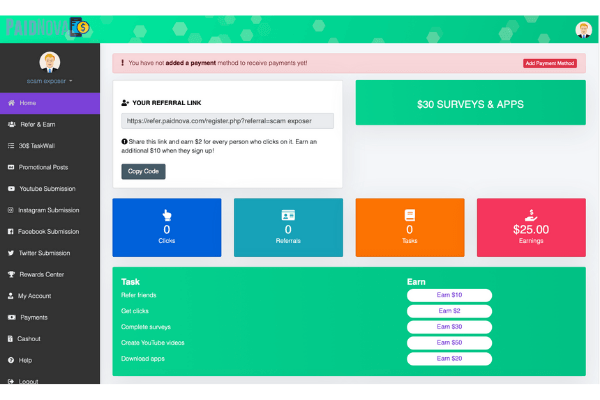 1. Refer And Earn
PaidNova promises to pay you $2 each time someone clicks on your affiliate link whether they signup or not. When someone signs up, you'll receive $10.
Like I said earlier in this review, it's illogical to get paid just for link clicks. PaidNova won't profit from it so they won't have anything to pay you.
Its real purpose is to get you to promote their website so they can take advantage of more people with your help.
2. Task Wall
Here you'll find tasks like completing surveys and playing games for $30. This is the riskiest fake way to earn with PaidNova.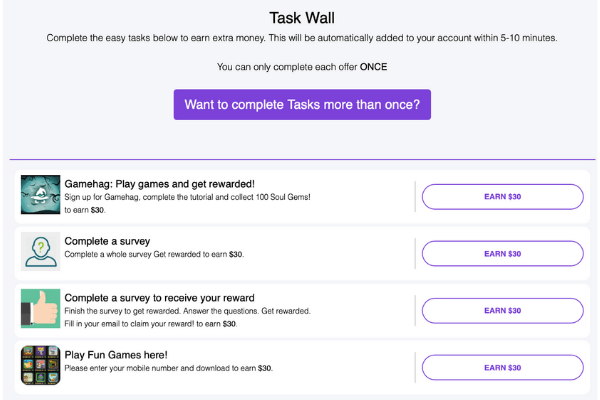 Cloned influencer networks are also infamous for being one form of data-harvesting scams and for good reason.
Surveys and other tasks will ask you for your personal information thinking these are the same credentials you'll use is accessing every online account you have, including your bank.
Each time you answer surveys and join competitions requiring you to give some personal information, PaidNova receives a commission from scammy advertisers.
On the best days, you'll just get unsolicited calls and a spammed inbox. On the worst days, you'll get your identity stolen.
3. Social Media Submissions
PaidNova apparently pays as much as $50 if you post promotional content on Youtube, Instagram, Facebook, and Twitter. You can submit a new post every 48 hours.
Your post has to include how it works, how much you've made (mind you this is just what appears on your account because at this point you can't cash out yet), and why you love it.
The problem here is, you'll make people assume it really worked for you without really proving it to yourself first.
I made a Twitter account and named it Scam Exposer. Tweeted something like this: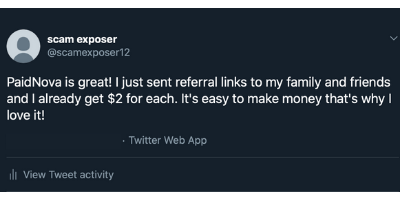 PaidNova then pays $10 for it. How ridiculous!
Another thing, PaidNova also offers $50 for a Youtube submission, but think about it: if people really get paid, Youtube would've been flooded with videos promoting PaidNova!
Sadly, all you'll see are low-quality videos with hardly any views.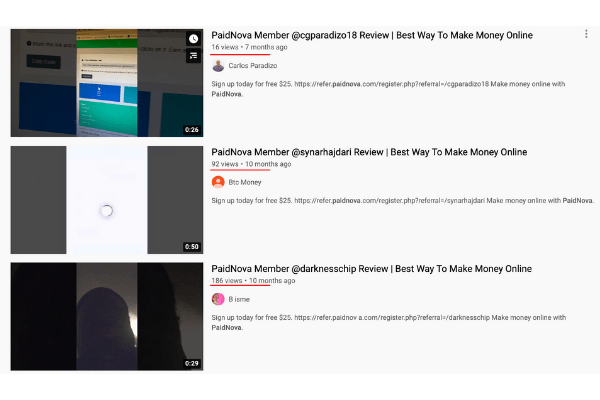 8 Red Flags Of PaidNova
1. Outrageous Payment Claims
I can't overemphasize enough how a simple click doesn't mean a sale with PaidNova, much less how they can afford to pay $10 for each new member.
They say their revenue comes from ads but even if you turn the whole website upside down, you won't find even a single one. Clearly, they can't afford to pay you.
2. Part Of A Network Of Scams
I mentioned LiteBucks and PaidLeaf earlier, this time it is NextCash. Why? Instead of directing me to the PaidNova home page, PaidNova.com directs me to NextCash.co. It's hard to deny these websites are clones of each other.
3. Unknown Owners
PaidNova's creator is unheard of. Like most, if not all, influencer network creators are kept anonymous so they can easily jump ship when the scam is exposed for what it really is.
Why else will they hide their identity?
4. Fake Payment Proofs
Instead of helping to get people to trust them, the payment proofs dug the grave even deeper. PaidNova was launched in October 2019, but the payment proofs are dated earlier.
If they can easily edit the date, there's no doubt they'd do so with the amount and the proof as a whole.
5. Fake Testimonials
It's almost like the twin of fake payment proofs when one is present, so will the other be.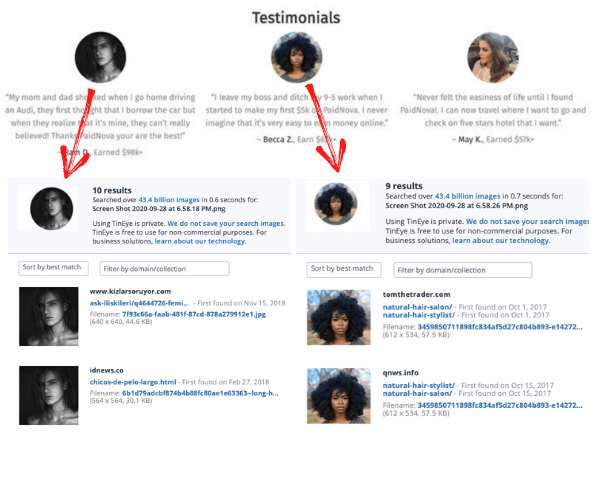 This is a clear proof PaidNova is a scam:
If it was legit and was able to pay its members, there won't be any need to resort to fake references. They'd have enough people to vouch for them.
6. Too High Paying Tasks
You know the saying, if it looks too good to be true, then it probably is.
PaidNova has contest prizes like "brand new iPhone10" or "$1,000 Visa Card".
Don't get me wrong, companies can offer prizes like these, but in PaidNova's case, the fake competitions do not advance the interest of a company, it's only a shady attempt to get your personal information by enticing your emotions with cool prizes in exchange for doing something seemingly so easy for you.
Don't fall for this unless you want to risk yourself of identity theft and a cashed-out bank account.
7. Minimum Cash Out Conflict
The Help page says there's no minimum amount required to cash out. However, when you go to the Cash Out page, it says you need to raise at least $200 and finish a specific number of tasks.
Clearly, they can't get their terms to go in line with each other with all the clone websites they need to take care of.
8. This Just Doesn't Pay – EVER
After all the effort in sharing links and doing tasks, you'll end up with nothing.
Try to cash out and you'll be told you're banned because "fraudulent activity was detected in your account". No, you didn't do anything wrong. They just need an excuse not to pay you.
Is PaidNova A Scam?
Yes, PaidNova is 100% a scam. The fake payment proof and testimonials are clear signs this is anything but legit. You'll realize it truly is a scam when in the end, no matter how big the amount reflected in your account is, you don't get a penny of it.
There's no point in wasting your time with scams like these. Building up a real affiliate marketing, on the other hand, is a more worthwhile investment of your time.
A Way Better Alternative
Ditch the easy get-rich-quick shortcuts because it won't get you anywhere. A better course of action is to start learning how you can generate a full-time income with affiliate marketing.
Here are the simple steps you need to take to start making money with affiliate marketing.


If you're worried you don't know anything about it, Wealthy Affiliate will guide you through everything you need to start your profitable online business.
Read my full and honest Wealthy Affiliate review to find out why it's my all-time top pick.
What's Your Take?
Did you think the pay for tasks was too good to be true?
What other reasons convinced you it's a scam?
Share your thoughts with us in the comments section below.
Simon Crowe is on a mission to help as many people as possible kiss their bosses goodbye.
Take the free Commission Academy course to discover how to smash your online income goals and make your dream business a reality.