Plenty Bread poses as a legit way to make money online so here's a review telling you all you need to know and answering the most pressing question of whether Plenty Bread is a scam or not. 
All I can say is I wish making $500 a day online was as easy as sharing a few links on Facebook but the truth is to make serious dough (pun intended) you need to put in the TIME and WORK to make it happen.
I'll give you a full-scale Plenty Bread review and tell you:
What Plenty Bread is
How it works
The red flags
If it's a scam or legit
Plenty Bread Review At A Glance
About: Plenty Bread claims to be the #1 Influencer Network which gives you money in exchange for referring the website to social media sites.
Price: Free to join.
Pros: There are zero pros. Seriously it's that bad! 
Cons: No creator, fake founding date, inconsistent address, no support can be expected, and worst, they will NEVER pay you.
Verdict: Plenty Bread is a cloned rehash of a ton of "#1 influencer network" scams littering the web designed to get your personal info. Don't fall for it. 

What Is Plenty Bread?
Plenty Bread claims to be an influencer network you can make money from by referring your friends and family. It allegedly transforms your social media following into real cash in the bank.
I must say, it's really well designed but the crazy income claims made me suspicious and I knew I had to sign up to find out what it's all about.
I'm glad I did because while it seemed very unsuspecting, the inside look was a whole different story. It's was only then I realized how familiar it was, making me check back on the details I initially saw and detecting the loopholes that were there all along.
I've seen this scam a lot of times before only that it has different addresses, names and color schemes. Plenty Bread is part of a huge network of scams like Influencer Cash, Money Genie, Notion Cash, and others I'll talk more about a bit later.
What Is Plenty Bread Is NOT
Plenty Bread is not a legitimate rewards site that pays $3 Amazon gift cards and $25 PayPal funds like Swagbucks. Though you might see your balance go up, come cashout time you'll never get paid.
How To Get Started With Plenty Bread
Plenty Bread is free to join. To get started, you just have to give your name, email, and choose a password for your account. You'll even get a $30 bonus just for signing up. You can't withdraw it immediately though; Plenty Bread will require you to first finish a set number of tasks before you can cash out.
It's an utter waste of time because you won't really get paid in the end. Never ever give these internet con artists your personal contact information or else you'll get into a lot of trouble like a cashed-out credit card and a stolen identity.
An Inside Look On Plenty Bread
Once you finish the sign-up process, you'll be immediately led to the dashboard. On the left you'll see the options you can do to make money from "Refer to Earn" down to "Twitter Submission". The rest of the dashboard is a monitor on how many clicks, referrals, and tasks you've already made.
It also shows the referral link you will use in your social media sites, a list of tasks you can do, and how much you can make from each and, the "actual" amount you earned from the tasks you've finished.
Sharing Your Referral Link
The main purpose of Plenty Bread is to take advantage of social media to get others to sign up and refer more people and so on. Doing this makes you an influencer, the reason why they call it an influencer network.
Plenty Bread claims to pay you $2 for every click your referral link gets even if the person doesn't take the next step of signing up. If a person joins, you get $20 for it. (Or that's what it says on your earnings portions)
Other Tasks
Aside from the referrals, you can also "earn" $35-$50 for completing surveys, playing games, downloading apps, and uploading Youtube videos.
I tried one survey out. It sent me to 3rd party survey site, asking for personal info like birthdate and address. Little did I know it was only the screening portion, I was sent to another site for the actual survey only to end up telling me my browser is not the latest version so I can't push through. (My browser is well-updated by the way!)
There's a tab on Youtube submissions where you upload a video of you saying Plenty Bread is legit even before you prove it to yourself. They'll pay you $50 for making and uploading the video. Just give them the link of what you uploaded to get your pay.
The same goes for the Twitter, Instagram, and Facebook submissions. You just have to create a content in each social media site and give the link to get paid.
What sets me off is, you have to convince people the opportunity is legit even if you have no proof yet yourself!
Think about it:
If you only realized this was a hoax, later on, you've endangered your reputation to friends and family. It might get some bridges burned too.
The good news is, you've read this review before signing up and inviting people to join in. So, you know what you're in for.
Another thing, some tasks include:
Providing your email address for a brand-new Samsung Galaxy S20
Providing your email address $150 worth Amazon gift card
Creating account and entering credit card details to watch online movies and series
Of course, they'll say you won't get charged but actually, you'll get something worse: they can take everything they can from it! I suggest you skip out on offers and tasks like this.
As for the ones who only ask for your email, get ready to get an avalanche of spams with every sort of marketing offer. What I do is, give a separate email, a different one from what I usually use so they can spam it all they like, and it won't get mixed up with my important email.
Cashing Out
This is the part I'm a bit excited telling you about. I didn't want to disappoint you, but I also don't want to keep your hopes up for nothing either.
After doing the required number of tasks and seeing a nice amount of your supposed earnings I'm sure you're excited to get your hands on it.
Here's the heartbreaking news:
You won't get a single penny no matter how big the amount you see in your account. When you attempt to cash out, you'll get face to face with excuses like accusations of fraud or haven't done enough tasks yet even when you already did then move to ban your account.
No matter what you do, even if you contact support (doesn't really work), you won't get anything. If truth be told, there's no $500 income per day you can expect from this.
Think about it:
If this works out as they promise it should, it can make you at least $182,500 every year, who wouldn't want it? If this was as true, there will be a stampede of people signing up promoting the website. But there isn't.
6 HUGE Plenty Bread Red Flags
1. Fake Founding Date And Address
The About Page says it was founded in 2015 in Amsterdam. But its domain details say otherwise. It shows the website was made in just April of 2020.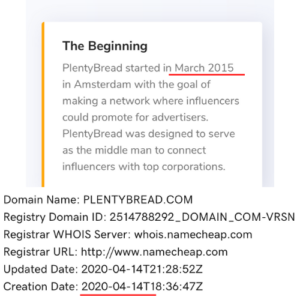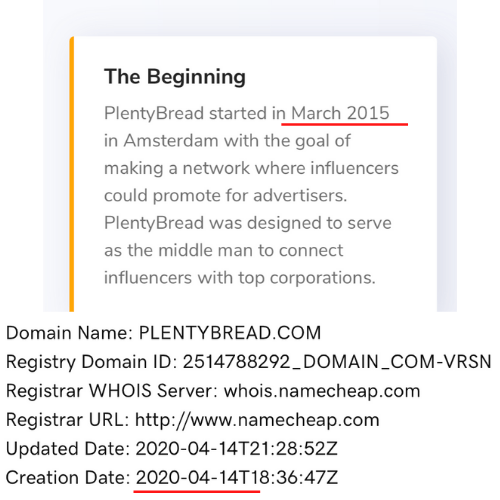 Why did they push it back 5 years earlier? Scammers usually do this to give credibility to the website by making you think it's been around for some time.
The Terms Page down in the Contact subheading says it's in Melbourne, Australia. But the Get In Touch area gives an address in New York (which turns out to be a vacant apartment).
So where is it really? Amsterdam? Australia? Or New York.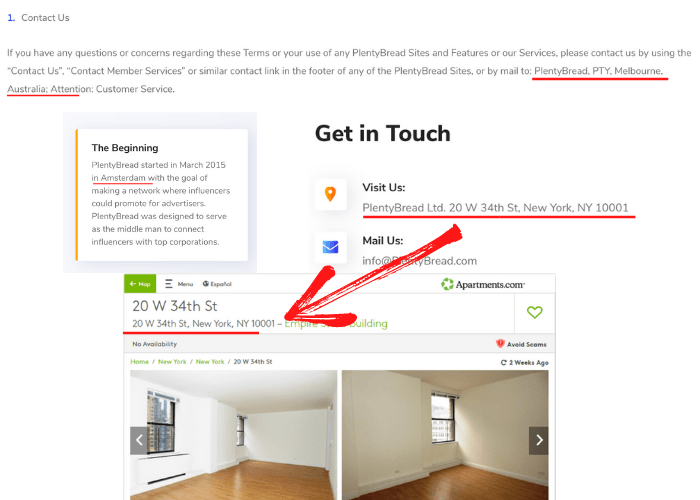 Scammers do not stop at one hoax, they make tons of websites, it's hard to keep track of founding dates and addresses.
2. No Creator
Legit make-money opportunity creators have no reason to hide who they are. They're even proud to show themselves for what they made. In Plenty Bread's case, no matter how many times you turn the website upside down, you won't find any name behind the website.
Why?
Because I've said earlier, they have tons of scams. If they get identified in one, it'll be harder for them to jump ship when they decide to launch another one.
3. No Social Media Presence
I tried to do a Facebook and an Instagram search on Plenty bread, I couldn't find a single crumb to trace their presence.
What's an influencer network with no influence at all?!
Plenty Bread even claimed to be recognized by Forbes but when I did a search, I didn't find anything either.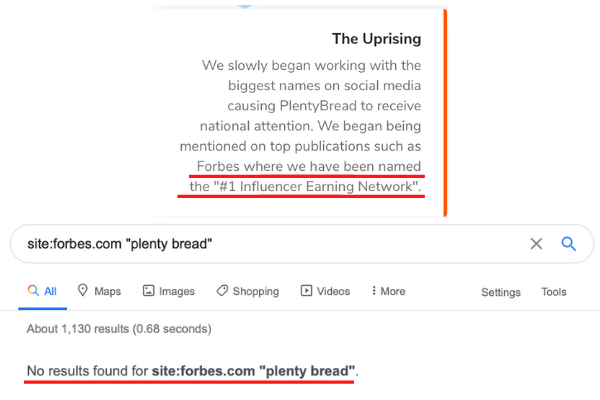 4. An Uncanny Resemblance To Other Scam Sites
If you take a look at the dashboard of Plenty Bread, it looks awfully the same with the Tap2Earn dashboard. Of course, the changed the color scheme to put a little effort into making it a little different. But overall, it's practically the same.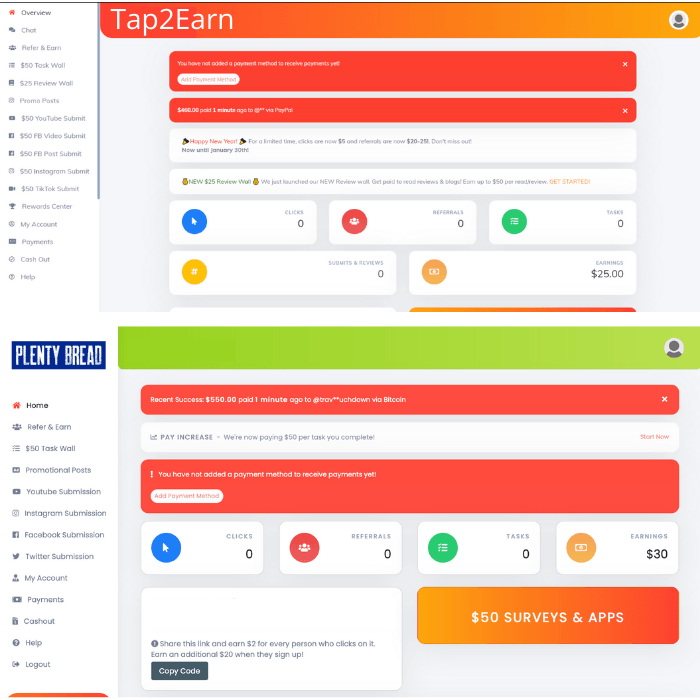 Another thing, the About Page of Plenty Bread is much like ZoanCash's. The details are modified, but in total, it looks the same.
The worse part: I clicked on the privacy policy link on the Terms page, it leads me to a Paid4Clout policy page. Now tell me they don't have the same scammers behind them!
5. The Contact Form Is Useless
Just for the sake showing you how it turns out, I left a message for their support team. I couldn't even get it to them because of an error. No matter how many times I try, I couldn't get through.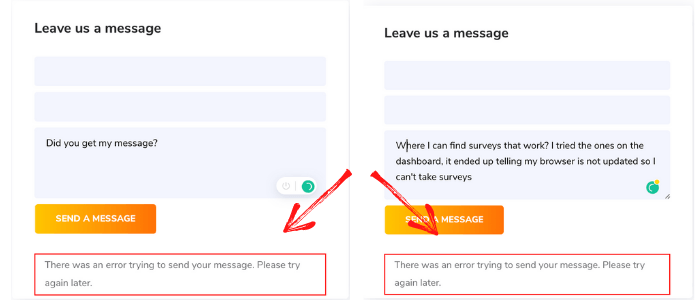 6. Terms And Conditions
Like Social Bounty, Plenty Bread requires you to be 99 years old to be a member. They can even use this as a reason for disqualifying you from cashing out.
Funny right? Why did they allow me to make an account in the first place if I didn't meet the age qualification after all?
The reason? So they can use me to dupe other people to sign up.
Is Plenty Bread A Scam?
There's no hint of doubt Plenty Bread is a scam. The red flags pile up one after the other. The inconsistencies in dates and addresses, the absence of an owner, and despicable terms and conditions are just 3 of the many reasons why Plenty Bread can never be legit.
It's a mere duplicate of other scammy influencer network sites. Nothing more. So stay away from this to avoid wasting your time and burning bridges for inviting others to dupe others too.
A Legit Plenty Bread Alternative
I'm sure you got interested in Plenty Bread because you want to find a good way to start making money online. Sadly, most opportunities claiming to make you big time in no time are no more than rubbish.
Shiny shortcuts as what they are usually called are mere attempts to dupe you to take advantage of whatever you have. You're credit card, your email, your name and address, and a lot more.
It's easy to get dazzled at the brilliance of these easy ways to make big money but I tell you, it won't get you anywhere than where you already are.
Stay away from this rubbish and learn how to generate a full-time income with affiliate marketing instead.
Affiliate marketing is as easy as making a website on a niche you personally love, creating captivating content to get rankings and social shares, and making an income by offering products and services that are related to your niche.
It's a proven and tested way to make money without asking for yours at the onset. You can try out the first 10 training lessons for free to see how it goes for you. You won't regret it!
You don't have to take my word for it, you can check it out yourself starting with this tell-all review on Wealthy Affiliate. It gives you every bit of training you need to get started and to maintain your income-generating website. There's no harm in trying it out now!
Your Take On Plenty Bread?
What made you suspect something fishy was going on? Did you see the unsavory similarities with other sites? Share your thoughts in the comment section below. We look forward to hearing from you!
Simon Crowe is on a mission to help as many people as possible kiss their bosses goodbye.
Take the free Commission Academy course to discover how to smash your online income goals and make your dream business a reality.