Jono Armstrong says he didn't need to make money from telling you about his money-making methods because he's already making enough, he says the main purpose of this is to answer his friends and family about their questions all at once.
But why is he charging an arm and a leg for the Ministry of Freedom?!
So today, we're going to deep deeper and unravel if this is just a scam designed to rip you off. 
His 2+ hours sales video says he'll teach you the "secret of making an easy $5,000 a month within 22 days" and even scale it twice the previous amount you're making in just 55 days.
He even promised to share the blueprint he used to generate up to $180,000 every month!
The first few minutes can get you hooked to click on the buy button. But before you start risking a whopping amount, read this review to know what it really is, if it can really teach you about affiliate marketing, and if it's just a daylight robbery scam. 
Ministry Of Freedom Review At A Glance
About: Jono Armstrong's 9-module affiliate marketing training sold on WarriorPlus.
Price: $1,497 for the training and $422 per year for tools.
Pros: The course is in-depth and teaches many of the important elements in making money with affiliate marketing.
Cons: Training includes some sketchy techniques and is outrageously expensive.
Verdict: Ministry of Freedom is not a scam. It teaches a lot of valuable information on affiliate marketing but this is not for those with a tight budget. 

What Is The Ministry Of Freedom?
The Ministry of Freedom is a 9-week comprehensive training and mentorship program created by Jono Armstrong and sold through WarriorPlus. The training supposedly helps you from 0 to 7 figures with affiliate marketing. 
Jono has number of other trainings and products like:
These are fairly good products but doesn't mean it works for everybody.  He also has other products which are not as good:
Overall though, Jono has years of experience and a fairly good reputation in affiliate marketing. So, the Ministry of Freedom has a fairly good chance of being good training. But we'll see. 
As with affiliate marketing, you might want to know that in 2020 alone, the whole affiliate market's worth is above $12 billion indicating a thriving way of making money online. 
In the sales video, Jono gives an overview of what he teaches on the Ministry of Freedom. His methods of success involve generating free traffic, make review videos to build trust, and make sales from incentives. 
He also teaches the product link on the video review should direct to what he calls the "golden page" or a page of valuable bonuses so when the product launches, the buyer goes back to your link to buy because with it they'll also get freebies, which to me sounds like an incredible strategy. 
However, he also teaches what to me is quite unethical like buying an aged Youtube account to quickly get many subscribers, manipulate engagements using Tube Cobra, and generating backlinks using DFY Suite 2.0. 
From this sales video, I can infer his methods includes some valuable techniques but also some dodgy ones. But let's give him a chance and see what the training really offers.
Ministry Of Freedom Price
You can get the Ministry of Freedom for a whopping $1,497. If it doesn't suit your budget, they also offer two instalments of $897. You'll also be taught to spend on tools that total to around $422 per year. 
With the price you pay you also get bonuses like:
A free done-for-you website which is worth $299 when bought on the members' area (a ruse to make the price seem a good deal)
Access to all of Jono's bonuses which you can also use
One-on-one Skype call lasting an hour
Use of Jono's emails for your promotions
Beta access to his future products
Giveaway rights
Making money online isn't complicated…
This video will show you exactly how to get started. Tap to watch now.
What The Ministry Of Freedom Course Includes
Essentially, you'll get 9 modules, one for each week. Every module covers a specific element about affiliate marketing, from unpaid to paid strategies. Here's an overview of what you'll learn in each module.
Module 1: Mindset, Commitment, And Success
The 1st module is a groundwork for the succeeding modules. It teaches why having the right mindset and commitment is important. 
He'll also touch on the techniques he uses in generating organic traffic from Google and Youtube.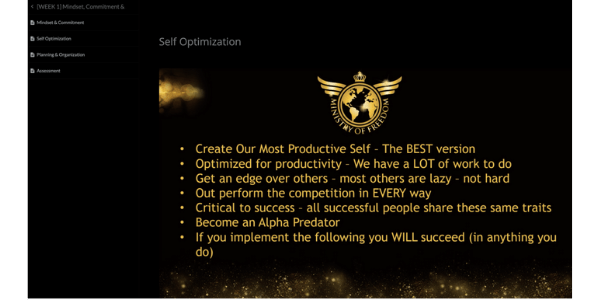 Module 2: Tools And Applications
In a nutshell, this module teaches you what tools you need and how much you'll possibly need to spend for each one. 
$25/year for Commission Gorilla
$240/year for an autoresponder like Aweber or Get Response
If you want your own website, you'll also have to spend:
$15/year for a domain
$72/year for hosting
$70 for a professional theme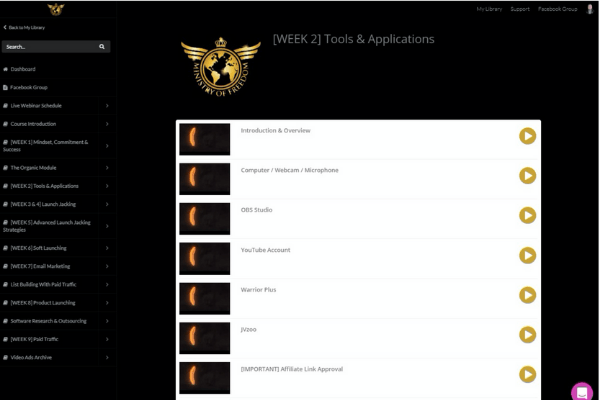 Modules 3&4: Launch Jacking
This module will teach you how you can identify products that are about to launch with a good earning potential and be the first person to make a review of it. 
Why? Because new products have less competition which translates to more views for your video.
More views = more traffic = more chances to convert. 
Module 5: Advanced Launch Jacking With Paid Ads
Module 3&4 teaches you the basics, module 5 is more in-depth. He teaches you how to use Youtube ads if you don't fancy making video reviews but still want to be seen on the top of the search results. 
Module 6: Soft Launching
This module teaches the soft launching techniques Jono uses to make more profits. He'll also teach you how you can develop your own unique product that interests many affiliates to promote it. 
Module 7: E-mail Marketing And List Building
Module 7 teaches you the right ways you can promote offers on your email list. He'll also cover other tools you can use to help make more people convert. 
Personally, email marketing is an "okay" way to generate traffic. But I prefer creating compelling content on a website because this way I get more targeted traffic with higher chances to convert. 
With email marketing, sometimes you can be shooting an arrow but striking the air. 
Module 8: Product Launching
Jono teaches about the tips and systematic strategies to have a successful launch. He teaches how simple products worth $12 to $20 made him millions.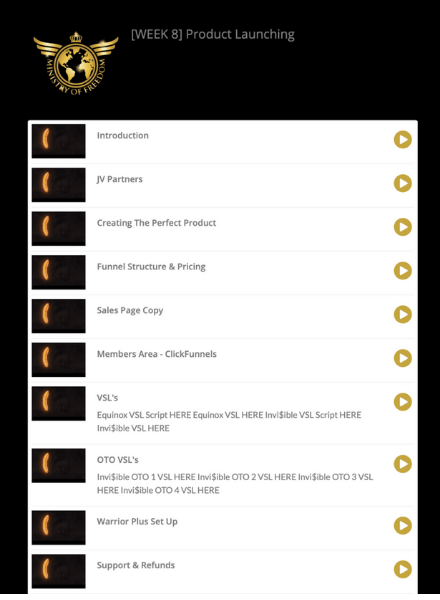 Module 9: Paid Traffic
Here, Jono teaches the right methods in paid advertising. 
Honestly, every newbie needs this. You see, a paid ad campaign involves a lot of trial and error, without knowing how it really works, you can end up flushing a lot of money down the drain. 
Other than these modules, you'll also get access to an active online community that you can consult with, pretty similar to what Wealthy Affiliate offers. Jono also offers 3 live sessions. 
However, getting the training doesn't guarantee you will make as much money as Jono or even make money at all.  

Pros Of Ministry Of Freedom
Teaches important skills beginners should have.
Allow you to work from home and ditch the commute.
The product owner has lots of experience in the field.
Cons Of Ministry Of Freedom
The training price is worth a king's ransom.
Does not work for everybody especially those who are tight on budget and who do not put in the effort.
Employs some dodgy techniques in utilizing Youtube.
Is Ministry Of Freedom A Scam?
No, Ministry of Freedom is not a scam. Jono has put together an impressive training on affiliate marketing unlike other digital products which only masks an inadequate video guide as a step-by-step training.
Honestly, there are a lot of things you can learn from the 9 modules. But as I said earlier, I prefer a niche-based website rather than email marketing because it generates more free targeted traffic which I wished he delved on more. 
I think the Ministry of Freedom can help you a lot if you've decided to do affiliate marketing to reach your income goals, but unless you have the money for his training, I don't think this is a good fit for you. 
There are other in-depth training teachings you everything from scratch but for a much affordable price. 
Where Do You Go From Here?
If you have the funds for the Ministry of Freedom, go ahead and give it a shot. After all, the creator, Jono is a well-experienced affiliate marketer who has earned a sustainable living from this business model. 
I'm sure he already knows the ups and downs in this field, and him sharing how he got to where he is now is something valuable. 
However, you don't have to throw in the towel if you don't have the budget for his training. Wealthy Affiliate offers much budget-friendly training which also covers everything from scratch. 
Jono is not the only well-experienced affiliate marketer around, there's also Kyle and Carson and they offer you the training they put together for just $49 per month. Not only the training but also the community of affiliate marketers ready to help you out. 
If you're the kind of person who wants to make sure you make the most out of every buck you spend, Wealthy Affiliate's 1st 10 lessons are free for you to test out. You get the feel of what you can learn, minus any cost.
An interesting alternative to the Ministry of Freedom, right? If you want to know more about Kyle and Carson's training, you can head on to this in-depth Wealthy Affiliate review to know more. 
What's Your Take?
Did you think Ministry of Freedom is too pricey? Are you happy to know there is a much cheaper training that's equally competitive? 
Share your thoughts, we'd love to hear what you think in the comments section below.