Do you know how annoying it is to spend time answer surveys and not get paid?!
Which is why this Crowdtap review is all about how much money you can really make with this and whether Crowdtap is a scam, legit or just not worth your time.
If you psyched to get into the truth, let's get started!
Crowdtap Review At A Glance
About: Crowdtap is a survey platform that rewards you for giving your opinion or feedback on products and services.
Price: Sign up is free.
Pros: User friendly, short surveys. Been around since 2007.
Cons: US residents only, no cash reward option, negative BBB, Trustpilot and Reddit reviews.
Verdict: With Crowdtap it's going to take you 3 months to earn a $5 gift card. Swagbucks will give you more back for your time. 

Unlike other survey sites where you can do other tasks to rack up more points, Crowdtap only offers surveys.
Crowdtap was established more than a decade ago which is a good indicator they're trustworthy. Although they've received a number of good reviews, a handful of people still judge them as a scam for cancelling accounts without explanation.
If you're interested in answering Crowdtap surveys just be aware it's not an opportunity to earn cash, but gift cards only.
What Is Crowdtap?
Crowdtap is a research marketing company established in 2007 and based in New York City. Its CEO is named Matt Britton who took the lead in rebranding Crowdtap as Suzy to become a "Siri for brands" as stated in his LinkedIn profile. The survey website still retained the Crowdtap name, however.
Crowdtap rewards users for taking surveys. As a research marketing company, brands use their services to learn more about user behavior so they can tailor their products and services to increase their earning potential.
According to Venturebeat.com, in 2011 alone Crowdtap disclosed they already have around 150,000 members with the potential of having 5,000 more every week.
If you Google Matt Britton and Crowdtap together, you'll get a number of good articles about them which at this point made me believe they're legit.
How To Join Crowdtap
Crowdtap is available solely for US residents so unless you live in the USA, which they can verify using your IP address, you won't be able to even signup.
This is a huge drawback if you are living anywhere outside the USA. Most survey sites also accept users from large countries like UK, Canada, and Australia. Although there are a number of survey sites that accept users from anywhere in the world, they'll still have limited surveys available unless you live in the countries mentioned earlier.
So I guess survey sites, in general, are only good if you are living in the USA, UK, Canada, and Australia.
If you do live in the US, Crowdtap allows more than one person from a single household to sign up. Others usually just allow one household member. After you finish signing up, you still have to answer more screening questions in the dashboard to see which surveys fit you.
How Does Crowdtap Work?
Crowtap is unlike most survey sites that offer other tasks aside from surveys. As a Crowdtap panelist, you will earn rewards in exchange for testing product samples and answering surveys about products and services.
After finishing the screening questions in the dashboard, Crowdtap will match you with tasks which they dub as "Missions". The missions you get are in line with your spending habits and interests.
Only when you qualify for the mission will you be able to access the instructions on how to complete it and earn a reward.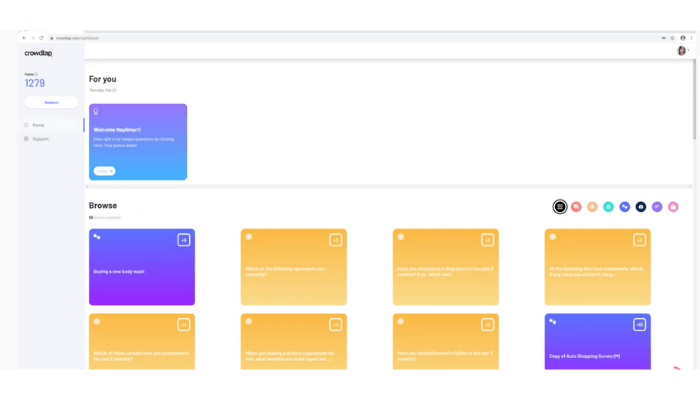 Here is a list of the missions you can take part in:
Text Mission – Just a few questions taking less than 5 minutes to answer
Polls – Almost the same as text missions
Photo Mission – A brand will ask you for a photo of their product
Content Mission – You'll make feedback for either video or blogpost of the URL the brand will send you
Questionnaire Mission – Somehow the same as test mission and poll, only a bit longer to finish
Discussions – This is where you are required to answer interactive questions
Sampling – A brand will send you a product and ask for your opinion about it in return
The missions are mainly surveys, only with slight variations. Unlike other survey sites, surveys in Crowtap takes a relatively shorter time to finish. Most surveys are in the form of multiple-choice so you can finish fairly quick.
Each survey gets you 3 points and you can get a stream of surveys until 15 minutes per day. This means if a survey takes about 5 minutes to finish, in a day you can make around 9 points. There will be available surveys everyday but on average you can only make 9 points daily.
As for the surveys giving out free samples, you'll have a higher chance of getting them when you answer all profiling or screening questions, give descriptive answers, and submit photos of high quality.
Here's a video to give you more ideas on what you can expect in Crowdtap's website:
How Are Crowdtap Users Paid?
Crowdtap users can only redeem points they earn for gift cards. Others get a bonus of product samples and free trials.
There is no option to cash out the points earned. Crowdtap partners with popular stores like Walmart and Amazon to provide gift cards: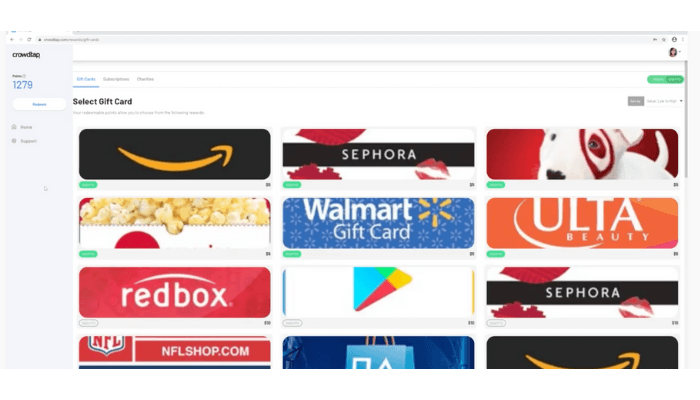 Gift cards are not sent to your physical address, instead, you get electronic gift cards sent to your email. Usually, it takes 24 hours for the gift card to reach your email. So, if you're looking to earn money from Crowdtap, sorry to break it to you but you won't.
As for the gift cards, you can redeem a $5 worth gift card once you get 1,000 points. If you just make 9 points per day, you have to work at least 111 days or a little over 3 months to make enough points for a gift card.
3 months for a $5 gift card?!
Well, yes. Of course, you'll only be doing surveys for 15 minutes a day. But to me though, the minimum redemption requirement is quite high.
Scammy survey sites usually have high minimum threshold so they can keep users active in doing surveys while they rack all the pay from the brands who taps them to do research. Once users reach the minimum redemption requirement that's when they realize there's no pay waiting for them.
I'm not saying Crowdtap is scam. This is more of a warning you should keep in mind when working on survey sites with high minimum threshold requirement.
You can't expect to make a lot out of Crowdtap, at best you can only get gift cards to buy cheap items from gift card providers.
Here's the kicker:
Crowdtap received a lot of criticism from users. I found their complaints in Reddit, Trustpilot, and BBB.org and it's all about Crowdtap banning their accounts without good reasons given.
There are two sides of the coin though so I'll just show you what they have to say:
Does Crowdtap Have An App?
Crowdtap doesn't have an app version. If you're using a mobile device, you can still access the Crowdtap surveys through the web browser.
The good thing is, the website is user-friendly, so you won't need to beat your brains out to navigate the website. Plus, the surveys are usually in a multiple-choice form so you can use it with ease.
Pros Of Crowdtap
Website is user-friendly
The website has been running for more than a decade
Free to join
Won't take a lot of your time
You can get a product sample
Cons Of Crowdtap
Only available for those living in the US
No cash rewards
Limited earning opportunity
Negative BBB and Reddit reviews
High minimum threshold
Is Crowtap A Scam?
No, Crowdtap is not a scam. It's been operating for more than a decade and generally has a good reputation. However, Crowdtap has also been infamous for banning accounts when it's time to redeem rewards without proper reasons.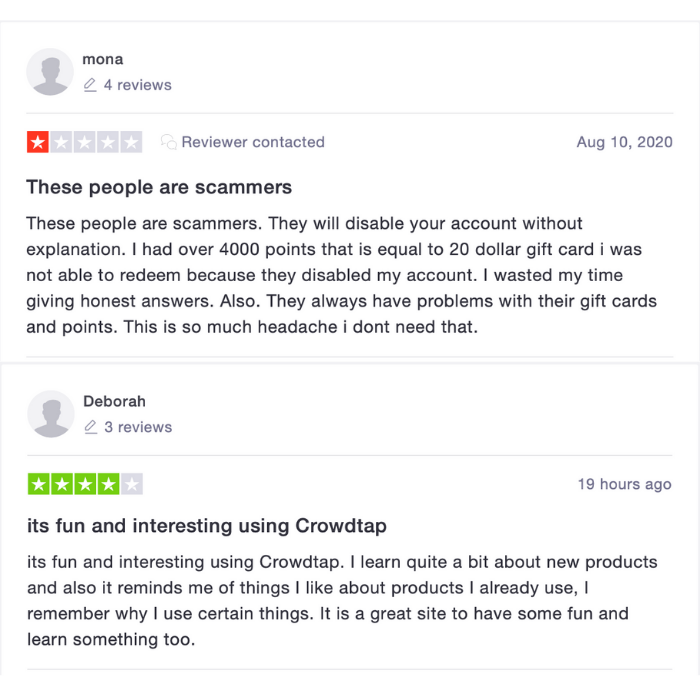 This is a bit of a red flag to keep in mind because although you don't spend your whole day working on surveys, you'd still get disappointed when they don't deliver what they promise after months of being an active panelist.
I wouldn't recommend it to you though because you can get banned for no apparent reason and you won't get the choice of getting cash for the thing you so for them.
Crowdtap Review: Closing Thoughts
At best, Crowdtap can only give you a $5 gift card after months of logging in. It's not a good way to make side cash because it really doesn't offer a cash-out option.
If you want a survey site offering cash in exchange for the points, you can try:
The best survey site for me though is Swagbucks.
Overall though, survey sites are only good for a few extra bucks. If you're looking to make a more substantial income then you're beter off building a real online business.
Thanks to Wealthy Affiliate's training I earn more than $7,000 per month online.
Click here to see my SUPER in-depth Wealthy Affiliate review and get started.
What's Your Take?
Have you tried using Crowdtap? How did it go? Were you able to redeem the gift cards? Let us know what your experience was like.
Simon Crowe is on a mission to help as many people as possible kiss their bosses goodbye.
Take the free Commission Academy course to discover how to smash your online income goals and make your dream business a reality.