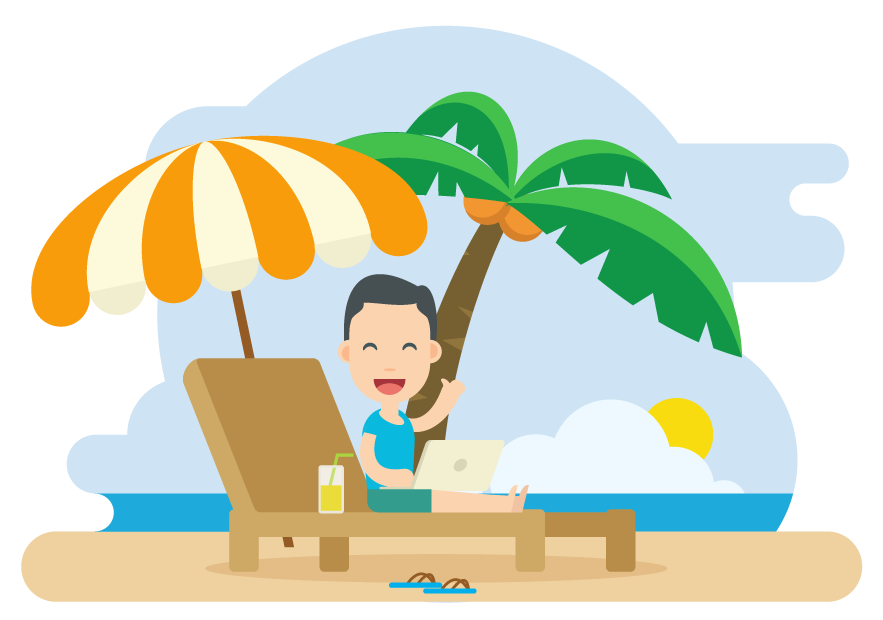 Do The Work >> Live The Life
Welcome to the ultimate guide on how to start a travel blog and get paid.
In the last 3 years, I've helped hundreds of people realise the ultimate blogging lifestyle.
I'm talking about real lifestyle change through blogging.
Can you imagine saying goodbye to that overbearing boss forever? Redesigning your life by building an online income stream? Having the freedom to travel the world?
You can and today I'm showing you how to turn that dream into your living reality.
It's time to learn how to be your own boss. It's low-cost and low-risk. You've got nothing to lose and everything to gain.
Once your travel blog gains traction (and it's only a matter of time if you follow this guide), the possibilities are endless, the earning potential ENORMOUS.
"Traveling – it leaves you speechless, then turns you into a storyteller." – Ibn Battuta
When I look back at the process I followed to create each of my online business ventures, I ask myself what steps did I take?
Over the years I've narrowed it down to a fine art, cutting out the fluff (not being busy for busy's sake) and focused in on the effective actions that will get you real results in the quickest time.
Does starting a travel blog seem like an immense task?
Not sure exactly how to go about it or where to begin?
I've found the best way to get a handle on something is to break it down into smaller, more manageable steps. This is exactly what this post will do for you.
Going forward, your travel blog is going to be your online creative platform you'll use to share your backpacking experiences and jetset adventures with the world.
Follow this guide and you'll forever fix your travel blog as the go-to destination on the virtual map.
What you're going to learn
7 rapid-fire questions to ask before becoming a travel blogger
Travel blogging for profit takes an entrepreneur mindset
Your website set up in 3 simple steps
How to transform casual blog readers into raving fans
Understanding the make money blogging process: it's a win-win
BONUS: Top tips from expert travel bloggers
7 rapid-fire questions to ask yourself before becoming a travel blogger
"The only thing standing between you and your goal is the bullshit story you keep telling yourself as to why you can't achieve it."
When you're planning your next journey there's a few things to think about…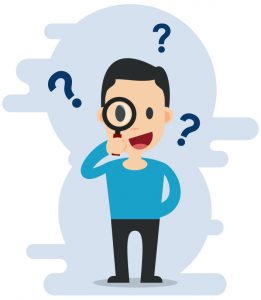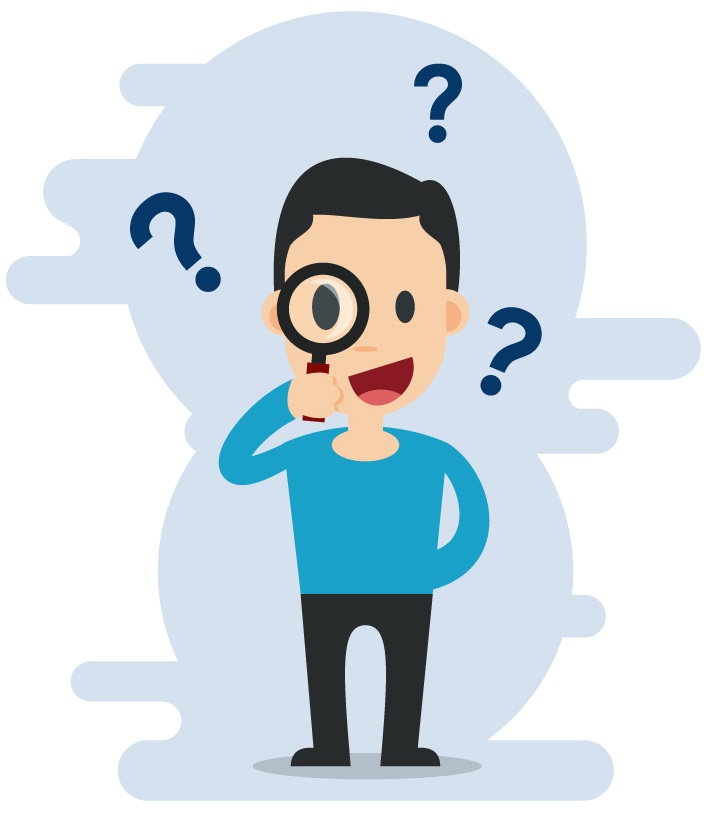 Questions like:
Where will you go?
What do you want to see?
How will you get there?
What do you need to pack into your suitcase before heading out?
Whether you're backpacking through tropical jungles in south east Asia or taking in the rays on the deck of a Mediterranean cruiseliner, the chances are you arrived at your destination because you set out a clearly defined path to get there.
It's exactly the same with your travel blog.
First things first, you have to decide where you're going.
Here's your first fact-finding mission:
Grab your notebook and sit down somewhere comfy. Put aside the next 10 minutes and scribble down the answers to these 7 rapid-fire questions.
Trust me, this is going to help give your online venture the very best chances of success and make it easier for you in the long-term.
Q1. What's your primary objective, your reason for wanting to start a travel blog?
Is to have a creative outlet? Share your experiences? Become internet famous? To make lots of money as a blogger and be able to fund your travels? All of the above?
Q2. Who are you writing to?
Is your blog for gap year students, honeymooners or retired couples? Having a target person in mind will help you define your writing style and determine your marketing strategy going forward.
Q3. How will you communicate?
What mediums will you use? Podcasting? Instagram? A YouTube channel? The great thing about blogging is that it can be a great mixture of text, audio and video nicely complimented but a good dose of social media. A blog is more than a blog; it's part of your bigger online platform and brand.
Q4. How often can you publish new content? 
How much time can you put into this? Can you hit publish once or twice a week? It's better to set realistic goals you know you can achieve without feeling like it's a chore. Remember to take fun seriously, the most successful travel bloggers are those who know how to have fun with it!
Q5. How will you let your target audience know about your blog?
Would you like to connect with your readers via email marketing? What social media platforms will you spend time building up a following? Do you want people to find you in search engine results? (We'll be getting into that in a bit…)
Q6. How will you monetise your site?
As you're reading a post about starting a travel blog and getting paid, I assume you're looking to make money too.What are your online income goals? How much would you like your blog to generate monthly?  Stick with me for my top website monetising methods and make money blogging training that works.
Q7. How will you make you blog stand out from the rest?
There's 2.7 million blog posts published every single day. It's okay, the internet is a big enough space for all of us 🙂 but it's worth thinking about what your blog's unique selling point (USP) will be. How will your travel blog be different? What's your unique angle? How will you help your readers? Basically, instead of adding to the noise, how can you rise above it?
Travel blogging for proft takes an entrepreneur mindset
If this website wasn't called The Make Money Online Blog and this post wasn't entitled How to start a travel blog and get paid, I'd just say: "Get out there, start posting fun blog posts and see where it takes you!"
But I know this isn't just a hobby for you.
You want to build your travel blog into your very own traffic-generating, profit-making online business.
This requires a whole different mindset. An entrepreneurial mindset.
Can you imagine where you'd be if your blog could reach just 00.1% of the 3.5 billion daily internet users?
And those 3.5 billion users only account for 40% of the world's population – this is going to double before 2025.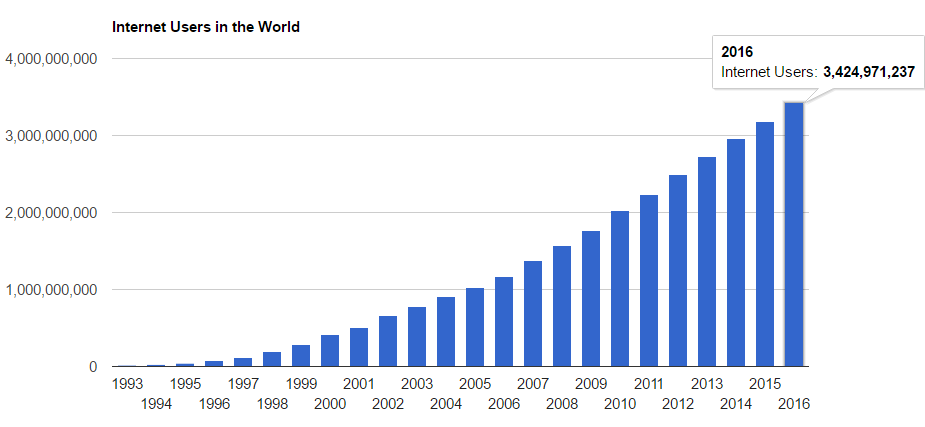 Travel blogging is an awesome way to share your global adventures with a truly global audience.
It's going to the medium by which you can inspire others to abondon comfort zones, share your stories and ideas and make money along the way.
Your travel blog (done in the way I'll show you) will become your online income producing asset that replaces your full-time income and frees you up to design the kind of life you want for yourself without being held to ransom by the monthly pay packet.
From cafes in Venice to the snow-topped mountains of Nepal, there's a whole army of bloggers out there living the internet entrepreneur lifestyle.
The lucky few who have finally escaped the tyrannical overlords and confining office cubicles.
I write this to you today from the small coastal town of Sriracha, about 90 minute's drive from Bangkok, Thailand. This is where I live now, thanks to the passive income I earn from my blogs. And if I can do it, you can do it too!
Radical lifestyle change is within your grasp, just beyond your doubts and fears is the life you've always dreamed of.
But we just need to deal with one more thing before diving head first into the practical how-tos of getting your blog set up…
Your mindset.
Travel blogging can be a total blast and you can make a hell of a lot of money doing it, but it's going to take more than the single click of a button.
Starting your travel blog is the easy part, to make it into something outstanding you're going to have to work at it – giving out awesome content, building up a following, getting ranked in Google, all before you'll make any money.
Travel blogging is competitive and it's going to take WORK to make your blog stand out.
The reason I'm telling you this from the get-go is because after 3 years of doing this, I've seen 100's of aspiring online business bloggers go through my free 10 day make money blogging email course and there are those who see it through and experience success and breakthrough… and those who don't.
And those who don't, don't for 2 main reasons:
1) They're Impatient
Common sense tells us it takes time to build a business but for some reason, when it comes to online business, something clicks in our brains and we expect instant, almost automatic success.
Without even knowing it, people fall into the 'get rich quick' mentality that ultimately destroys them.
If you think you can create a website, publish a blog post and BOOM! your PayPal will starts going mental, perhaps travel blogging (or any other type of blogging for that matter) isn't for you. #JustSaying
Because of course here in the real world it doesn't happen like that…  success is incremental.
You don't 'get there' (whatever your incomes goals are) in one fell swoop, rather you turn your dreams into reality by taking a series of small, accumulative steps.
In a nutshell: give yourself time to learn a new skill set and give your blog time to flourish.
I see too many people give up right when breakthrough was just around the corner.
They decide 'I tried it and it doesn't work' and walk away, giving up on their dreams of travel blogging forever. It's heartbreaking to see. Please do your future self a huge favour and don't let impatience get the better of you.
2) They're scared to take action
Unless you've done this before (and I guess not) then you're doing something new. This probably definitely means you'll be doing things you've never done before, just makes sense right?
"When you want something you've never had, you have to do something you've never done."
I remember back in 2014 when I knew nothing about making money as a blogger, heck, I'd never even started a blog before, but I was ready to take action. I took Wealthy Affiliate up on their offer of free affiliate marketing training and never looked back.
I hungrily worked my way through the course and completed the action steps at the end of each lesson.
In other words, I took action on what I was learning (ie. not just learning for learning's sake).
By the end of the course I had a fully-fledged and profitable online business on my hands.
So dive in head first, get stuck in and enjoy the journey! (pun intended)
Seriously though, don't let fear of the unknown stop you! It's an adventure and who knows where your travel blogging venture will take you?!
Okay, we're 2,133 words in and I haven't shown you how to start your blog yet…
I hadn't planned on talking this much about mindset but I'm glad I did – your thinking going into this will be the biggest determining factor on whether your travel blog will soar at high altitudes or never make it out of the airport.
So now let's get to the nuts and bolts stuff!
In this how-to guide I've mapped out the action steps I took to build a blog portfolio that earns me an excess of $6,000+ monthly in passive income and I hope that by following this you can do the same.
Your website set-up in 3 simple steps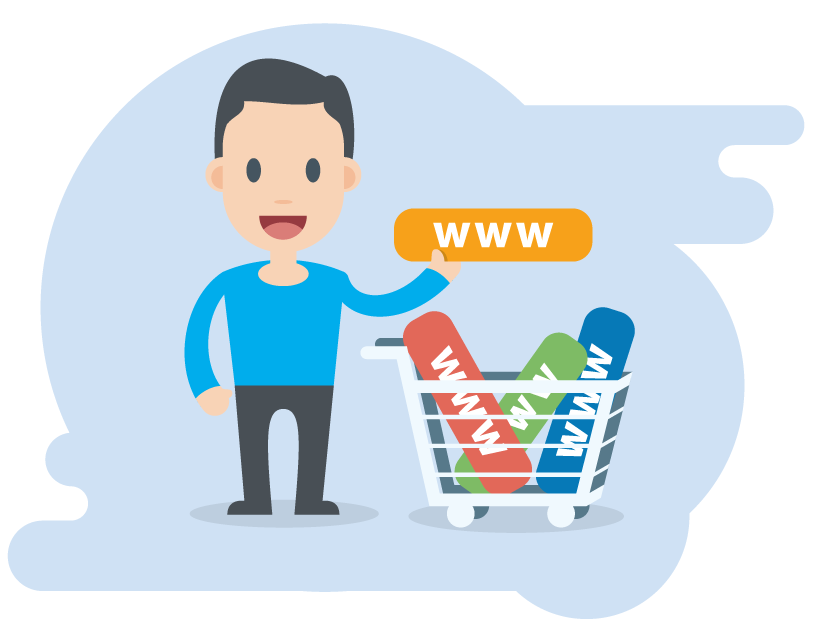 It's really not as scary or technical as it sounds.
Don't worry, follow this step-by-step and you'll have your website live and online in the next few minutes.
The good thing is, by doing it the way I'm going to show you, all of your domains, hosting, website builders, site health checks, affiliate marketing training, keyword tools, community and support are all going to be conveniently based in one place – Wealthy Affiliate.com.
Here's the exact process I follow to start each my blogs (yes, including the one you're on right now) 😉
Step 1: Choose & register your domain name
Your travel blog is going to be your online platform you'll use to share your awesome travel experiences with the world.
Registering your domain is the first step to going live on the web. Your domain name is what people will type in to find your website.
Click here to get to get to the starting page and you'll be taken to a screen that looks like this: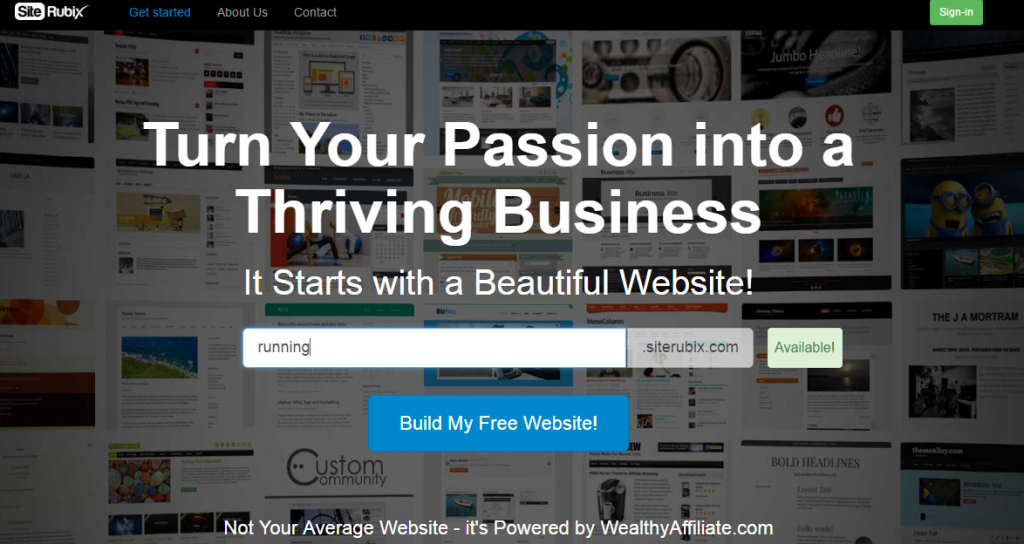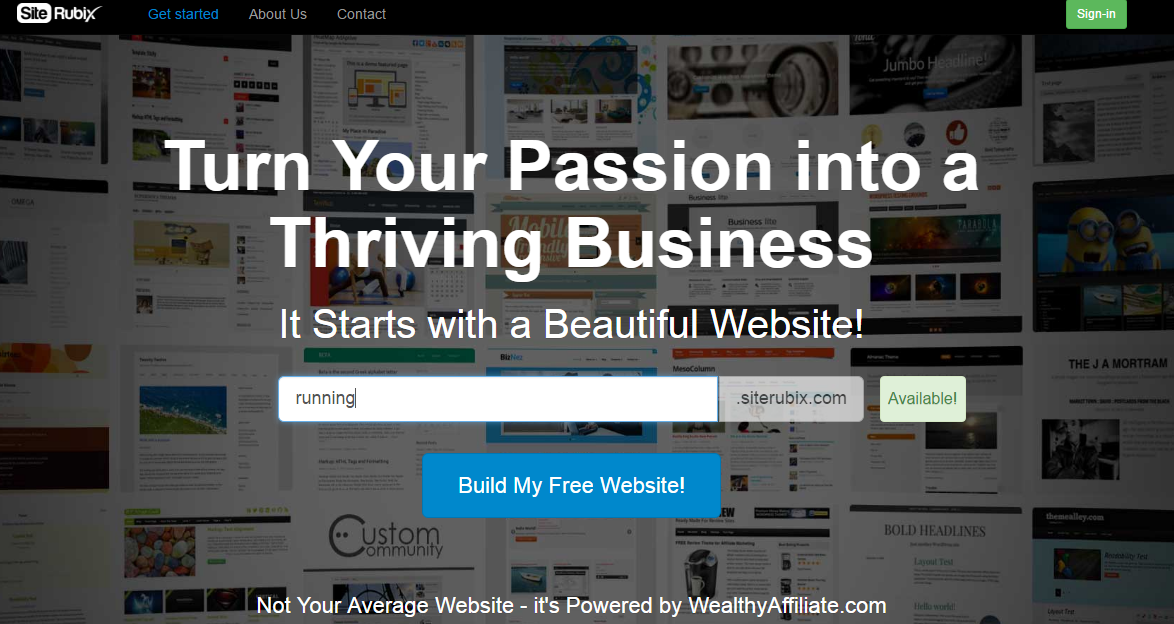 Click on 'Build My Website! and you'll be given 3 options; a free domain, a domain you aready own and register a domain.

Free domains vs. paid domains – which option should you go for?
So you have a choice here whether you want to start your travel blog on a free domain or pay to have your own.
A free sub-domain looks like 'mytravelblog.siterubix.com' and  your own paid-for domain looks like 'mytravelblog.com'. 
Although free domains are ideal for bloggers looking to start a blog on a shoestring budget because they're, well… free, I recommend you choose the 'Register a domain' option and pay for your own domain.
With your own domain you have full creative control over your blog, it looks clean and professional giving you and your site more credibility. But most importantly (and this is the deal breaker for me), with a free domain you don't actually own your income generating asset.
If you're starting a travel blog to make money, it's worth investing into the future success of your online business and get your own domain name and web hosting.
The good news is starting a blogging business takes very little capital investment compared to say, opening a shop on the high street.
With an online travel blogging business there's no rent to pay, no money needed to invest to create your own products, no shipping and storage costs and no expensive staff rates.
For a flat fee $47 a month your travel blog can be open for business 24/7 to a global audience.
Everything you need to launch and build a thriving online business is included. (No 12 month contract which means you can try it out and cancel anytime).
This includes:
State of the art web hosting for up to 50 websites
Automatic daily backups
SSL encryption
Site health checks
24 hour site health monitoring
Unlimited email addresses
Website feedback
The Wealthy Affiliate keyword research tool
The most secure hosting anywhere
The best affiliate marketing training
Access to mentors, help and advice form the community of 800,000+ like-minded entrepreneurs (myself included ;-))
Some helpful tips for picking a good domain name for your travel blog
Here are some top tips for choosing a domain name:
The shorter and more memorable the better. Enough said.
Avoid hyphens, numbers and awkward spellings. Picture having this conversation with a friend, "Hi yeah I've just started a new travel blog, it's called globe dash trotting the number 4 then the letter u .com"
Wherever possible, grab  a '.com' domain extension – as this is the most popular, carries the most weight and what people often type automatically.
A unique name is better than a keyword domain – A keyword is what you want your website to come up for when people type that phrase into Google. It's better to have a strong, memorable brand as a domain name.
Quick quiz: What do these popular website domains have in common?

TravelRepublic.com, Quicksprout.com, Yahoo.com, Buzzsumo.com, Twitter.com, Google.com, Vogue.co.uk, Reddit.com, Expedia.com.

Answer: They're short, snappy and to the point making them easy to remember. They're strong and brandable. They're all .com domains (recommended) without hyphens or weird mis-spellings.
This being said, it's not 2001 so finding an ideal domain that's actually available will take a little digging and a spark of creativity. Think a little outside the box.
See 77 awesome travel blog name ideas from ThisWordRocks.com to help you get the ball rolling 😉
Step 2. Choose your website layout
A website theme is the template or layout for your website. The easy website builder means you don't need to do any coding, simply choose from 2,400+ free themes and let the website buider do the rest.
See, I told you building a website was easy!
All themes are completely customisable and you can change your theme anytime you want to.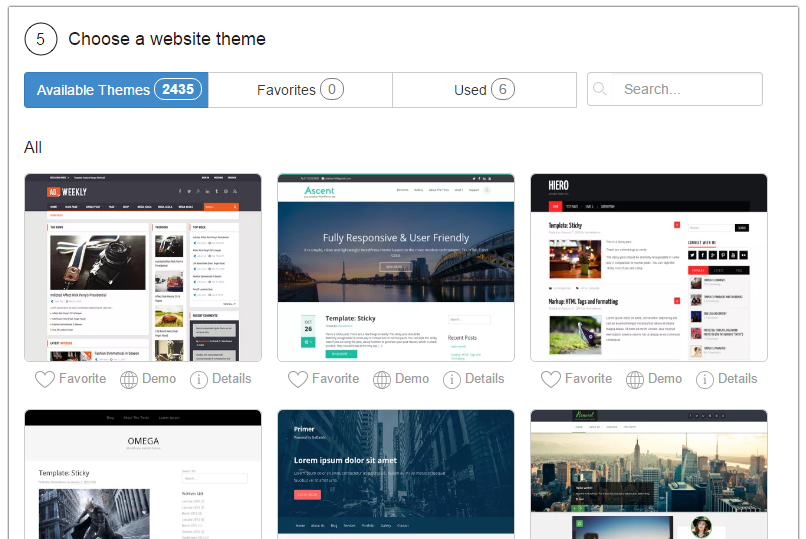 Once you've found a theme you like, go ahead and click 'Build my website'.
Then sit back in awe as the website builder works it's magic! If you set your timer, you'll see your site is being built in less than 34 seconds.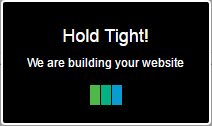 Step 3: Break open the champagne – your website is LIVE!
Go ahead, open a new tab and type your domain name in the address bar.
Congratulations, you are now the proud owner of your very own travel blog!
Now that wasn't too difficult was it? ?
How does it feel?
Once your site is built you'll be given a user name and password needed to log in to your website. You can also access you site at anytime by going to WealthyAffiliate.com.
"You don't have to be great to start, but you have to start to be great."
2. Make your travel blog STAND OUT
To give your blog a unique edge, you don't have to reinvent travel blogging as we know it, just just need find your own unique twist.
Your blog, your voice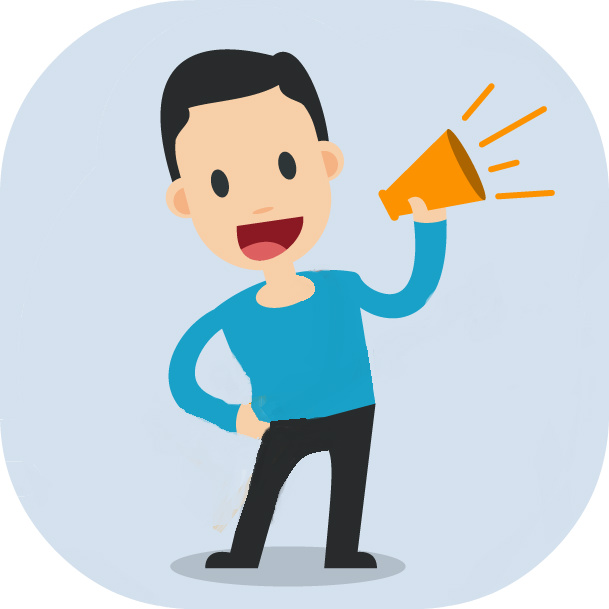 Lots of normal speaking people sit in front of a keyboard and suddenly feel this urge well up inside them to write Shakespearian old English.
Don't.
Your number one tool in making your travel blog different to the plethora of blogs already out there is your personality.
No-one thinks the way you do, so don't hold back.
Let your personality shine through, write naturally as if you're sitting on your living room sofa talking to a close friend. This is the easiest way to make your travel blog stand out.
What kind of travel blog ?
Let's take a quick look at travel blog niches. In the simplest way, a niche is a target audience, it's the specific group of people you're writing to.
Travelling is a very broad and undefined niche, so let's see if we dig a little deeper and narrow it down a bit…
Narrow down 'travel'… Sure you're starting a travel blog, but what kind of travel?
Are we talking adventure holidays off the coast of the Antarctic, or clubbing holidays on the island of Ibiza?
Remember the 7 sure-fire questions I asked you at the beginning?
Take a few minutes to think about who your ideal reader is and your blog goes from a generic 'travel blog' to a more specific 'African Safari travel blog' or a 'Student gap year backpacking travel niche'.
A few travel blog niche ideas:
Adventure Travel for Couples
Solo Female Travel
Budget Travel
Skiing holidays
Long-Term Travel
Family Travel
Backpacking on a budget
A food and travel blog combo
Deciding on a more specific niche for your travel blog is as easy as asking "What kind of travel do I like?" and then focusing on that.
3. How to transform casual blog readers into raving fans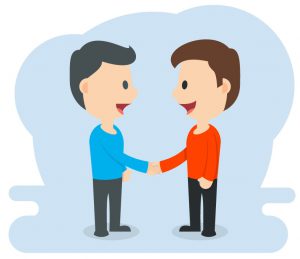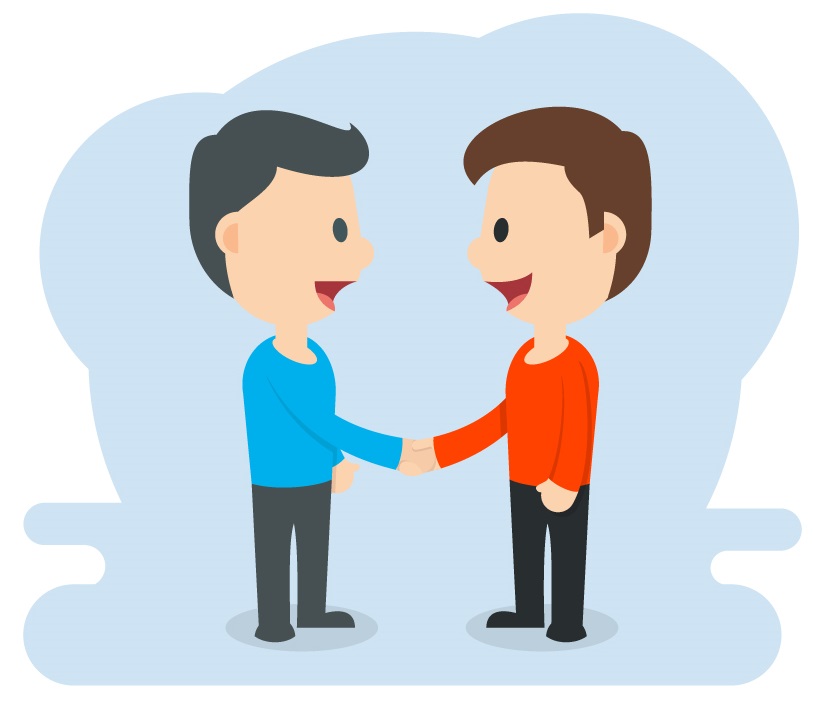 With your target reader in mind, it's time to have a little fun and get some content up on your blog!
All bloggers communicate, but precious few connect.
Here are 5 solid steps you can take to connect with your readers and build a community around your travel blog:
a) Invite readers to leave comments on every post
I see many bloggers never asking their readers to leave a comment, or worse still, not even allowing comments on their site at all (scratching my head in bewilderment).
The comments section gives your audience the chance to respond, to interact with you, share their own stories and ask questions. Blogging should be a two way conversation. Invite them to share their experiences, ask them what they think about that video you uploaded or that blog post you published.
(Some of the best content on The Make Money Online Blog can be found in the comments section, not in the blog posts themselves! I love my readers 🙂 )
b) Get social
Build up a following on social media sites like Facebook, Twitter and Pinterest to help get your name out there. Out of the 3.5 billion people online every day, you'll find a tribe a people interested in what you have to say.
Don't hesitate, once you've started your blog, create social profiles on each of the main networks specifically for your blog. Make it easy for people to share your content by adding social sharing buttons to your site. I use the Mashsharer plugin for mine.
Reply to comments, emails, Tweets etc. Get involved in the discussion, inspire and engage with your audience and you'll see how far it can go.
I'm not saying you have to reply to every comment on every comment on YouTube but showing a little goodwill by answering a number of them goes a long way. If someone takes time out to write out a comment please be nice enough to reply.
c) Get into email
Building your email list from day one is by far the most effective way to build trust and rapport with your readers.
Emailing autoresponding software provers like MailChimp (free) and AWeber (paid) give you a form you can put into your website sidebar and start collecting email addresses from readers who like what you have to say.
When someone signs up to your mailing list for future updates they are giving you permission to contact them. Use email to share a latest post, take a quiz, share your recommendations.
In a nutshell, email marketing is low-cost, easy and direct and it works.
e) Create content that connects
This is a biggie. Here's a simple truth with you here should underpin all of your blogging efforts: bloggers who are the most helpful are the most successful.
How do you help people with a travel blog? Easy, you recommend the best sites to see, make hotel recommendation, share what you did and how you did it.
You see, blogging is more than just telling stories, it's taking people with you on the journey.
It's using your writing, images and videos to show your readers your globe trotting antics.
It's about grabbing your readers' attention on an emotional level.
In this video from Kristen @ HopscotchTheGlobe.com she shares her love of travel and it stands as a great example of how your content can engage and inspire, helping people turn their travelling dreams into a reality.
4. Understanding the make money blogging process: it's a win-win
Once you've started your unique travel blog and you're getting a steady stream of traffic, it's time for the fun bit – making a profit!
you're creating your travel blog to fund your travels, build an extra income or become an internet millionaire, it all comes down to this.
So how do you make money with your travel blog?
Through affiliate marketing.
By helping provide your readers with solutions and making recommendations you can be the proud owner of a very successful (and profitable) online business.
It really is that simple.
Think about the last time you booked your flight, bought that new camera or made a hotel reservation.
You researched online, considered your options and made a purchase. The chances are you did that through an affiliate link.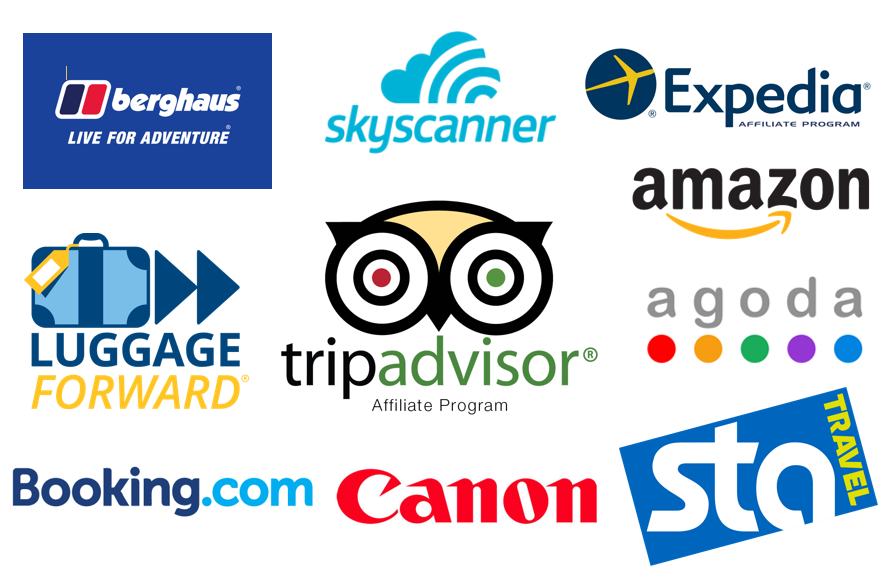 Affiliate programs are everywhere and they are free to join. Think of any company and they probably have an affiliate program.
Travel bloggers make money when they sign up to an affiliate program, get their unique link and add that to their blog.
Some travel affiliate programs will pay you up to 75%  commissions.
Here's an example of a text link: (opens in a new tab)
 Looking for a backpack for your next hike? Click here to browse on Amazon.com
The best thing about monetising your travel blog through affiliate marketing is that you don't have to become a pushy salesman or become a sell out.
You just mention relevant products or services in passive when it's relevant and helpful.
Writing a blog post giving top tips to get the most out of your Cambodia trip? You can talk about the equipment you're taking with you, the hotels you're staying at and how you booked your flight etc…
It gives your readers real solutions and you make money in the process – it's a total win-win.
I've partnered with Wealthy Affiliate to give you the best chances of success. People say it's hard to get a blog of ground, it's not if you have the right know-how.
How do you get tons of traffic (visitors) to your blog from Google? How you do leverage the power of social media to build your online brand and make more money?
This is all covered step by step within Wealthy Affiliate's Online Entrepreneur Certification course.
It's here you'll discover the exact steps I took to build a blogging portfolio that today earns me more than $6,000 monthly.
Your future as a travel blogger lies in the training, first class website building tools and community support I've given you full and instant access to.
If you haven't yet, create your account here and soon enough you'll be blogging like the true pro that you are.
A quick breakdown of what you'll learn in the interactive training courses:


BONUS: Top tips from 5 expert travel bloggers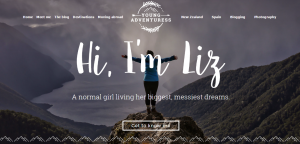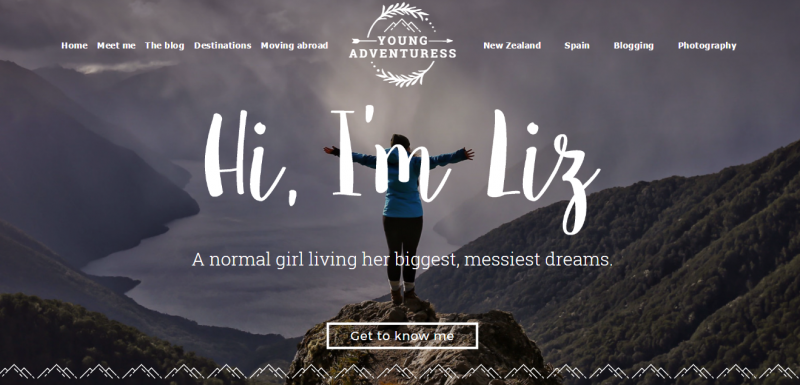 "It's all in a name. Seriously, it really is. In today's world, more or less everyone has the attention span of a toddler.
You have about 2 seconds to make it count – pick a damn good memorable name the defines what your blog is all about."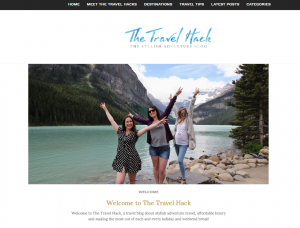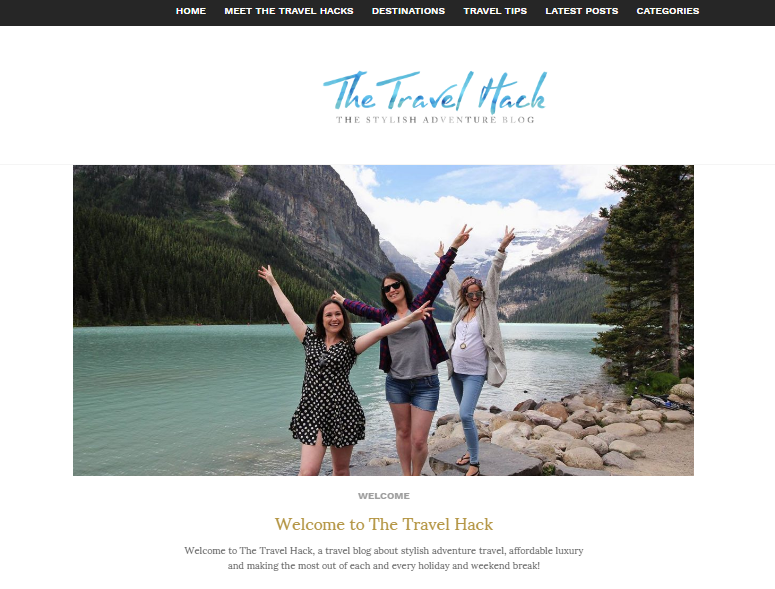 "You can't achieve your goals if you don't know what they are.
In order to have a successful travel blog, you need to decide what success is to you.
Do you want to have 100,000 readers a month, publish a book, improve your writing and photography, use your blog as a platform to get work or to have an online diary you can be proud of?
Whatever your reason for blogging, make sure you write it down somewhere so you can put together a plan to achieve your goals and know when you're getting there."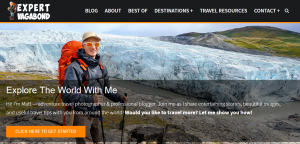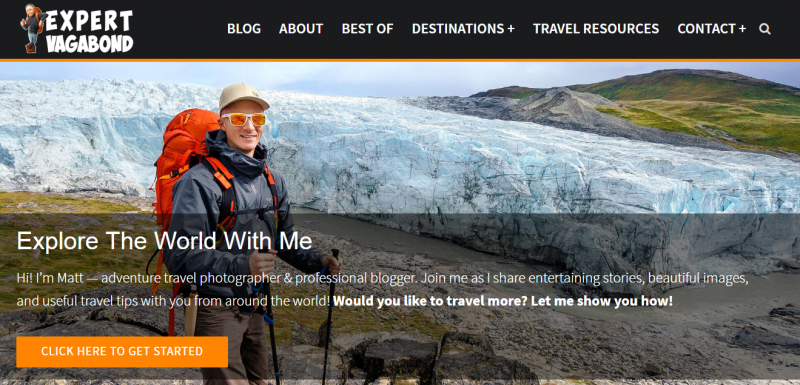 "Everyone one their grandmother asks me how I make money from my travel blog, but the question they SHOULD be asking is how did I build an audience.
Because the hard truth is you'll only earn income from your blog once you have a decent audience. Readers first, money later."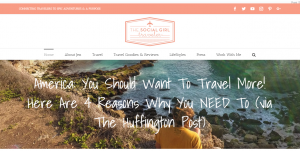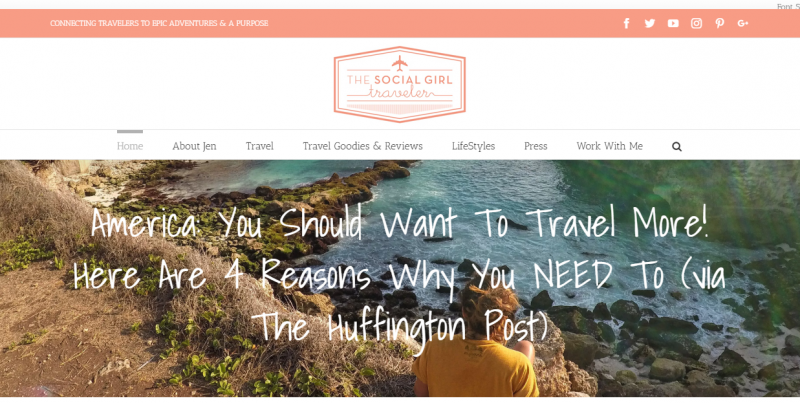 "I would say that content is 90% of the work.
In order to create a 'following' (subscribers to your blog, and social media followers) you need to create good content. People who believe, agree with what you say. Having to keep up with content.
Posting 1-2 times a week and trying to travel the world, while keeping up with weekly posts. -_-  It requires discipline.
A lot of what blogging and running your own business is about: discipline."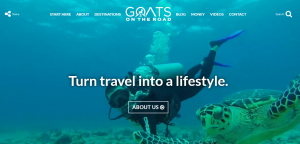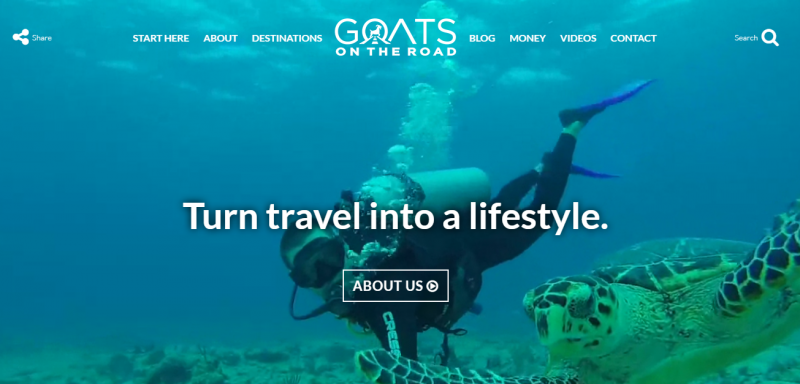 "Be in your videos. Ok, let me expand.
People may find your travel videos by searching for a place or a thing, but people will keep watching your videos because of your personality.
Through videos, viewers get to know you and can connect with you, in my opinion, much more so than through writing.
I'm not saying your entire video should just be of you talking to the camera, overlaying video clips is a good idea, but you should still show yourself and be the unique voice of your videos."
At first, your blog may not make very much money from affiliate marketing, but over time, as it grows, you'll start to see your sales and income grow with it.
This is the great thing about blogging and particularly affiliate marketing. It's a natural progression.
The longer your blog is online and the more content it has, the more Google will index it, the more you'll build an audience and – consequently – the more money you'll make."
Cut out the guesswork ad get the right know-how.
Wealthy Affiliate will transform you from an aspiring newbie to a seasoned pro. Are you ready?

Got any questions about starting a travel blog (or any other type of blog?) Ask away in the comments below and I promise to get back to you!
I'd also love to hear from any experienced travel bloggers out there – would advice would you give to aspiring bloggers just starting out?
Oh, and if you think others would find this helpful, please share using the social buttons below – I had to make my brain work super hard for this one!
Thanks! ;-)https://commission.academy/blog/how-to-make-passive-income-with-affiliate-marketing/
Simon Crowe is on a mission to help as many people as possible kiss their bosses goodbye.
Take the free Commission Academy course to discover how to smash your online income goals and make your dream business a reality.