Welcome to my review of Huascar Lopez and Edwin Abad's Cash FX Group. There's quite a buzz going around on how this trading group can make your money grow steadily.
It hypes you up by telling you all you need to do is sit back and wait for your profits to show up in your account.
But it has all the typical scam warning signs.
This got me suspicious, and I think that goes for you too. So in this review, I'm going to talk about what I found out about this Forex group after I thoroughly researched it.
If you're excited to taste and see how you can make money online with Cash FX Group, read this review first to know if it's legit or just another fancy-façade of a scam.
I am not a member of Cash FX Group.
I'm not trying to recruit you, I'm just here giving the facts and my opinion about this money-making opportunity. I don't want to waste my time on scams and I don't want you to either.
So let's get started…
Cash FX Group Review At A Glance
About: Huascar Lopez and Edwin Abad's forex trading platform.
Price: Initial trading packs cost between $300 and $100,000.
Pros: Complete click-by-click training that will save you a ton of time, money and frustration. Impressive student results.
Cons: Not regulated by the FCA, unproven income claims, forced matrix scheme.
Verdict: Cash FX Group is a scam. If it had been legit, it will be easy for them to comply with financial regulatory boards. Avoid at all costs.

The way the website looks suggests that there's a very professional team working on the company. But I recommend you read on to get a bigger and clearer picture of what you might be getting yourself into.
Let's take a look at how the website tries to hype potential members. On the right side of the marketing video is an elaborate picture of how thriving the Forex market is. Of course, they're mentioning that to tell you that it's a booming industry.
Then they go on to mention that their goal is financial freedom with the help of a sophisticated mix of technical expertise and a dedicated corporate team. The sales page uses emotional manipulation and testimonials which are not credible at all.
There are legit courses we've reviewed like Invincible Marketer and Commission Academy that will show you how to make money online.
Then there are those get-rich-quick scams like Partner With Anthony and Ministry of Freedom that only take your money.
Cash FX belongs in the latter category and should be avoided.
The Names Behind The Company
Huascar Lopez
Is a guy from the Dominican Republic with a marketing degree who has a knack for entrepreneurship. His bio claims that since focusing on trading in 2016, he has traded more than one hundred million.
Edwin Abad
Also from the Dominican Republic, Edwin developed and operated traditional businesses but later on shifted to Forex.
When the website was initially published, there was no mention of any names, no founders, no admins, and no traders- nothing.
I think this is an important part in establishing their credibility because with names and faces, people can trust them more, they're no longer strangers and you're not sending your money to people you do not know.
Some past negative reviews bashed them for not revealing who their traders are. If you check the website now, they've also dropped the names and faces of their traders.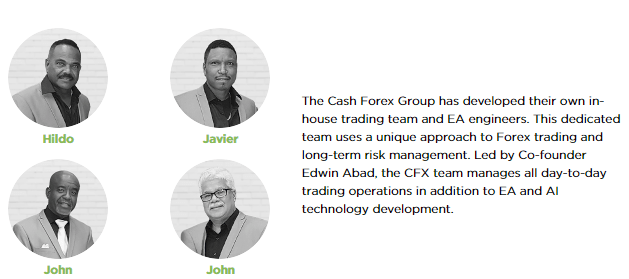 Another plus point for me is the disclosure of their headquarters address and General Income Office Registration.
Overall, the About Us page lifts Cash FX Group's credibility.
How Cash FX Works
First, you make an account and choose from the wide range of Trading Packs which are divided into 3 series:
The Elemental Series
The Advanced Series
The Supreme Series.
The trading pack costs from $300 to as much as $100,000. If you do spend a $100,000 in this business, you better be sure its legit!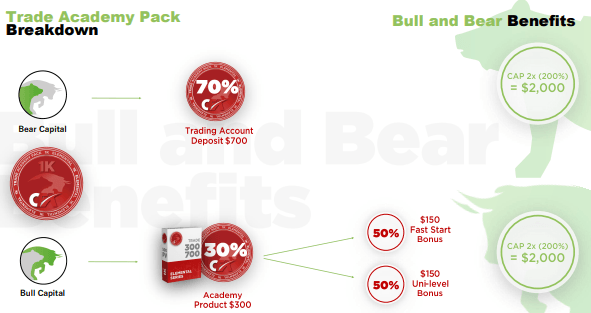 This is where a 30/70 split happens. 30% of what you paid, whatever trading pack you choose, goes to the academy pack. The remaining 70% serves as your investment.
Each trading pack has corresponding point values that determine your position in the matrix.
Yes, you got that right, there is a multilevel structure that lets you earn from others. A bit of a red flag there, but they're claiming that the FTC can't run after them because they have the training modules as a product to offer.
Cash FX Group claims to give a 200% or 400% ROI on the initial investment. After that cap is reached, you can choose to reinvest what you've earned so that you can earn more.
Making money online isn't complicated…
This video will show you exactly how to get started. Tap to watch now »
Cash FX Group Reward Plans
There are two different ways: Bear Capital and Bull Capital.
The Bear Capital is where you earn from your investment and the Bull Capital is where you earn from recruiting others. The Bull Capital includes 4 types of bonuses: Fast Start Bonus, Uni-level Bonus, Matching Matrix Bonus, and Leadership rank Bonus.
Cash FX Group Dirty Secrets Exposed!
1. Not Regulated By The Financial Conduct Authority
The FCA is a financial regulator in Great Britain. Cash FX trading is global yet they were not able to comply with the financial regulations in the country where Cash FX operates in.
This means Cash FX is an anonymous entity and that is has no registration to offer securities.
This is an important factor because without that registration there is no way to validate external revenues that are said to pay the investor's returns.
This is quite contrary to their claim that "broker partners work with regulation authorities". If that is so, why did they not take a step further and disclose proofs of registrations and licenses?
2. Claims Without Essential Proof
Cash FX Group claims that ROI is generated from trading and investments. This is what they use to pay investing members. But, there is no proof that verifies this claim.
In my opinion, the money that goes into the company doesn't really go to a trading pool. I think the investment allocation goes to a cash pool to pay downlines and the academy pack allocation is used to pay those up the line.
3. Forced Matrix Scheme
If you're just interested in the trading part, you don't have much choice. It is mandatory that you have a slot in the matrix scheme. This means that the more you recruit, the more you go up.
Plus matrix schemes are quite shady because it is linked to Ponzi and pyramid schemes.
4. Unnecessary Cryptocurrency
Since its beginning, Cash FX has been prided by its members to send them their profits on time. Lately though, delays have occurred.
They blame the problem on the volatility of bitcoin vs USD. If that is so, why don't they just pay in dollar?
Really, profits on the Forex market are in dollars, why mess it around with cryptocurrency?
If they're really playing dollars on the market, putting cryptocurrency in the equation only adds another risk factor for the investors and the company.
Is Cash FX Group A Scam?
Yes it is. Why am I convinced with that? Because if it's legit, it would've complied with the necessary financial regulations.
If it's legit, we would've seen proof that external ROI is taking place.
Sure it makes money, you receive your weekly profits without fail but it only takes time when they are no longer able to sustain payouts and things start to crumble.
Closing Thoughts
Sign-up, recruit others and get a little trickle back. Then the person above you (your sponsor) will push you to make more recruits.
In my honest opinion, they're just trying to squeeze more money out of you by pressuring you to pull in more people to join the bottom of the matrix. When no new money comes in, the bottom starts to crumble, then everything on top collapses.
Simple Math: when withdrawals goes over investment say goodbye to your weekly pay.
If you've checked out negative reviews on Cash FX scroll down to the comments section and you'll see tons of members defending the company by saying that they receive their profits without fail every week since they started.
In reality though, Cash FX may be able to payout for a little while longer, but once the cat is out of the bag, find the nearest exit. Sponsors will start to tiptoe their way out while you are they still trying to convince yourself things will sort out and be back to the way it used to.
Try checking positive reviews and they'll say there is no risk involved. Even if this legit, Forex trading is never guaranteed.
If you still want to try this, no problem if you have some extra cash for play. But it's not worth risking your bills budget for the month. Don't take clothes off your kids back for this, don't risk the roof over your head. It will not be worth it and as you know, regrets always come not in the beginning but on the end.
Want my honest advice?
There's are only a few MLMs that are legit and sometimes it's tough to spot these. Although Forex trading has high ROI potential, it also involves a lot of risks. If you want to build a real income online check out this free beginners training course to get started.
How I Make A Living Online?
After years of working in call centres I finally figured out how to create a 5-figure monthly passive income stream and become financially free.
Thanks to the right training and a lot of hard work I kissed my old boss goodbye and booked a one way ticket to Thailand.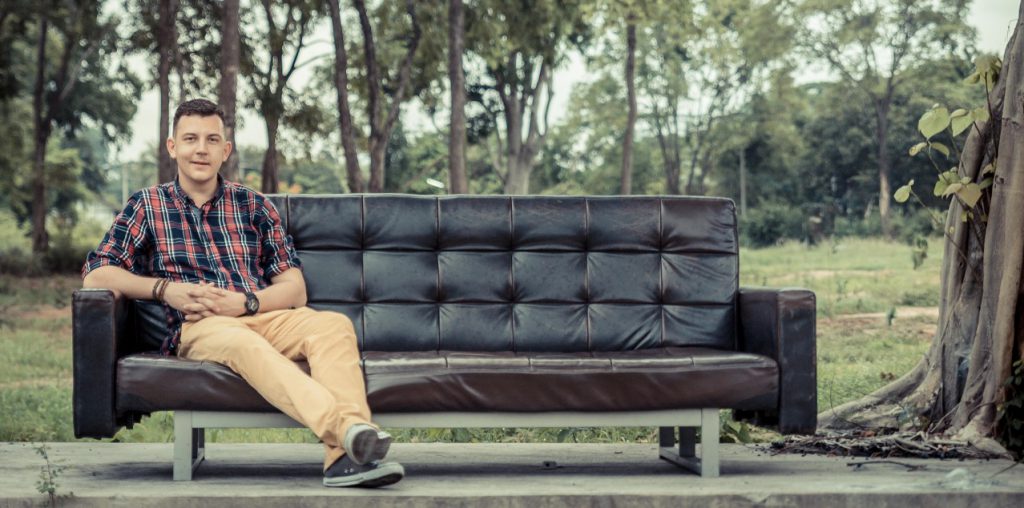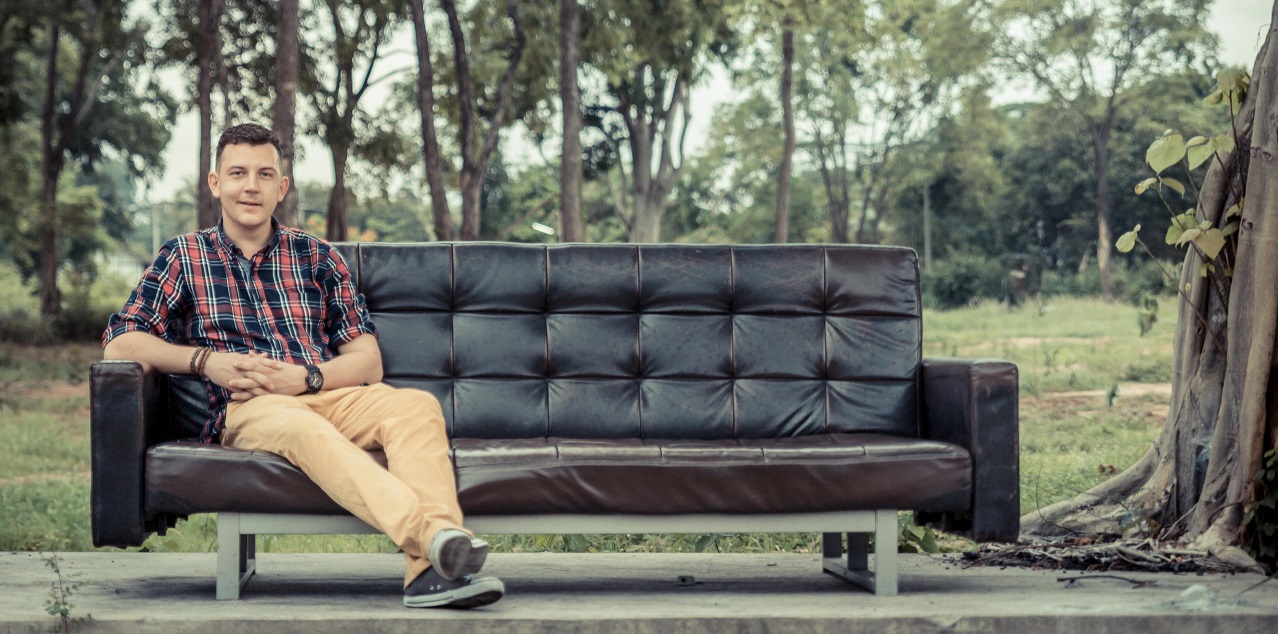 So if you want to learn how to build a thriving online business, click here for the exact step-by-step formula I follow.
Simon Crowe is on a mission to help as many people as possible kiss their bosses goodbye.
Take the free Commission Academy course to discover how to smash your online income goals and make your dream business a reality.